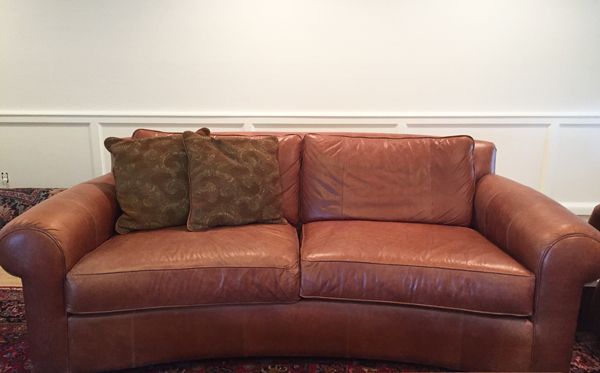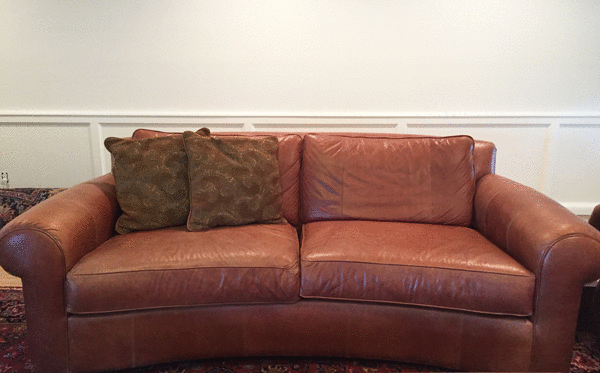 Today, I thought I'd share with you guys a few tips I've learned over the years styling for both photo shoots and for my own home. Specifically, I wanted to show you a few ways to make a basic, or well-loved, couch look and feel new again using things you probably already have lying around your house.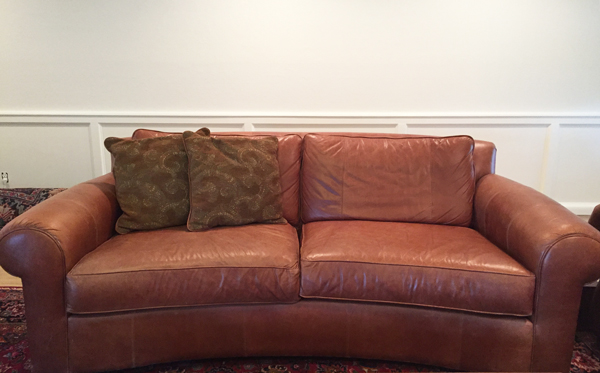 So take this brown leather couch, for example. Adam and I were fortunate enough to have this bad boy passed down to us from my parents. Though I'm not typically into over-stuffed furniture, and yeah, the arms are a little big for my liking, I recognized that this leather couch had potential. The cognac leather is so rich and beautiful, and is great neutral base-color to work with. It's also in great shape for being 15+ years old.
So, I've been staring at this leather couch, as-is, in our living room for the past month. The two pillows shown above came with the couch, and in my opinion, aren't doing said leather couch any favors. They're the wrong color and really aren't my style (I would go so far as to say that they aren't any style at all).** So, I set about to style the couch and make it more "us" using textiles we already had in our home.
** A side note: I give you, my readers, permission to get rid of the "free" pillows that came with your couch if they are not working. It is not only okay, but probably best for both you and the couch. I promise. 😉
For this first look, I started out with one of my smaller decorative rugs. Rugs are actually such a versatile textile- you can use them for wall hangings as art, or throw one over the back of your sofa like I did here. Doing so is a great way to add color and texture to an otherwise neutral or basic couch.
Next, I grabbed some accent pillows to complete the look. I allowed the pastel colors in the rug to dictate the colors of the pillows: the cream pillow on the left is one I made a couple years back using some extra fabric and a leather remnant. The middle pillow was made from a vintage kilim rug. The pale yellow Mongolian fur pillow on the right I purchased a few years back from West Elm, and it's slowly made its way around our home, from couch to bed to couch.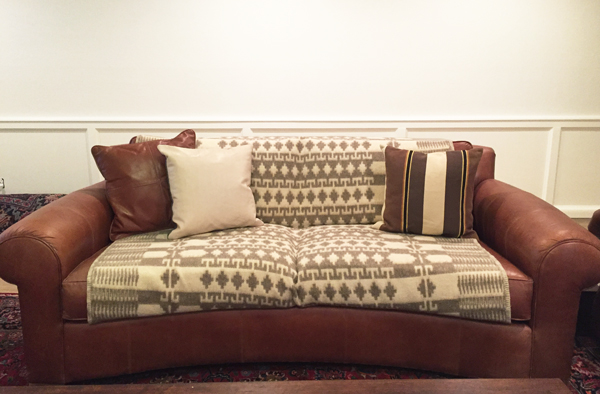 This second look has to be my absolute favorite because it almost completely changes the look of the couch. I began by grabbing one of the many extra blankets we have in our linen closet. I chose this Peruvian alpaca blanket for its neutral-colored geometric pattern, but even a solid blanket would do just fine. I placed the blanket over the front of the couch, leaving it draped over the backside, and tucked it into the seat cushions. This creates the illusion that it's been upholstered in a contrasting fabric, and is a great solution if you don't have the budget to actually get the couch reupholstered (or if you're trying to cover up worn spots or stains on the cushions).
I then chose equally neutral pillows to pair with it, such as the two leather pillows on the left that I made a while back from leather remnants. The blanket stripe pillow on the right is an old Pottery Barn sale purchase that has so served me well over the years- it has great neutral colors in it that look nice against the rich leather color of the couch.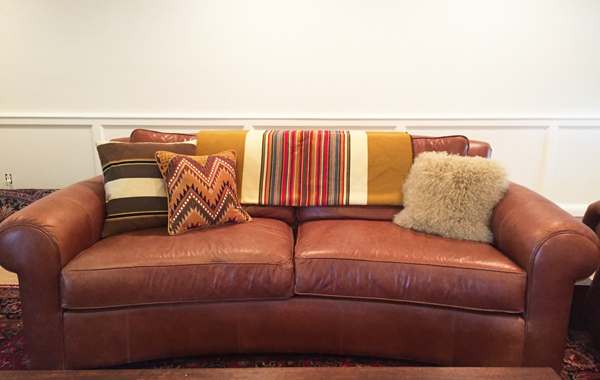 For this last look, I started out with my Pendleton picnic blanket. I've always loved the colors in it, and though they typically come rolled up and stay that way until they are used for picnic purposes, I have always made an effort to find some way to put it to use in our past apartments. For this look, I folded the blanket in half and slung it over the back of the couch, allowing it to hang on both sides.
Using the blanket as a starting point for both color and thematic inspiration, I selected pillows that had somewhat of a Southwestern vibe. Here again is the striped blanket pillow on the far left, which had the perfect amount of dark brown in it; I also liked how the stripes in it play nicely off the stripes in the blanket. The center pillow was made from a vintage Mexican textile, and though the colors are a bit busy, it had the look I was going for. Lastly is that Mongolian fur throw pillow- you know, the one I said has made its way around our house? It really is such a versatile piece, and I love the visual texture it provides.
So there you have it- three ways to use things you may already have in your home to spice up that tired couch … the one that came with the matching throw pillows … you know, the ones you should probably get rid of? 🙂