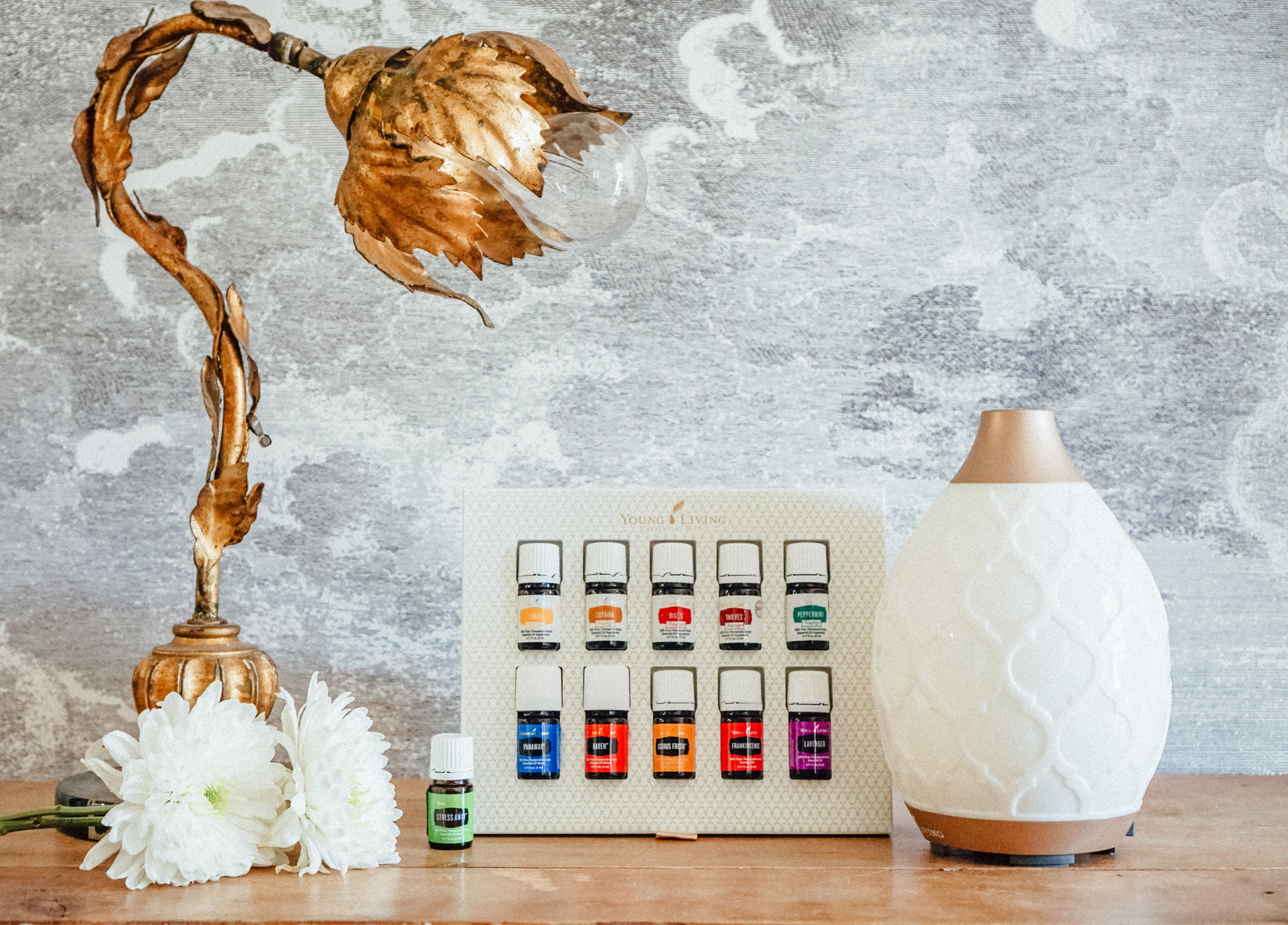 GETTING STARTED
Ready to order your essential oils? I tell you how here.
Interested in hearing about essential oils, why I started using them, and why I chose Young Living essential oils? Start by reading the post below!
Want to learn even more about essential oils? You can sign up for my free essential oils email course here!
WHY I STARTED USING ESSENTIAL OILS
So, how did I get into oils in the first place? It started a few months shortly after I was diagnosed with Thyroid Cancer. I was struggling with severe anxiety and depression from a missing thyroid. My levels were so completely off, and though I started taking anti-anxiety medication and anti-depressants, they only seemed to barely help. I felt pretty hopeless.
Shortly before I went into isolation for my chemo (you can read all about that here), I had a friend from elementary school sent me an emotional support roller with Joy and Valor in it (two blends of oils from Young Living). After years of swearing that I would never using essential oils (frankly, I thought they were for hippies and didn't believe that they would work), here I was, not only using the emotional support roller, but actually benefitting from it. I applied it religiously to my wrists, behind my ears, and across my heart. I did this for two weeks, and noticed that each time I would smell my wrists, I would get a little lift of serotonin. And that whenever I would feel tension, I would use the roller and feel grounded.
If these two oil blends could do this for me, what about all the other oils out there, I wondered? What could they do? My interest was piqued, to say the least, and shortly thereafter, I bought my Premium Starter Kit (12 of the most commonly used essential oils + a diffuser) from Young Living. I quickly began to realize that the answer to my question was… a lot. These oils could do a lot for me. They began to offer me:
sleep support – I used to wake up multiple times throughout the night, and now I wake up in the AM feeling rested!
immune support – True Story: my kids haven't been to the doctor since just before I got my oils kit. Coincidence?
skin support – Just take a look at my surgery scar. Looks pretty darn good, huh? Thanks to my DIY Glow Serum.
and of course, emotional support
Among the many ways in which oils began to support me, I also realized that I could begin replacing some of the toxic chemicals in my home (foaming hand soap and dryer sheets were the first two to go!) with clean products I either made from essential oils or bought from Young Living. With a wakeup call like cancer, I realized there was no greater time to "clean up my act" so to speak, and to in turn, clean up my home.
And now, I'm sharing this with you all. Just like I've spend the past 3.5 years sharing about everything from my favorite lace-up espadrilles to the BEST sales of the season, I'm here to share something even more important than any of that. You read that right. Even more important.
WHY CHOOSE YOUNG LIVING ESSENTIAL OILS?
One of the most important things I've learned throughout my journey to non-toxic living is that where something comes from is just as important as what it is. For example, when I go to the farmer's market, I buy my meat there not just because it's organic, but because I know that it comes from a local farmer who doesn't use human growth hormones and raises his cattle humanely.
Similarly, before you head to the grocery story and pull the cheapest set of oils off the shelf, it is important to note that not all essential oils are made equally. Most grocery store (even health food store) oils have been diluted with synthetic chemicals or contain cheap essential oils produced from crops with pesticides (!!).
I use Young Living essential oils because they have a have a Seed to Seal promise, which means nothing is added or taken away, from the time the oil leaves the seed to the time it's sealed in the bottle. Young Living even owns their own farms, where the plants and trees are grown, harvested, and then distilled into oils. The best part is, you can even see it first hand! Young Living members are encouraged to visit the farms to experience Seed to Seal. I've been to two of the farms, myself.
THE PREMIUM STARTER KIT IS THE MOST AFFORDABLE OPTION
So you've decided that Young Living is the way to go, but you also want to know that you are getting the biggest bang for your buck. So important! Of all the essential oil companies I've researched, I've found that Young Living has the best and most affordable starter kit!
Here's what you get INCLUDED in the Premium Starter Kit:
The Premium Starter Kit from Young Living comes with 12 of the most-used essential oils, a beautiful diffuser, a thieves cleaning sample (which makes 2 15oz bottles of cleaner), a bottle of thieves waterless hand purifier, and a few other goodie! If you were to go out and buy each of these oils, individually, from the grocery store or from Amazon, along with a diffuser, it would cost you over $410.
The kit costs $165, and the best part? It comes with an entire wellness community you get to be a part of (my community)! Lastly, you get a lifelong wholesale membership, which gives you a 24% discount on all Young Living oils and products – hooray! And? There are no monthly minimums or annual fees.
So, are you ready to get started!?
Once you sign up, I have an exclusive Facebook group for my entire community to learn, share, and support one another while we're using oils. We are truly like one big happy family- we offer weekly classes, tons of resources, have monthly calls, etc. I'll also send you a welcome kit with info and some goodies to help get you started (cough cough, super cute brushed gold and white rollers). I will be here with you every step of the way to teach, encourage, and support you in any way I can. Let's do it together!
If you want to hear more about my oils journey and how I use them daily, you can follow me on my oils account on Instagram @thedandyliarhome. I share everything from DIYs and recipes, oil usage, my daily routine, and so much more!

WANT TO LEARN MORE ABOUT ESSENTIAL OILS?

Sign up for my FREE essential oils email course! You'll also get a copy of my free guide, The Dirty Dozen: 12 Ingredients To Avoid In Your Skincare and Makeup Products!