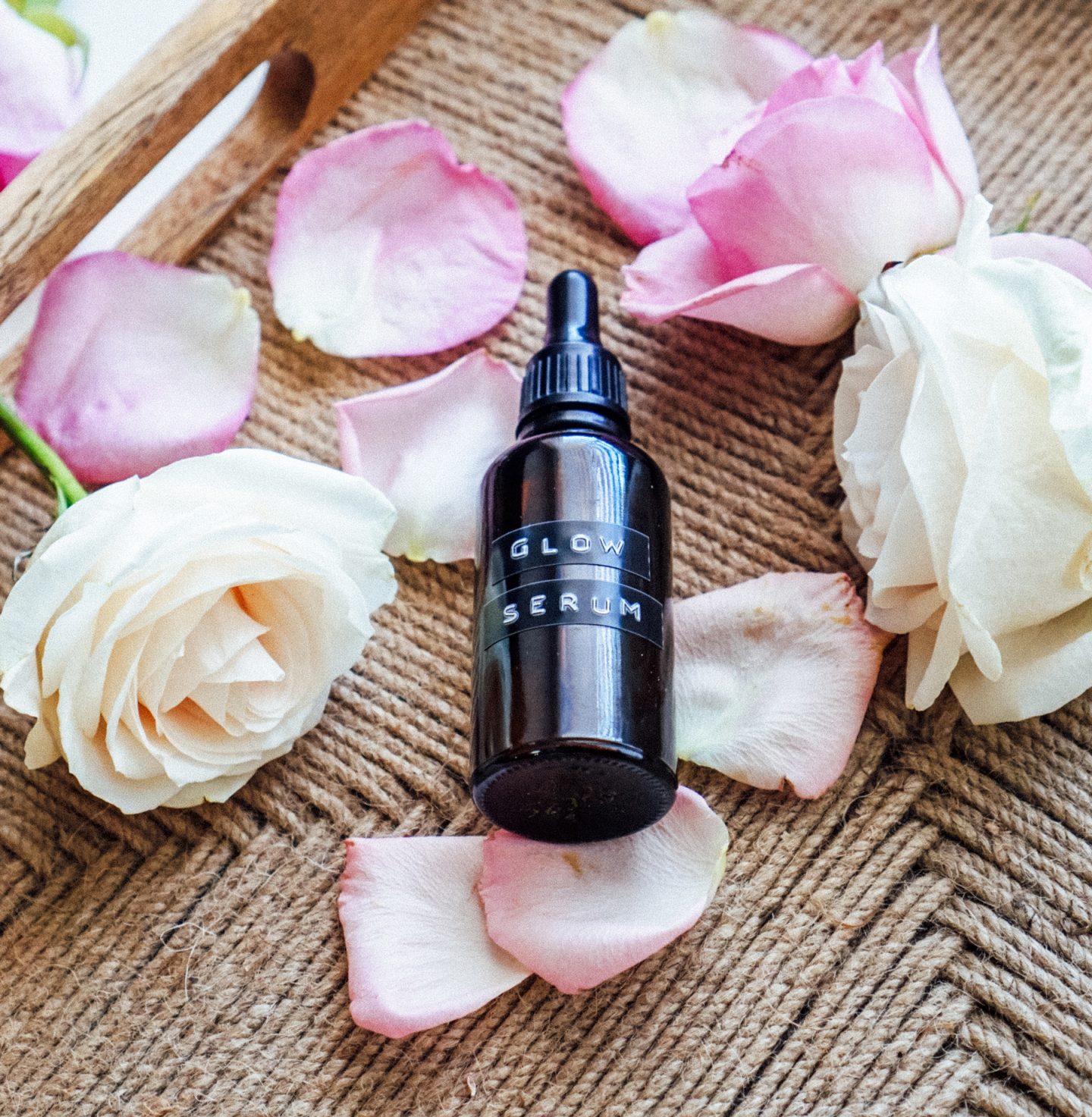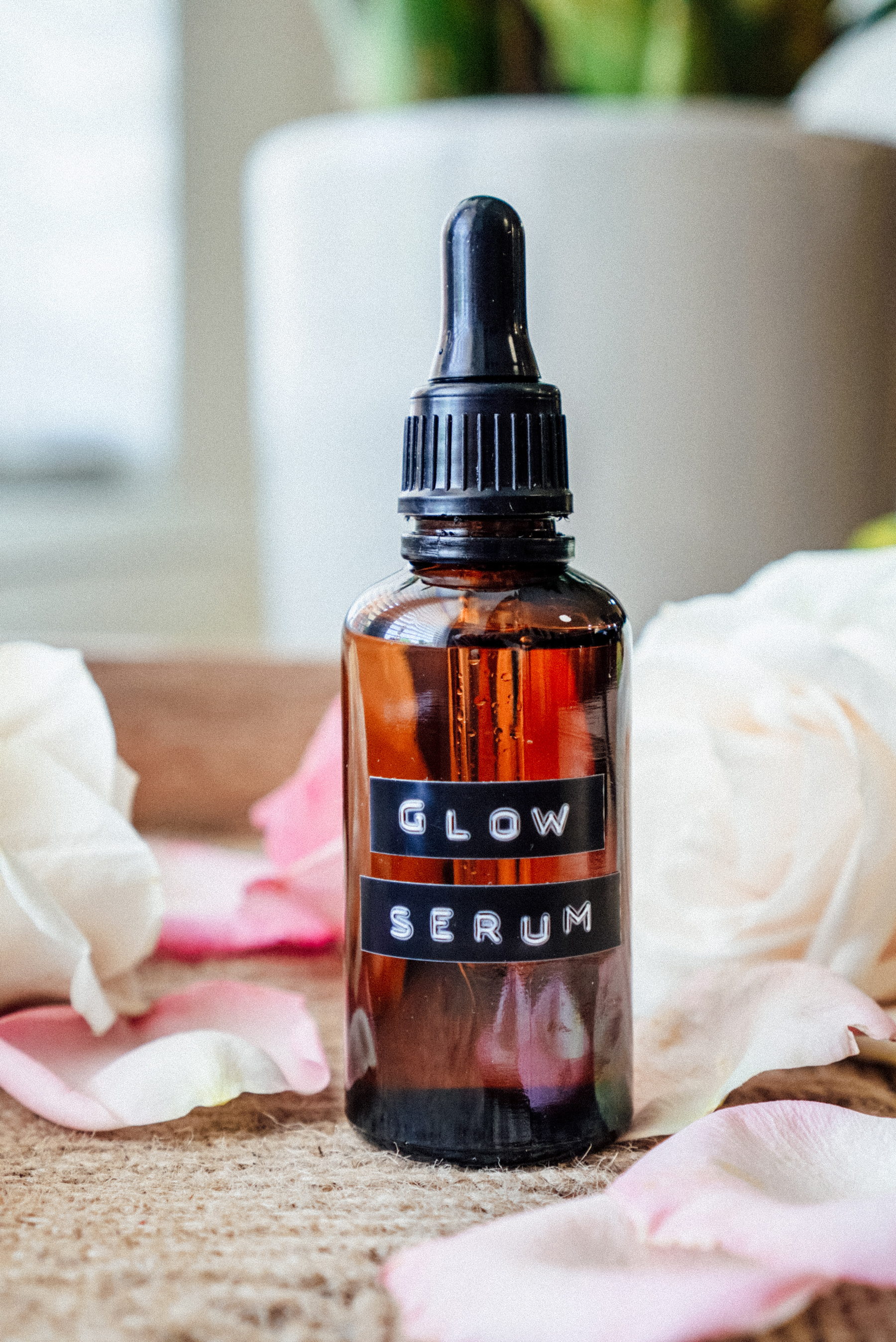 Hi friends! Anyone here needing to take better care of there skin? Am I the only one?
I'm about to turn 33 next month, and a few months ago, I began to notice that my skin was lacking in all areas that mattered: pore size, elasticity, radiance, and clarity. So, I decided to take a closer look at my skincare regimen and noticed that 99.9% of the products I was using (that weren't even working) contained a lot of harmful, toxic ingredients. Many claimed to do certain things… and didn't. Some were also labelled as safe, clean, paraben-free, or my favorite, "all-natural" but were in fact quite the opposite.
After a lot of searching for "clean" products out on the market, I realized my answer was staring at me in the face straight from my oil shelf:  why not use essential oils to make my own skincare product? And that's when I decided to make my own Glow serum from the essential oils that have improved every other aspect of my life, from sleep to emotions to overall health!
Before I give you the ingredient list, let me encourage you to do your research on oils before you head to the grocery story and pull the cheapest set of oils off the shelf. Not all essential oils are made the same. I use Young Living essential oils because they have a have a Seed to Seal promise, which means nothing is added or taken away, from the time the oil leaves the seed to the time it's sealed in the bottle. Most grocery store (even health food store) oils have been diluted with synthetic chemicals or contain cheap essential oils produced from crops with pesticides (!!).
To read about why I started using essential oils in the first place, you can head over to this post.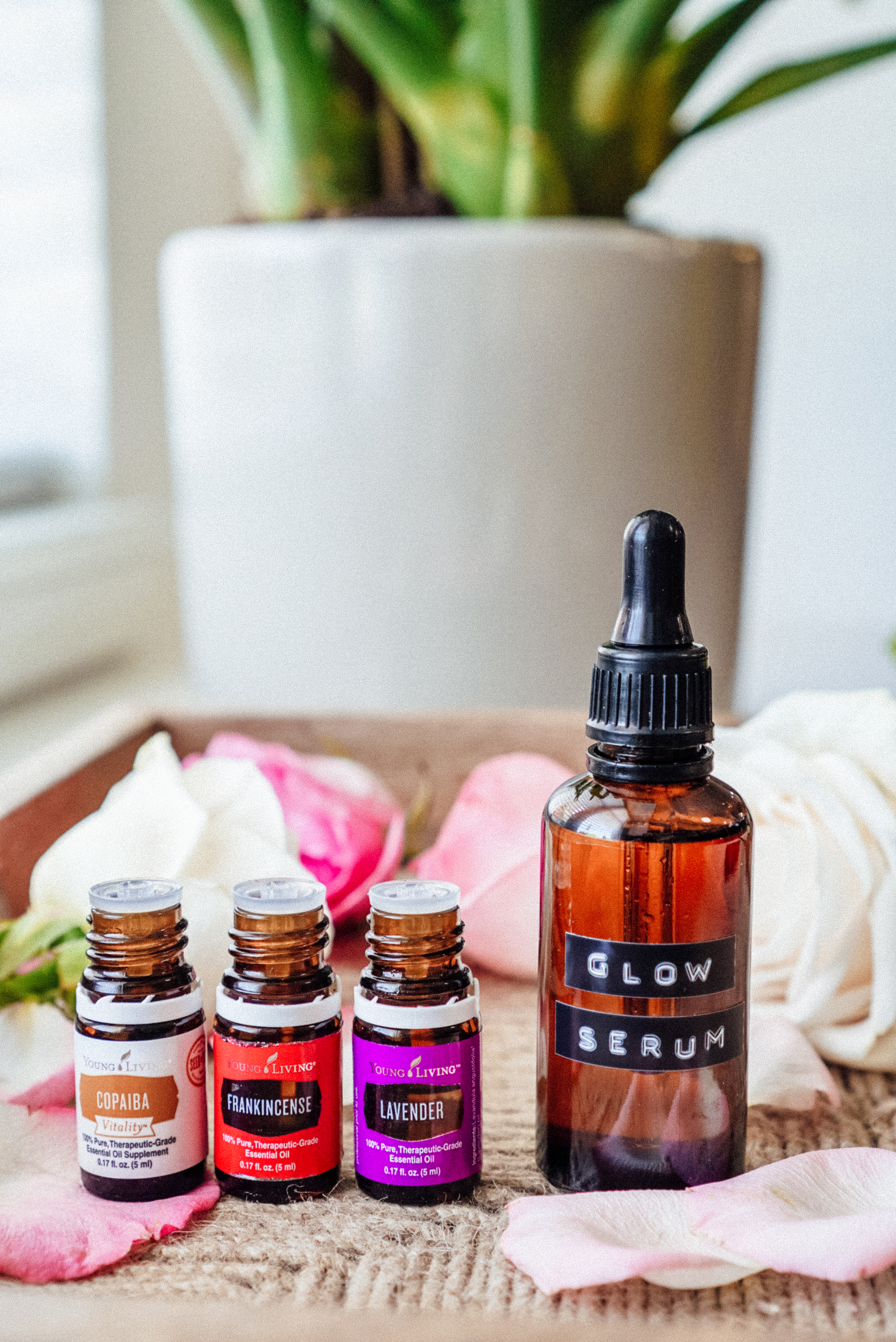 The Glow serum contains Copaiba oil, Frankincense oil and Lavender oil, which when used in combination with each other, create a trifecta of skincare goodness. They moisturize your skin, help promote circulation, minimize pores, reduce inflammation, and help to heal and treat open cuts and wounds (I see you, pimple!). And? They do all of this naturally and non-toxically. I can't say that for most of the ingredients in the other skincare products I used to use (SMH).
I've even incorporated the Glow serum into both my morning and evening skincare regimens. In the morning, I wash my face with water and follow that with a few dabs of the Glow serum before applying my makeup for the day! Then, at night, I wash my face with the Orange Blossom charcoal bar, followed by a toner I made (DIY coming soon!). Then, I lather on the Glow serum… under my eyes, on my forehead, and alllll around my face and neck! I also apply it on top of my makeup to add a bit of shimmer (on my cheek and brow bones).
Here is what you will need to make your serum:
– 10 Drops of Copaiba Oil
– 10 Drops of Frankincense Oil
– 10 Drops of Lavender Oil
– Jojoba Oil, Vitamin E Oil, or Fractionated Coconut Oil (you can buy these from Trader Joe's or Whole Foods)
– 2 Oz. Amber Glass Dropper Bottle (I buy these from Amazon)
Directions:
Pour in your 10 drops of each oil into the empty glass dropper bottle. Fill the rest with carrier oil. Shake. You're done!
The best part about this DIY? All three of these oils come in the Premium Starter Kit from Young Living. It comes with 11 of the most-versatile essential oils, a beautiful diffuser, a thieves cleaning sample (which is what I use to clean every surface in my house), and some other goodies. If you were to go out and buy each of these oils, individually, from the grocery store or from Amazon, along with a diffuser, it would cost you over $360. The kit costs $160, and the best part? It comes with an entire wellness community you get to be a part of (my community)! Lastly, you get a lifelong membership, which gives you a 24% discount on all Young Living oils and products – hooray! So, what's holding you back? Get started now! Plus, this Glow serum is totally calling your name… 😉
To order your Premium Starter Kit, and become my oily BFF, head to this post!