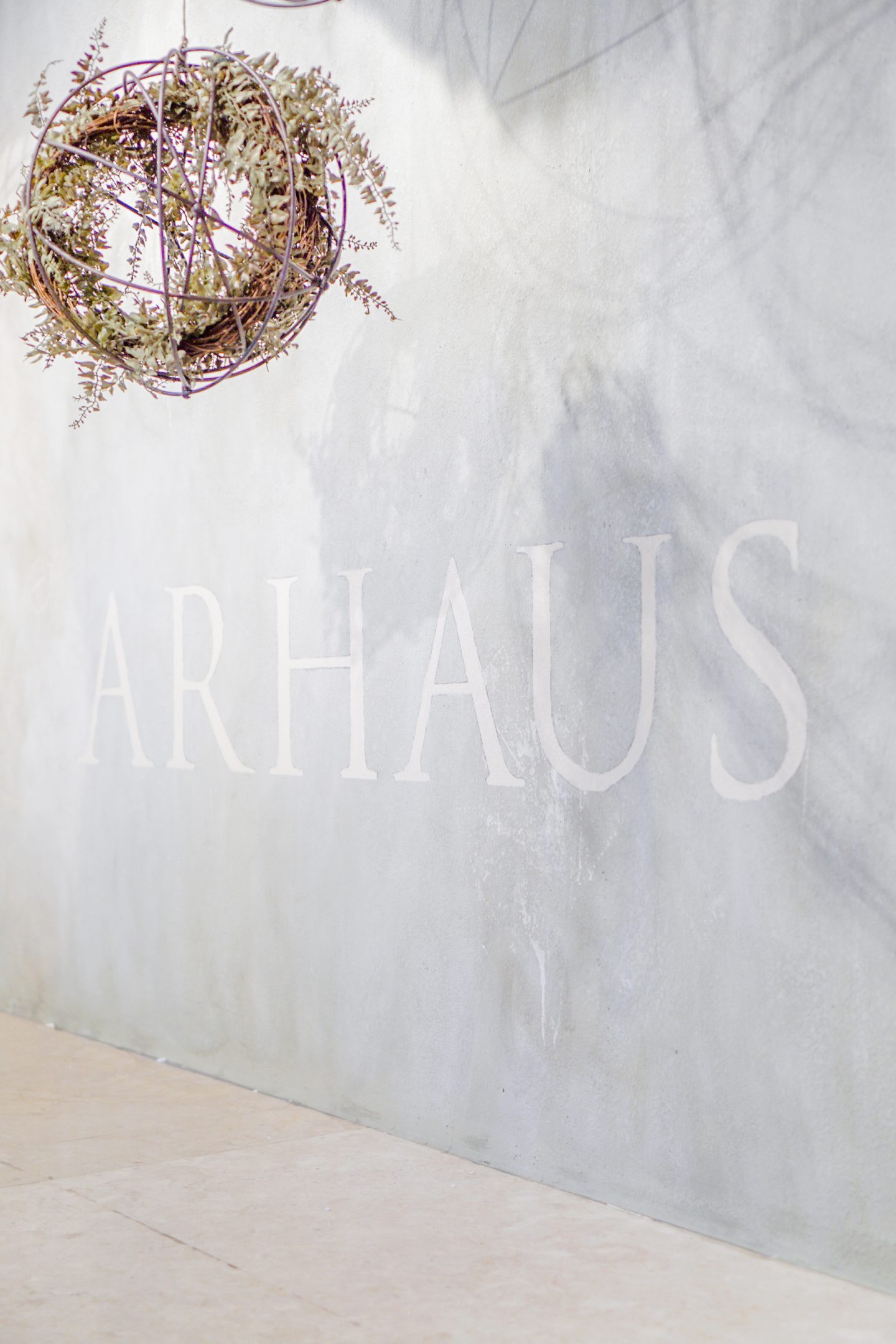 If you all follow me on Instagram, you might remember my visit to the Houston Arhaus store a few months ago. My goal? To pick out a sofa. And not just any sofa- one that would replace the couch that has been with Adam and I for the past 6 years of our marriage, and the past 32 years of my life. That's a long time to have a couch! To be fair, it belonged to my parents during part of that time, but I was definitely alongside them, using it. So to say that said couch has seen its fair share of wear-and-tear would be an understatement. Time for a new couch.
I first stumbled upon Arhaus a few years ago when my friend Gwen of The Makerista got her living room couch from there. I saw that not only did she end up with a stunning sofa, but she was able to customize almost every aspect of it- from the fabric, to the nailheads, down to the finish and style of the wood legs. Wow, I thought. Never, until that time, had I heard of a furniture company offering such a level of customization, at such a high quality, and yet made available to the non-designer masses. I made a mental note and stored away the Arhaus name for use at a later time.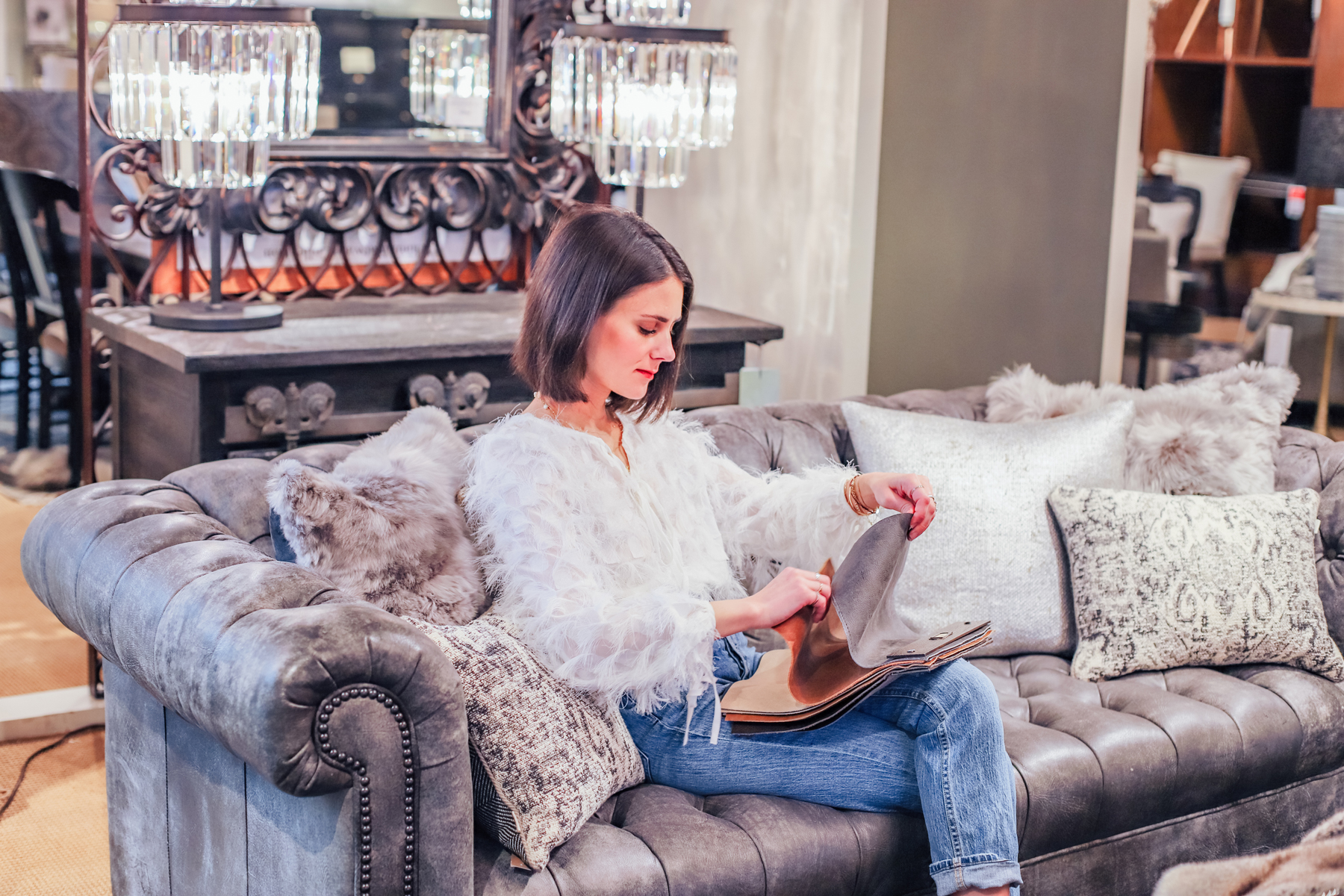 Well, that later time was a couple of months ago. And though Arhaus does an incredible job of showing all of their amazing couches online (believe me, I spent hours upon hours browsing through every one of their sofas and sectionals, all the alternative photos and fabrics, picking out my favorites), Adam and I decided to take the next step and visit an actual Arhaus store to see, touch, feel, and, most importantly, sit on the couches for ourselves. So we packed up the car and headed down south for the Houston Galleria store.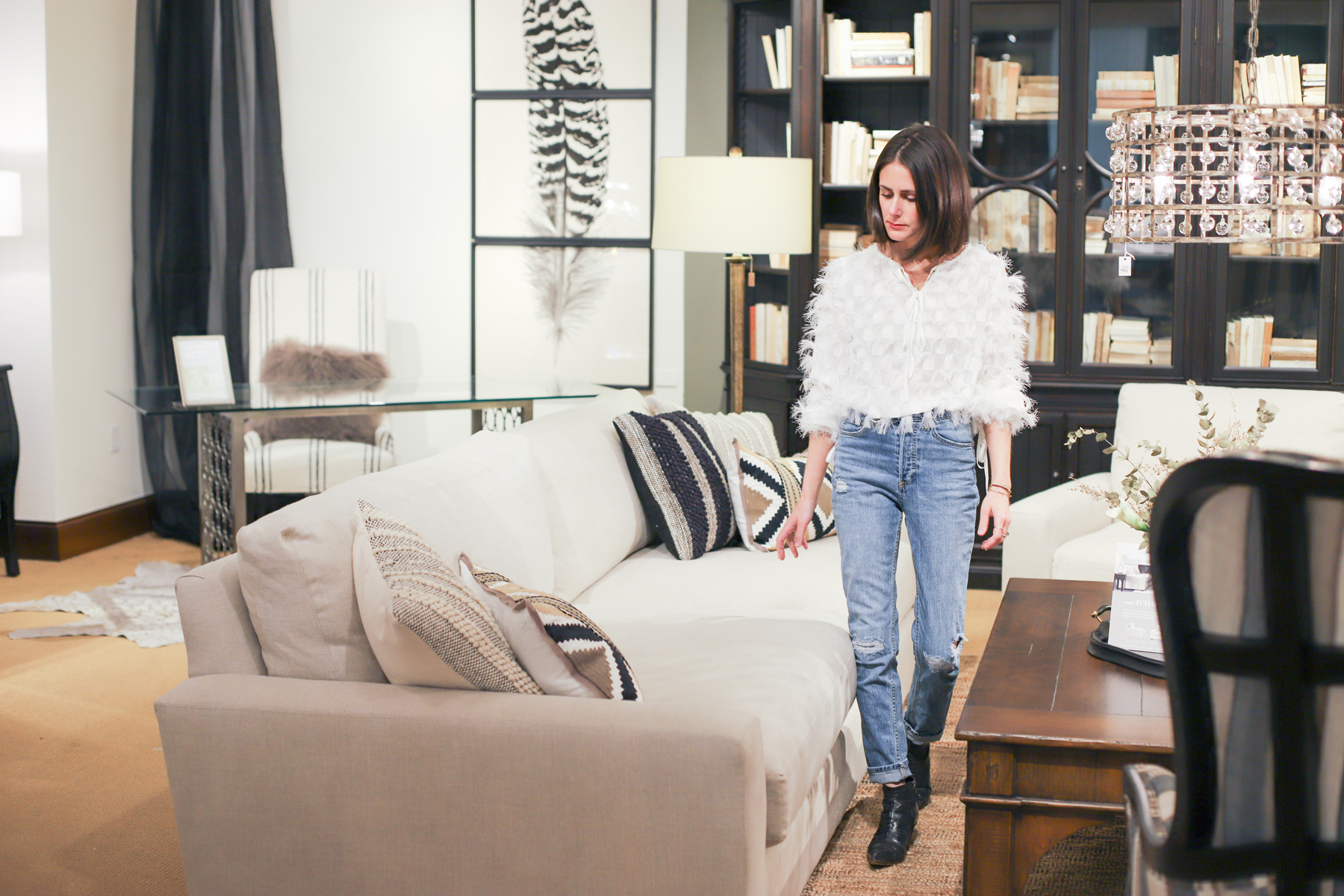 The first thing we did when we got to the store was to get the lay of the land. One of my favorite things about the store is the fact that it has a floor sample of almost every style of couch- I don't know many furniture brands that are even able to do this- so we were able to "try" to our heart's content. I can't tell you how invaluable it is to be able to see an item, like a couch, in person- especially when that item is a big purchase, both financially and physically speaking. We wandered around the store, going from sofa to sectional to sofa, until we found our favorite.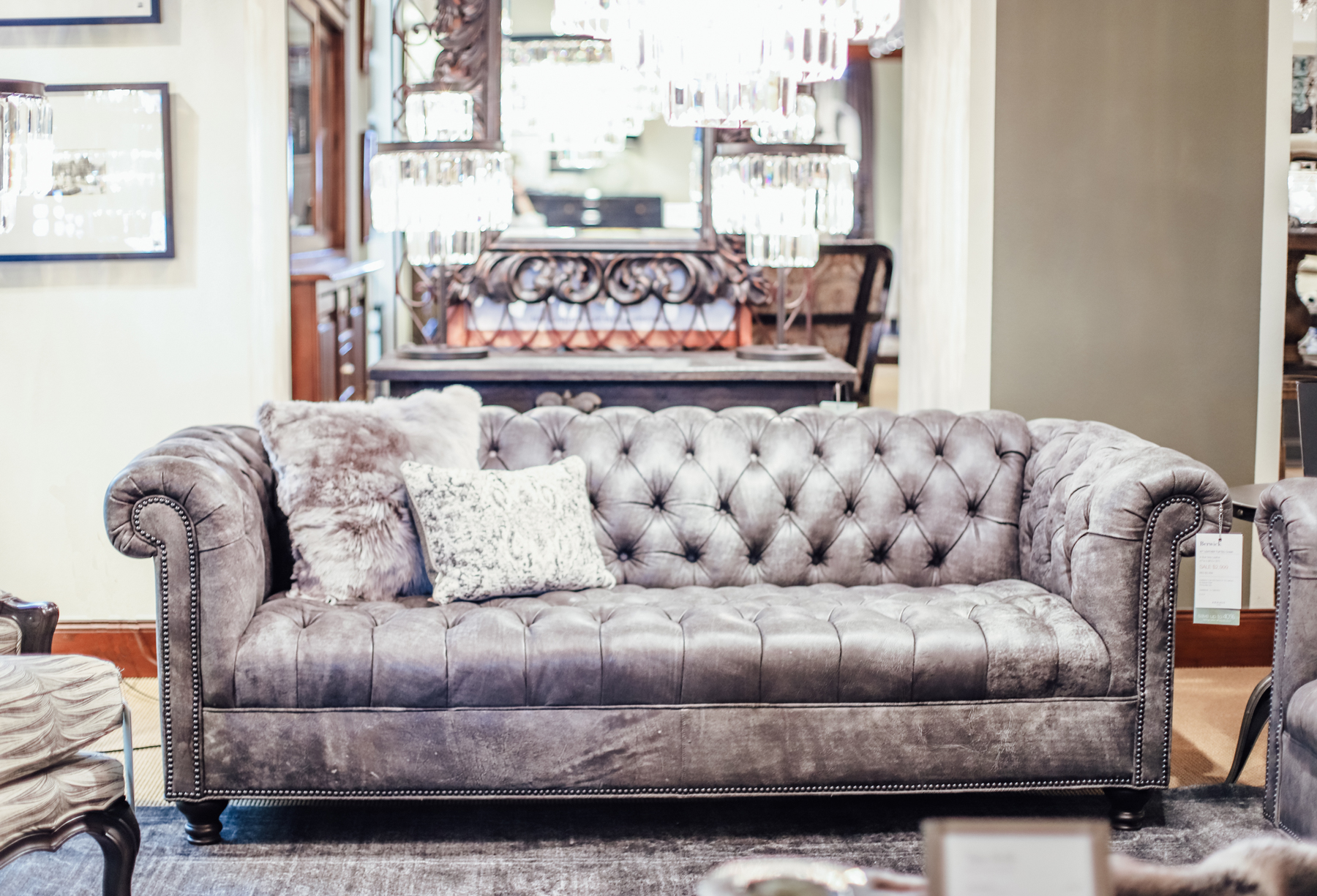 A little bit about our "favorite": the Berwick is elegantly tufted in true Chesterfield-style form. It's 88″ in length, which means it comfortably seats 3 people- just what Adam and I were looking for in the perfect living room sofa. It's also deep enough to be the kind of couch you might want to sit on for hours, watching TV. We also knew that this length would perfectly fit the size of our living room. Accented with nailheads, the Berwick is handcrafted by artisans in North Carolina, using wood certified by the Sustainable Forestry Initiative. The crafstmen-built frames are constructed using solid, reinforced hardwood for sustainability, and feature a foam-padded, no-sag (all the praise hands!) support system to create an evenly dispersed firm, yet flexible comfort.
The sloping rolled arms give the perfect feminine touch to an otherwise masculine silhouette, making it the perfect choice for a couple, like Adam and myself, who have more of a gender-neutral style. The floor model you see here came in a beautiful Bull Grey leather, but Adam and I were thrilled to learn that the Berwick was, like most of Arhaus's couches, completely customizable!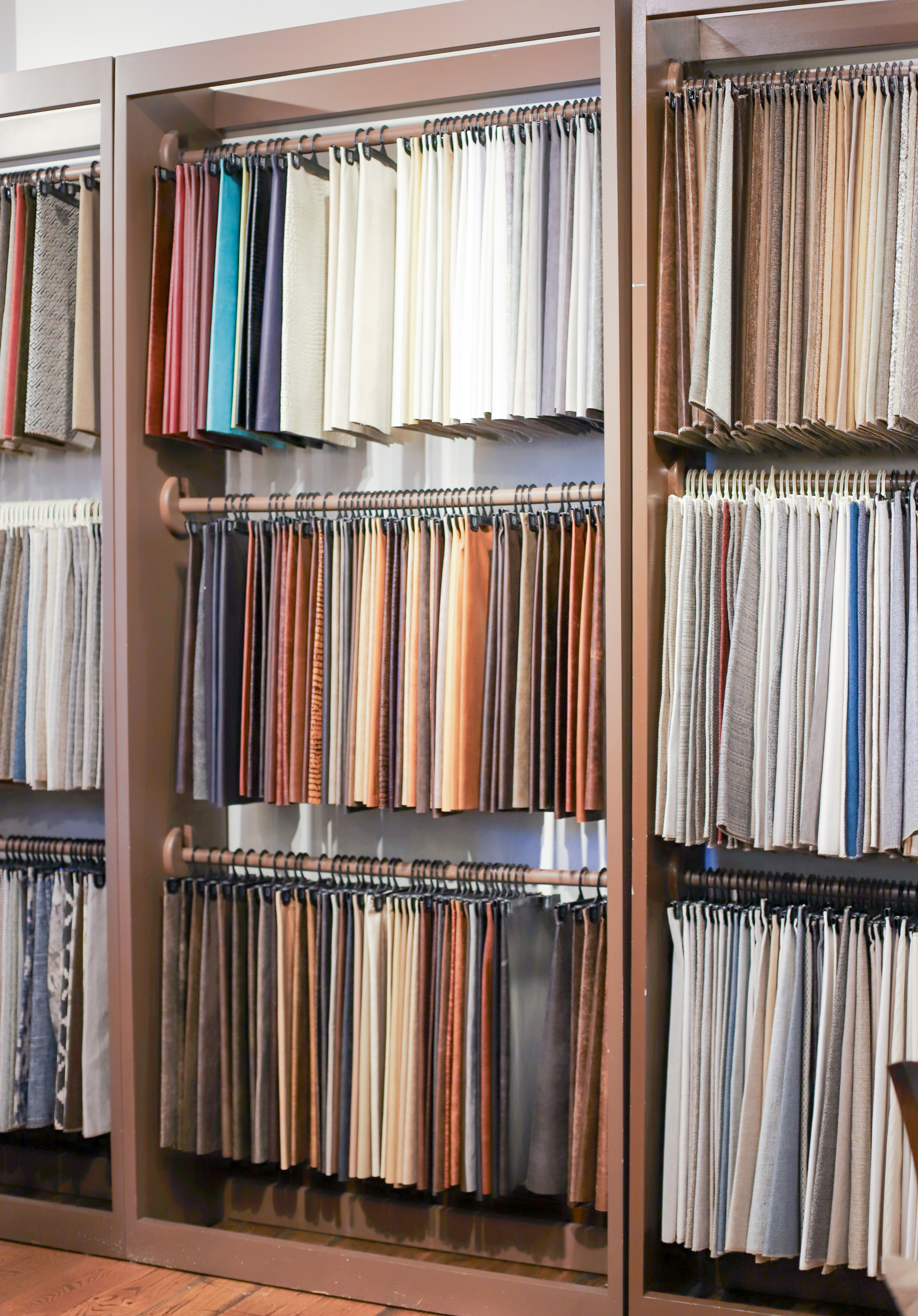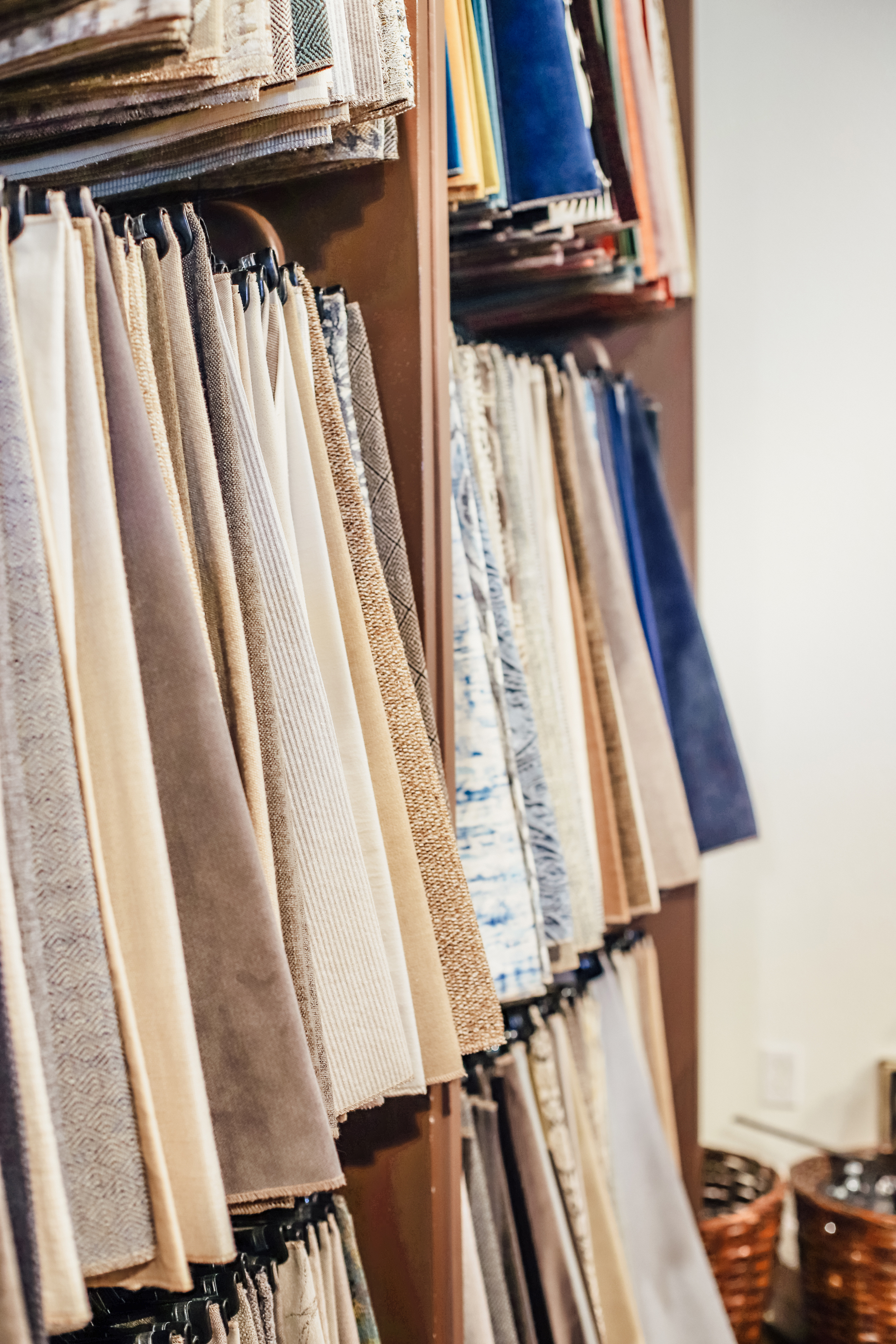 First things first: to pick the fabric and color. We headed over to the Design Center, where all of the leather and fabric options were neatly hung and organized by like-grouping. We knew right off the bat that we wanted leather, having had a leather couch in the past and having loved both the look and the durability of it. Once we narrowed it down to leather, we had over 178 (WOW!) different swatches to choose from. Though all of the leather options were rich in color and supple in texture, we knew that we wanted something a bit on the darker side because, well, kids, and finally landed on the beautiful blue Bidford Sailboat.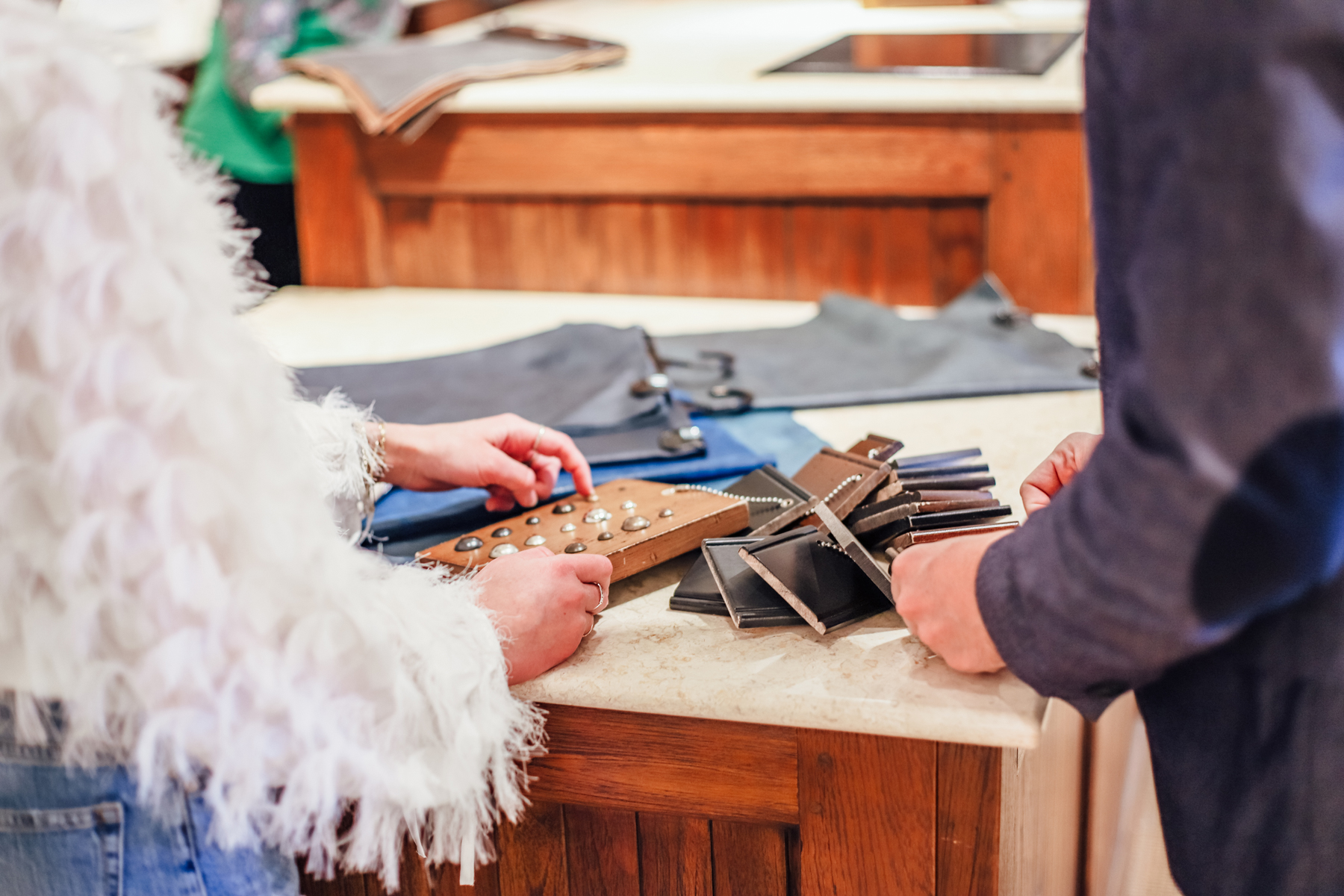 The following decisions to be made were all about the details. I mentioned this earlier, but one of my favorite things about Arhaus's furniture is the ability to customize them down to the very last detail. And this was, of course, true with the Berwick. I was to decide the style and finish of the legs. Did I want a classic, turned style? Or something a bit more square and modern? I ended up opting for the classic, turned-wood style in a beautiful dark barn-wood finish. Next, I selected the finish, and even placement, of the nailheads. I decided on the Old Gold finish, as I appreciated how the yellow tones popped off the blue color of the leather.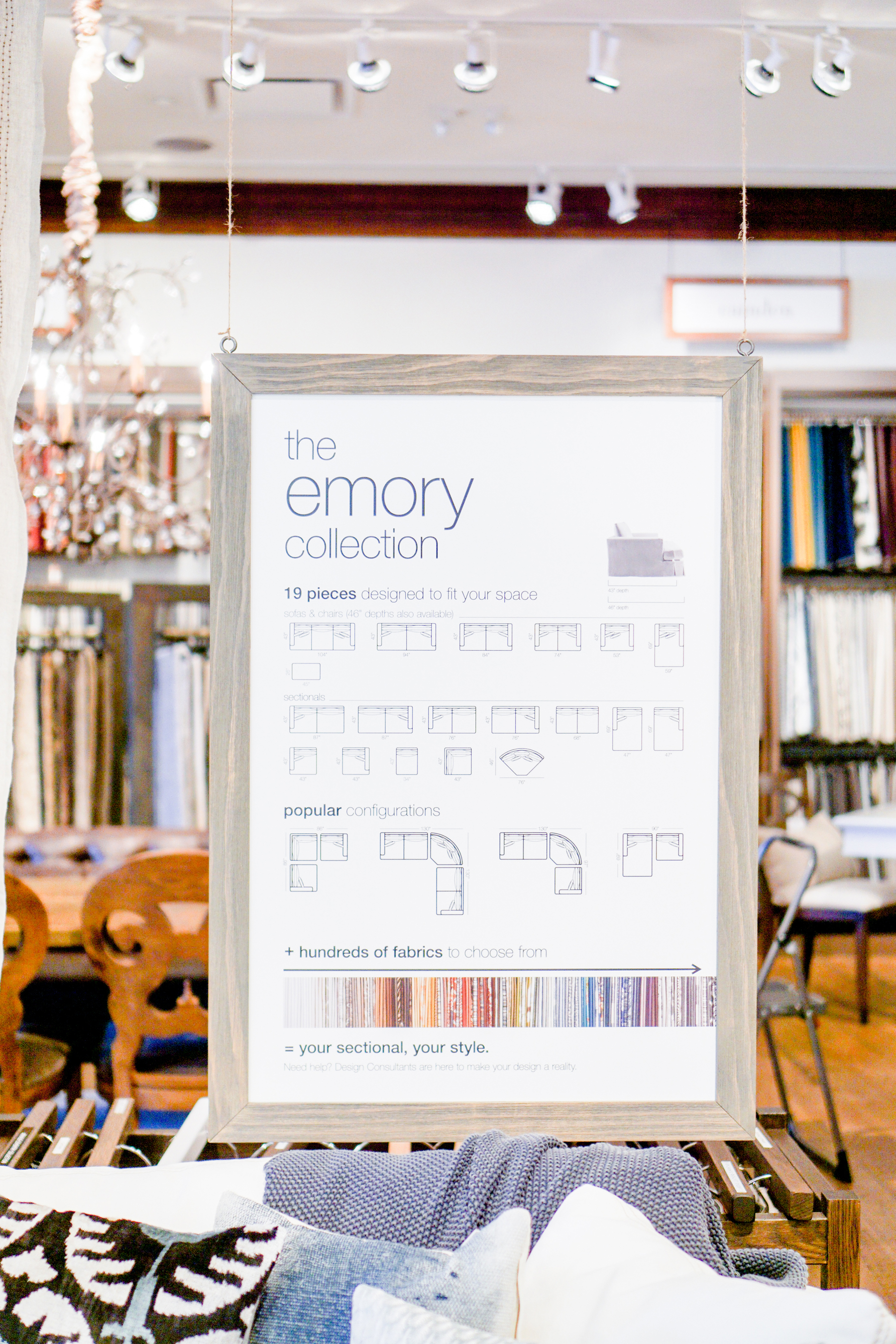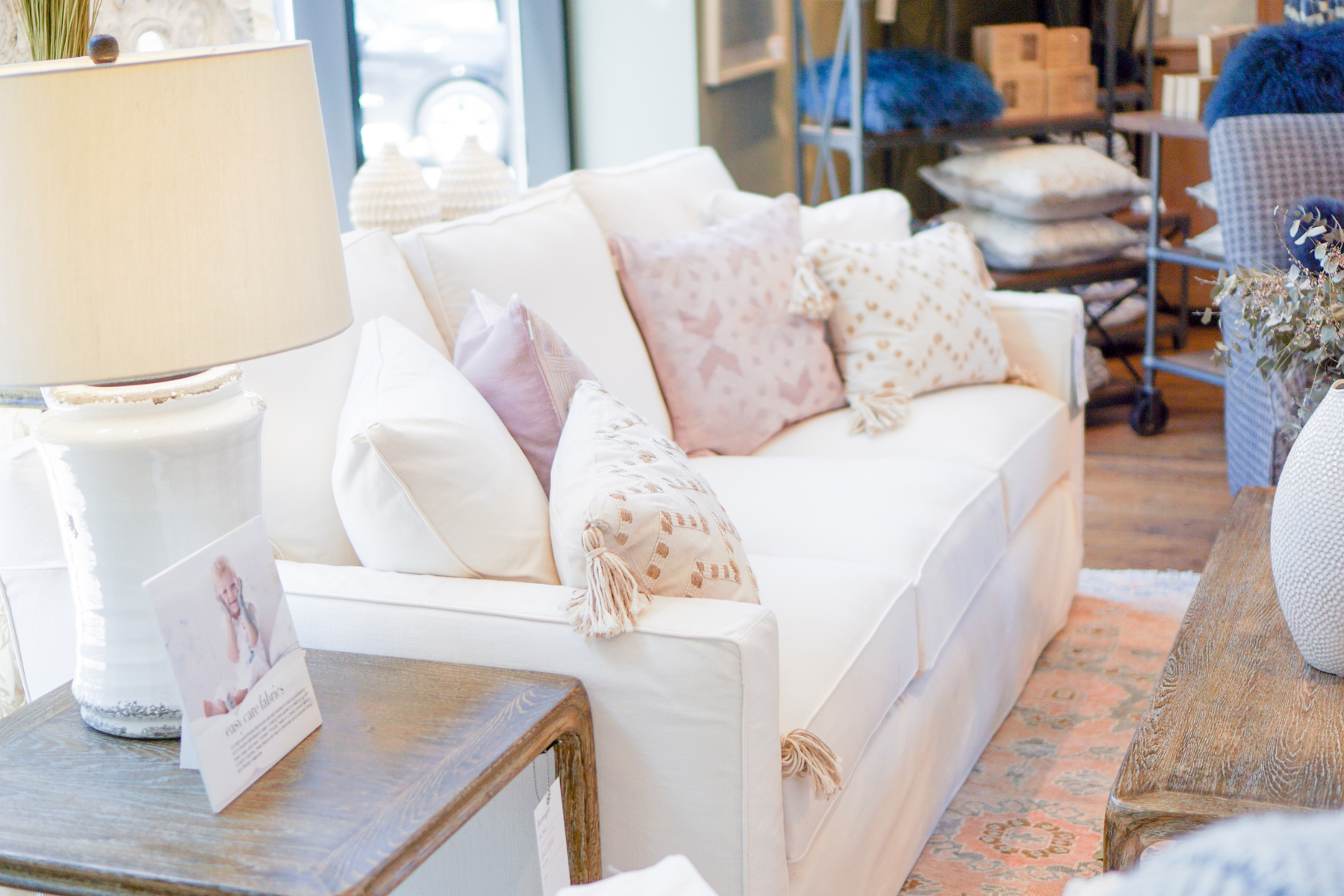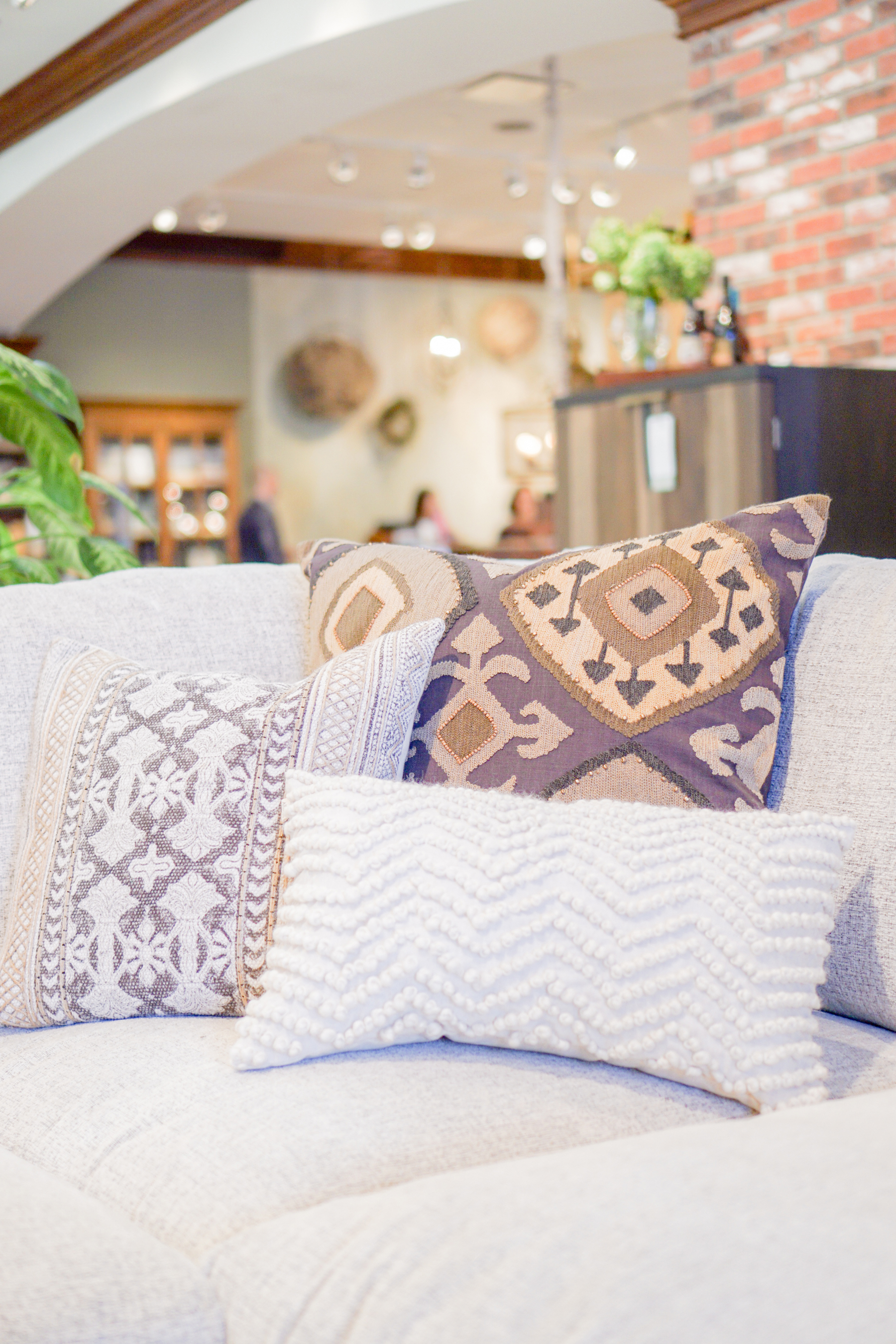 The entire process was as easy as it sounds. As easy as test driving for fit, making fabric and color choices, and finalizing the last details of the legs and nailheads. I left the Houston store feeling completely confident about my selection. And totally giddy. My dream of finally having my own custom couch was becoming a reality.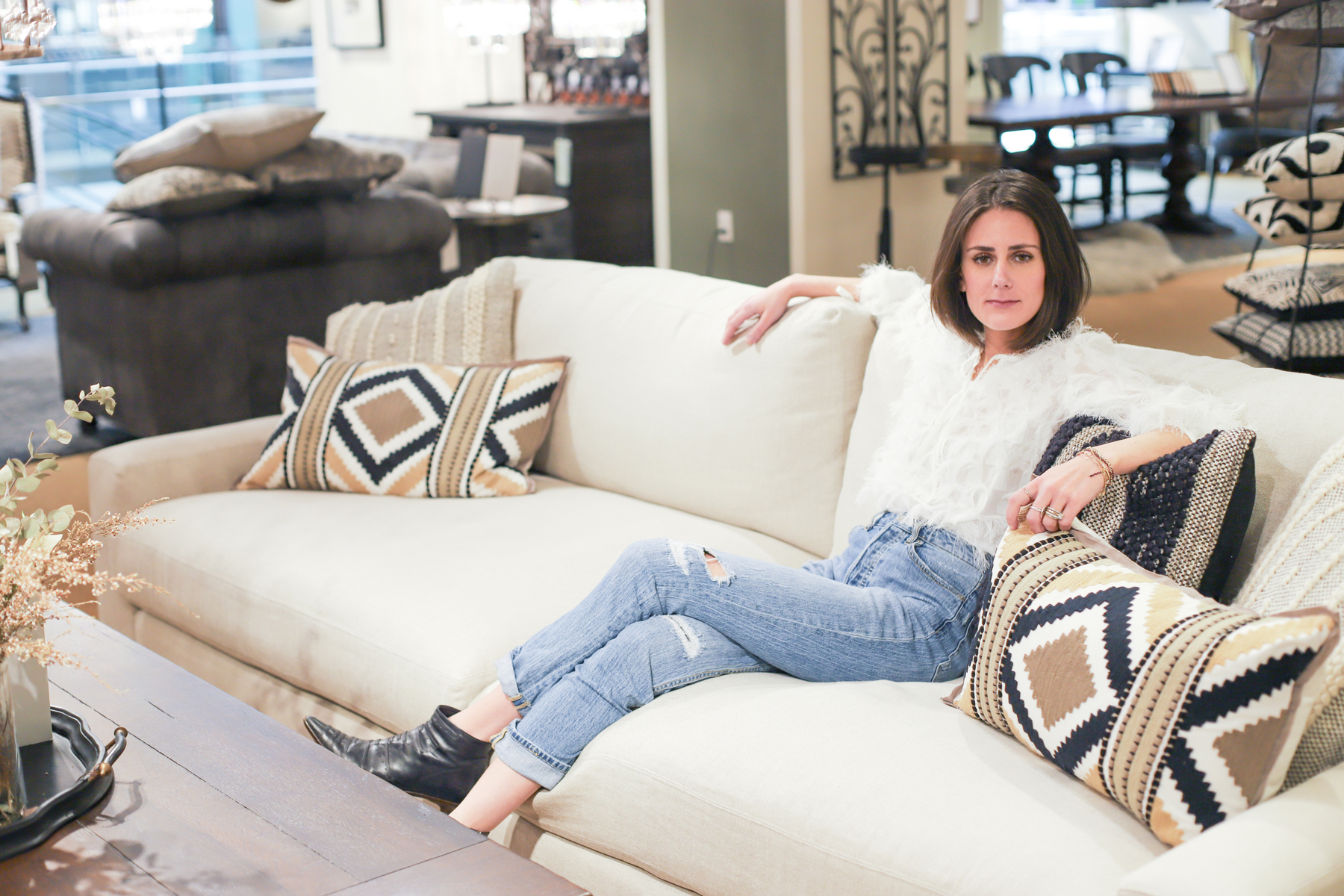 Most of Arhaus's sectionals and couches are made-to-order, which means there's a bit of a waiting period from the time you place your order to the time you receive it. But you know what they say about the best things? They take time to make. And after waiting 6 long years to have the couch of my dreams, I was more than willing to wait.
And how worth the wait it was. After 12 weeks, I received a call from Arhaus saying that my couch had passed inspection and asking when was a good time to schedule a white-glove delivery. A few days later, two men arrived at my home and hand-delivered my beautiful Berwick to its rightful place in my living room.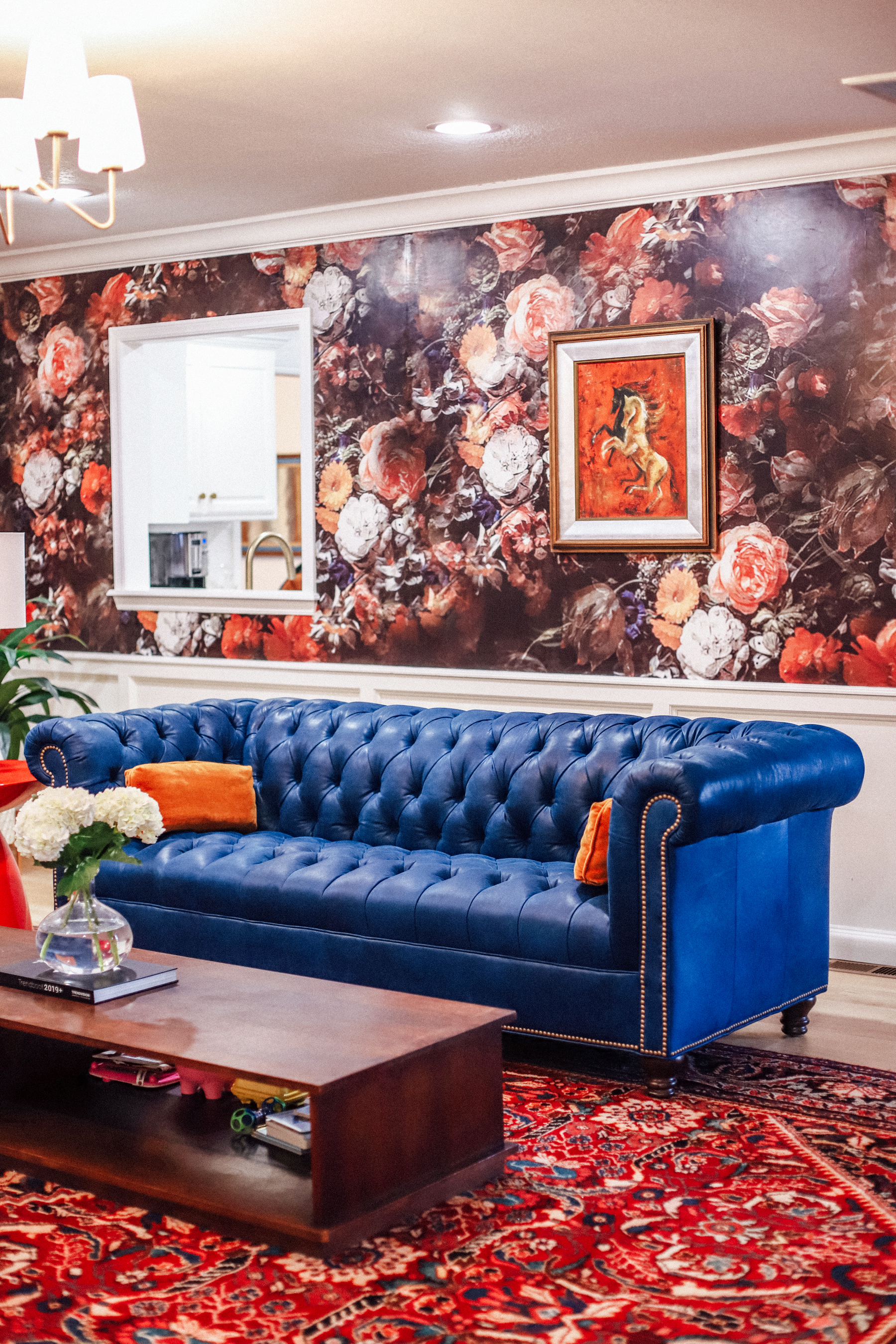 After 2.5 weeks of getting to sit on our Berwick, I can confidently say that the couch of my dreams lived up to its title, and then some. If you live anywhere near one of Arhaus's 71 stores, I highly recommend going in and test driving different couches for yourself. I have a feeling you just might find the couch of your dreams!
For more living room inspiration, be sure to follow Arhaus on Instagram, Pinterest and Facebook.