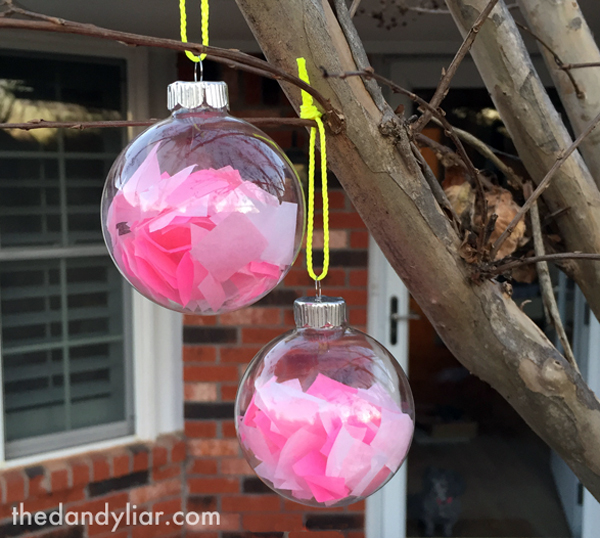 I am so excited to share this DIY with you guys. It is actually one that is inspired by my first DIY project ever – a glass ornament filled with pom pom balls and tinsel that I made back in 2002 and gave to all my friends for Christmas (yes, I've been obsessed with pom pom balls and shiny things for that long).
The best part about it is that it's super easy, quick and cheap to make. And given the fact that Christmas is a mere 8 days away, the one thing you don't have on your side is time. So, this is a perfect, last-minute project that will spice up your tree or gift box!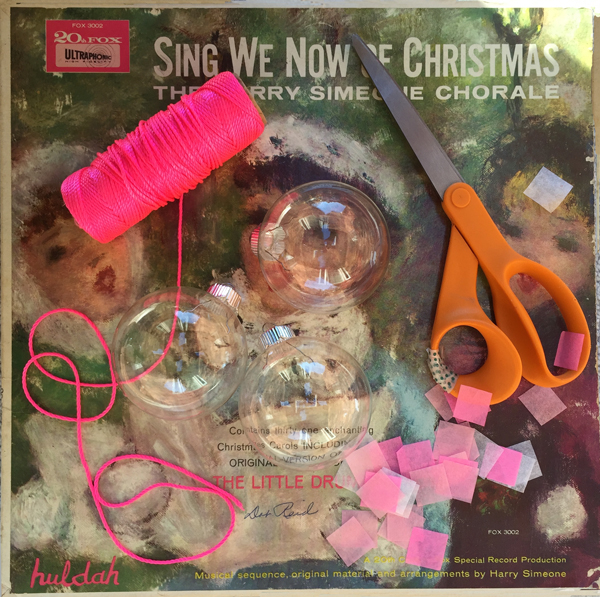 To make these DIY confetti ornament and gift toppers, you will need the following 4 supplies:
+ Clear Glass Globe – You can purchase these in multi-packs, or individually, from Michael's or Hobby Lobby for pretty cheap (Amazon has some, as well). I bought a pack of 12 for $4.50 from Hobby Lobby. Any size ornament will do; mine are 66mm.
+ Yarn or String – I'm using this neon mason twine from Home Depot
+ Confetti – I made mine by cutting tissue paper into squares, but you can also buy pre-made confetti (Knot & Bow has a great selection). I prefer to make my own because I can determine the size and colors depending upon the project.
+ Scissors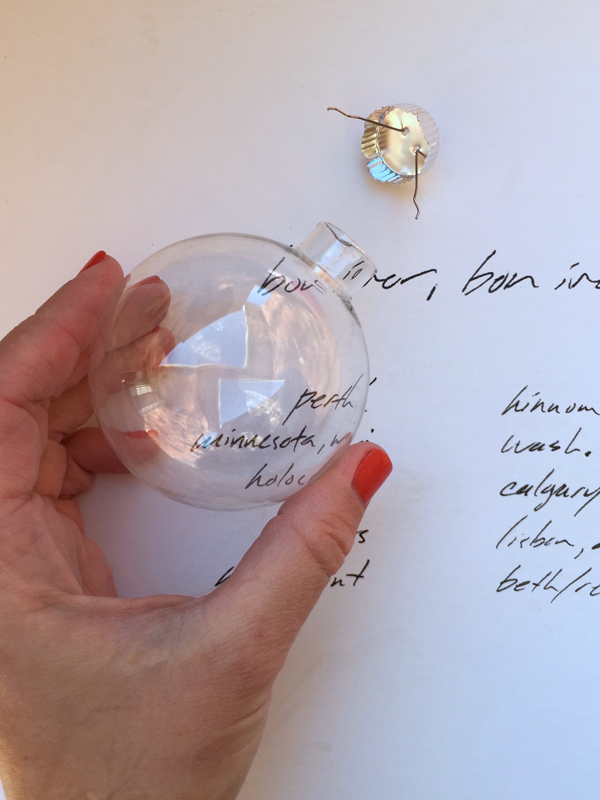 Step 1: Carefully remove the metal piece from the top of the globe.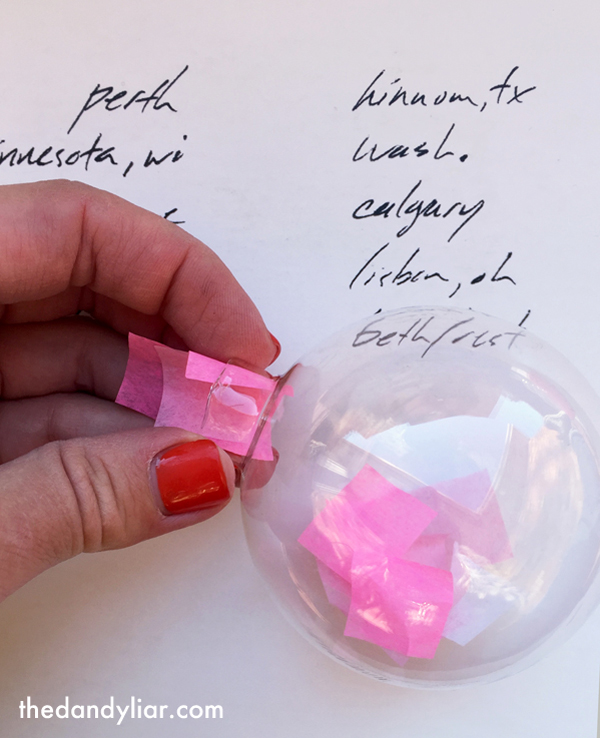 Step 2: Stuff the confetti inside the opening of the bulb. Replace the metal piece when you are finished stuffing.
Tip: I like to crinkle the confetti a bit before putting it inside the globe. This gives the confetti more loft and helps to prevent it from settling at the bottom of the ornament.
Step 4: Thread a piece of string through the loop in the metal piece and knot it at the top. I cut my string to measure 7″, but you can vary the length depending upon how low (or high) you'd like your bulb to hang from your tree branch.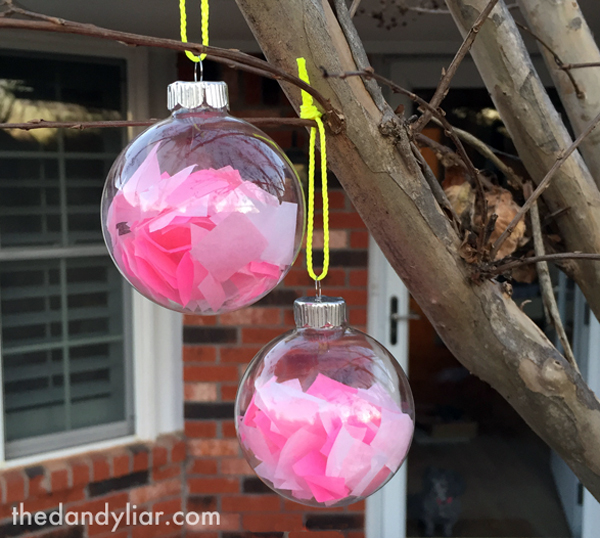 And there you have it- your DIY confetti Christmas tree ornament!
Another use (and my personal favorite) for these ornaments are as gift toppers! Why? Because they serve two purposes: as embellishment on your gift wrap, and then as a tree ornaments for the recipient.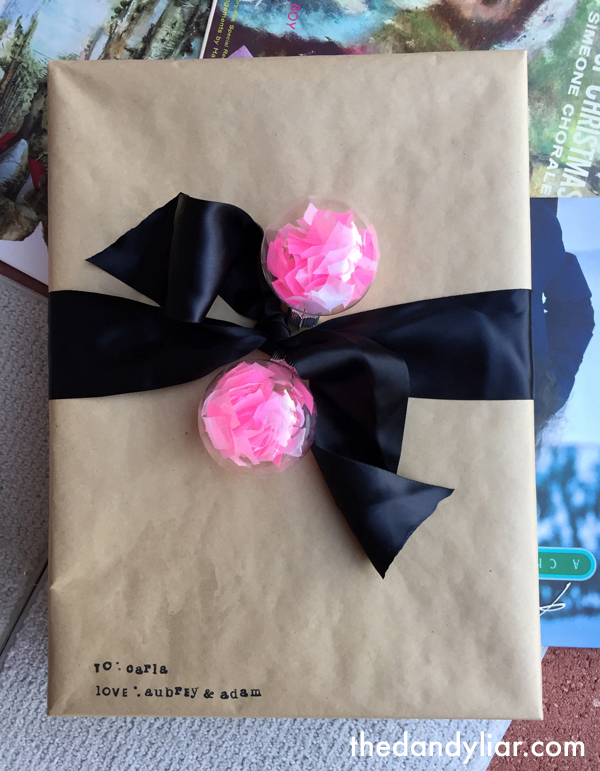 To make this, follow the directions above, but thread the ribbon that you'd like to use on your gift through the opening of the ornament top, rather than adding the 7″ piece of string.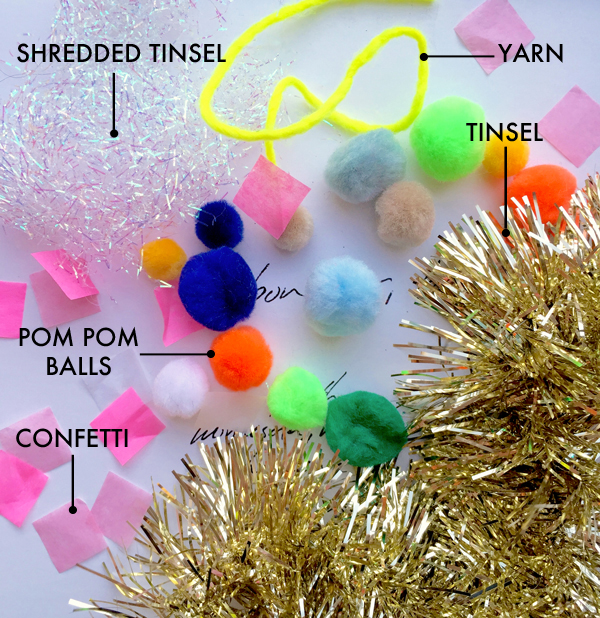 And guys- don't just stop there- get creative! As long as it fits inside the opening of the globe ornament, you can really put anything inside!. I love going for different colors and textures. For example, neon wool yarn provides a completely different look than, say, metallic tinsel.