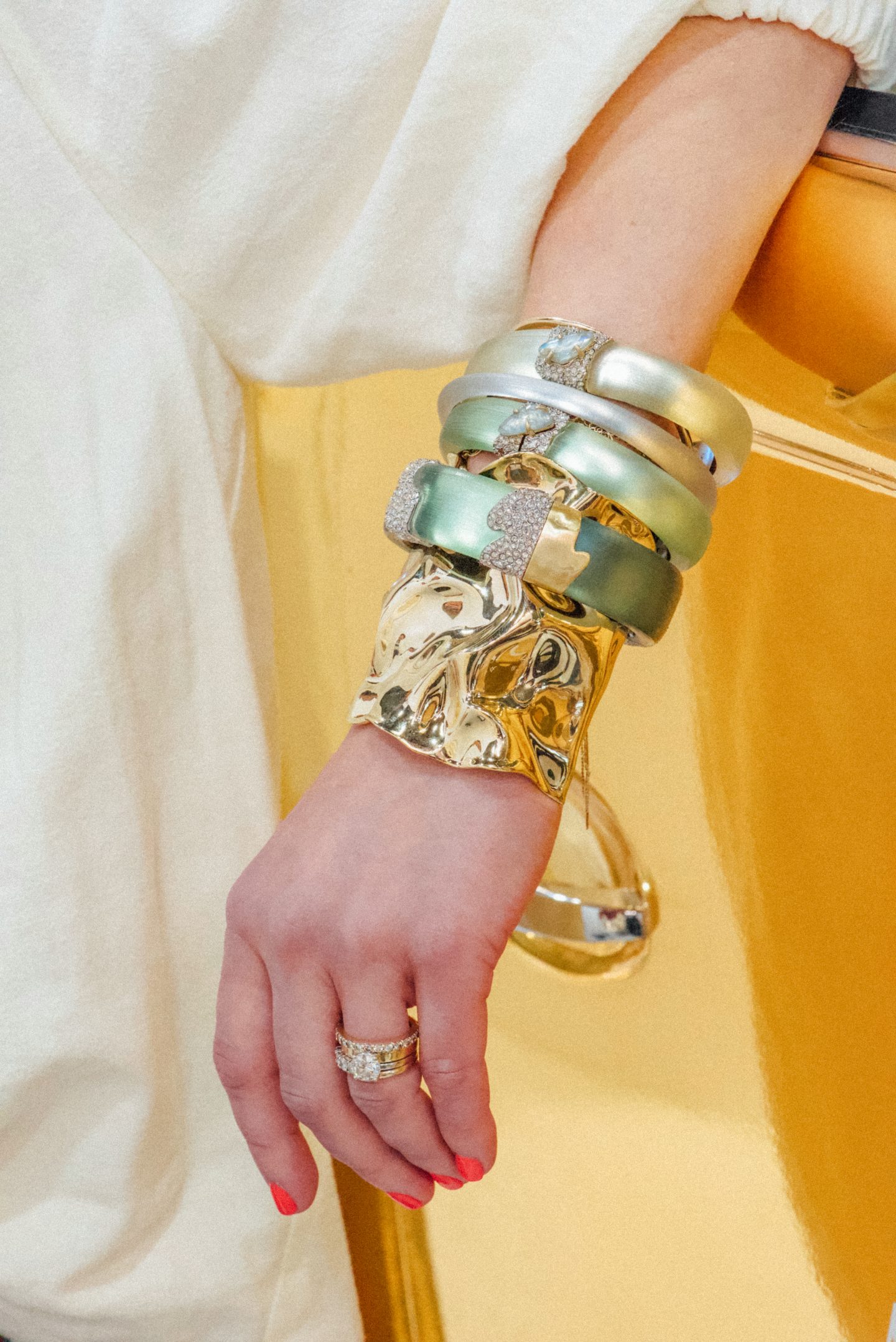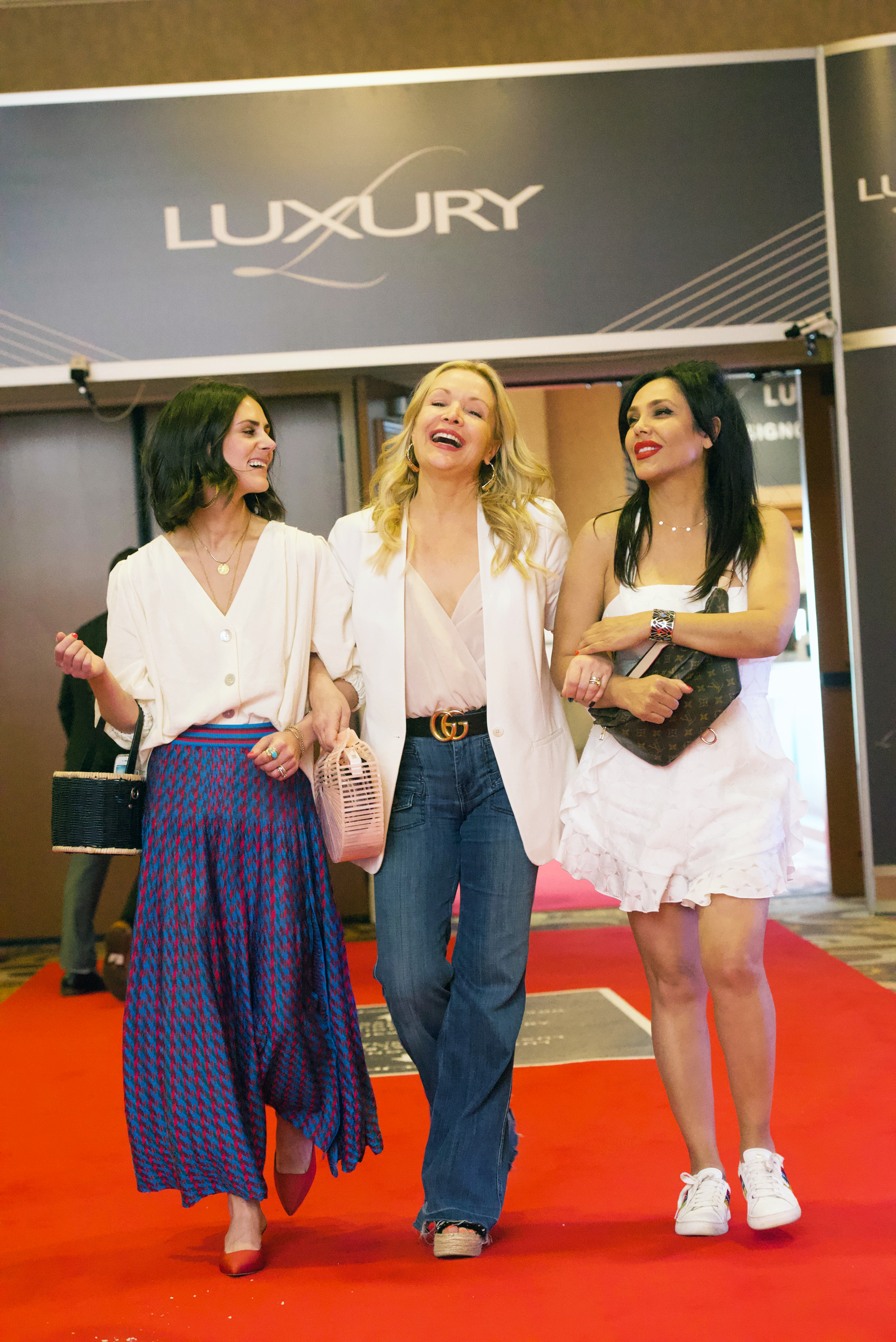 Hi friends! If you were following along on my Insta Stories last week, then you'll remember that I was in Las Vegas attending the JCK Las Vegas + Luxury shows. I can't wait to recap my favorite vendors from the show, but before I get into that, let me share a little bit about the shows, and what they are, for those of you who aren't familiar with them!
JCK is the longtime authority on all things related to jewelry retail and design. They also put on the world's premiere jewelry industry trade shows (JCK Tucson, JCK Las Vegas, and Luxury), all three of which I have had both the pleasure and honor of attending this year! It is at these trade shows that the best designers and vendors in the business come to show their designs to mid-to-high-end retailers, from big box stores to small boutiques.
If you remember from my stories, I attended JCK Tucson back in February, and brought you all along on Instagram Stories as I showed you some of the best artisanal pieces the Southwest had to offer. And now, four months later, here I am, doing it all over again in Vegas, but on a much much larger scale! With over 2,300 exhibitors, JCK Vegas + Luxury are the largest annual jewelry trade events in North America. So, as you can imagine, I was only able to cover a portion of the show during my four days there. Let's take a look at some of my favorite vendors!
---
1. Tacori
When it comes to innovation, Tacori is at the top of their game. I was so blown away by their simple approach to problem-solving in the retail space, which is why they earn the number one spot on my list of favorite vendors from the show!
When the director of innovation noticed how expensive it was to store "live" (read: authentic) precious stones of every color, shape and size in every setting type, he came up with a solution: to keep a sample set of CZ rings on hand, along with a stock of Sharpies, each color representing a different type of gemstone. When a customer comes in and wants to see a certain combination of stone, he or she can simply take the sample ring and color the stones with a Sharpie to see a "mock-up" of what the ring might look like in his or her stone of choice! (And, might I add, the stones end up looking almost exactly like the real thing. I was completely fooled when I first arrived to the color station. I had no idea each of the rings were covered in Sharpie!).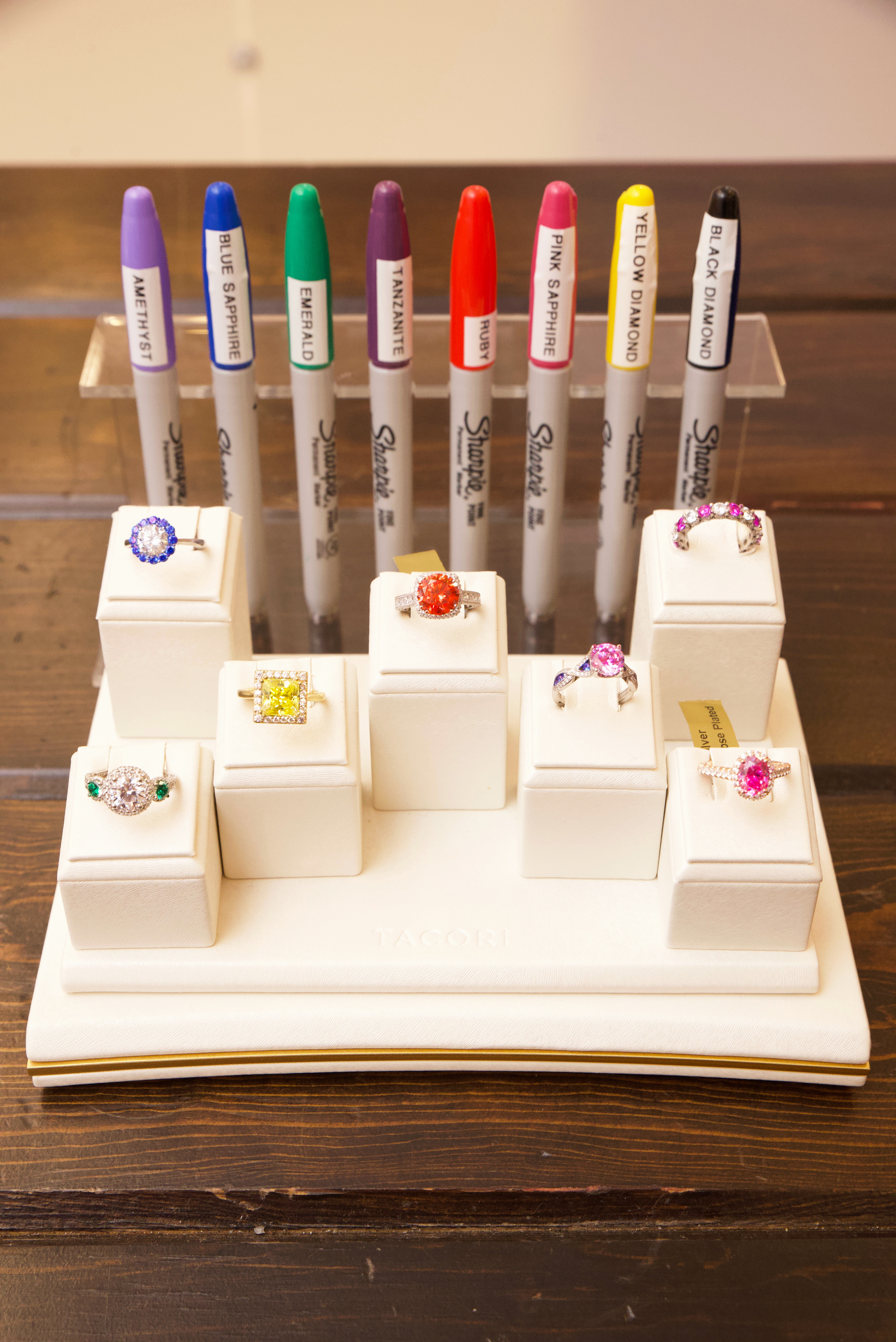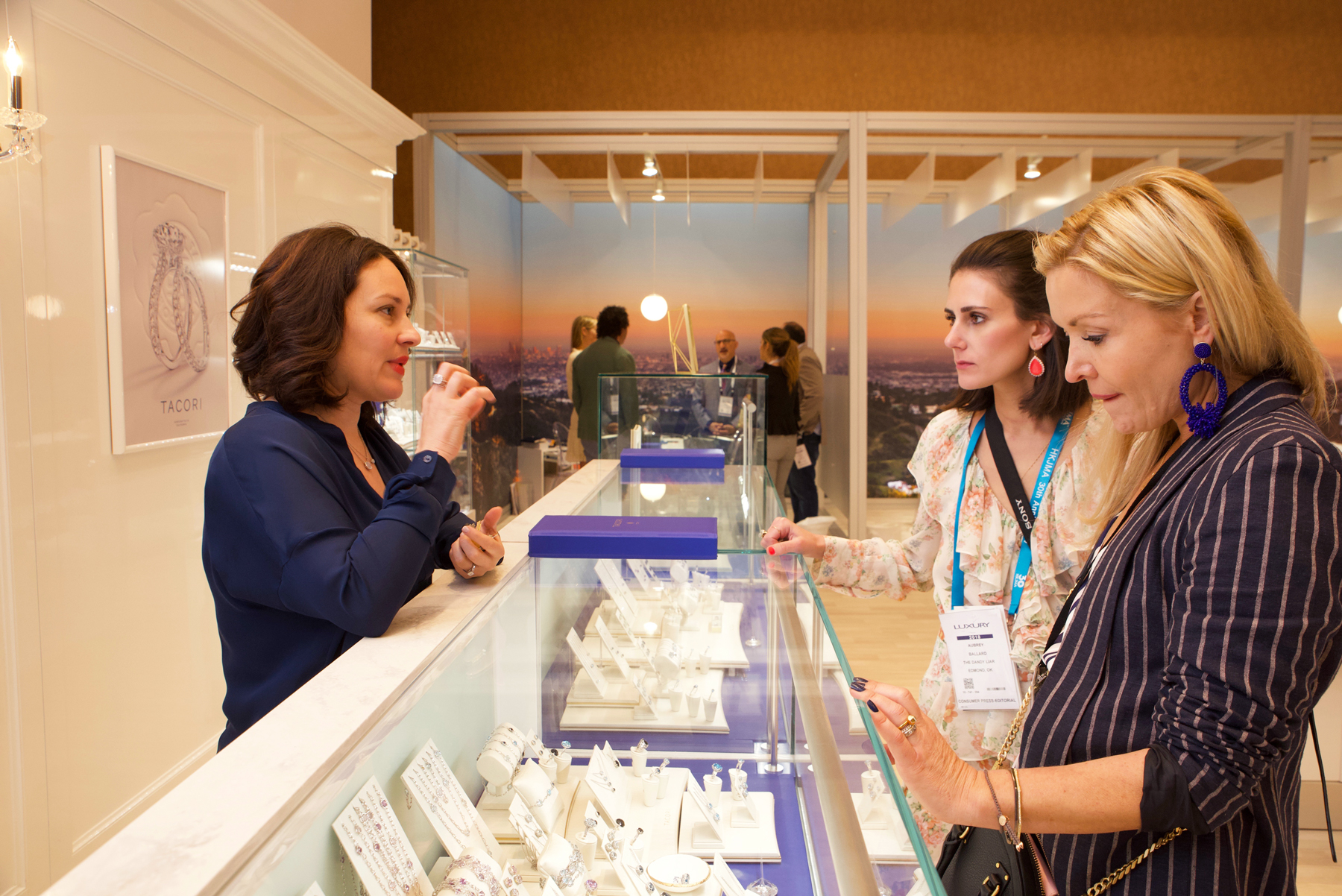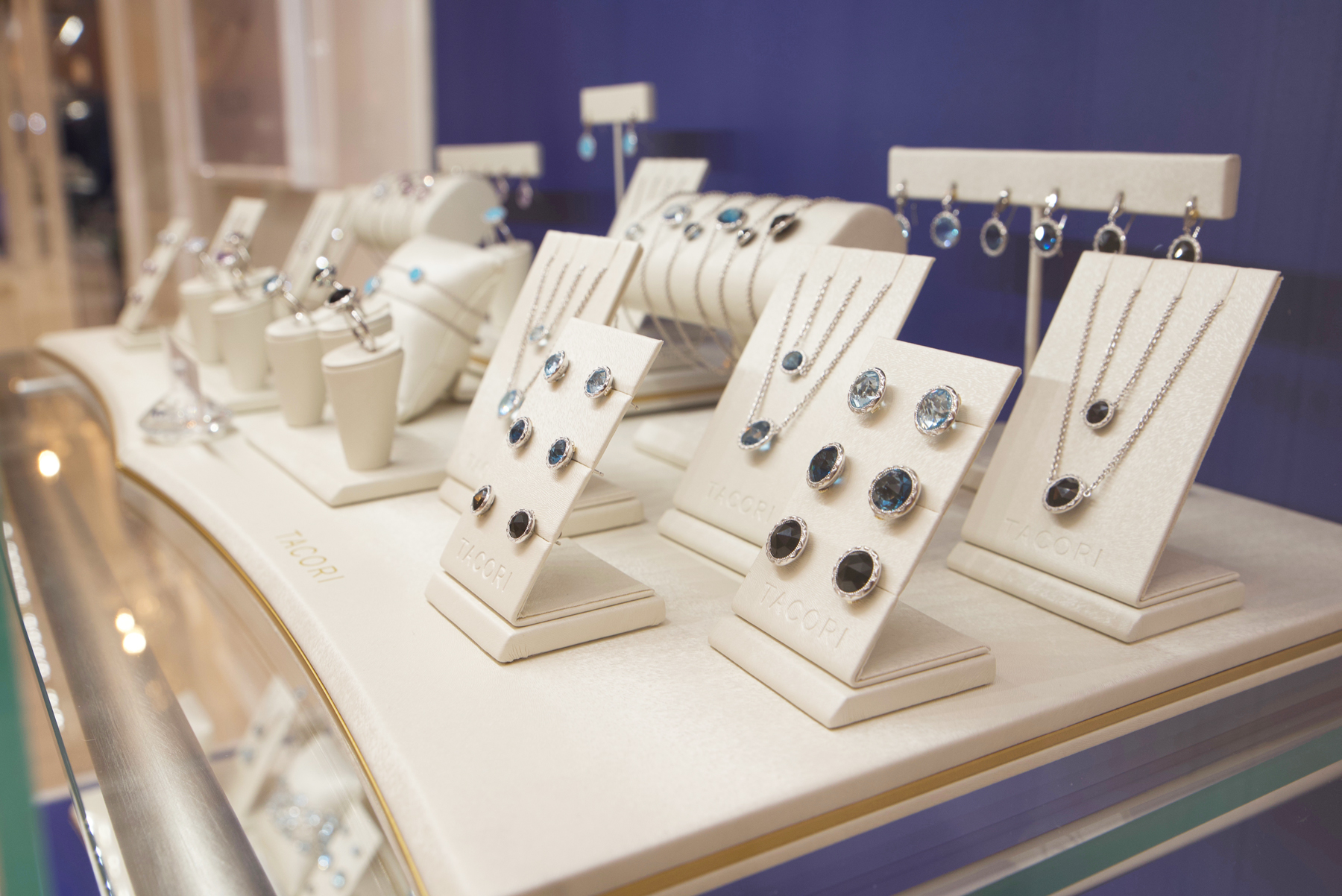 ---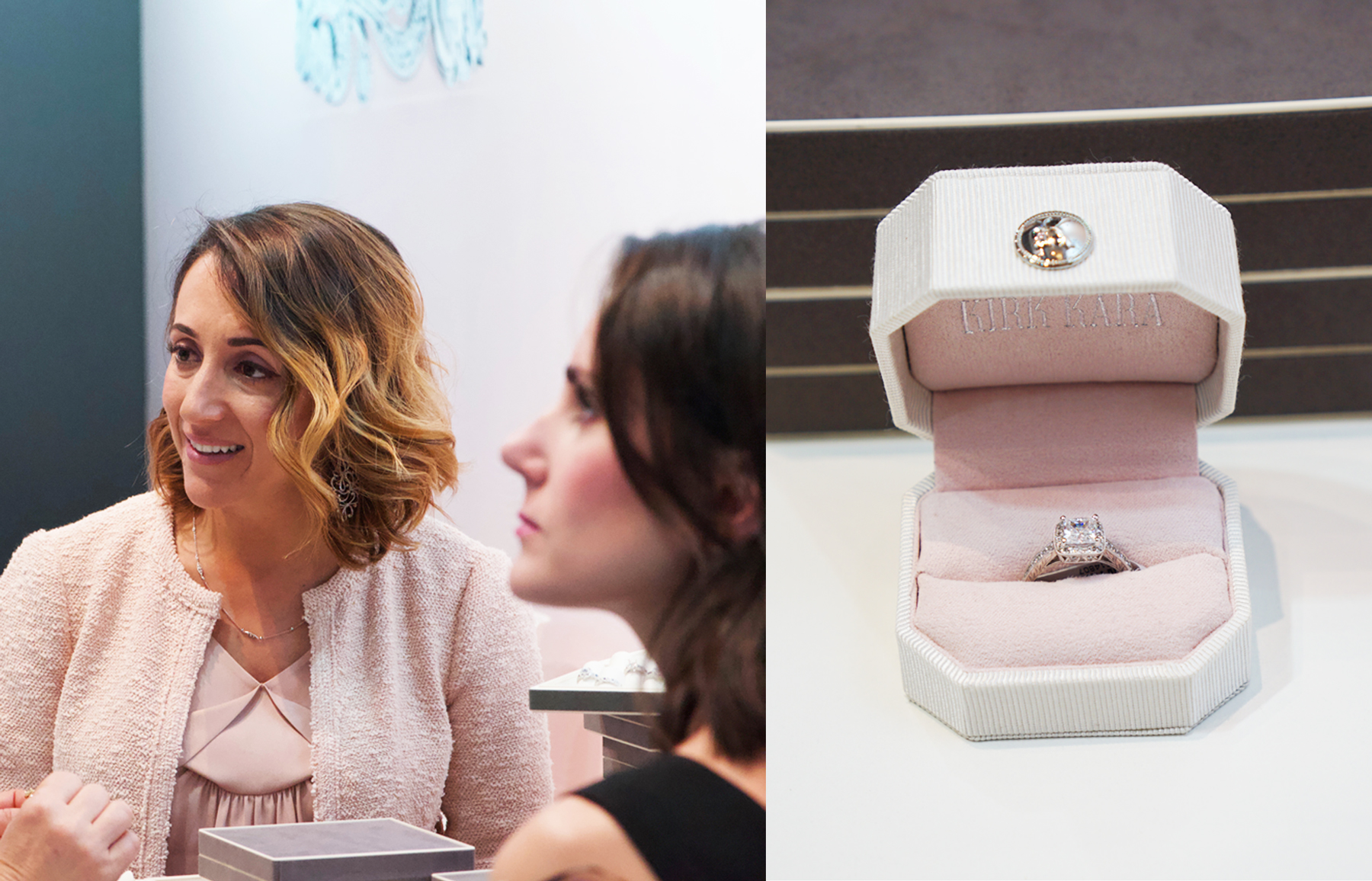 2. Kirk Kara
When I first met Angela Karaguezian of Kirk Kara, I immediately felt a sense of family. And rightfully so- Kirk Kara is a family-run company, one that's built upon two generations of Karaguezians, although jewelry has run in their blood for many generations. Kirk Kara got a fresh new start shortly after Kirk Karaguezian, his wife Lucy, and two daughters, Angela and Grace, moved to America from Lebanon after the threat of civil war broke out. Angela and Grace were raised to love every aspect their jeweler-heritage from the beginning, and they soon became key players in the business.
In addition to their long-standing heritage and stunningly beautiful bridal jewelry, what stood out to me the most about Kirk Kara was their strong branding. From the moment I entered their booth, I was captured by the brand's feminine strength. A soft pink pearlized paper lined the walls, while beautifully designed crystal pens placed neatly in a glass cup sat on the white tables. My eye caught a glimpse of a row of diamond engagement rings sitting pristinely in a glass case off to the right, and then travelled to a bowl of wrapped candies in that same shade of signature pink as the walls. Everything was considered. Everything was branded. Even Angela, herself, was wearing a beautiful pink boucle jacket over a blush silk blouse. So perfectly on point with her brand.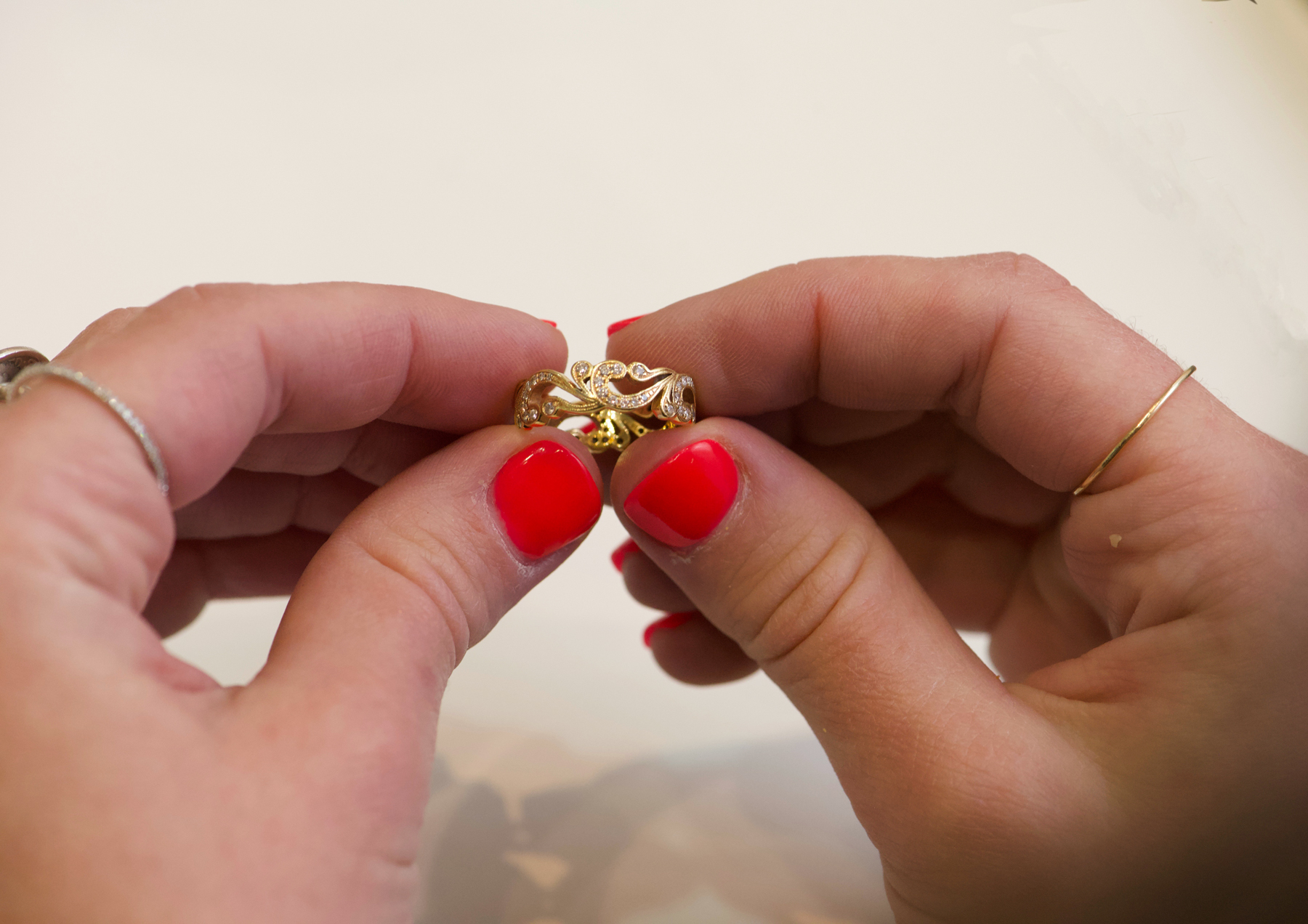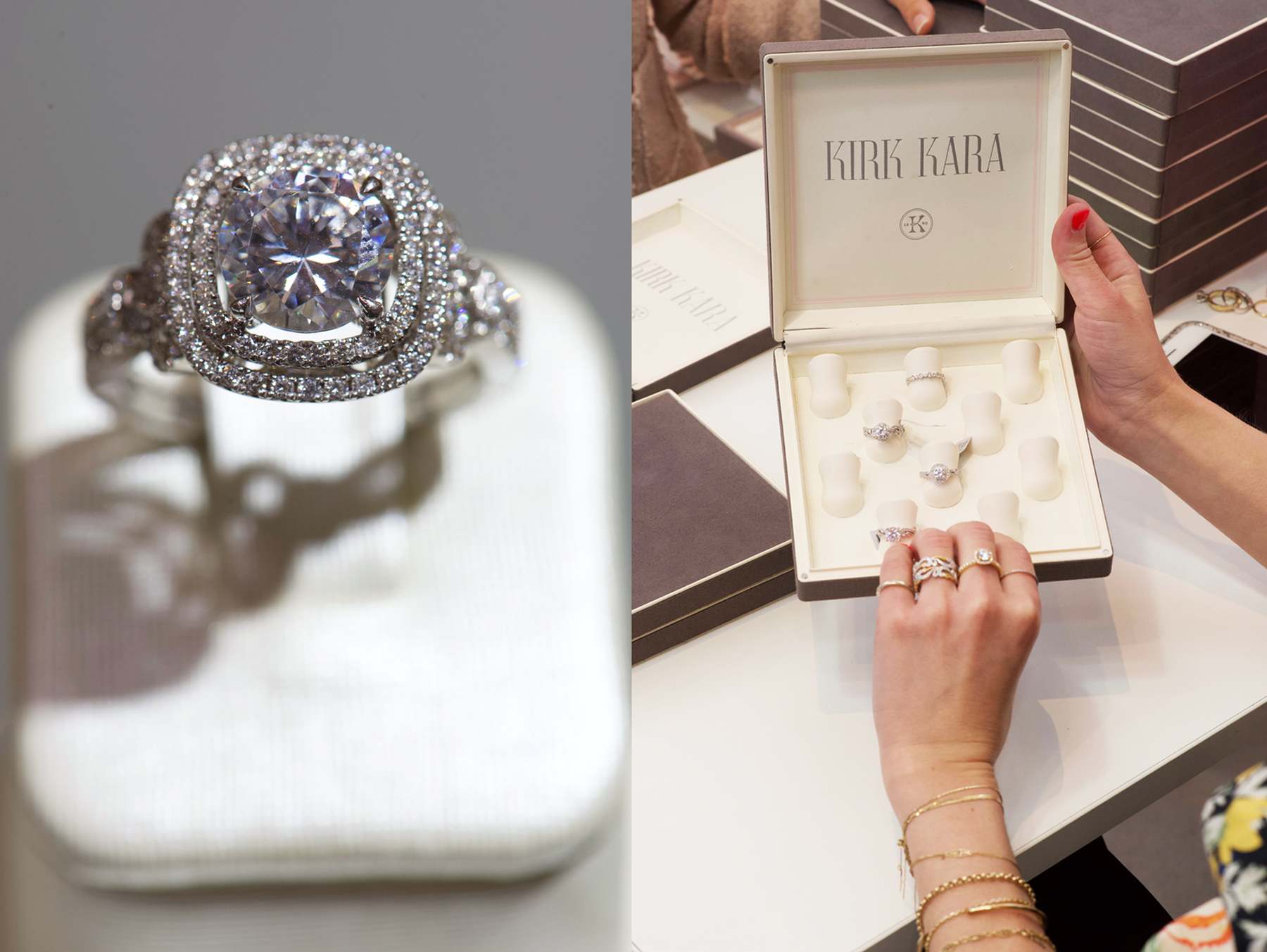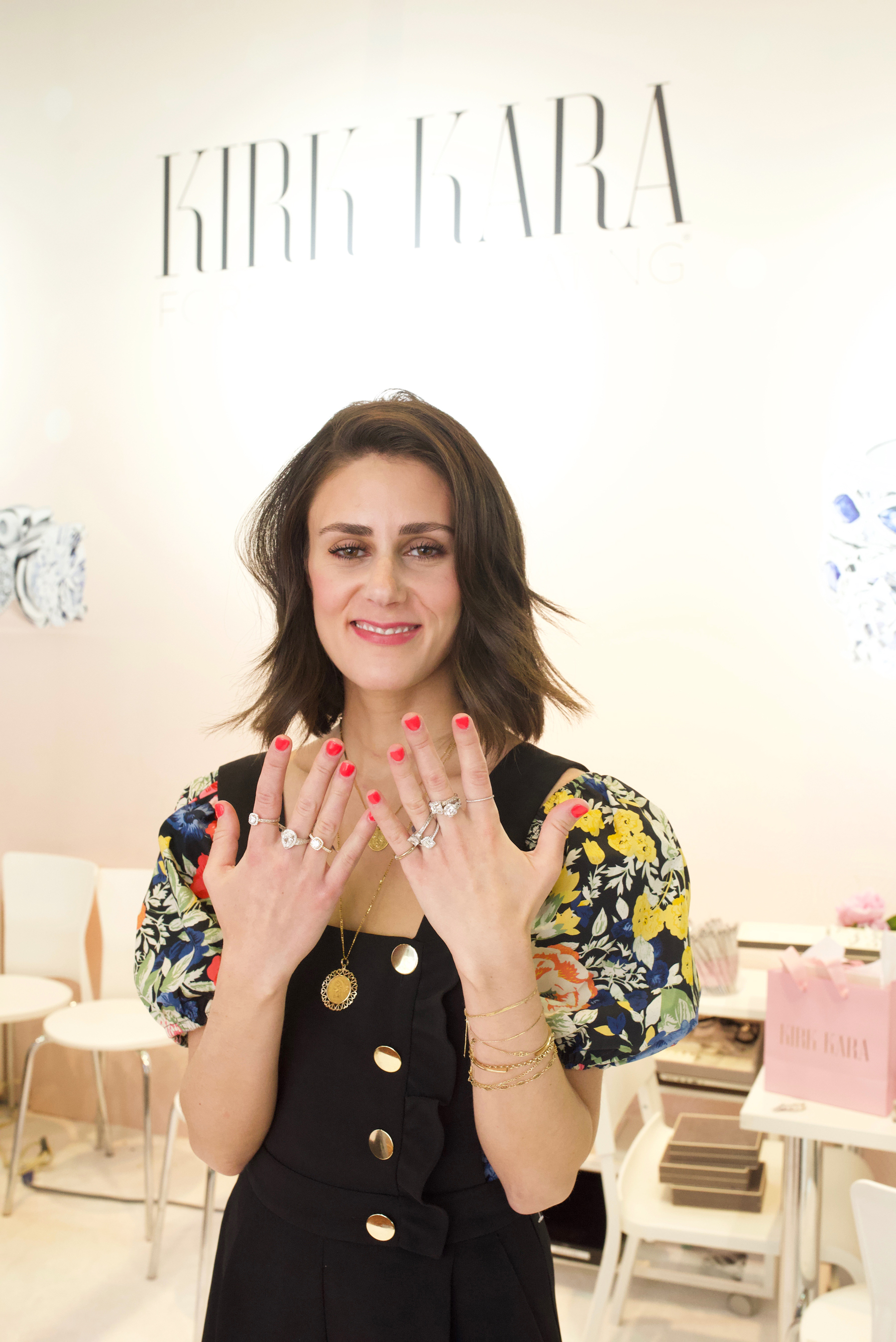 ---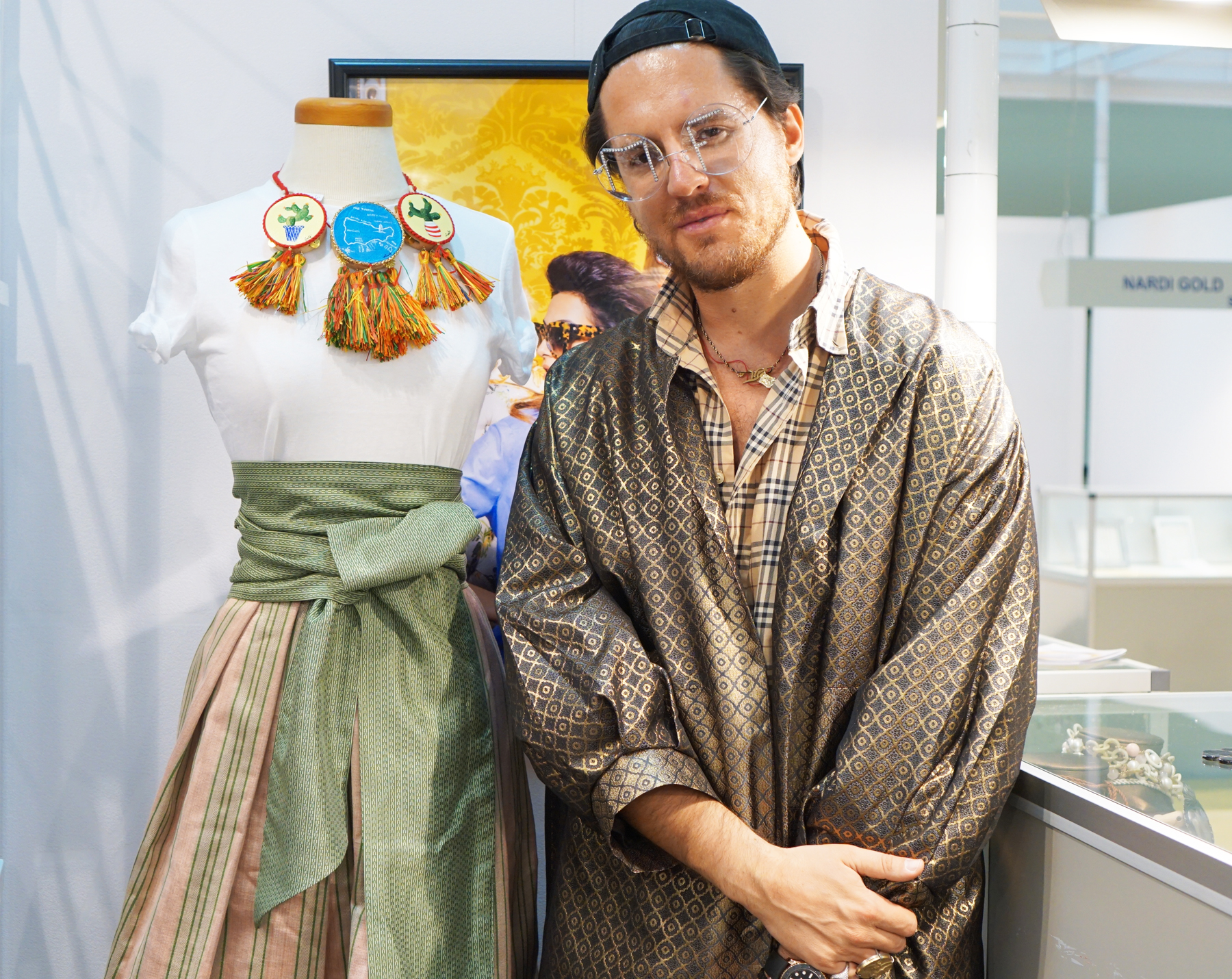 3. Amle
Of all the brands I saw at the show, I was most struck by Amle's use of non-traditional materials. Handcrafted in Italy, Amle's jewelry is both exquisite and rustic at the same time, with many hand-painted details, and color and textures abound. The designer's use of leather, wood, resin, coral, acrylic paint, nylon thread, and other unexpected materials is what sets Amle apart from other traditional jewelers at the show, who typically work with precious and semi-precious stones, gold and silver.
In addition to their use of unique and mixed media, Amle has mastered the art of creating eclectic, curated displays that tell abrand-story. Each jewelry case displays a collection of items such as Italian pasta, tomato paste tubes, lemons, table cloths, and other iconic Italian items, to help tell the story of provincial Italy and thus of the jewelry collection as a whole.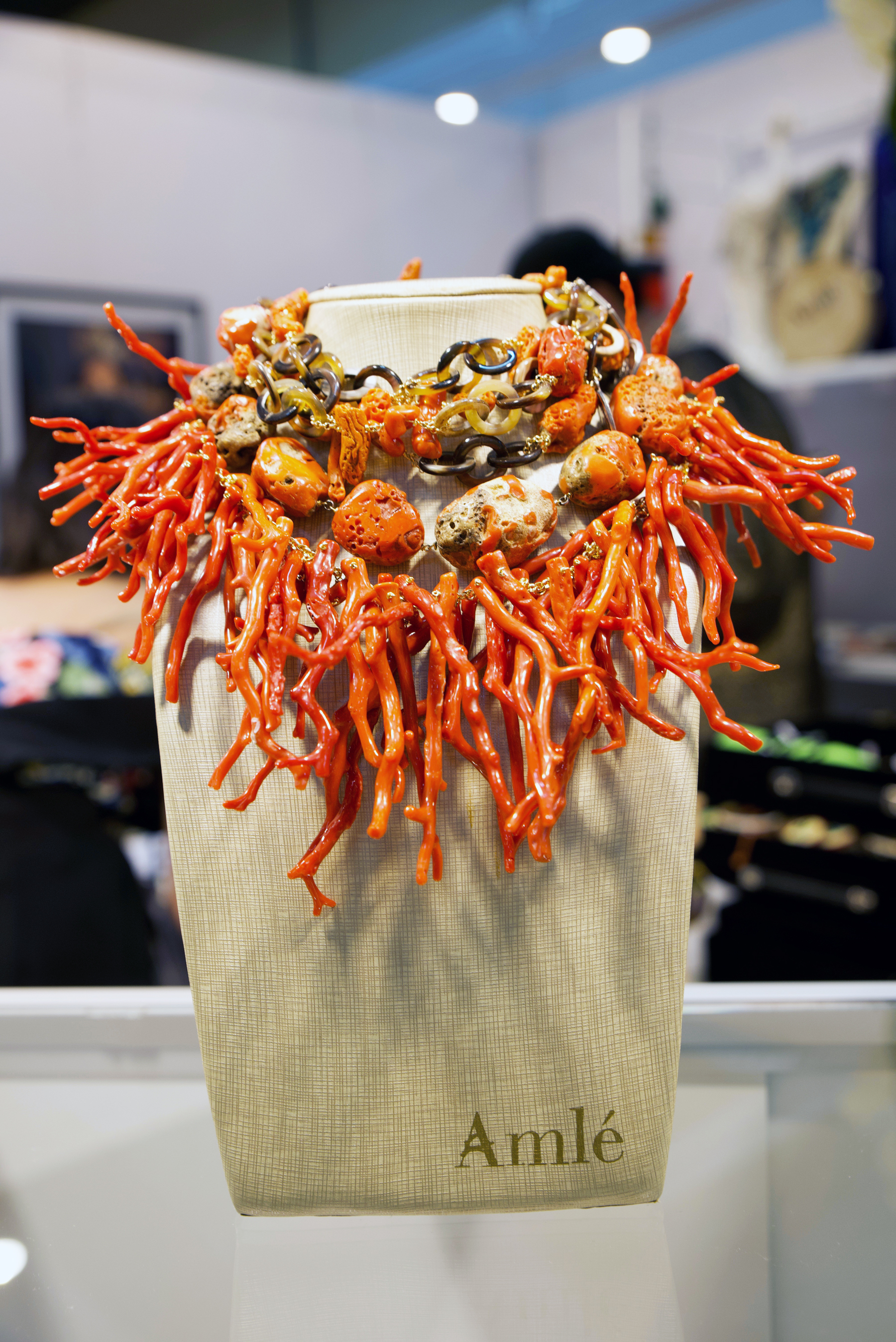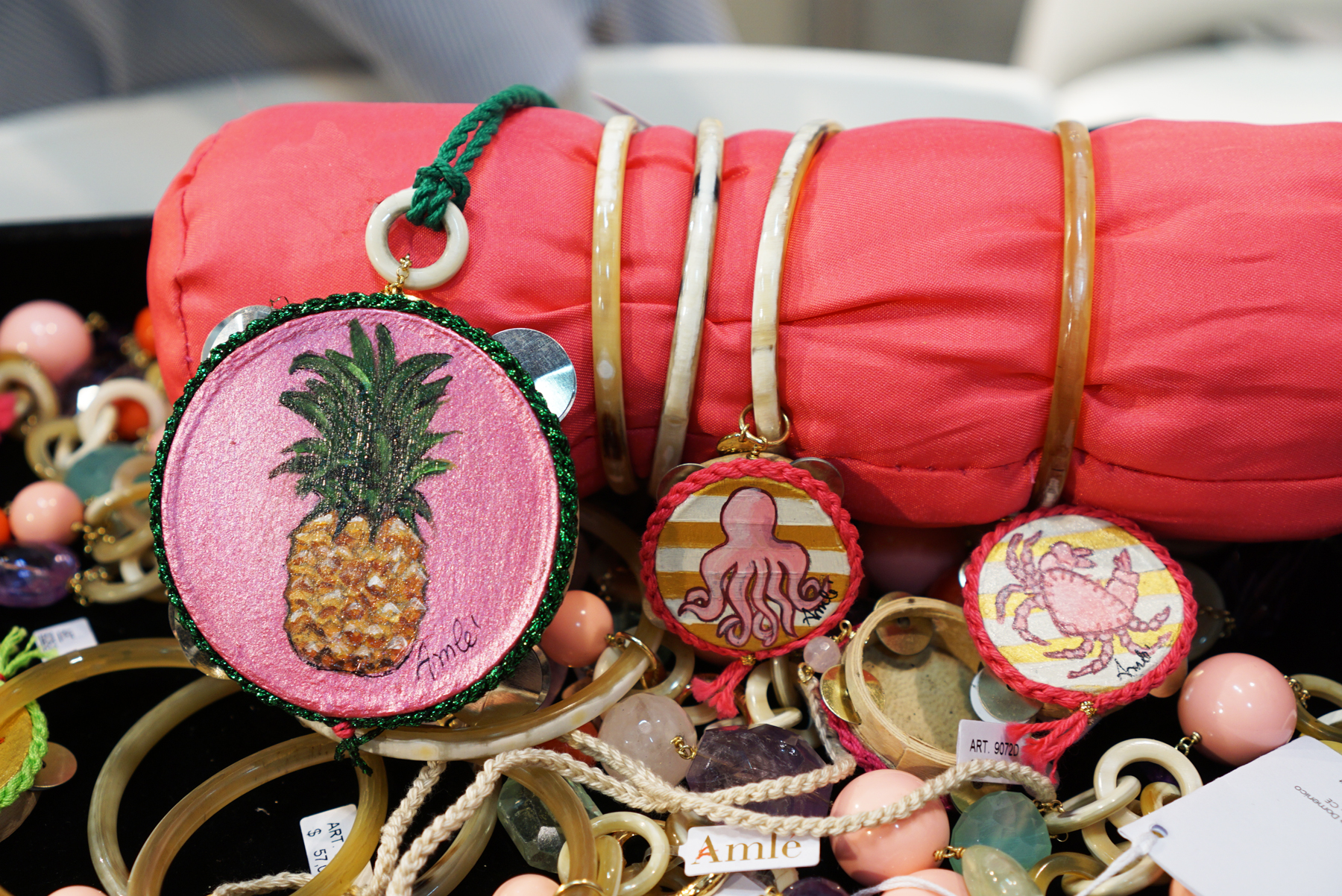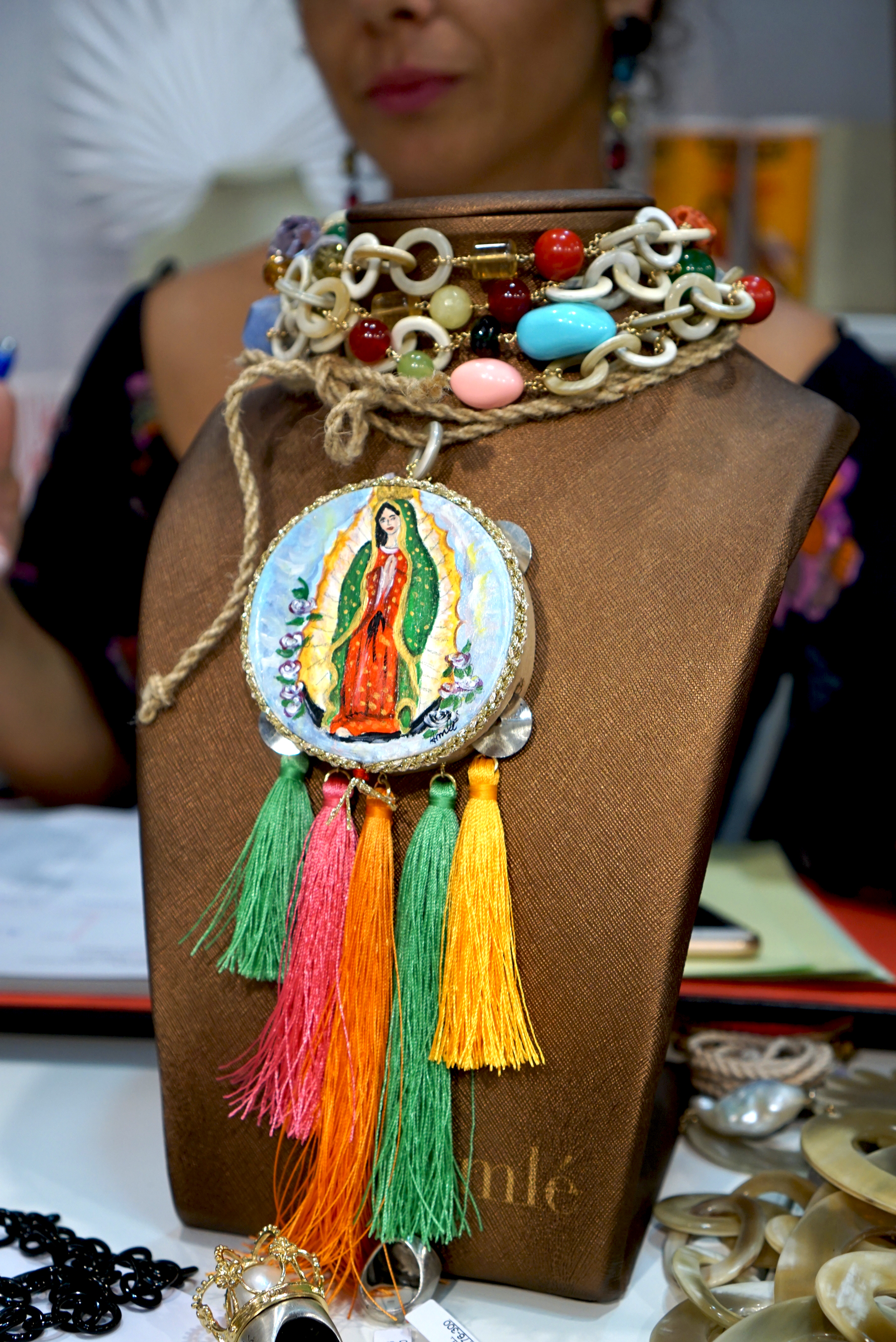 ---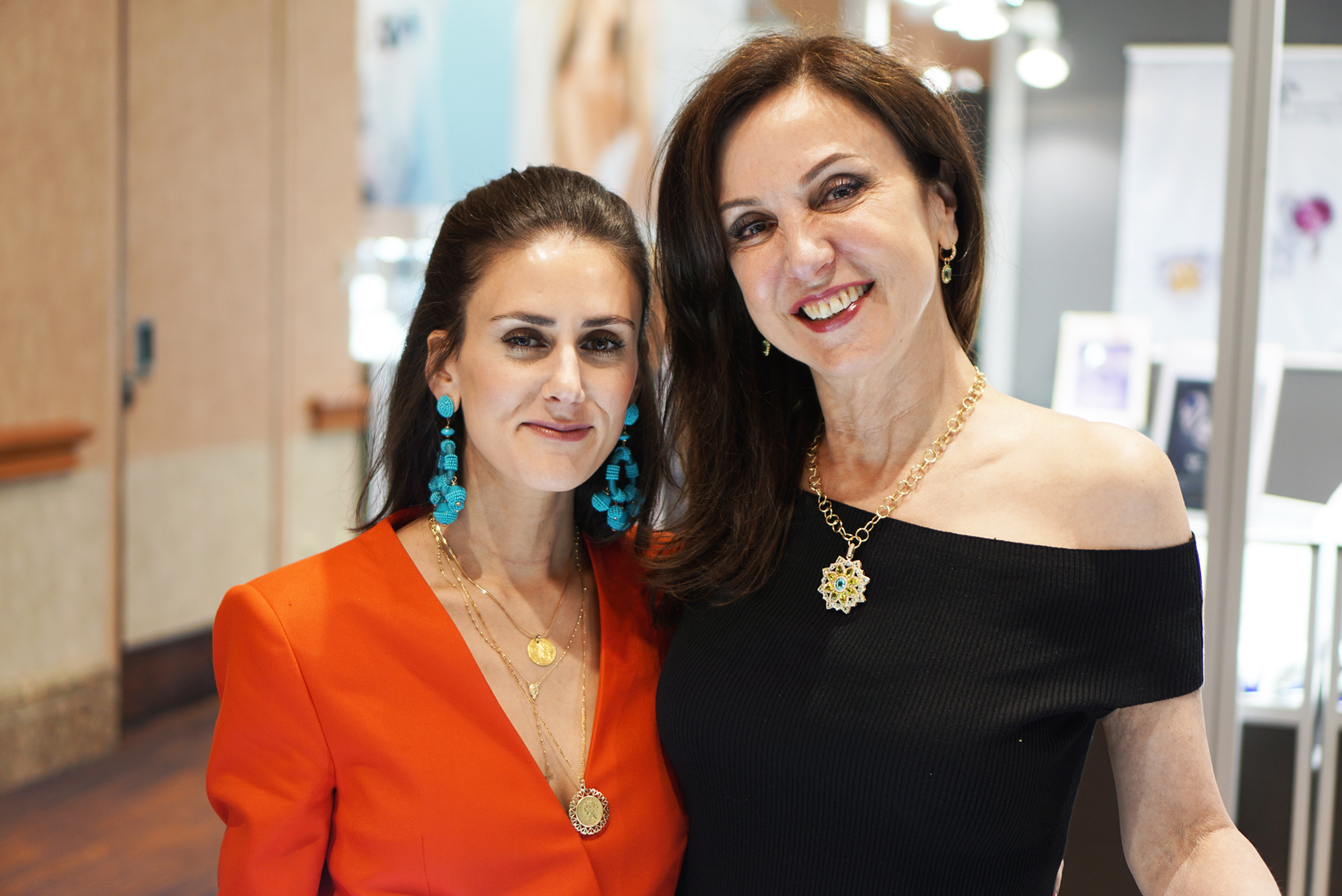 Known in the industry as Indiana Jones in 6″ heels, designer Erica Courtney is no stranger to adventure. I had the pleasure of meeting Courtney in person at the show, and one thing that stood out to me was how "hands-on" she is: she travels all over the world in search of the rarest and most extraordinary gemstones to complete her pieces (sometimes, in 6″ heels!).
Her signature trademark, you ask? Her passion for colored gemstones, as evidenced by her vibrant collection of statement pieces that glorify feminine beauty. Her signature collection, named Drop Dead Gorgeous, is defined by vivid colors, intricate details, and whimsical designs. I wanted to take every piece home with me!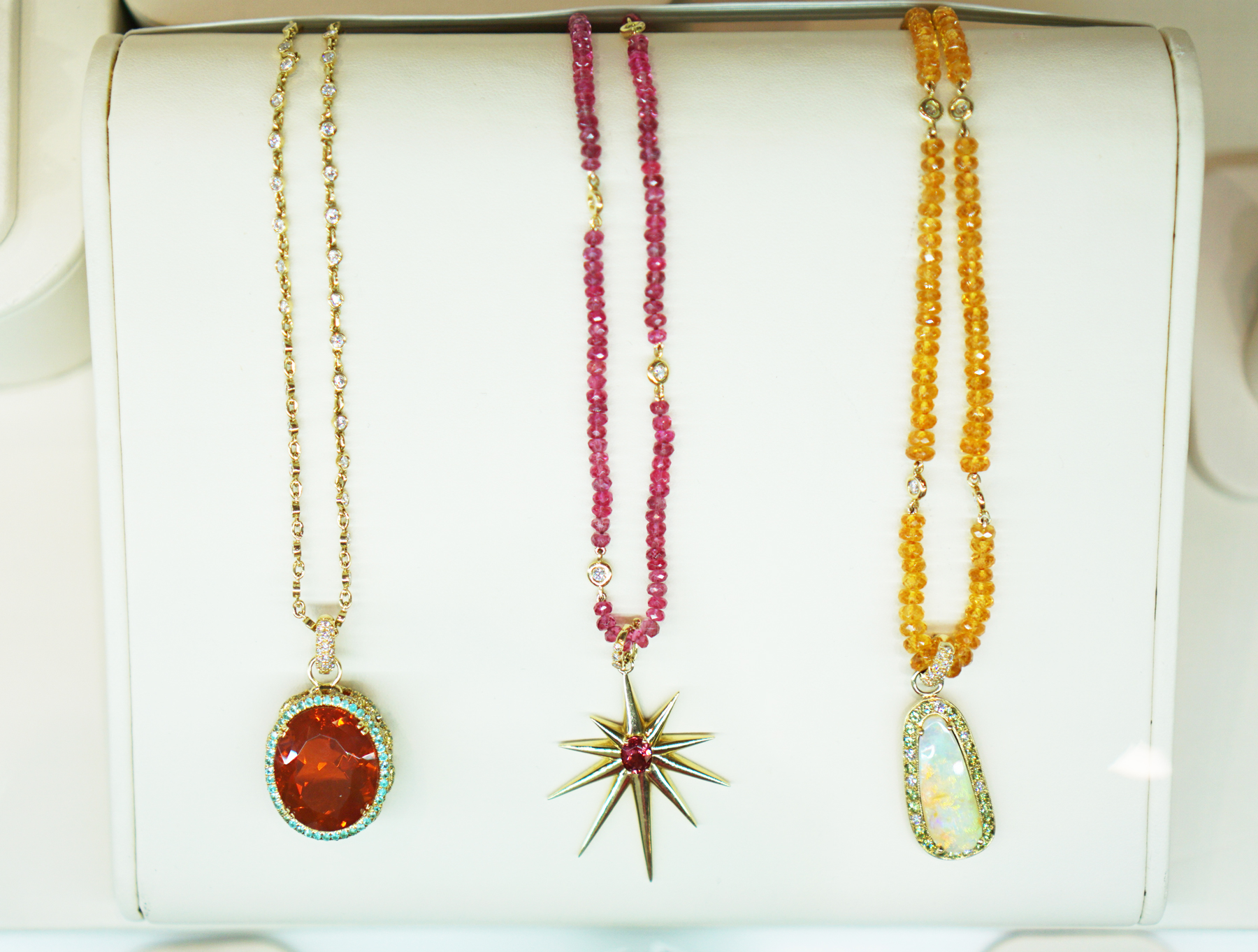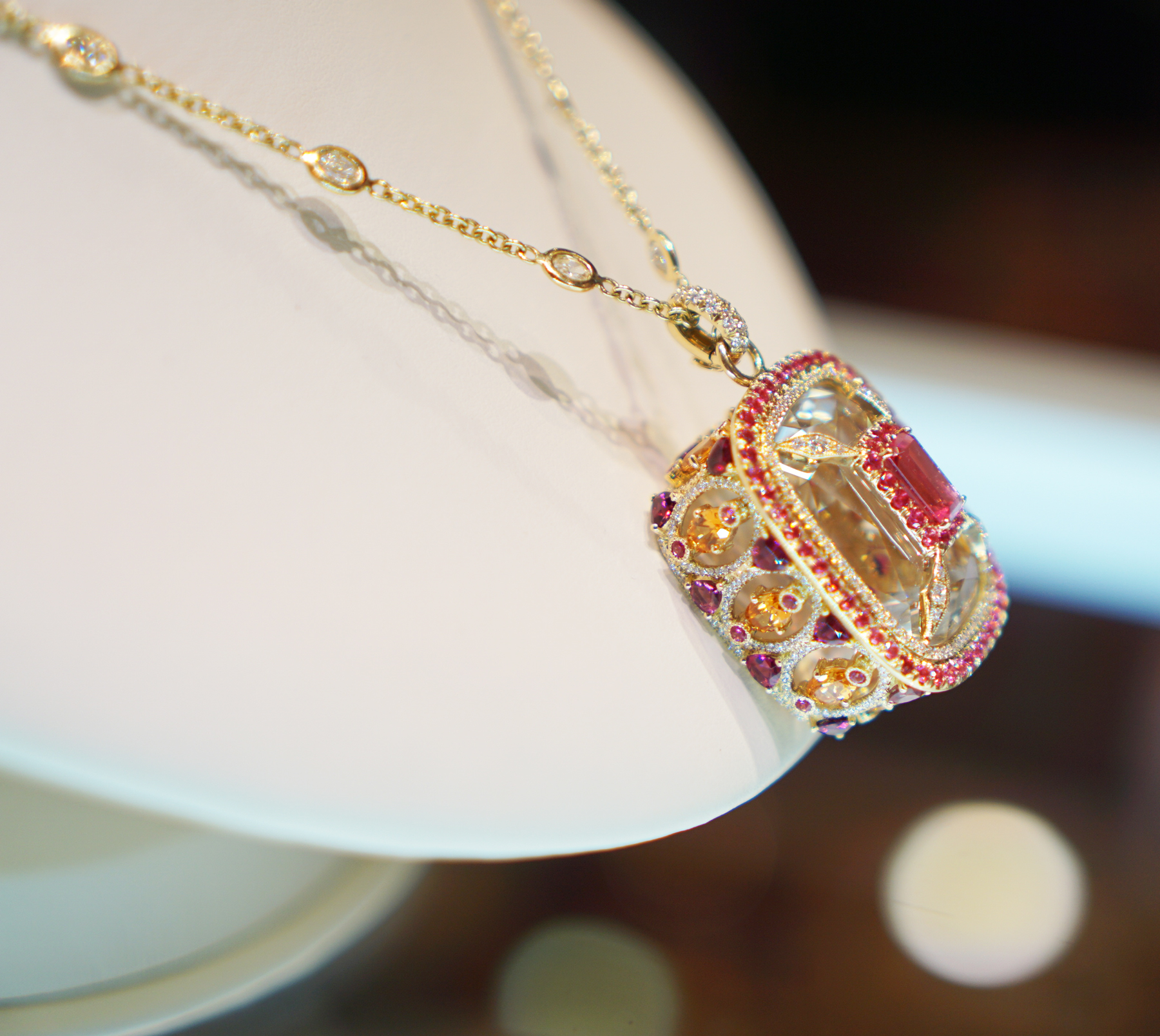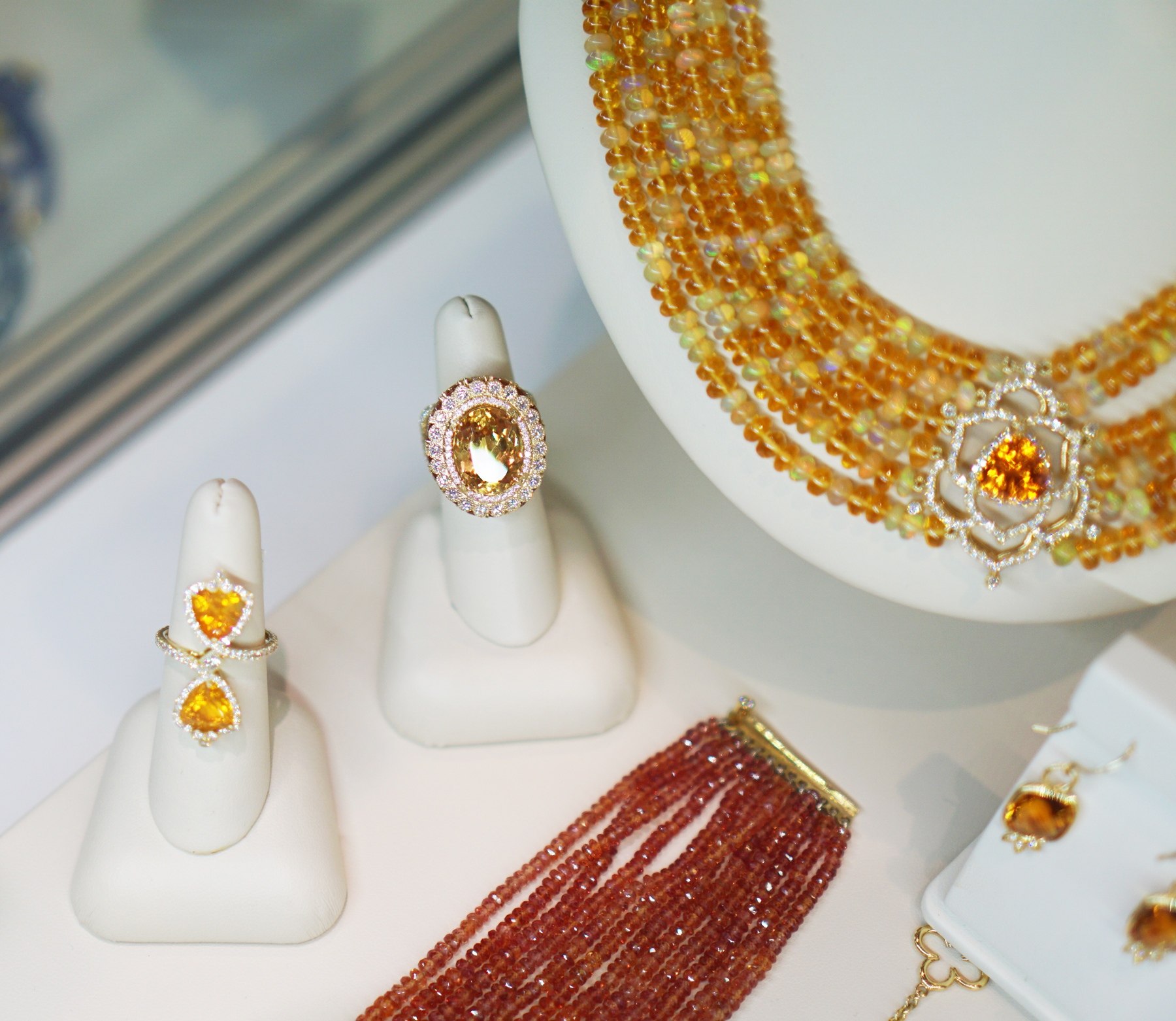 A very special thanks to JCK, the Reed Group, and LBG for sponsoring this post!
Photography by The Dandy Liar & Max Aria Photography