This is funny. So today, we found out the gender of our baby (did I mention that I'm pregnant?).
But that's not the funny part. What's funny is the first thing I did when I got home from my OB appointment: I opened my computer and started mocking up options for my unborn child's nursery in Photoshop. This is probably not surprising to anyone reading this, but I still laughed at myself nonetheless. Here is what I did not do: 1) phone up family and friends to let them know the gender; 2) add 10-15 names to my already growing baby name list; 3) begin concocting the most clever gender-reveal post for Facebook; or, 4) add some gender-specific items to my registry.
I'm not even sure if the nursery will materialize from one or both of my nursery inspirations, but either way, I have to start somewhere! So here they are- two of the many nursery mock-ups I created today.
Nursery inspo 1: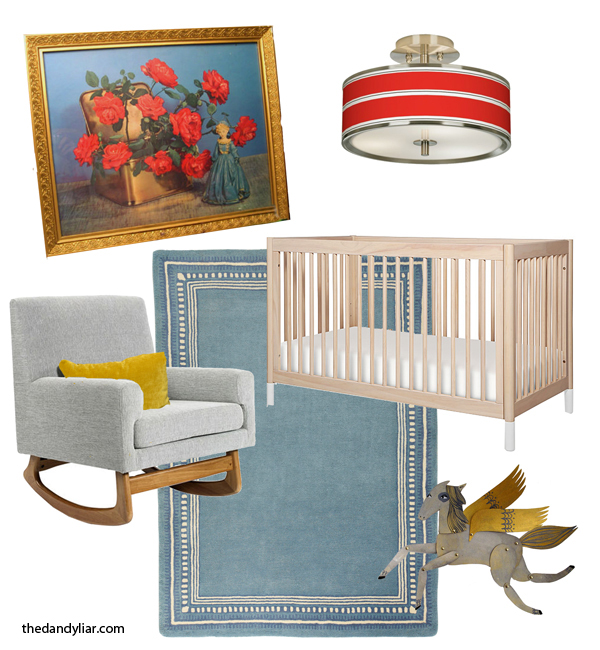 Clockwise from top left: 1. Vintage Painting // 2. Striped Flushmount, Euro Style Lighting // 3. Babyletto Gelato Crib // 4. Winged Horse, Etsy // 5. Blue Border Rug, Serena and Lily // 6. Nursery Works Rocker
Nursery inspo 2: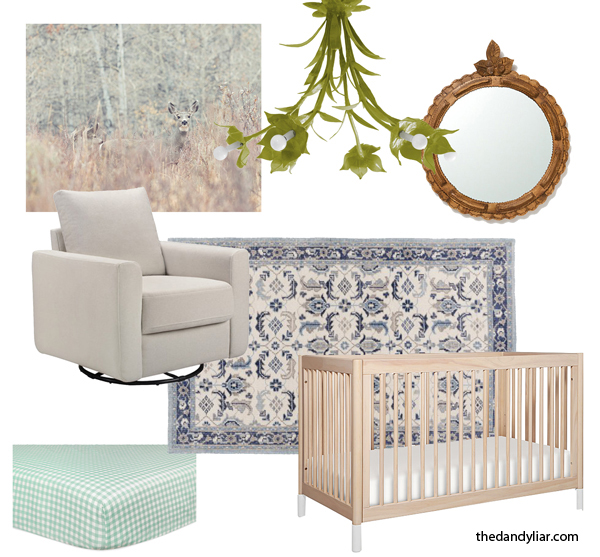 Clockwise from top left: 1. Deer Print, similar // 2. Kate Chandelier, Stray Dog Designs // 3. Flower Finial Mirror, Terrain // 4. Sauri Rug, Lulu and Georgia // 5. Babyletto Gelato Crib // 6. Gingham Fitted Sheet, Babyletto // 7. Harmony Swivel Glider
Oh, yeah, and I forgot to mention- if it wasn't apparent from the mood boards – we're having a GIRL!
So, which one is your favorite? Let me know in the comments below!