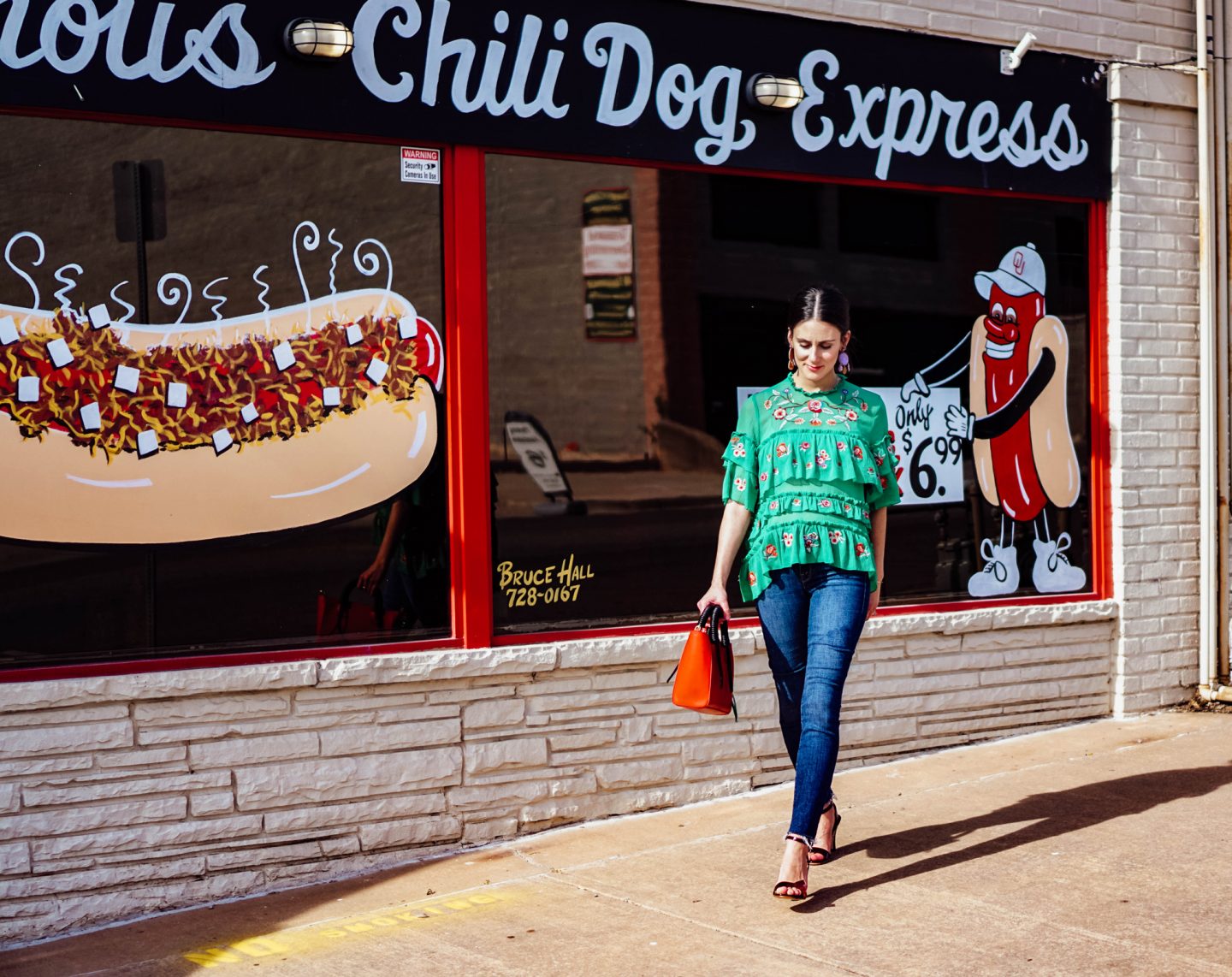 Hi friends! I am honored to partner with Anthropologie to represent the great state of Oklahoma for their 50 States of Denim campaign, where one style influencer from each state is chosen to style a pair of their favorite denim. And the campaign couldn't have been more timely- I have been searching for the perfect pair of skinny jeans for months after outgrowing my go-to pair (it was 4 years old, and trust me, needed to be tossed anyway). Keep reading for a special promo code to get $20 off any regular-priced pair of denim!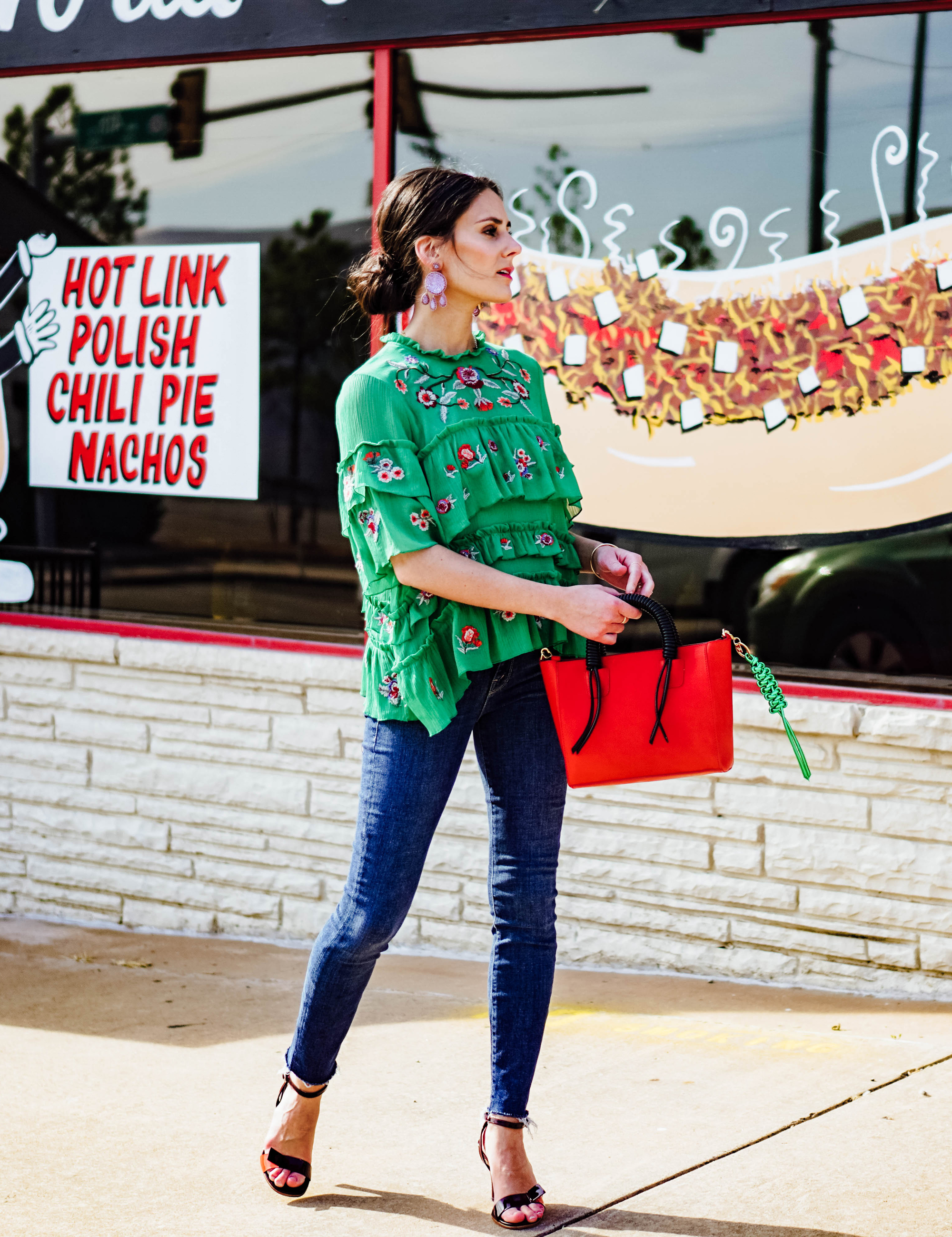 – OUTFIT DETAILS –
AG Jeans Denim // Top (similar here and replica here) // Isla Fontaine Red Leather Satchel // Red Patent Leather Heels // Sequined Earrings (Sold out in purple; grab it in blue and black here)
---
But before I get to the pair I chose, let's talk about Anthro for a minute- when was the last time you checked out their denim selection? I know, I know- it's easy to go into their store or on their site and not get distracted by all of the pretty bowls (Yes, you need another one! And yes, that yellow bowl is slightly different from the other yellow bowl you bought from there last month), feminine tops, cookbooks, curtains, jewelry, flowy dresses…. are you catching my drift? My point is, Anthro is so good that it's easy to miss out on the fact that they have one of the best denim selections to boot!
I say best selection because, when it comes to carrying a wide range of styles, brands, and price-points, few have done it better than Anthropologie. There is truly a style for every body type and style preference. Like I mentioned, I had been looking for a new pair of classic skinny jeans in a medium to dark wash, and found it in The Stevie Mid-Rise Skinny Crop from AG. They are slim fit, as are most skinny jeans, but not super skinny, which is perfect for a pregnant mama like me. Can you believe these fit me at 24 weeks pregnant?! A trust testimony to the power spandex. 😉 I also loved the raw hem as a fun twist on the classic skinny jeans. For a limited time, Anthropologie is offering $20 off any pair of regular price denim! Use the code "OK20" at checkout to get the discount, so now is the time to grab a pair for yourself!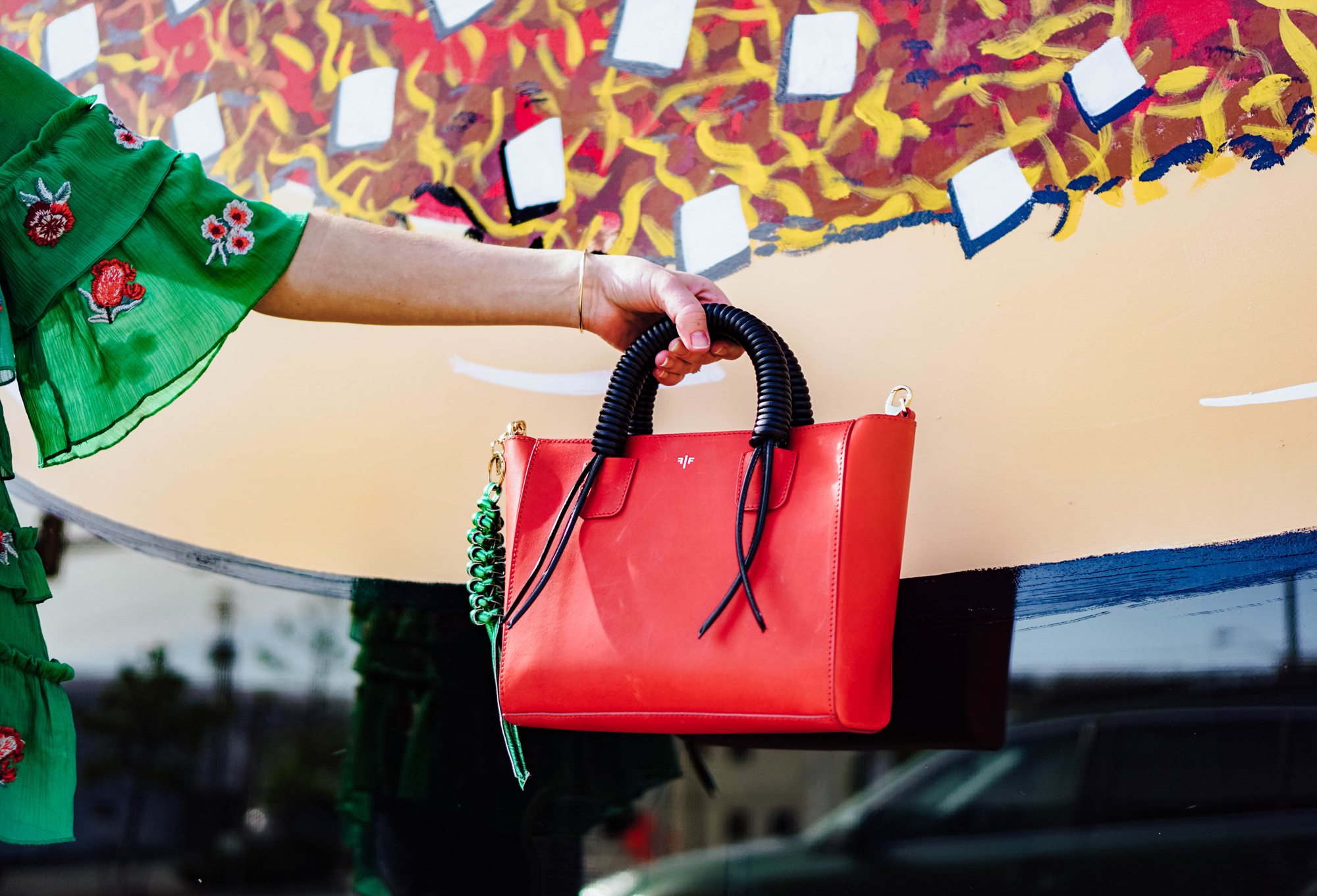 While I was at it, I picked up these gorgeous two-tone patent leather Rachel Comey heels, also from Anthropologie. They have a low heel (because, let's be real, at this point, I wear 3″ or shorter), and the prettiest ankle strap. I had also been eyeing these purple sequined earrings for some time, and decided that I needed them for this outfit! To finish off my look, I paired my AG jeans with this gorgeous red Isla Fontaine handbag (how fun is that green toggle?), and a green embroidered top from Zara. It's currently sold out, but I found a replica of it here in a darker green (which would be perfect for Fall!).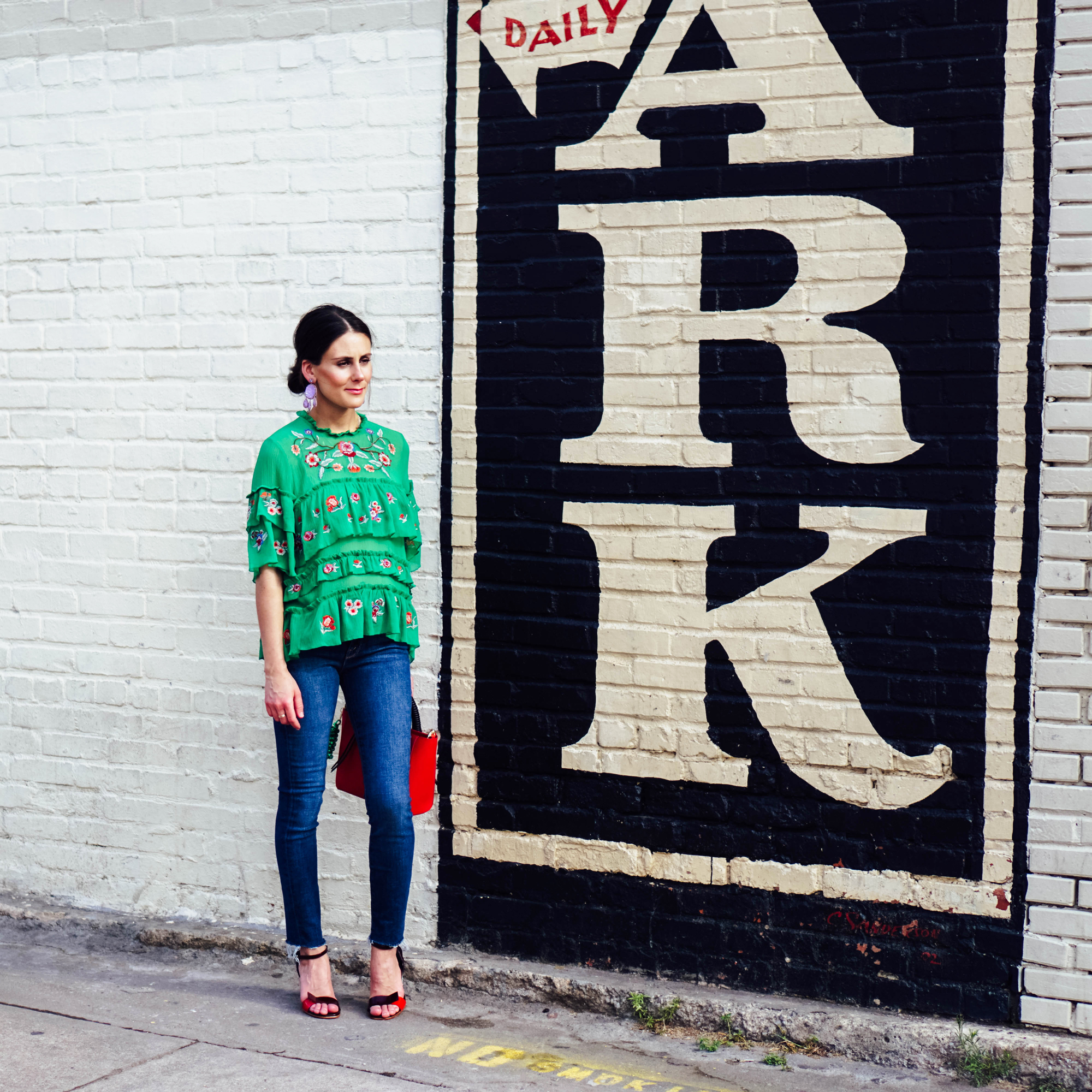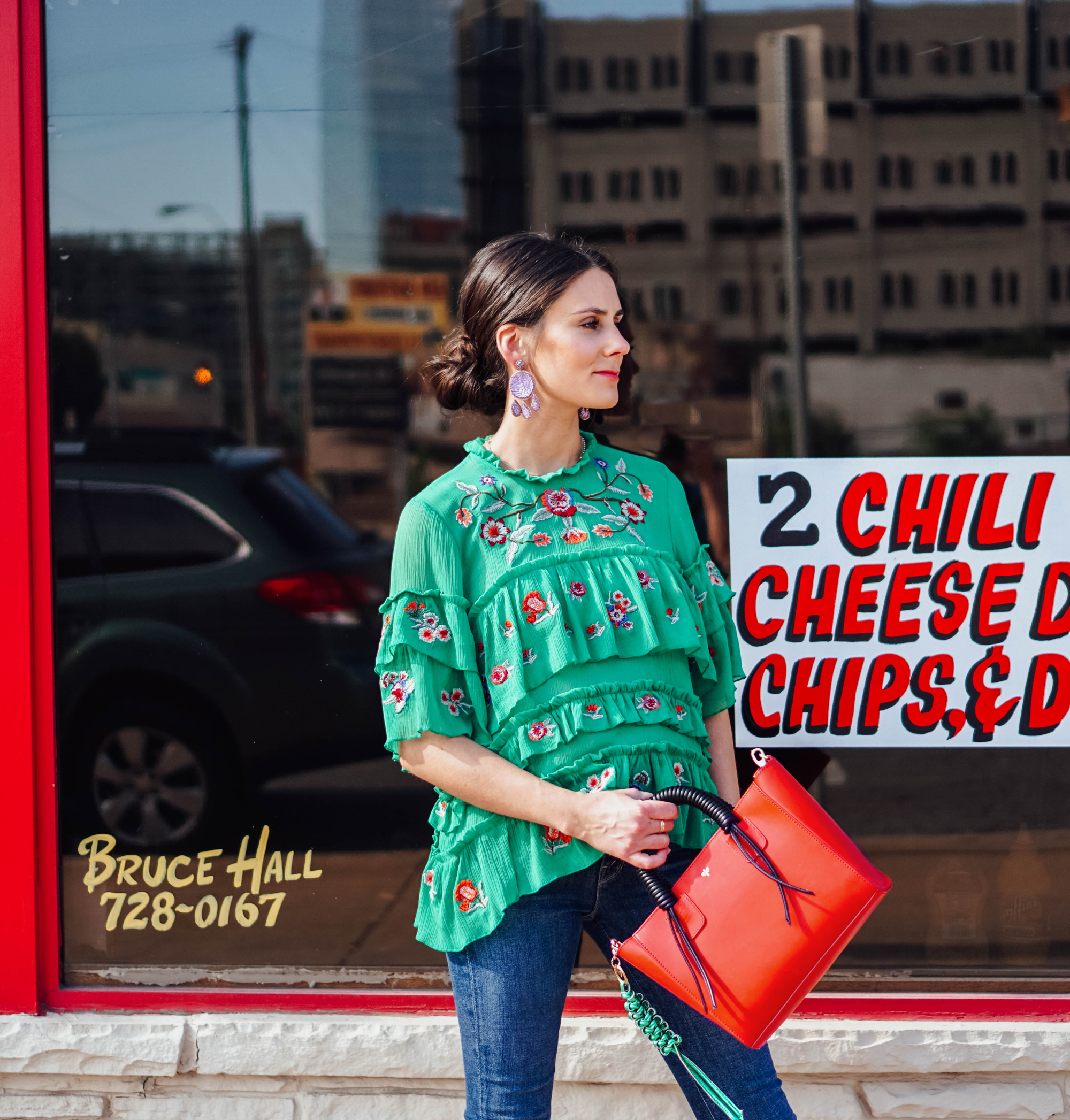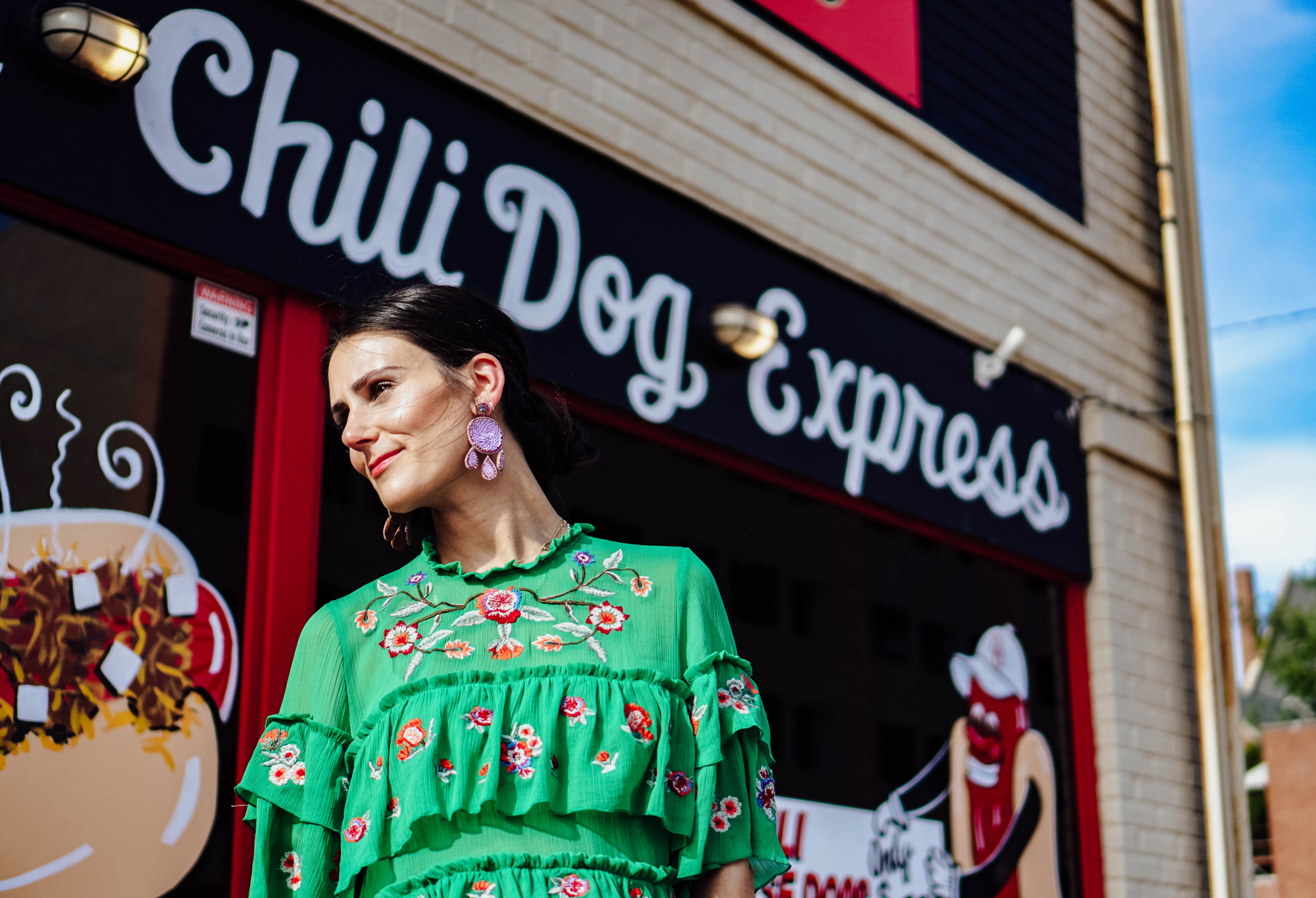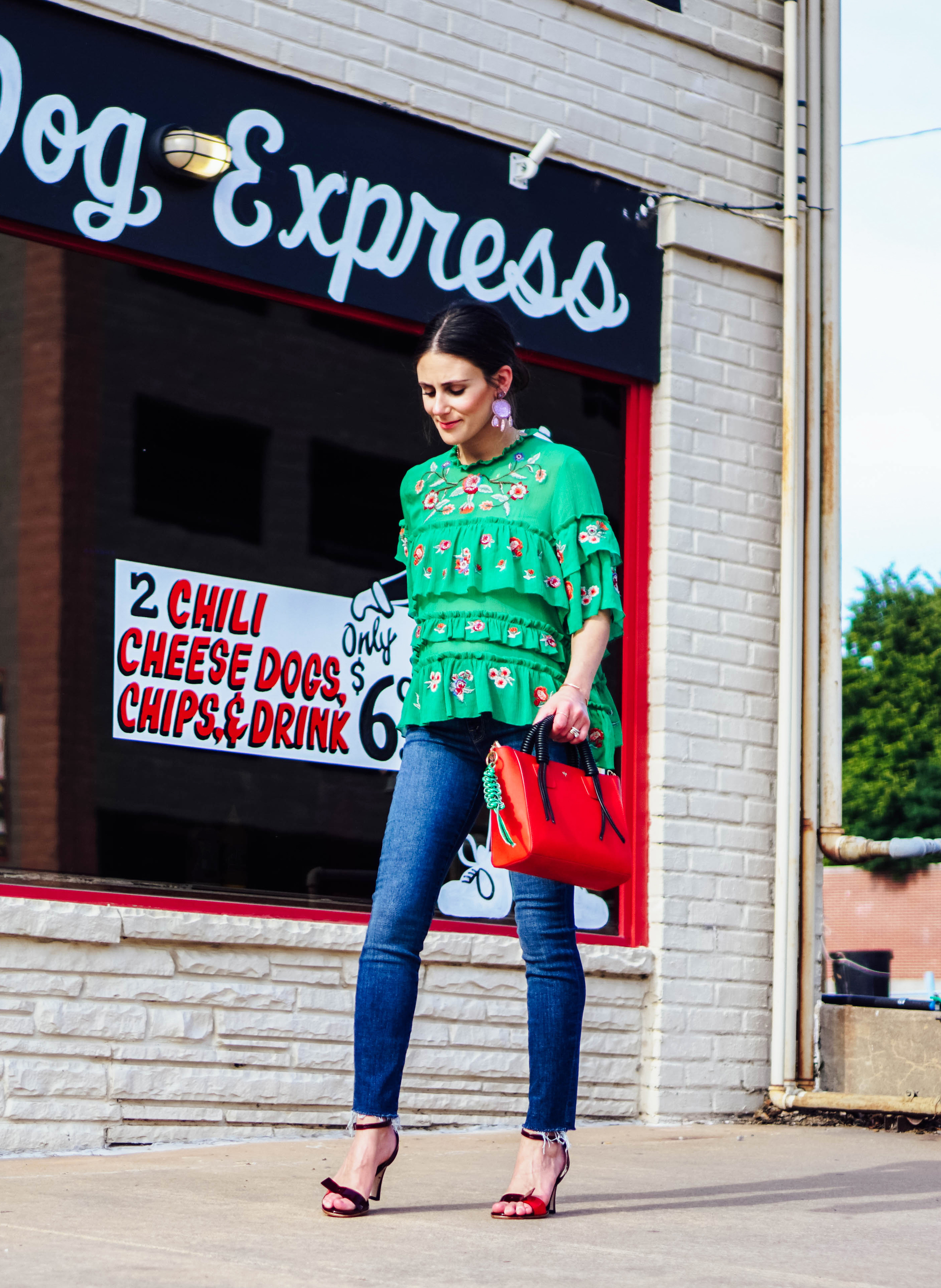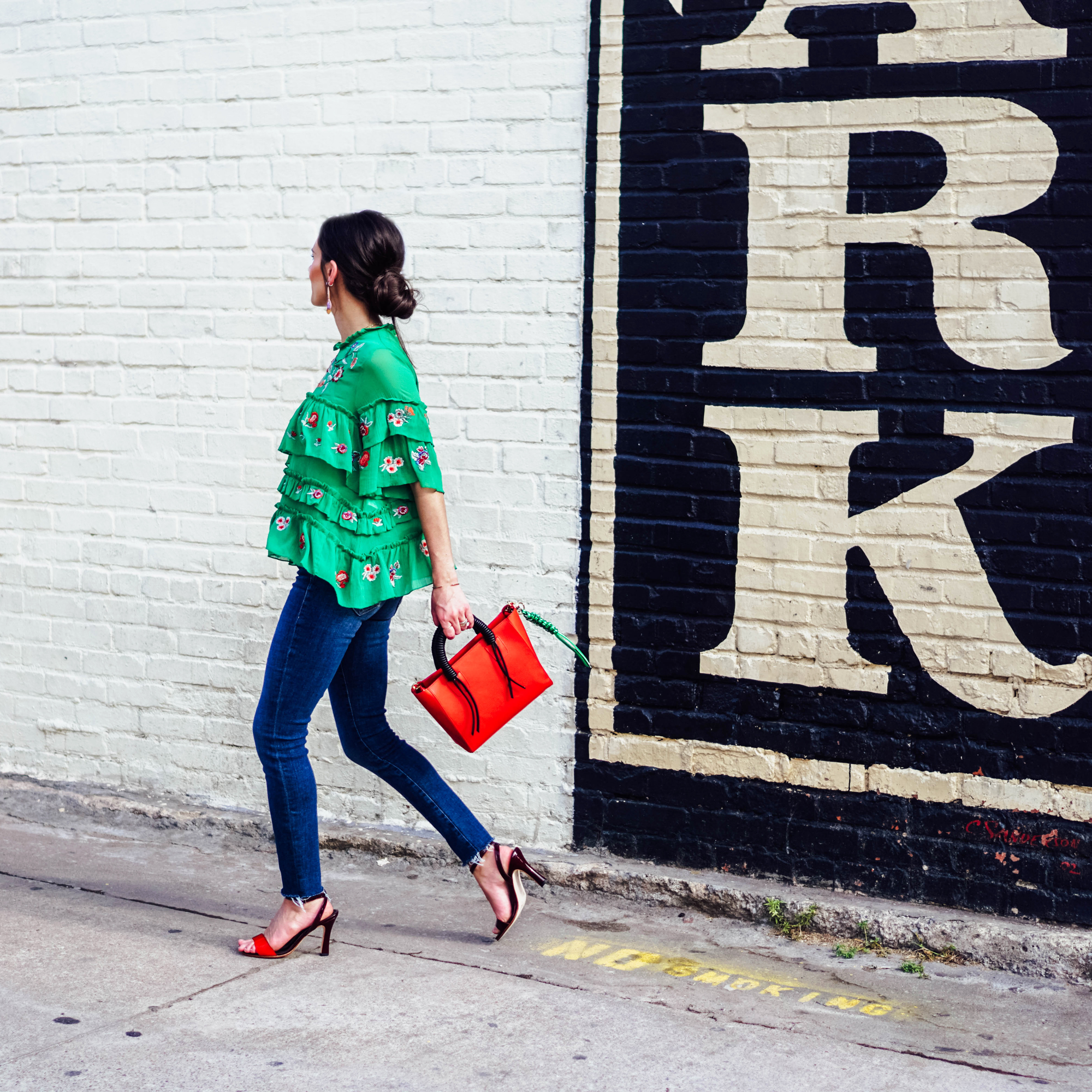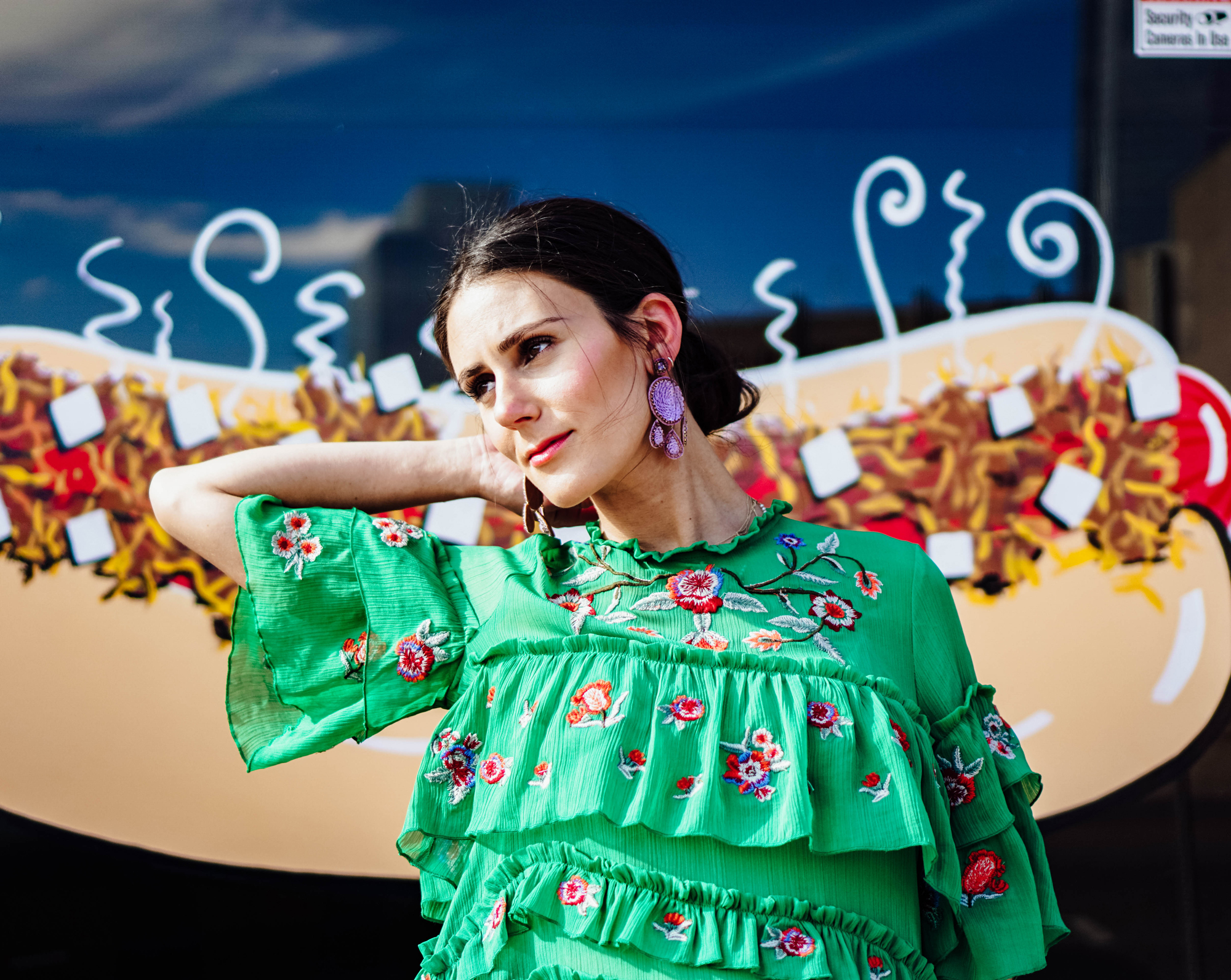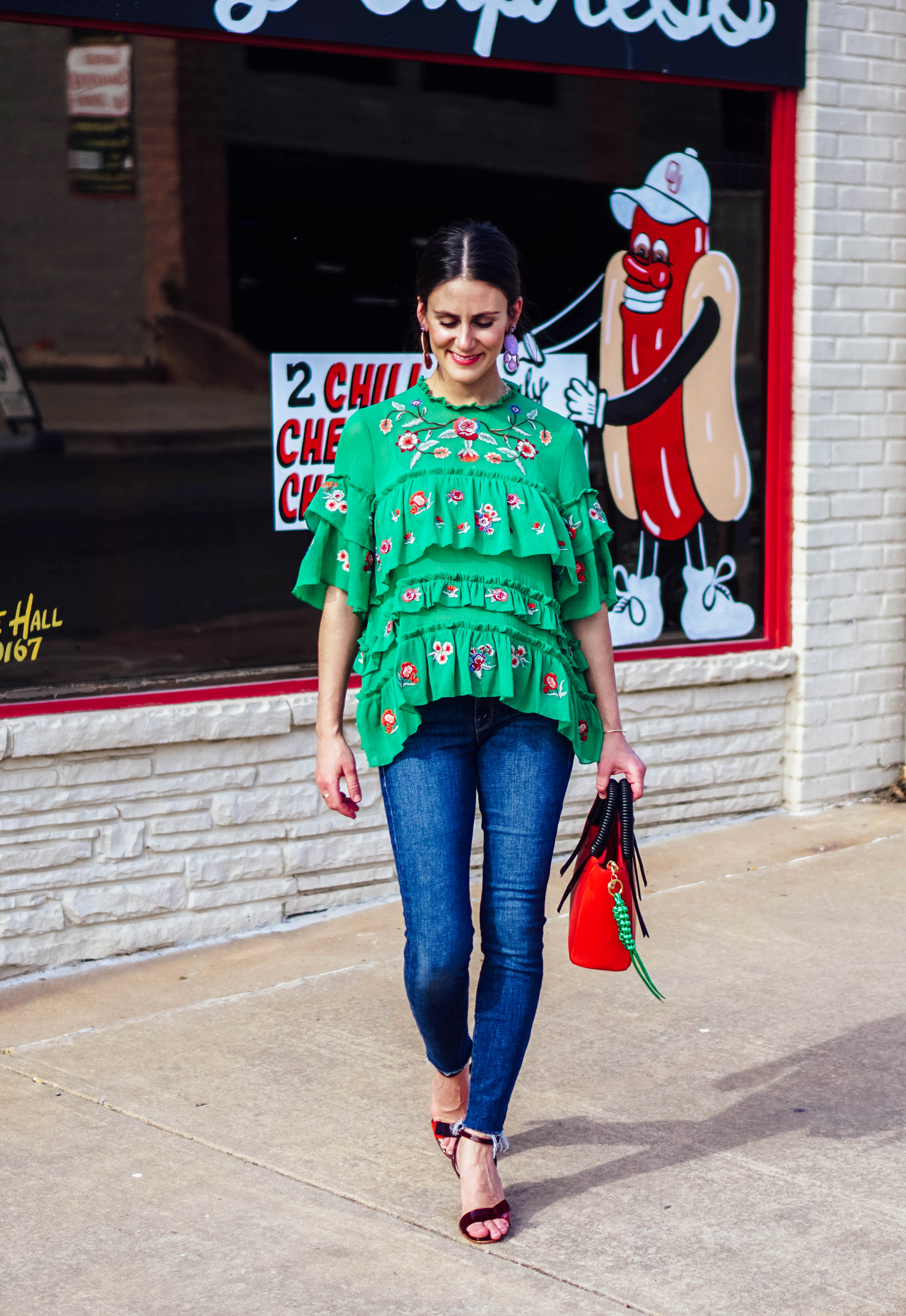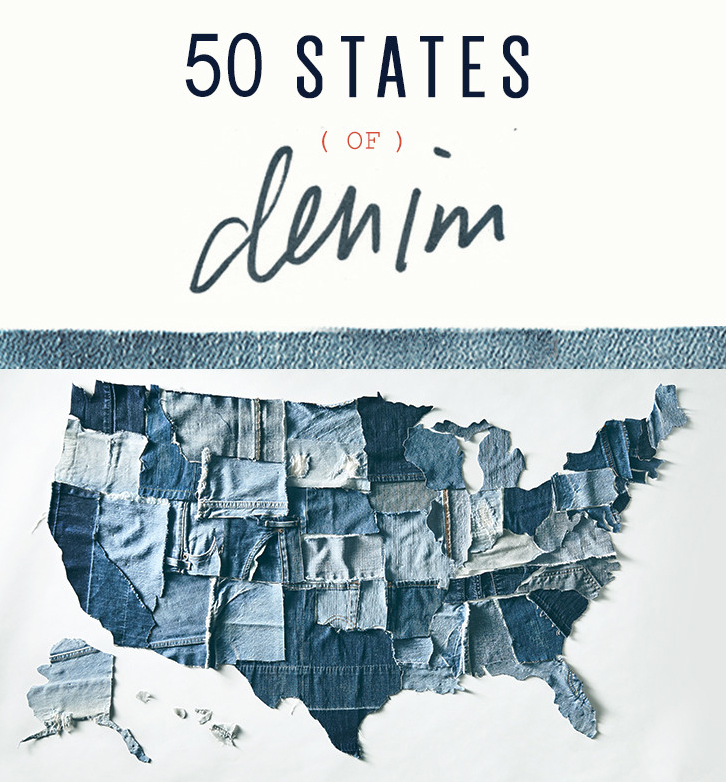 A special thanks to Anthropologie for partnering with me on this post!