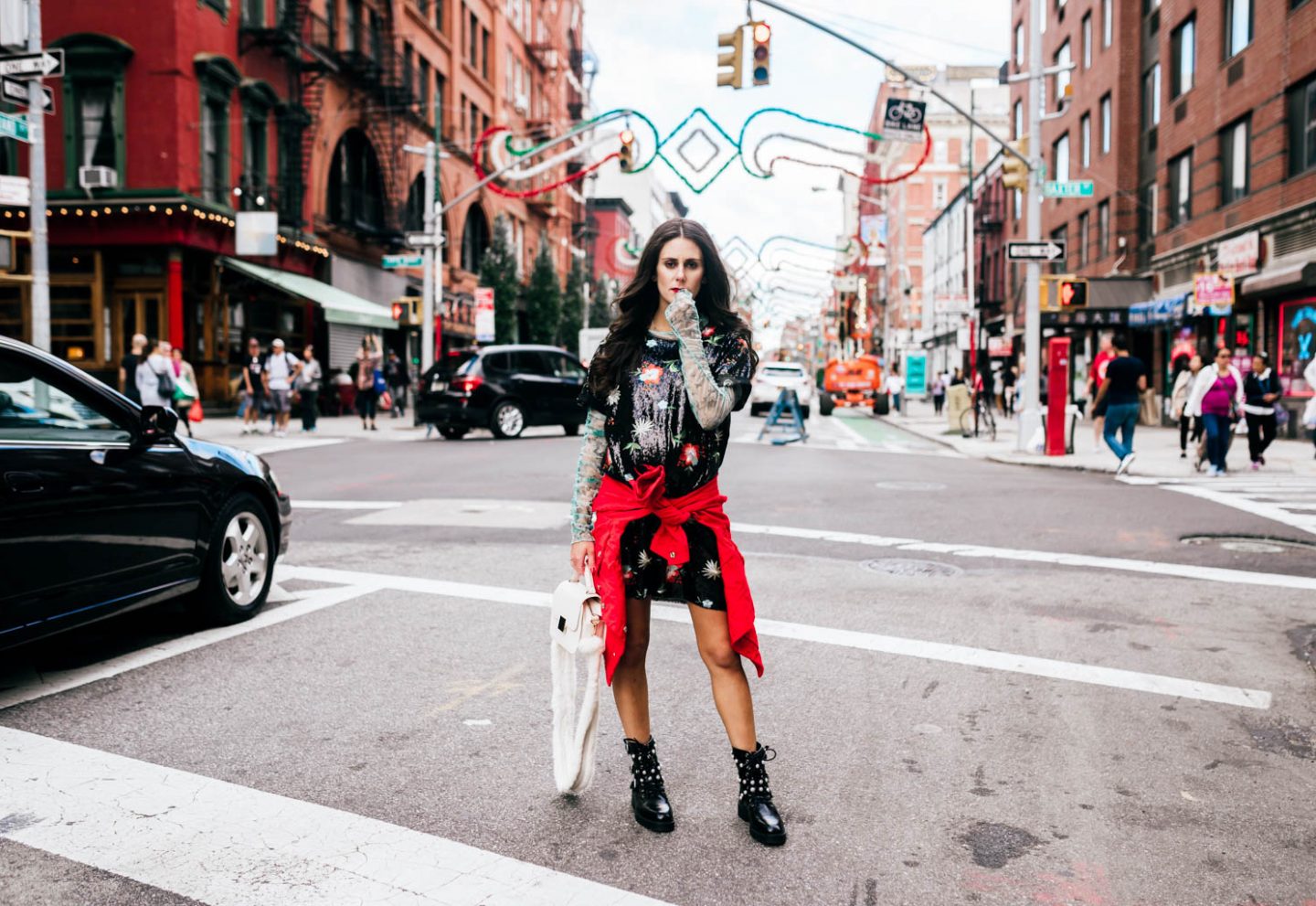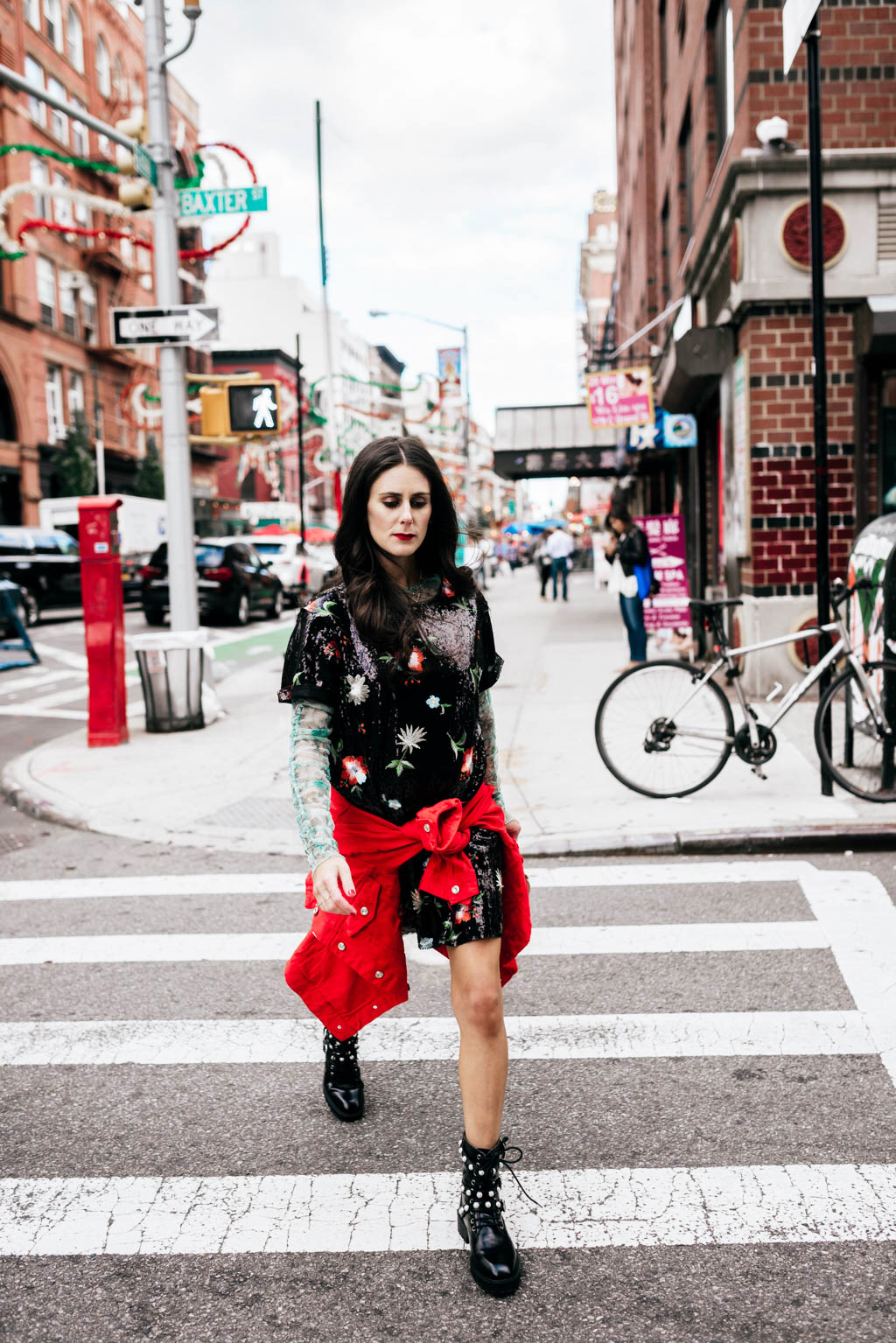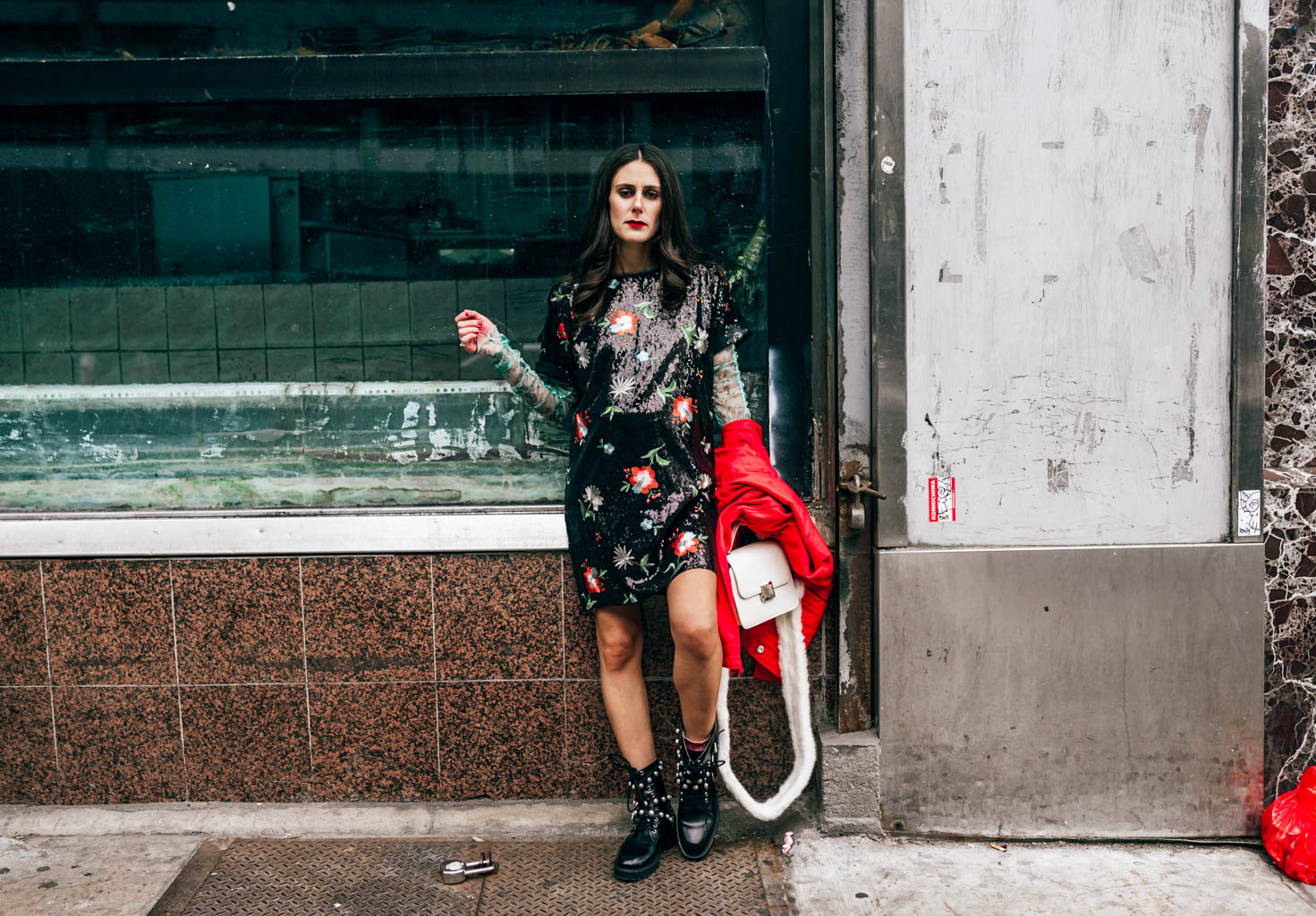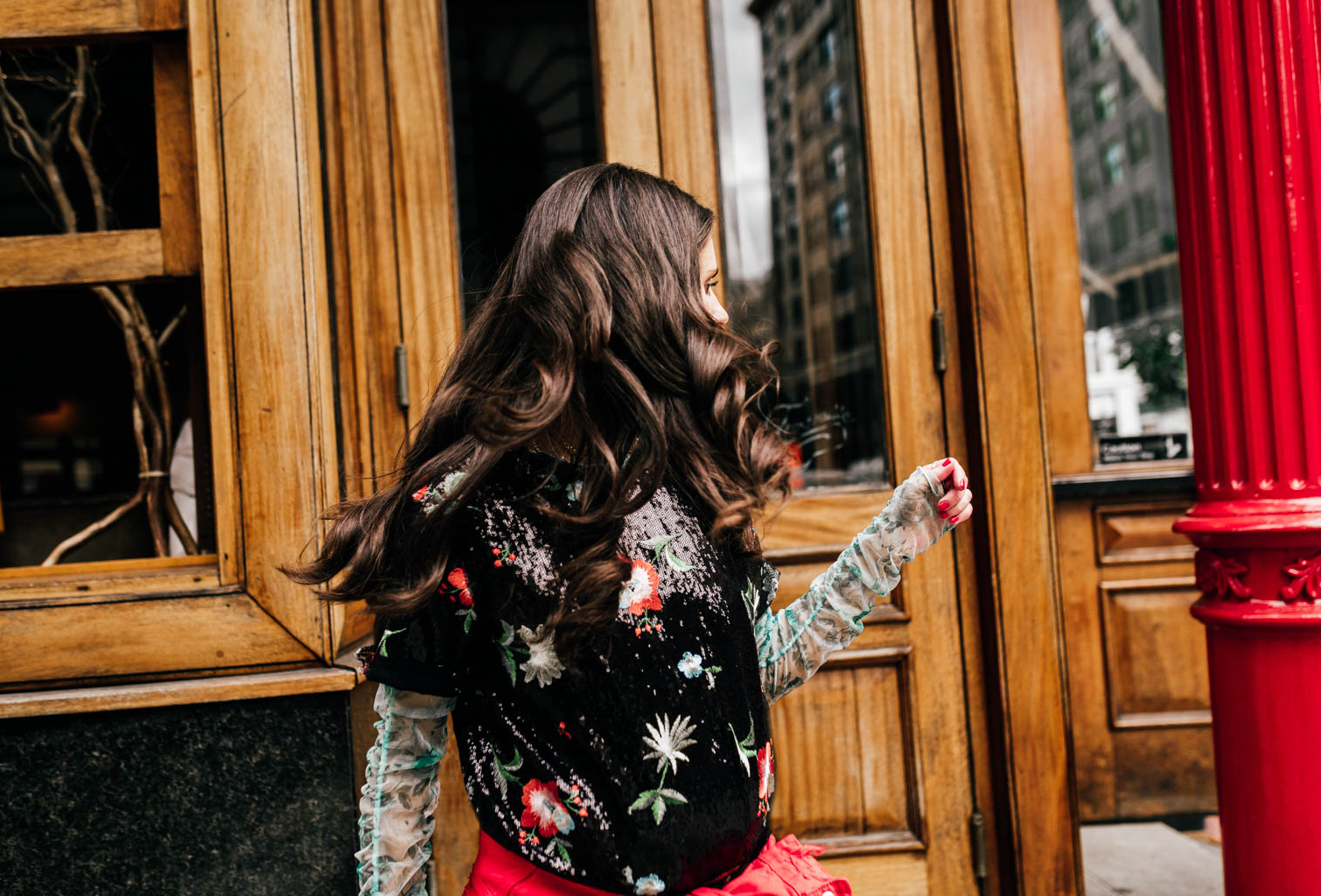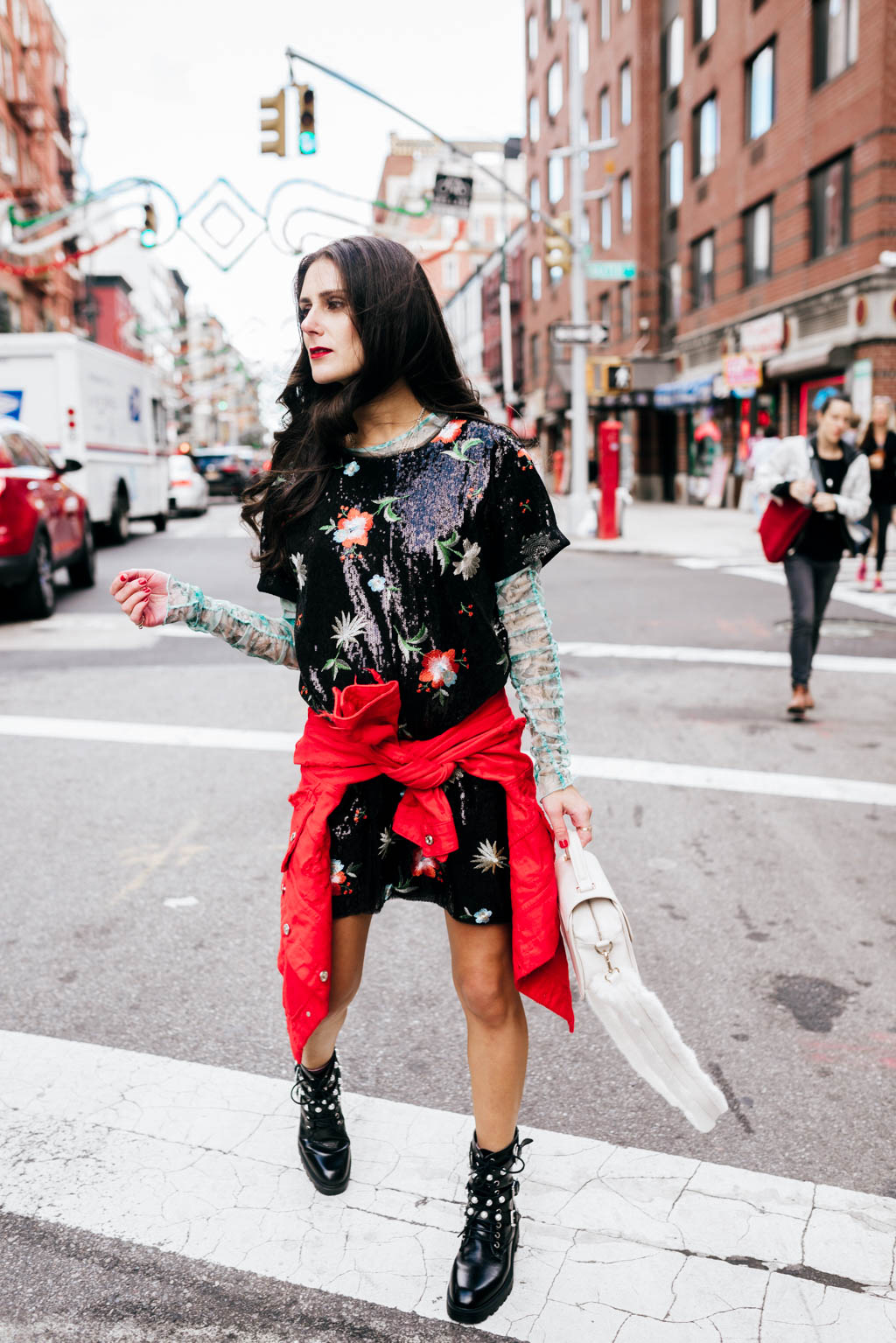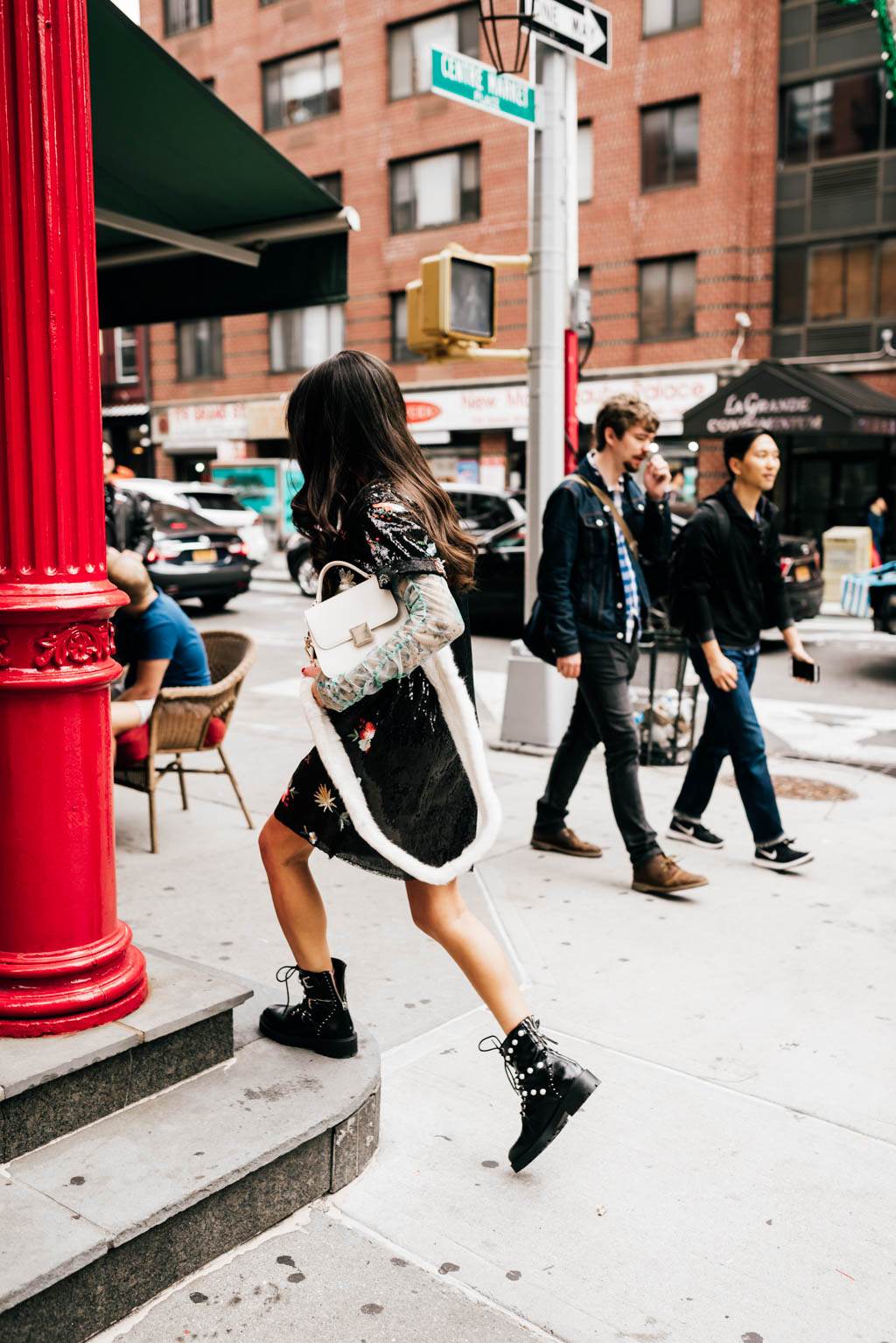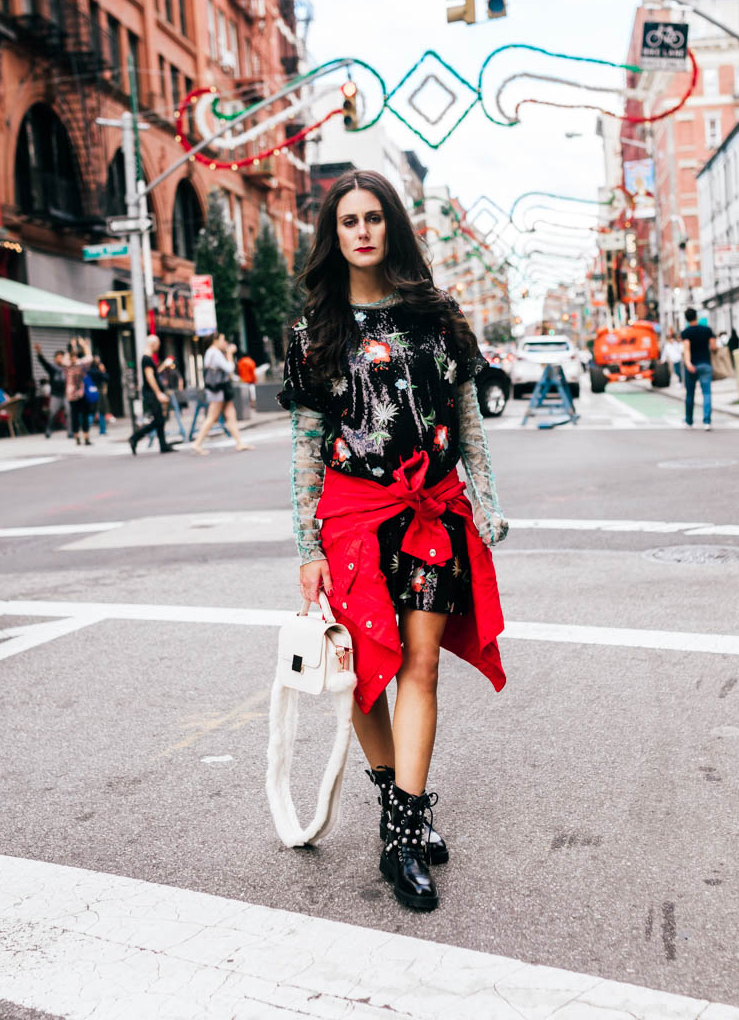 Photos by Paige Nicolle Photo
– OUTFIT DETAILS –
Sequin Shift Dress (non-maternity) // Rouched Lace Top // Distressed Denim Jacket // Pearl Studded Boots // Fur Handbag // BEST Matte Red Lipstick (color: Light My Fire)
---
Well, I hit the ground running in NYC and now that I'm home, I'm going to continue the pace and recap my second day at New York Fashion Week! My trip was crazy, but I think that's pretty true of most people's fashion week experiences (I'll talk a little about that in a minute). I'm going a little out of order, but not to worry- I'll be recapping Day 1 tomorrow!
– NYFW, Day 2 –
Day 2 was probably the least-crazy of all my days at FW. It was Saturday, which meant most of the businesses/brands were off for the weekend; there were a few shows going on, but the majority of them were on Monday or Tuesday.
I woke up at 7am and headed over to Drybar in Tribeca for a blowout. If you've been following me for a while, you know that I am a huge fan. Even though we don't have a location here in Oklahoma City, I always make a point to visit a Drybar location when I'm traveling. And let me tell you, after 9 hours of being on a plane the day before, there was nothing better than having someone else wash, blow out, and style your hair for you. 😉 I got my go-to style, the Mai-Tai, which gives you effortless beach waves.
Next, I headed back to the hotel and got dressed in this sequin shift dress ensemble (links and photos above) and headed over to Birch Coffee in the Financial District for a brand meeting. I have to say, one of my favorite things about FW is getting to meet with the faces behind the brands that I've only been able to communicate with via email for months, sometimes even years, in person. There is nothing better than being able to put a face with a name and forcing many of them to give me a hug ;).
After a cup of iced coffee, I headed over to the Rebecca Minkoff after party in SoHo with Lauren, Jocelyn and Lauren to check out the new FW '17 collection. Unlike most designers who are debuting their SS '18 lines, Minkoff deviated from the norm and embraced the "see now buy now" model of presentation. It was actually kind of refreshing to see pieces that I could wear now, rather than having to wait 6 months to buy in stores. We then walked over to BoCaphe on Lafayette Street for a quick lunch- a lot of fresh Vietnamese dishes with a bit of French flare. It really is the perfect little lunch spot if you're in the area! The highlight of my meal: the chocolate chia seed pudding at the end (#alwaysneedingdessert).
I then headed over to the Nomo Hotel in SoHo (major lobby goals) to shoot my outfit for the day, along with what I wore that night, with the talented Paige Nicolle. She's one of those amazing photographers who just "gets it." We walked a few blocks over to Little Italy to shoot – it was the perfect backdrop for this layered look, since LI is full of lots of color and character (see fish market pic above).
After changing back to the hotel (I wore this gorgeous embroidered maternity maxi dress from Fillyboo; outfit post coming soon), I hopped over to LikeToKnow.it annual rooftop party at La Sirena. Remember how I mentioned that meeting the faces behind the brands I work with was one of my favorite things about Fashion Week? Well, here at the LTK party, I was able to do my second favorite thing: meet, in person, the incredibly talented, supportive, and kind blogger ladies that I have only met via email/DM/text/phone. One thing I most enjoy about blogging is getting the opportunity to connect and form lasting friendships with women from all over the world (primarily United States/Canada, Europe) with whom I never would have otherwise crossed paths.
After staying way too late talking with some amazing women (Amy Ann from Straight A Style, McKenna Trahan from Style Waltz, Camille from Navy Grace Blog, Sarah from Sassy Red Lipstick, and Heather from My Life Well Loved, to name a few), I crashed and burned back at the hotel.
Stay tuned – I'll be recapping the rest of my days at Fashion Week later throughout this week and next!