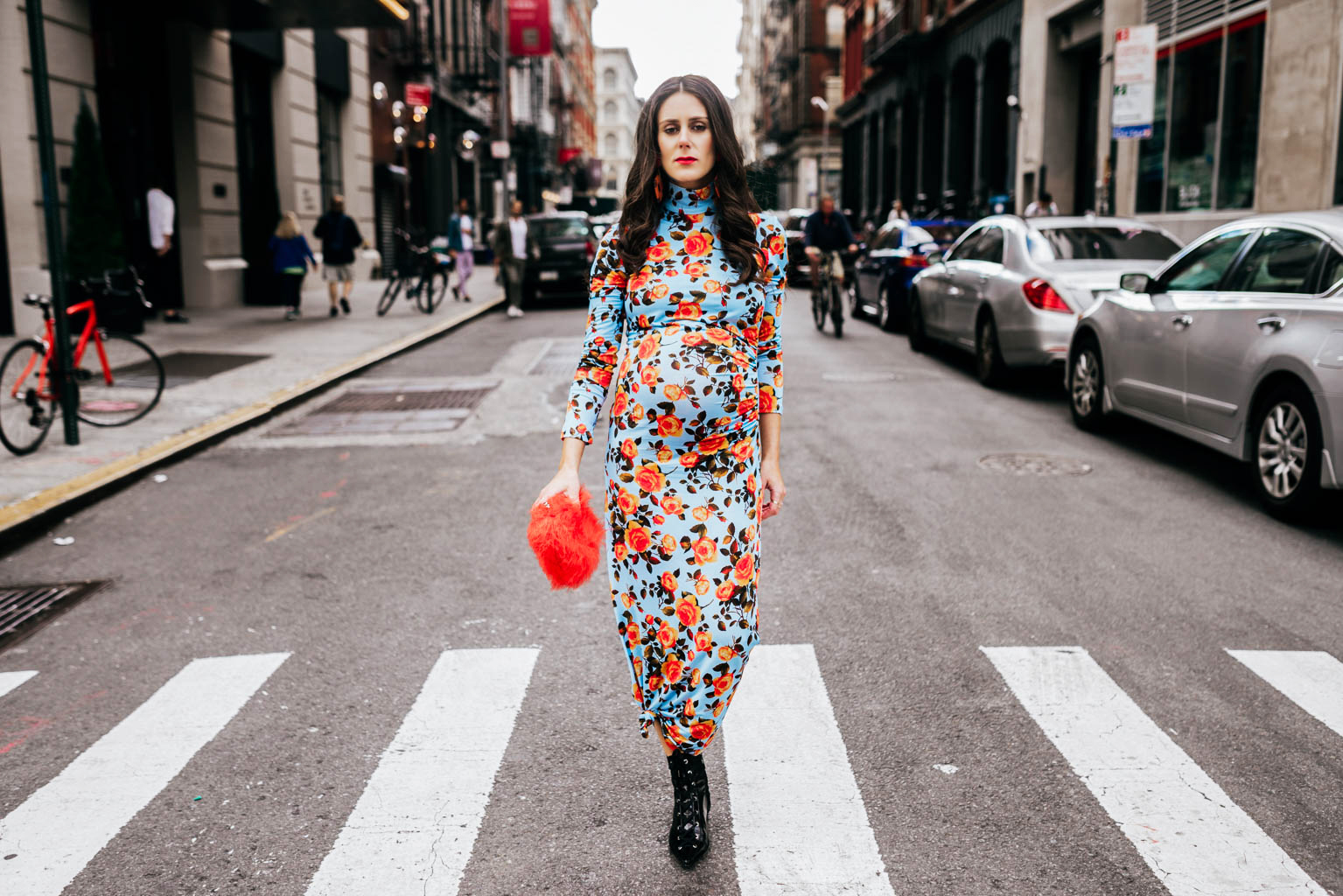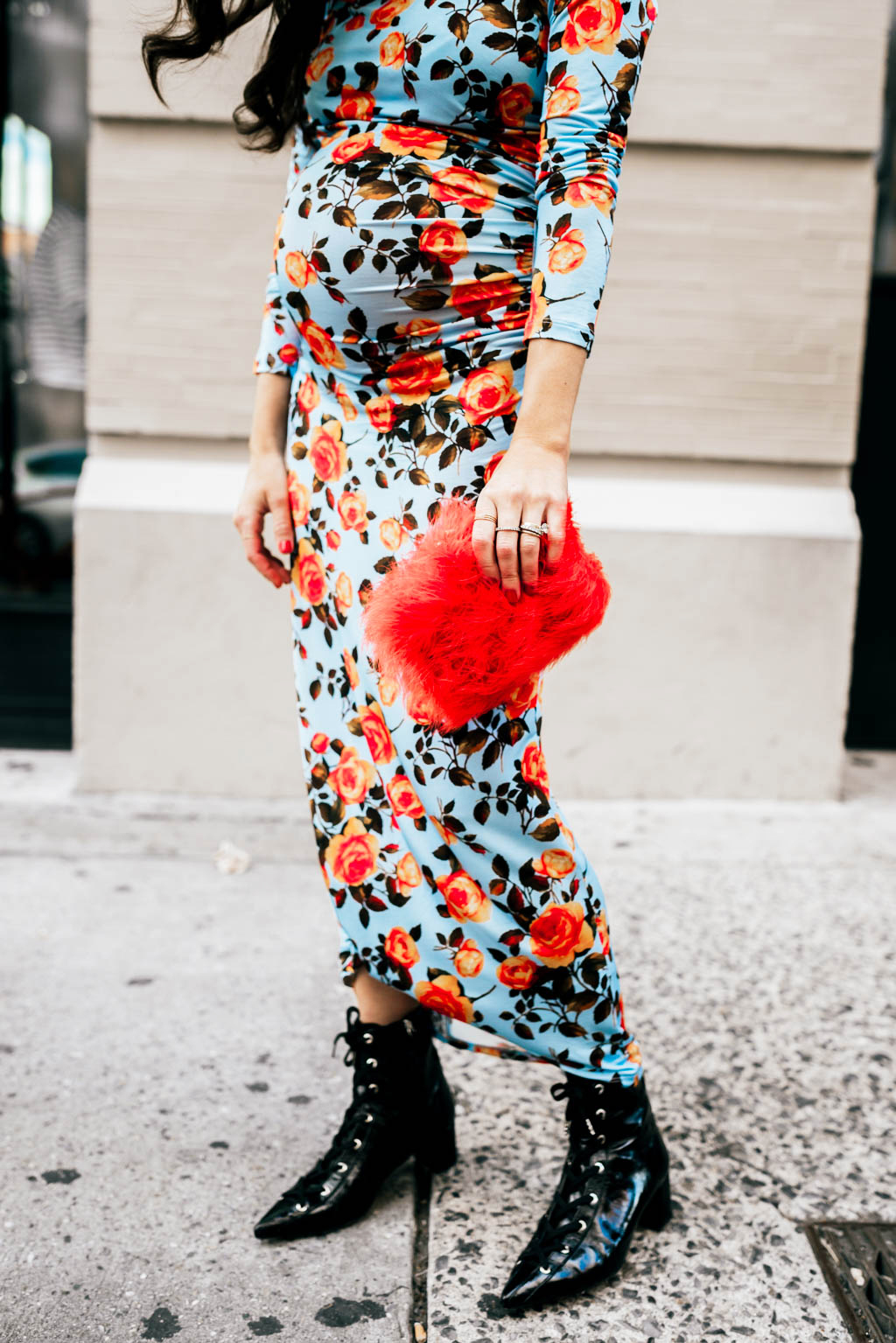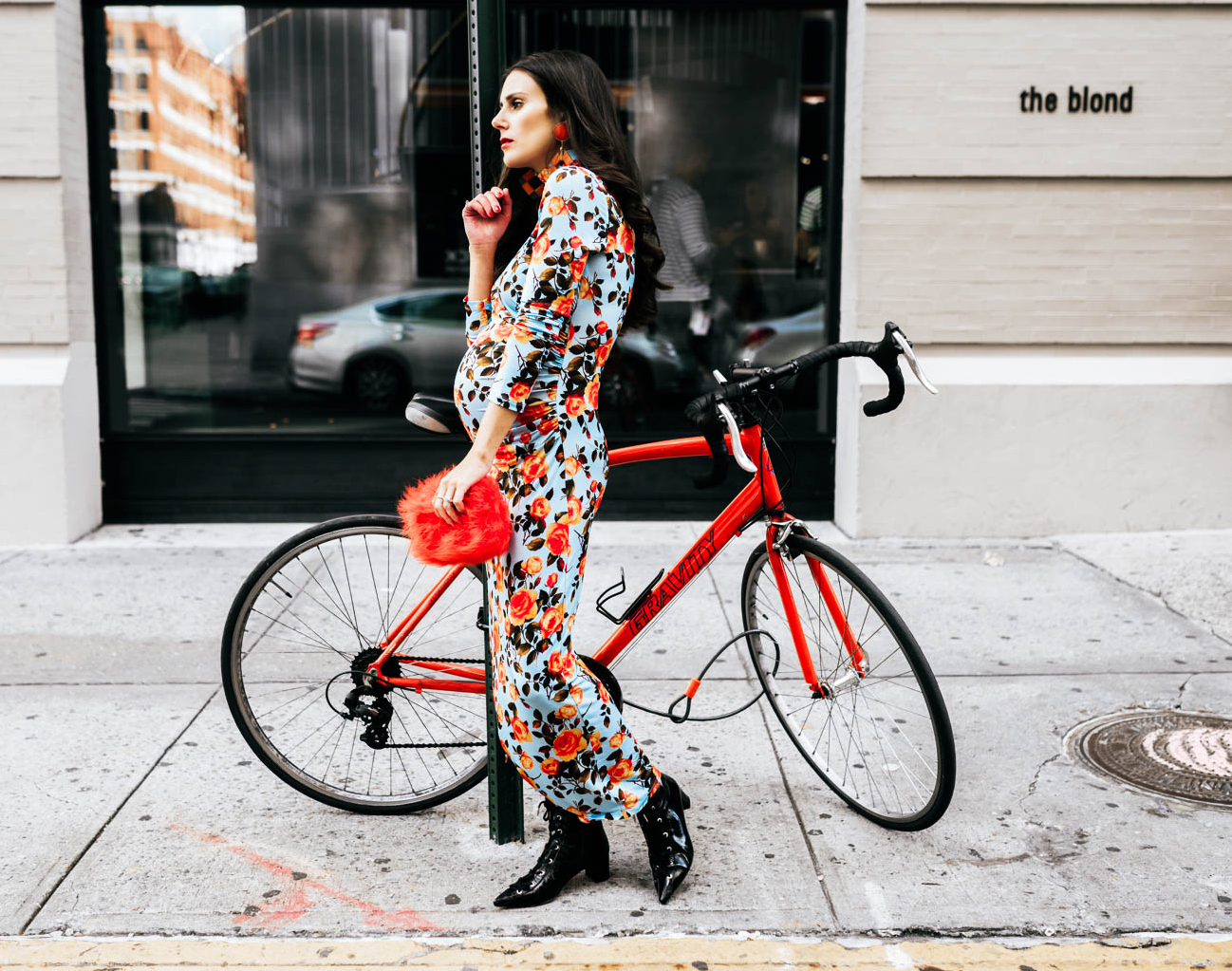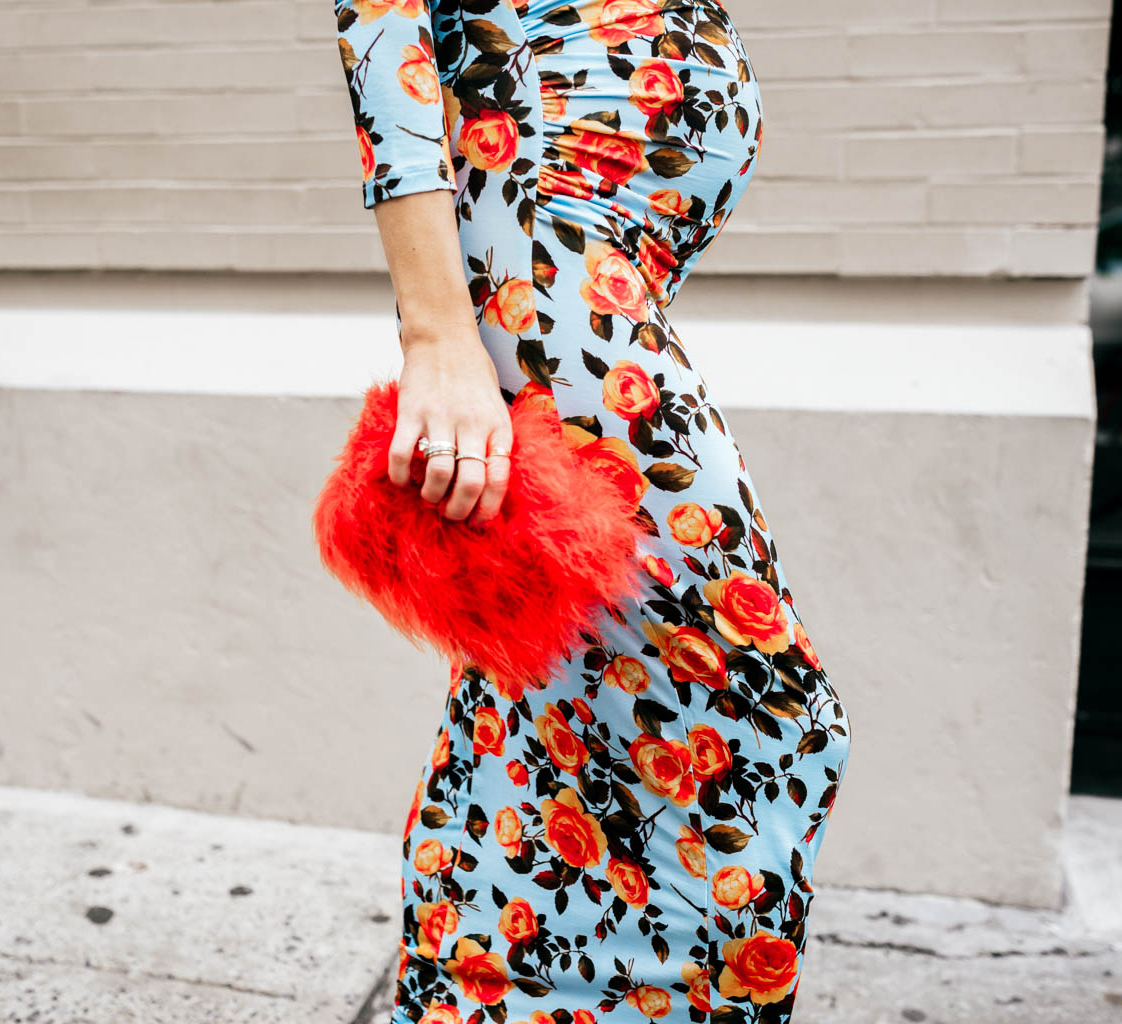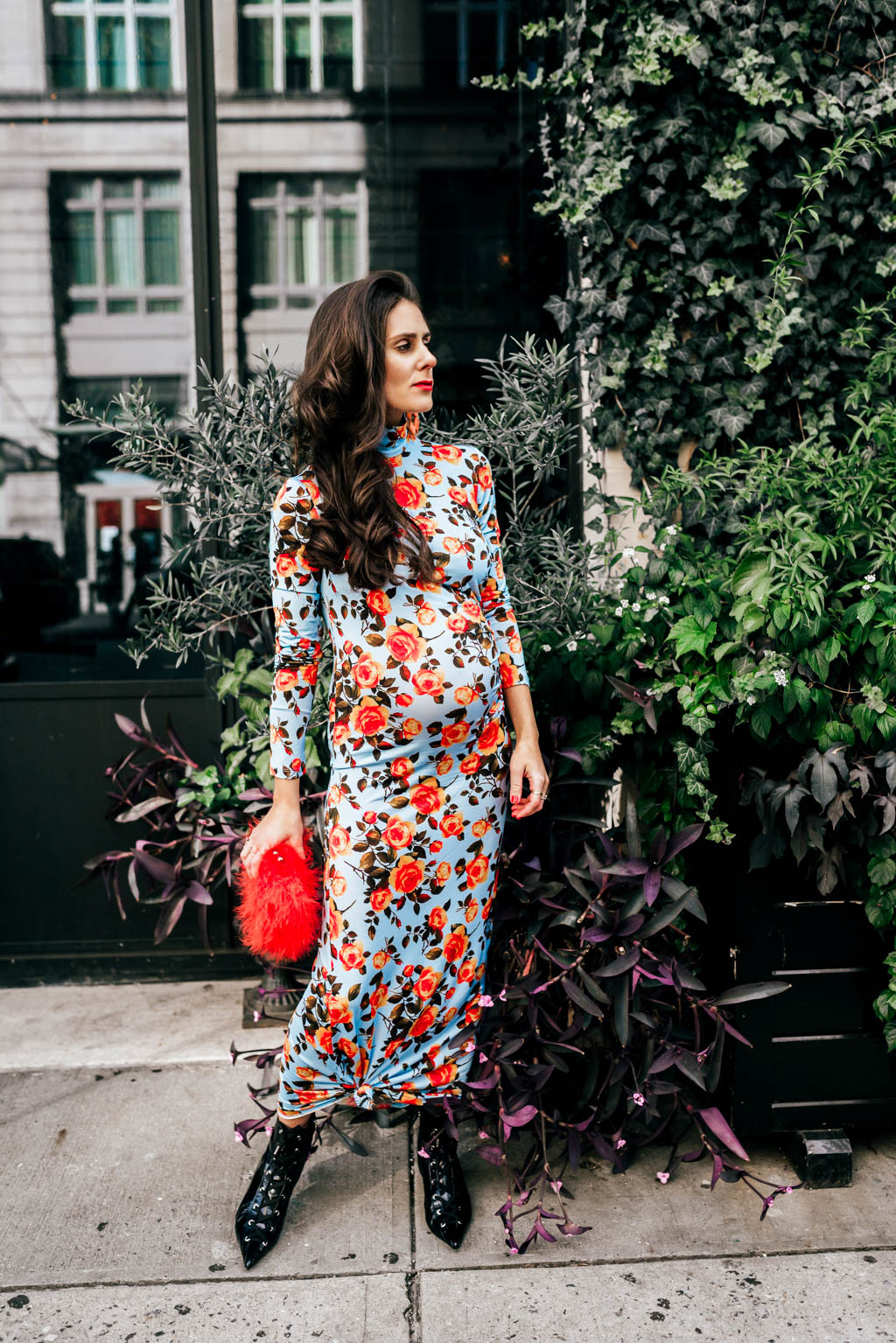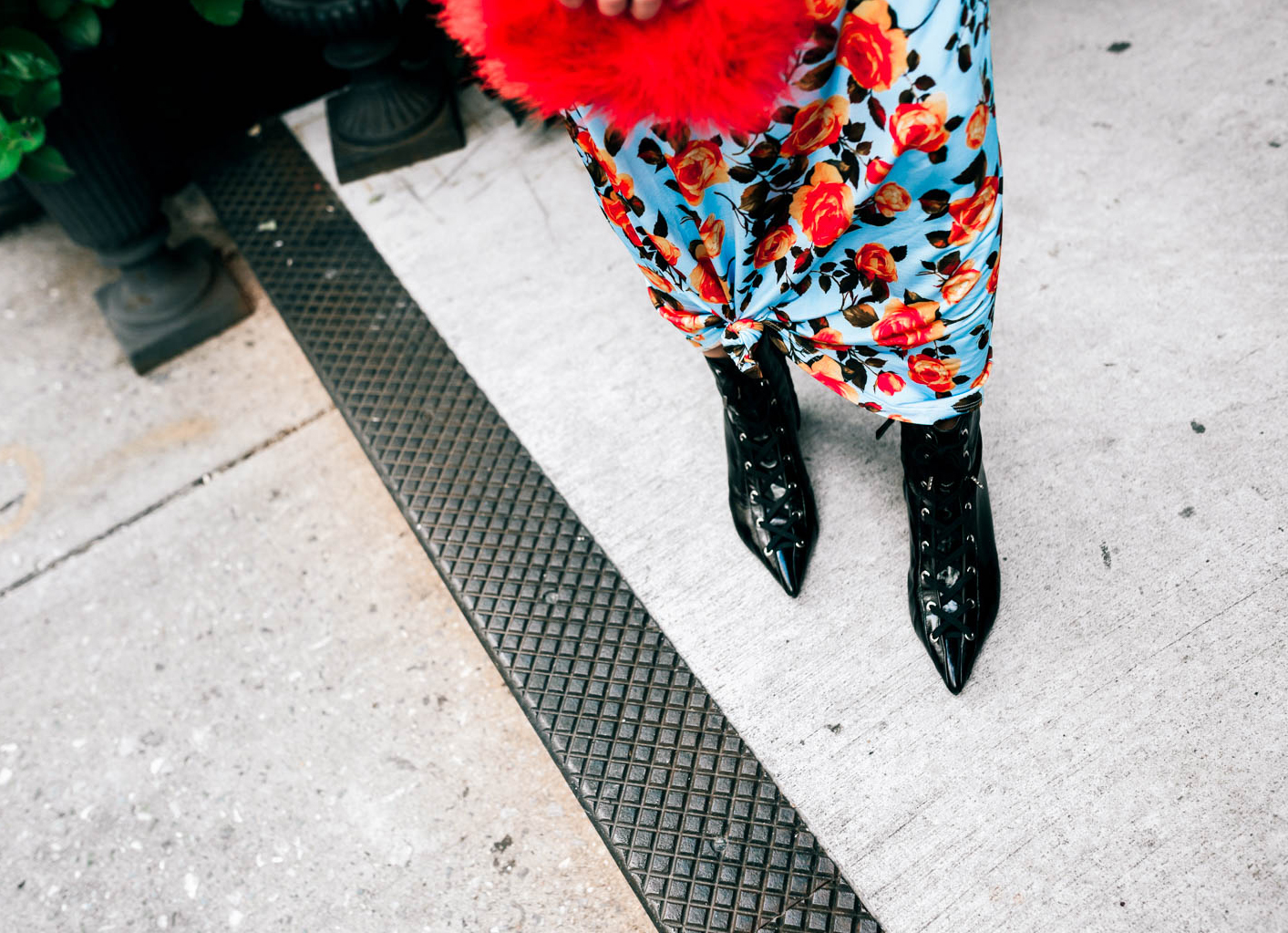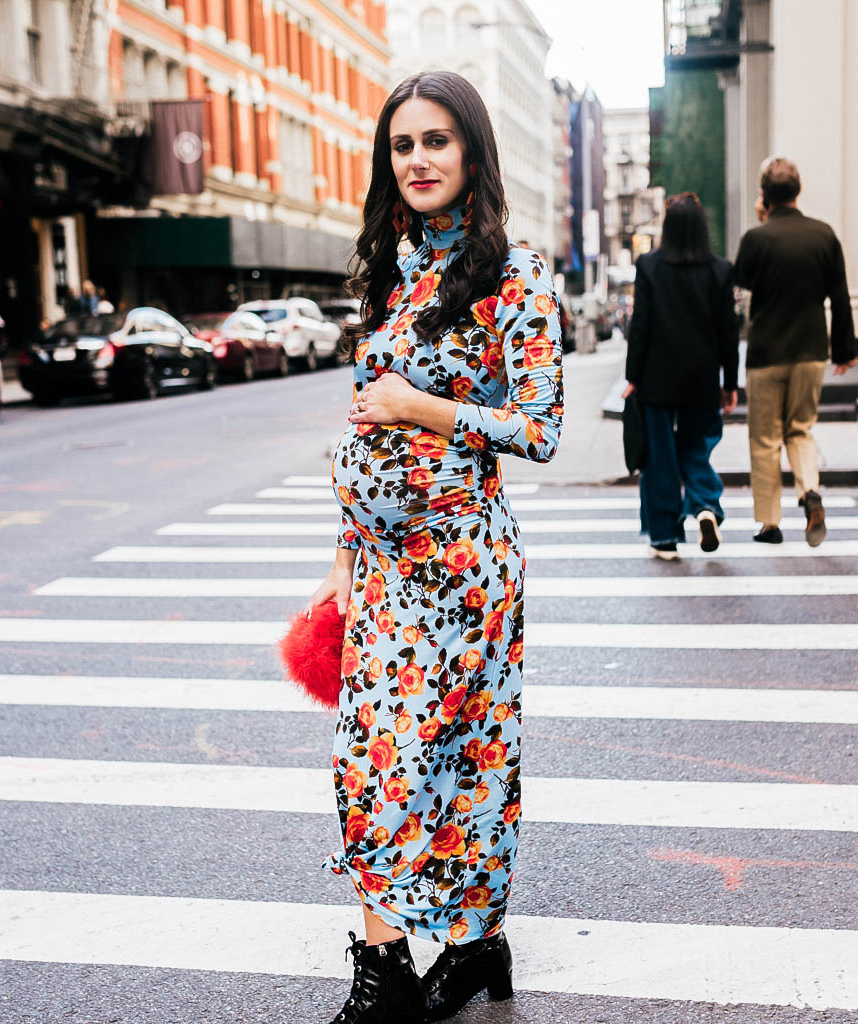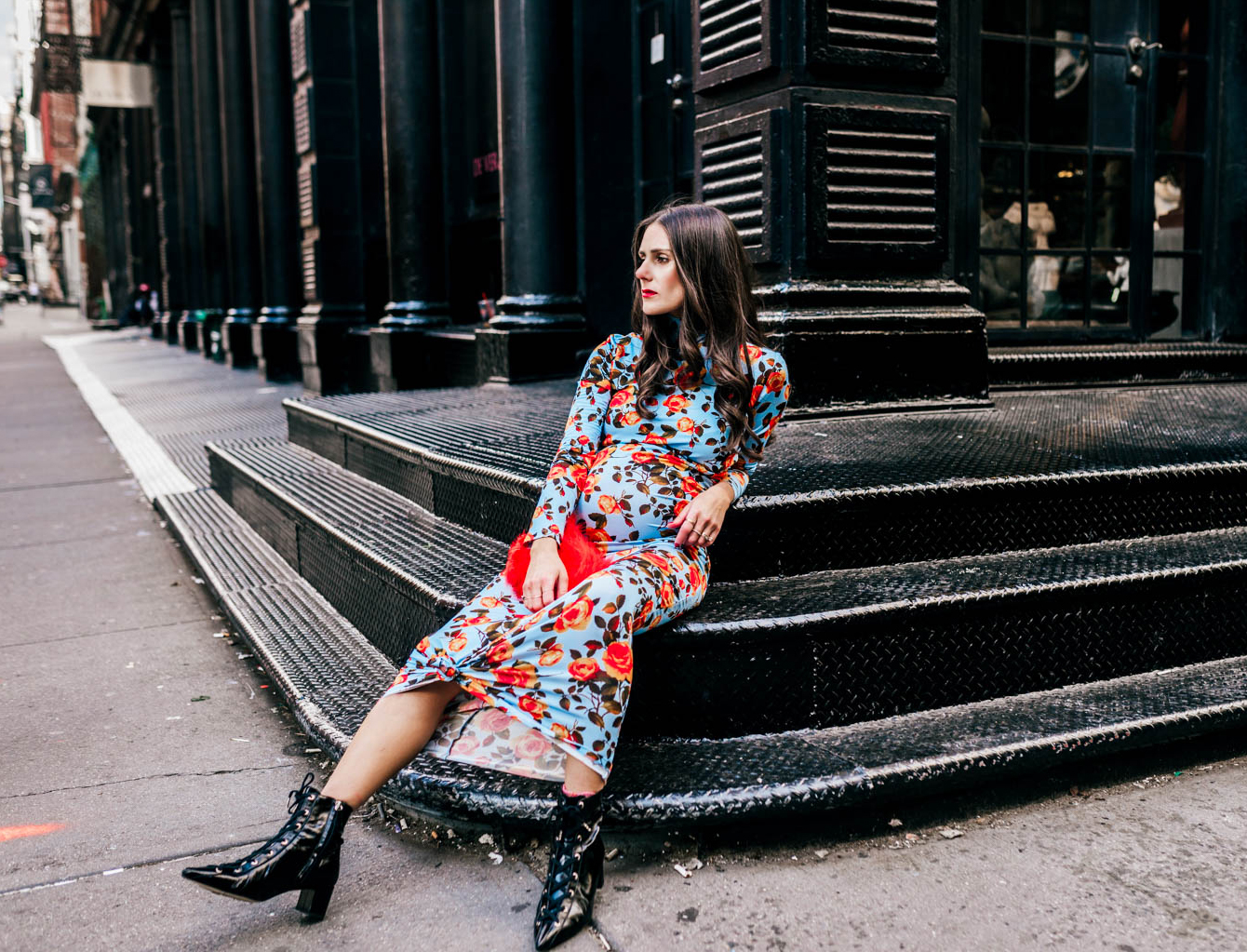 Photos by Paige Nicolle Photo
– OUTFIT DETAILS –
Floral Print Dress (non-maternity) // Lace-Up Patent Boots // Red Fur Clutch (in Nude here) // BEST Matte Red Lipstick (color: Light My Fire) // Earrings – Vintage
---
I mentioned this in my Instagram Stories earlier, but New York Fashion Week was my first time to be back in New York in 10 years – crazy, right?. The last time I was in the city, I was 22 years old and helping backstage at the Milly show after a summer of interning there, so attending FW this time around has been a completely different experience, to say the least! I'll be recapping NYFW Day 1 in this post, but you can catch my Day 2 Recap here!
– NYFW, Day 1 –
The Outfit
I started out the evening in this beautiful, neon red non-maternity two-piece (top here and bottom here), and paired it with these gorgeous patent leather black lace-up boots and this fur bag (it's so soft and fits everything, but is small enough to wear out at night). I quickly realized that the evening was going to be a bit colder than I thought, so I changed into the most fabulous floral-print fitted maxi dress that you see in this post. It's non-maternity as well, but the ruching on the sides made it the perfect dress for my bump! I paired it with this red fur clutch (here it is in a nude version), and the same laceup boots I wore earlier. I finished off my look with the BEST matte liquid lipstick that I borrowed from Lauren (and proceeded to hold hostage the entire rest of the trip). It comes in 18 different colors that are so vibrant and pigmented but don't wear off like other liquid lipsticks that I've tried. I'm wearing the 'Light My Fire' shade with this outfit.
Hotel
My flight got in at 4pm on Friday, and I took an Uber from Laguardia to the hotel. After 2 weeks of researching hotels, I landed on the Courtyard Marriott in Downtown Manhattan/World Trade Center. Even though the majority of the shows were at the Skylight Clarkson or in SoHo, as were most of my brand meetings, I liked the idea of staying in an area were things were a little less hectic. Well, I got that notion both right and wrong. Right because there's not much going on downtown after 5pm when everyone gets off work (the area is mostly composed of office buildings with a few souvenir shops scattered about). Wrong because our hotel was positioned right across from the former Twin Towers and current World Trade Center Memorial… and our stay happened to overlap with September 11th. Most of the streets were blocked off for security two days leading up to 9/11, and, as you can imagine, there were lots of tourists, servicemen, and grieving family members in the area. But honestly? I wouldn't go back and change that. Being there on 9/11 was both somber and sweet. Sweet in that I saw how many people came together to remember what happened 16 years ago, and how they (we) will never forget.
That Night
It was about 6pm by the time I got to the hotel, unpacked and after one outfit change, put on the outfit you see in this post. My friend (and roommate for the week) Lauren of Disco Day Dream and I hopped in an Uber and headed over to catch the tail end of the WWD x Samsung party.
The Lauren, myself and our friend Lindsey walked over to Satina for drinks (and by drinks I mean club soda with cranberry juice because #29weekspregnant) and dinner. Guys, the food was amazing and so was the atmosphere. Walking into the restaurant, I felt like I was in Portofino in the 1950s. The entire restaurant is enclosed in floor-to-ceiling windows, which gives it the feel of a terrarium. There are gorgeous Murano glass chandeliers spotted throughout and all of the plates are hand-painted in different colors and patterns. We ordered the Avocado Trapanese as an appetizer (and devoured the entire dish), and I ordered the Chicken Daviola for my entree.
We got back to the hotel pretty late and stayed up way too late talking. That was the theme for most of the nights we were there, even though we were both exhausted by the end of each day. Lauren and I met through the seemingly large, but very small world of Instagram about a year ago, and she has quickly become one of my closest friends. We were both pregnant at the same time (she with her second child, Beau, and I with Johanna), and I would often troll the pregnancy hashtags on IG to see what other pregnant women were up to (and if they, too, had a hard time finding the perfect pair of maternity jeans, or were worried about getting stretch marks, or were ordering a #1 at Chik Fil A on the reg like I was). I happened to find her Instagram account late into my pregnancy and we became friends not long after that. She is way to humble to ever acknowledge this, but she is one of the most beautiful women I know – inside and out. And, she put up with me all week, so she gets bonus points for that. She's also the kind of friend who will let you know that you missed, oh, just the LARGEST strand of hair in the back of your head with the curling iron. That may or may not have happened as I was heading out the door, but Lauren caught it and saved me from severe embarrassment. 😉