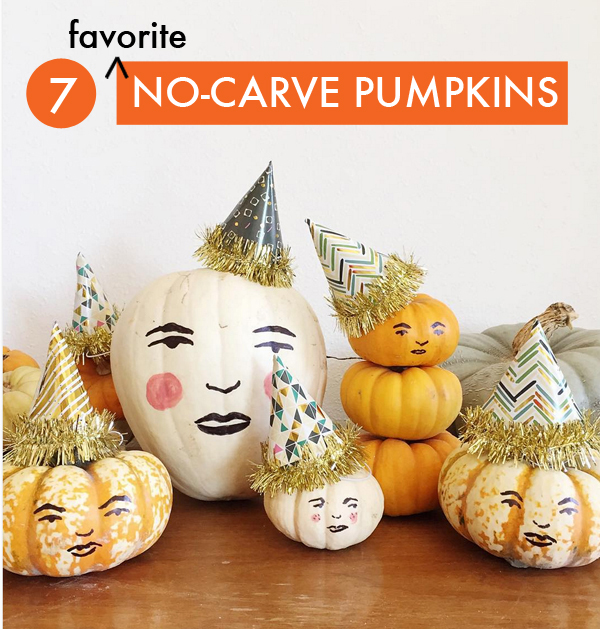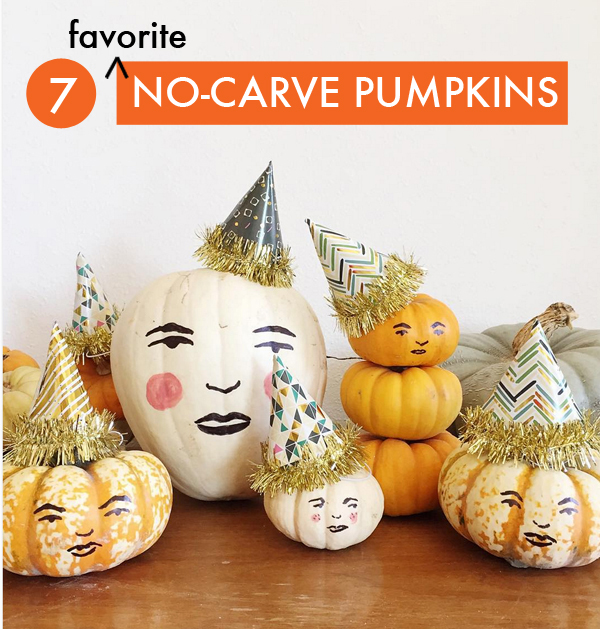 Hey guys! Did everyone have a good weekend?
With Halloween only two short weeks away, I have pumpkins on my mind. And this being the first year to own my own home, I actually have a reason to buy some and a place to put them (like a front porch – ha!).
One thing that has always deterred me from buying, and then carving, pumpkins is that they tend to rot quickly and easily. But if you buy a pumpkin, and leave it whole, it can last for up to 3 months!
So, I've rounded up 7 of my favorite (and simple) no-carve pumpkin decorations for you- most of which involved less than 3 supplies each!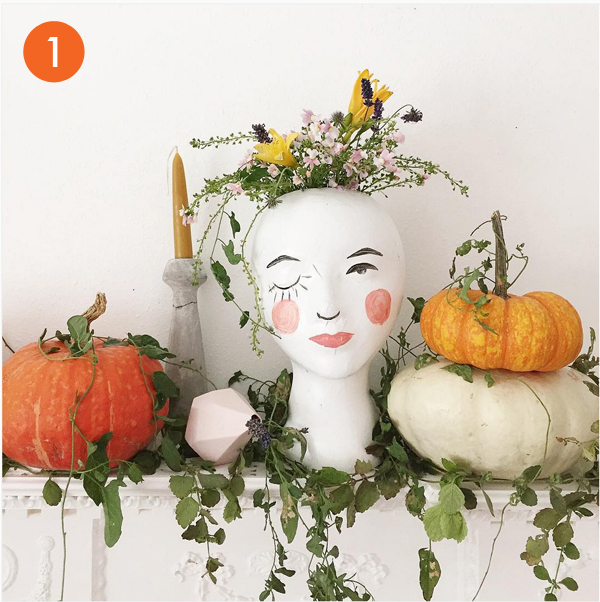 How about this vignette from The House That Lars Built? I like this fresh, green take on classic pumpkin decor. And it's an especially great way to put to use plants that have any hint of green remaining in them. I can see this being especially perfect on a mantle, or as part of a tablescape. And the best part is, you can leave the pumpkins as they are.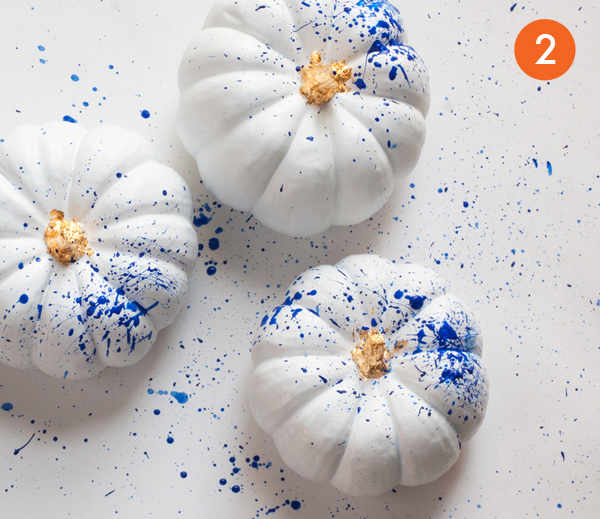 This modern take on splatter paint from Suite One Studio involves a little bit of gold leaf and blue acrylic paint- and it looks likes it's fun to make, too!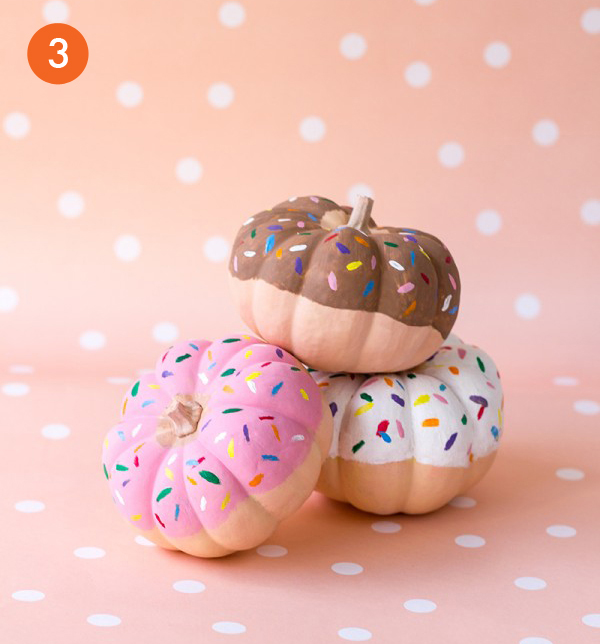 I know, I'm kind of over the donut fad (read: I still love to eat donuts), but how sweet are these from Studio DIY? I'm not sure that they fall into the autumnal decor category, but they are cute nonetheless- and super easy to achieve with a little bit of paint!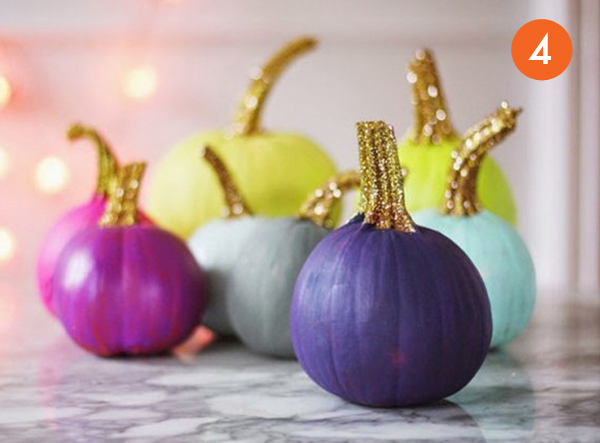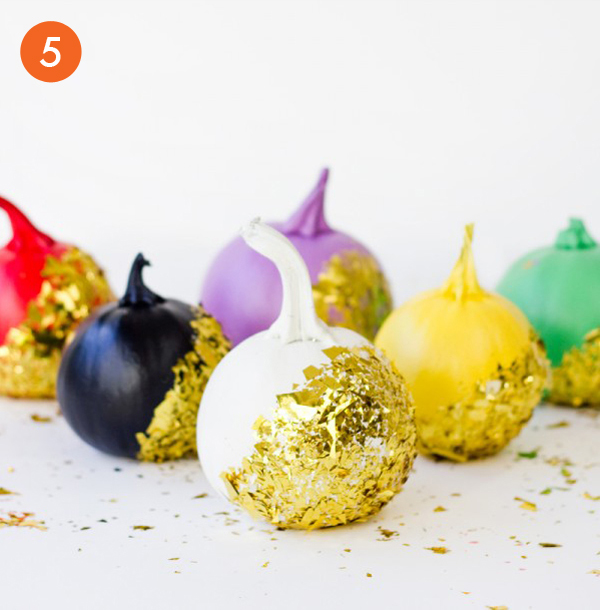 I grouped these two together because they are so similar in that they both involve solid-painting the pumpkins, and then dipping them in something sparkly. The first is a version featuring the stems covered in gold glitter from Aunt Peaches. The second is from Studio DIY and features the pumpkins dipped in gold confetti chunks.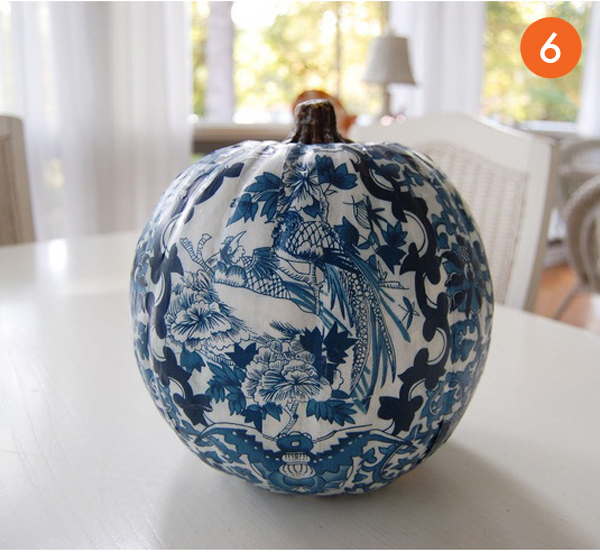 How cute is this chinoiserie-take on the classic white pumpkin from Between Naps on a Porch!? And all you need is a sharpie and your favorite flow blue plate for print inspiration. This no-carve pumpkin idea is great for the traditionalist, or for those seeking to minimize the "pumpkin" in "pumpkin decor." See more great examples of this idea here and here.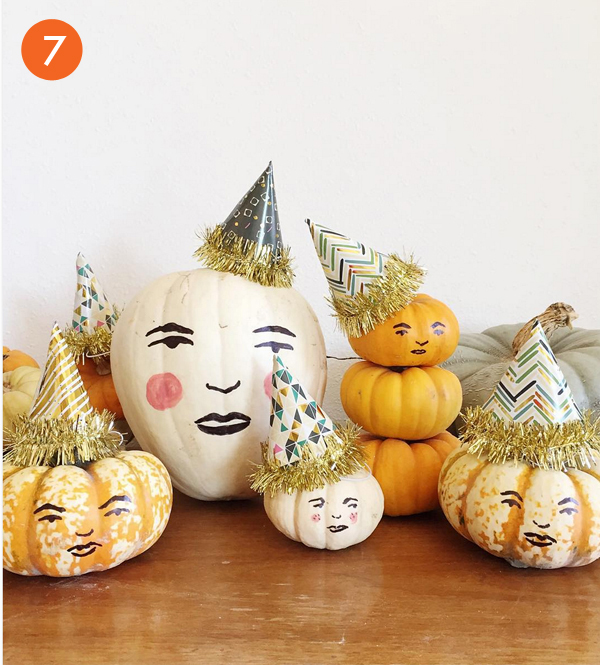 Another great idea from The House That Lars Built. Why not make your pumpkins conversational? Give them personalities with a black sharpie and a little bit of pink paint. And how cute are the party hats? I'm pretty sure she created these from printed paper that she rolled up into a cone and then embellished with cut tinsel garlands.
So what do you guys think- any favorites? Did I miss any other great no-carve pumpkin decorations floating around the interwebs?