Hi, friends!
This post contains two exciting parts: 1) A promo code for 20% off your Tula beauty purchase through March 3rd, and 2) A Gucci Matelassé Marmont Bag Giveaway! TO ENTER THE GIVEAWAY, scroll to the bottom of this post. And for the Tula Promo Code, keep reading on. 🙂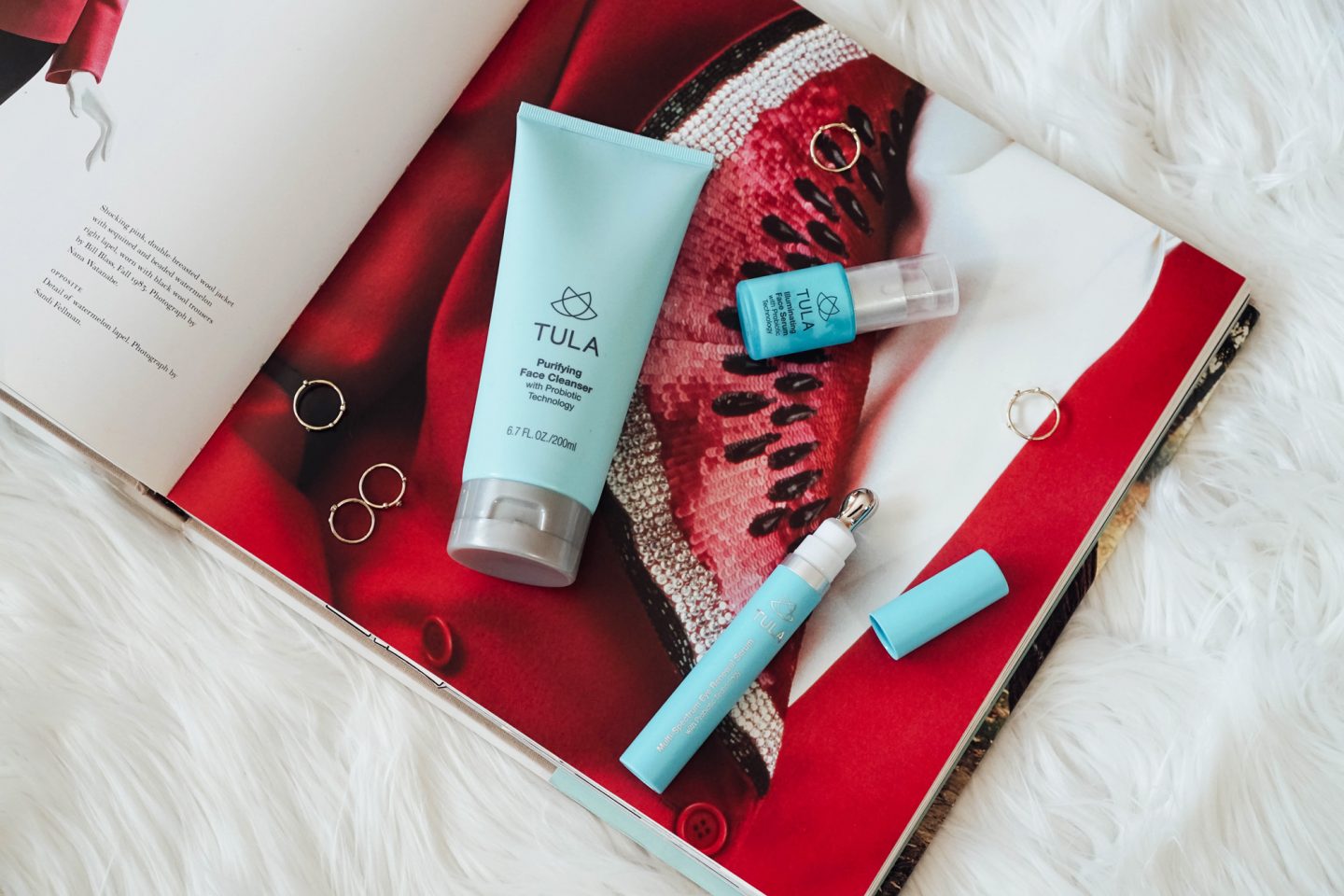 GREAT SKIN WITH TULA
Among the items in my skincare arsenal, these three from Tula top the list. I've been using the Purifying Face Cleanser, Illuminating Face Serum for the past 5 months (hence the 3/4 empty bottle in the photo above ;)) and have been so pleased not only with how my skin looks, but more importantly, with how it feels. If you haven't read my previous post about the face wash, here is why I'm singing its praises: Tula uses probiotic technology to improve the health of your skin and give it a more youthful appearance (YES!). But my favorite part is that their products are free of parabens, mineral oil, petrolatum, phthalates and propylene glycol.
They recently introduced the Multi-Spectrum Eye Renewal Serum, which I've been using for the past two weeks. Am I allowed to say that I can already see a softening of the lines under and around the outer corners of my eyes? I can and I will, because it's true. And here's the "why" behind that visible softening: the serum contains a Botox-like peptide complex that specifically targets fine lines and wrinkles.
Now for the good part: I've teamed up with Tula to give you guys 20% off your entire purchase + free shipping for the next two weeks. Use the promo code "DANDYWINTER20" at checkout. Promo ends 3/3.
---
GIVEAWAY: GUCCI MARMONT MATELASSE MINI BAG
This week I am teaming up with an amazing group of ladies to bring you an INCREDIBLE giveaway. The winner will receive a Gucci GG Marmont Matelassé Mini Bag.
Money Can Buy Lipstick | Mash Elle | Ashley Brooke Nicholas | Diary of a Debutante | Sunshine & Stilettos
Polished Closets | Every Chic Way | Sylvie in the Sky | By Brittani Lauren | Coming Up Roses
xoxo Bella | Blush & Blooms | Wild One Forever | Fashion and Frills | Glitter Inc
Life Lutzurious | Glitter & Spice | Maggie a la Mode | The Closet Crush | Vandi Fair
Brooke du jour | Alicia Tenise | Just Add Glam | The Dandy Liar | The Glitter Gospel
A Lo Profile | Top Knots and Pearls | Have A Wesley Day | Fleurdille | The Lush List
Ruthie Ridley Blog | The Material Girl | Twenties Girl Style | Hashtag Fab Life | Street Style Squad
To B Candid | So Heather | Boho Chic Cafe | Always Coco Noelle | Sandy a la Mode
The giveaway is open internationally! The more "tasks" you complete below, the more entries you will receive, increasing your chances of winning!
You are sure to discover some amazing bloggers you may not already be following! Good luck!