Hi guys!
Happy Thursday to everyone. I know I mentioned this in my post a few days ago, but in case you're new here- my husband and I just purchased our first home (hurrah!).
Here's a peek at the what the flooring situation currently looks like(these are pictures I took before the former homeowners moved out). There are three types of flooring throughout the house:
1) Laminate.
I know, I know- not all laminate is bad. Some laminate looks so similar to real wood, that it often gets mistaken as such. This laminate does not. It composes about 30% of the flooring in the house. It is highly laquered and just not my style.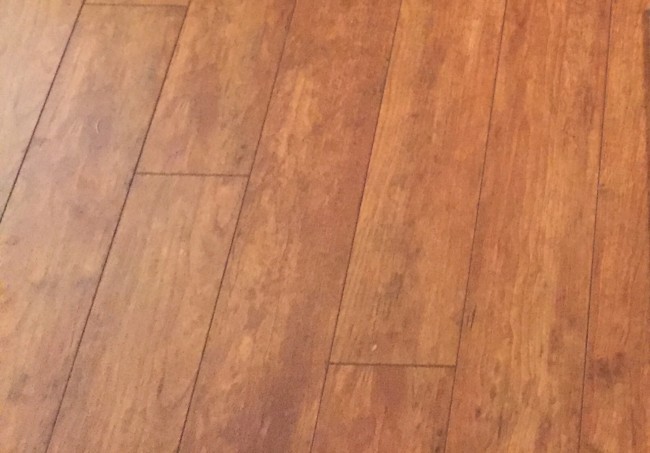 Now, there are a few things you need to know about me, and one of those things is this: I LOVE me some carpet. I grew up in the 80s and early 90s, when the use of carpet in residential spaces was at its peek. My house growing up was built in 1979, and, as you can image, had carpet everywhere. I've always thought maybe that's where my love originated.
Having lived in 8 different apartments and homes over the past 12 years, I've really been able to develop preferences and realize what I like and dislike. And honestly, my favorite places to live were highly carpeted (I would say 3:1 ratio of carpet to hardsurfaces).
That being said, here is what we're dealing with: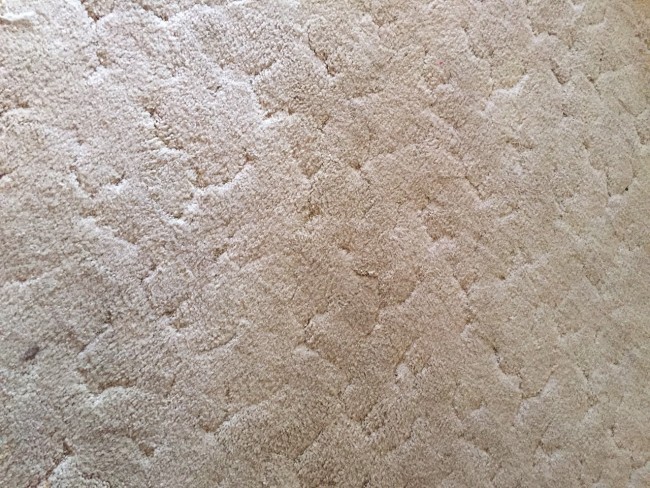 Pretty gross, right? It's soiled, as you would expect 8-10 year-old carpet to be, but that can always be cleaned. The thing I can't get past is the gathers- they are actually a apart of the design. Have any of you ever seen carpet like this?
and 3) Tile
Well, there's good and there's bad about this tile. Good first? Ok.
So, the good thing is this: the tile that is all over the house (the kitchen, the hallways, and the bathrooms) is the same tile. Meaning, the previous homeowners had the foresight (and the budget) to buy enough tile to redo all of the tiled and/or wet surfaces in the home with the same tile.
Now for the bad news. The bad news is that the tile looks like this: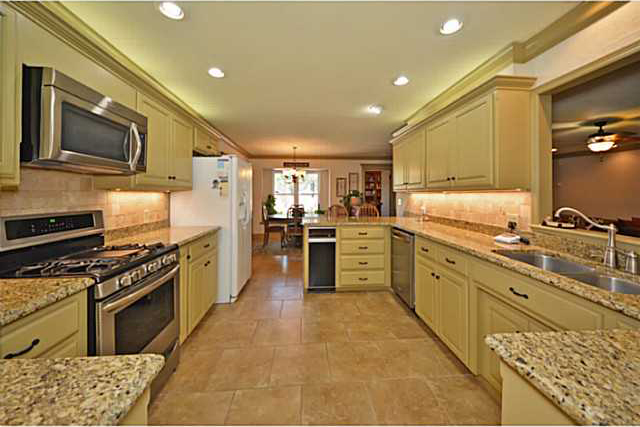 Not horrible, I know. But definitely not my taste. Now if I were going for a rustic Tuscan-style look, then totally- that tile would be perfect!
But, I'm not. And the tile is not only consistent, but it is everywhere: the kitchen floors, the hallways, the bathroom floor, the splash wall around the toilet, the shower surround, the mud room… I could go on.
So what are we going to do? We are going to replace all of the carpet with new carpet, rip up the tile in the kitchen and eat-in area and replace it, along with the laminate, with hardwood floors. With what, you ask?
More on that to come.