Since I'm exactly half way through my pregnancy, I thought now would be a good time to start doing weekly bump updates! I'll be checking in each week, sharing everything to my craving(s)-of-the-week, to the size of the baby, to my go-to wardrobe pieces (maternity and non-maternity, alike)! For the full update, scroll down to the bottom of this post.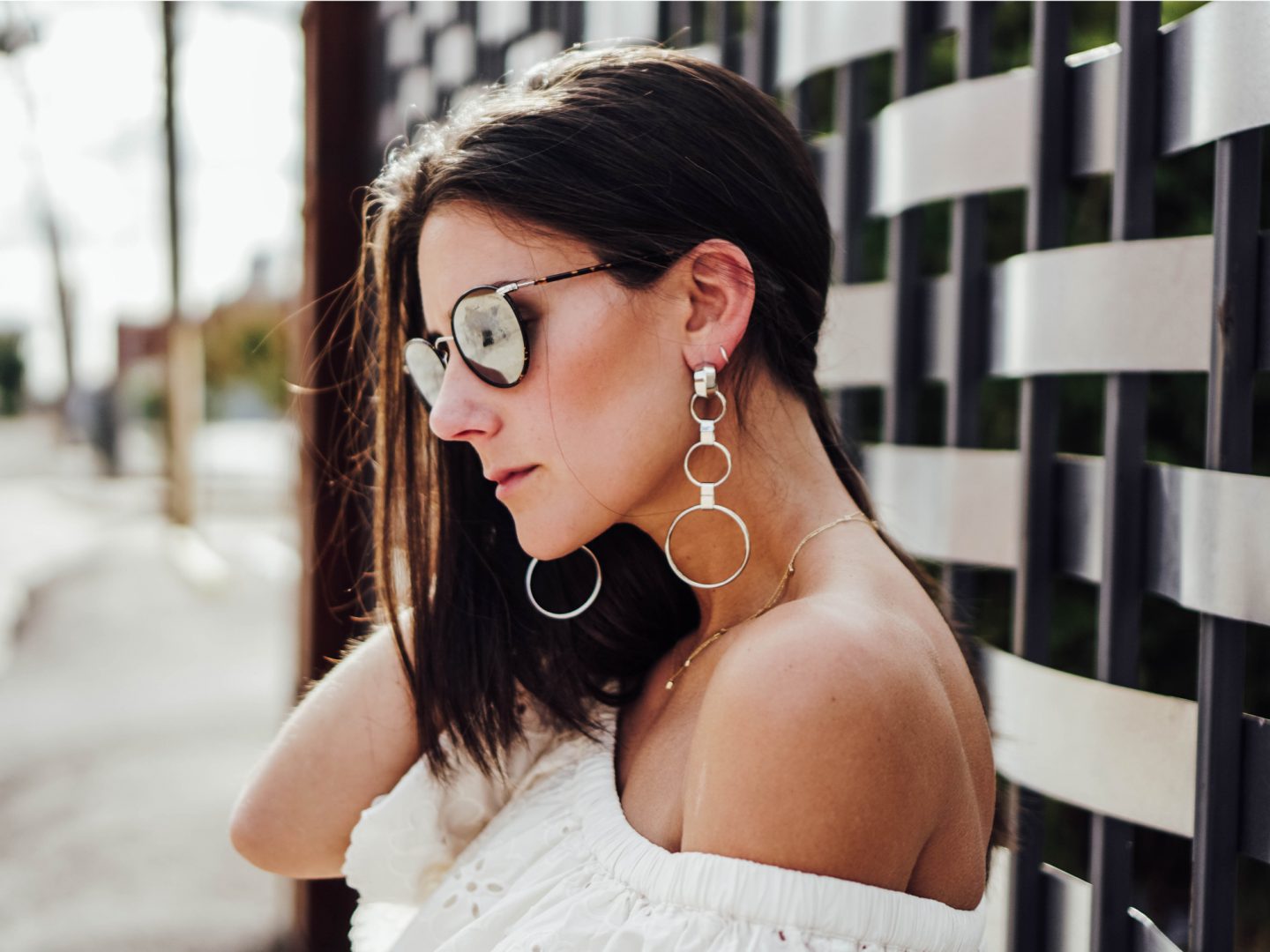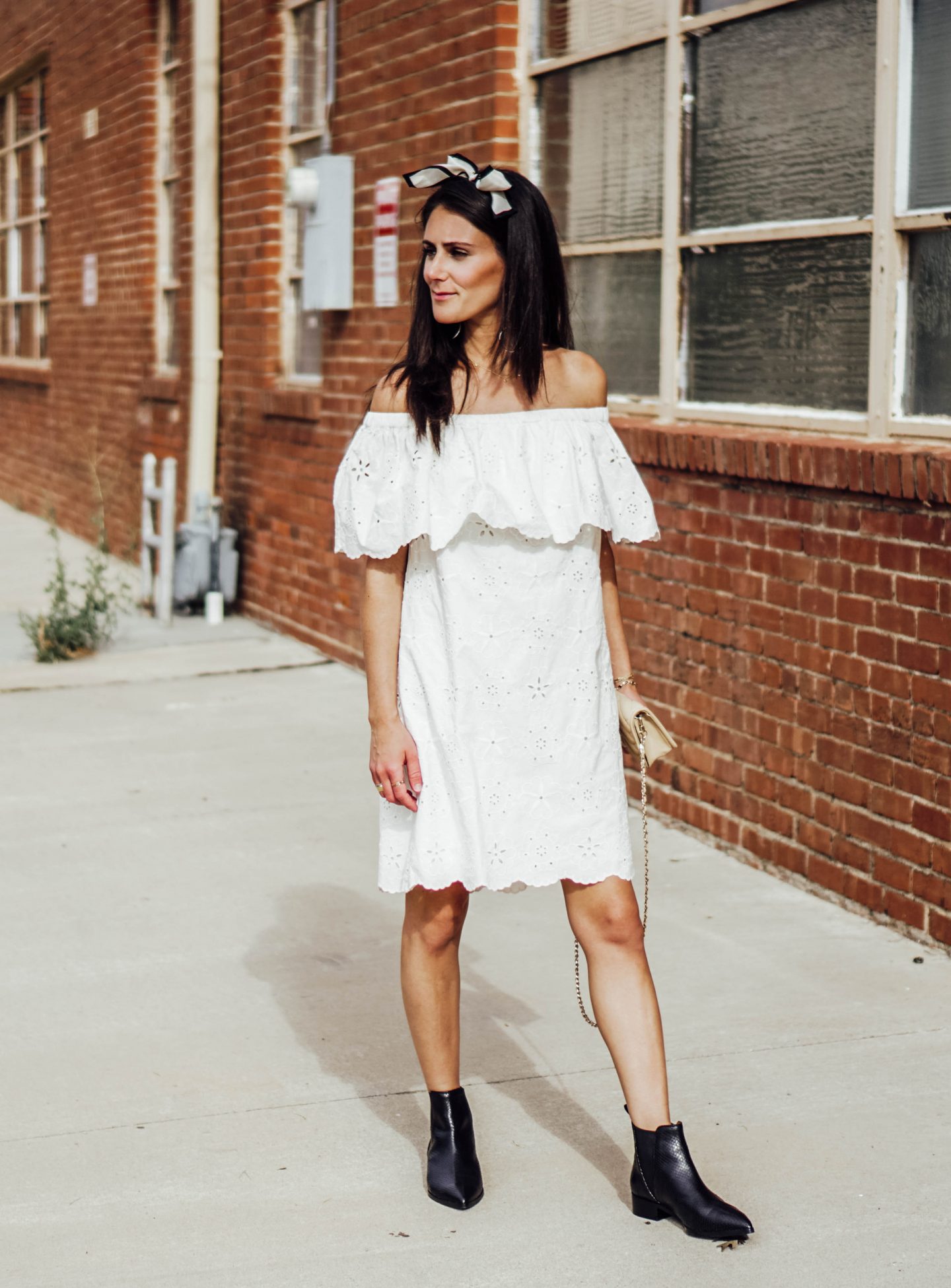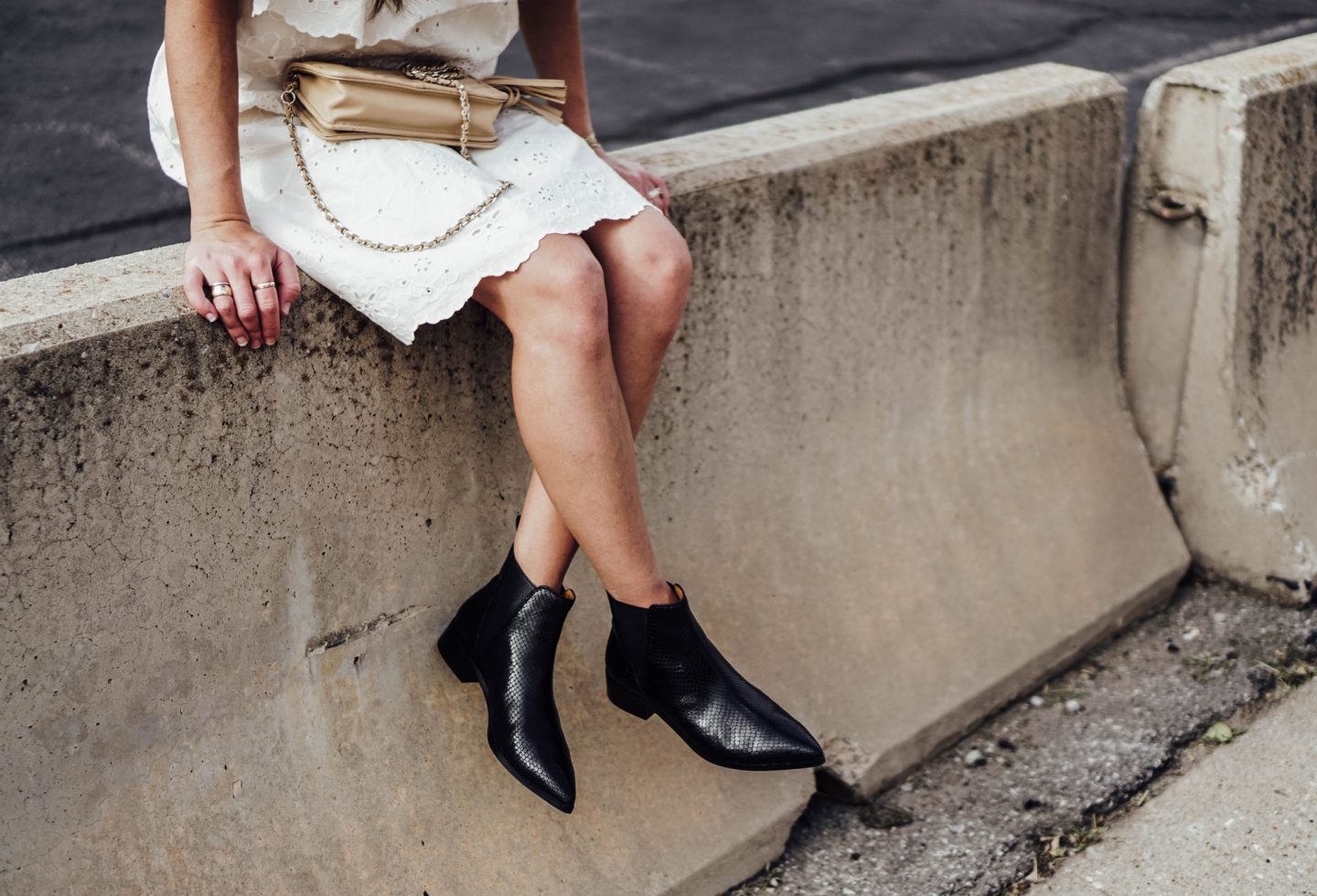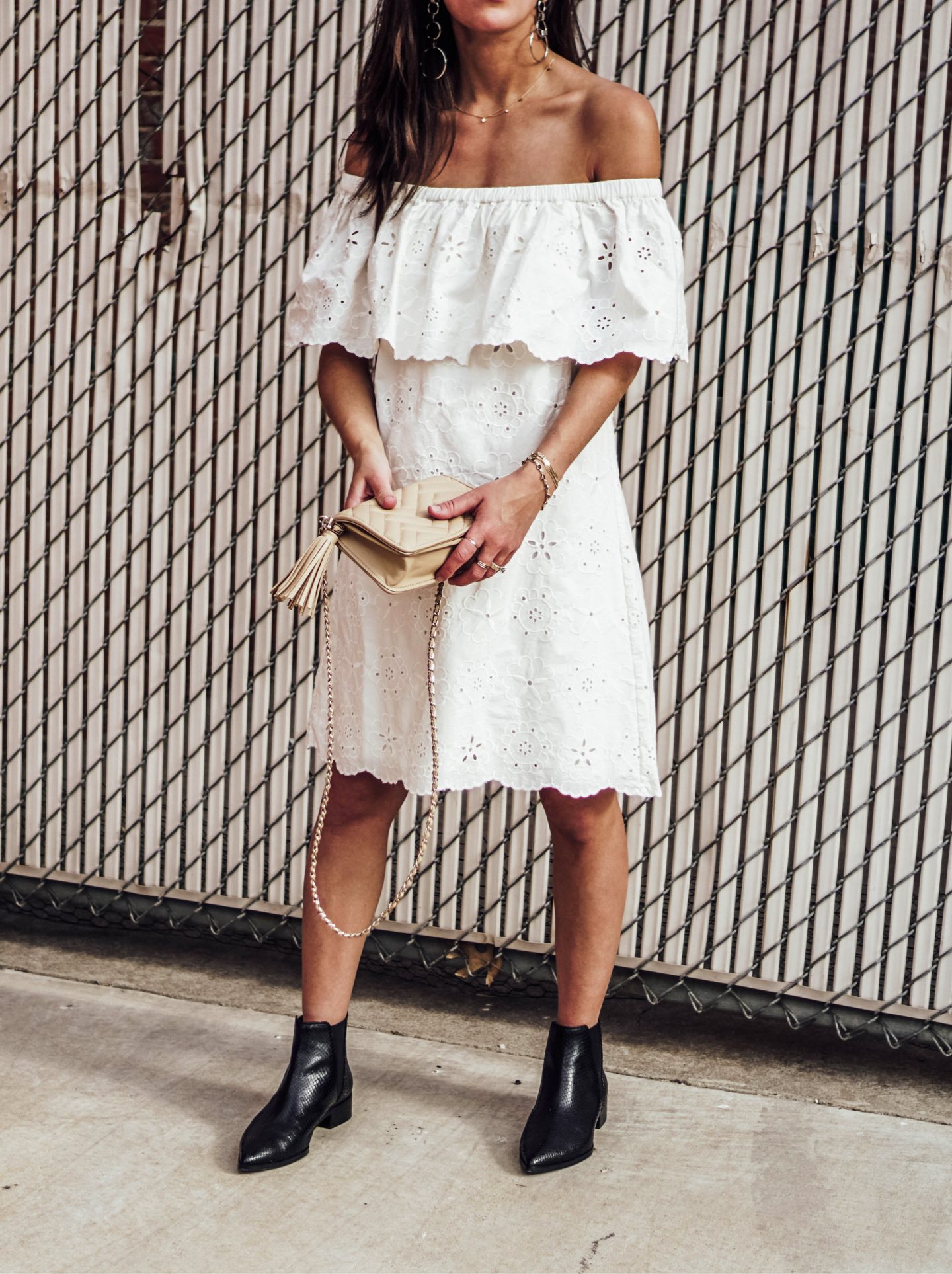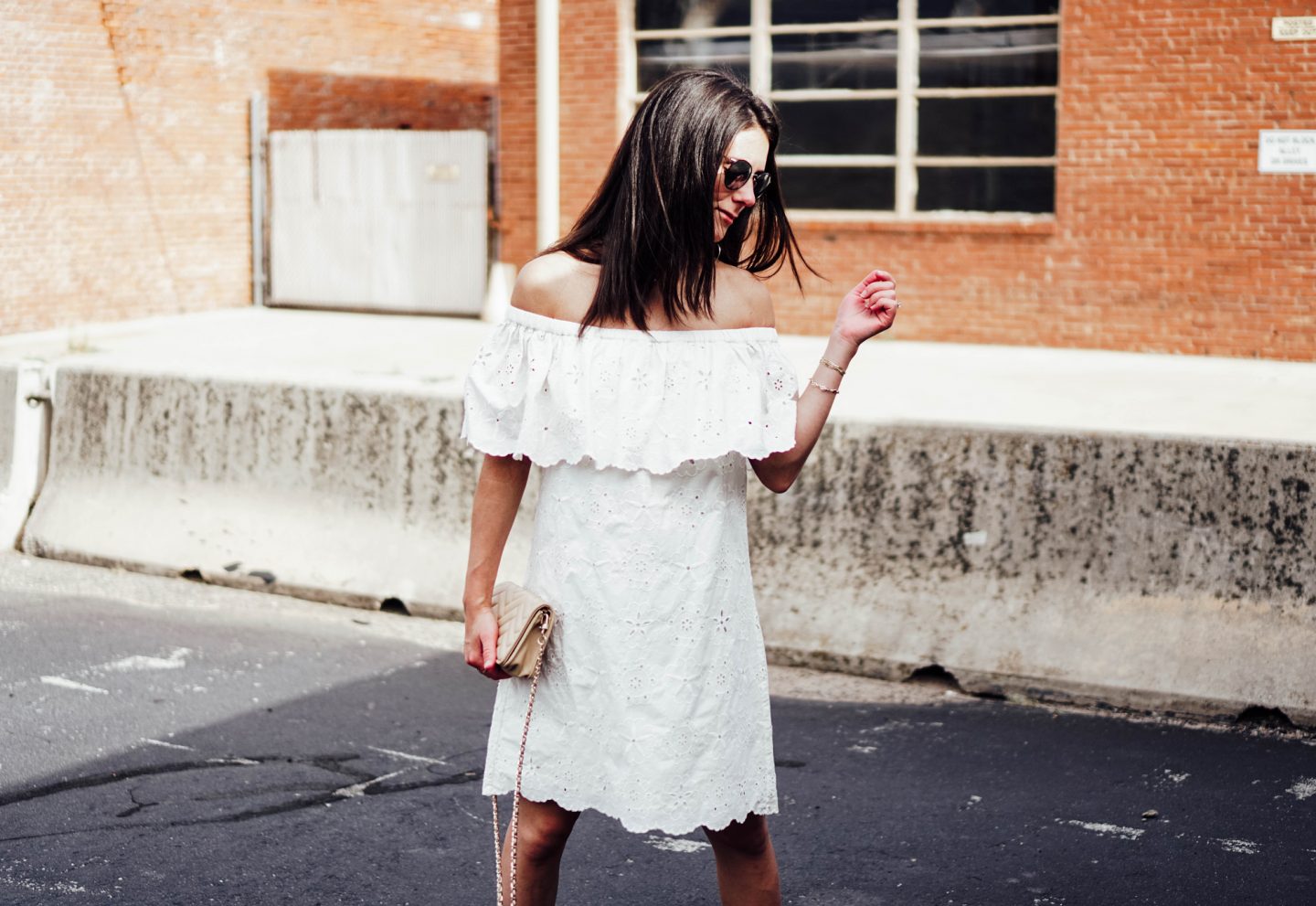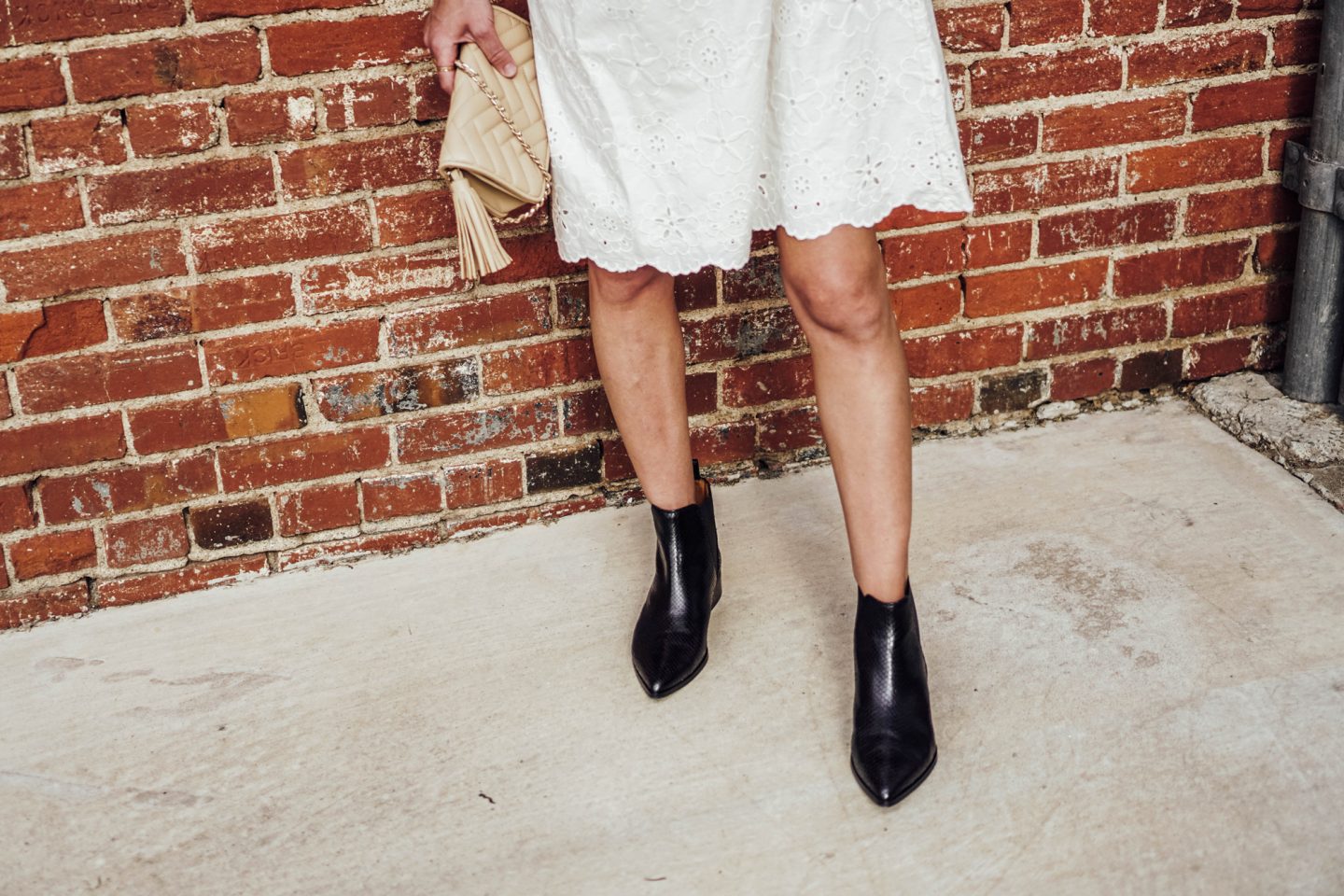 – OUTFIT DETAILS –
& Other Stories Off-The-Shoulder Dress // & Other Stories Chelsea Boots (comes in 2 other colors) // Nissa Earrings // Similar Bag // Shades
---
BUMP UPDATE // 20 WEEKS
+ Due Date :: November 25th, 2017 (Turkey baby)! I'm 20 weeks and 4 days today.
+ Baby's Gender :: We just got confirmation- it's a boy! Other than my husband, I know nothing of boys. I come from a family with one sister, so this will be a new experience. I'm trying to get myself super siked about boy clothes. 😉
+ Exercise :: Strength and metabolic training x 3 a week, and 1 day of cardio.
+ Cravings :: Herb-crusted Goat Cheese from Trader Joe's… plain 😉 And Ben & Jerry's The Tonight Dough with Jimmy Fallon ice cream (soooooo goood).
+ Size of Baby :: Banana, or 10 oz.
+ Feeling Overall :: Physically, I feel great. A little more tired than usual, but overall, I feel… not pregnant! Emotionally, on the other hand, I am riding the craziest roller coaster of extreme ups and downs. I was never like this with my first pregnancy- being so unstable this time around is kind of a shock. Pray for Adam. 😉
+ Total Weight Gain/Loss :: As of today, I'm up 15 lbs. I've definitely gained more, more quickly, with this pregnancy than I did when I was pregnant with Johanna. I've also gained a lot of muscle from weight lifting, or at least that's what I'm telling myself.
+ Showing :: Yes, I am definitely showing, contrary to what I might look like in this dress! I actually look pregnant, as opposed to looking like I just ate 5 burgers and downed two 32. oz cokes.
+ Symptoms :: No "classic" pregnancy symptoms yet. Praying that the severe indigestion and acid reflux that I had with Johanna stays away until the end of my third trimester (or how about… never comes!). Okay, as I was about to hit "publish" on this post, I remembered one symptom that had made it's appearance: damn, my boobs hurt!
+ Clothing :: Other than a few maternity dresses (here and here), I have somehow managed to stay away from buy anything maternity. I've almost completely outgrown my non-maternity denim cutoffs, and since it's about 100 degrees out, I'm totally into floral-printed shorts with elastic waist bands (just picked up some from the Zara sale). I've also been loving loosely fitted dresses (like this one and the one I'm wearing in this post) and rompers, and these amazing hi-waisted flares with an elastic waistband (they make your legs look sooo long, and come in this color and this color). I've also been obsessed with these slides (I have them in green and am contemplating getting them in blue) because #theysocomfy.
+ Baby Movement :: Yes, at least a couple of times a day! I've been feeling his movement since week 11… much earlier than I did with Johanna. I first felt her around 18 weeks, and even then, it was barely a flutter. But I hear that's pretty typical with the first vs. the second baby.
+ Baby's Name :: Undecided. TBH, both Adam and I avoid the topic because we know how few names there are that we will actually agree upon. But I think we're pretty certain on his middle name (which, if you know my husband's middle name, then you know what our little boy's will be). Keep you posted.
+ Other Notes :: Other than nailing down a date for a little sprinkle shower, I have made very few preparations for this little guy. Well, I did go on a shopping spree when Gap/H&M/Zara had their 4th of July sales last week. If you watched my Insta Stories, you'll know that I picked up quite a few things!
And if you want to get a laugh at my FIRST style post on TheDandyLiar, in which I also happened to be pregnant, head here. (yes, before I blogged about style, I blogged about home decor, and this post was my first stab at a fashion post).