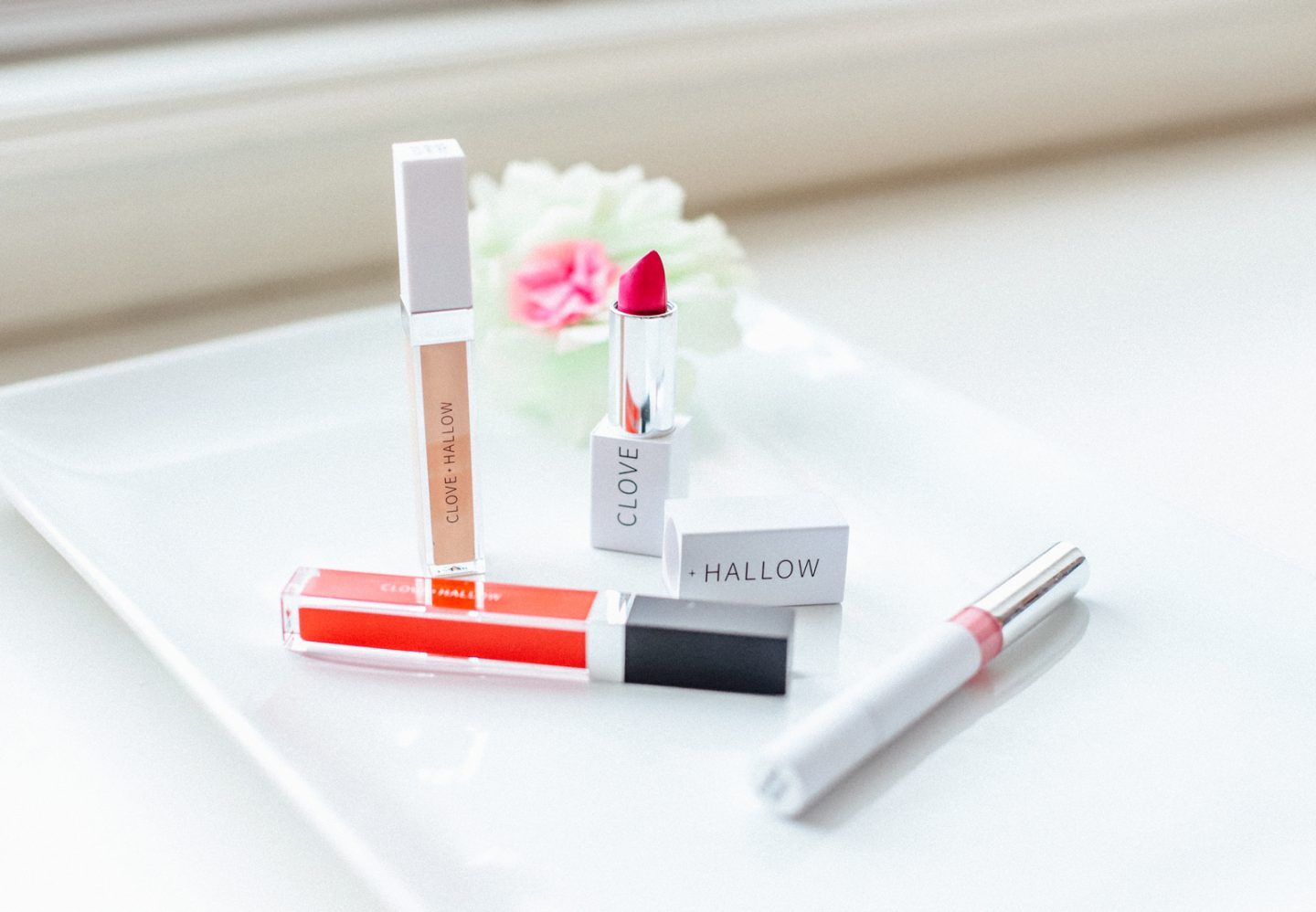 I am so thrilled to be writing this post because it means two things: 1) I have begun the journey to switch out all of my toxic makeup, and 2) I have found a clean beauty brand that I'm excited about! I pray that this clean beauty review is the first of many, and that I'm able to seek out the best in clean beauty for you all, my loyal and awesome readers! So, here it is: my clean beauty review of Clove + Hallow! And be sure to read all the way to the bottom of the post for a special discount code!
MY CLEAN BEAUTY JOURNEY
I'm not sure about you all, but when I began the journey towards clean beauty as mentioned above, I was overwhelmed. Where do I start? And what should I switch out first? These were just some of the questions swirling through my head as a tossed the toxic stuff into the trashcan.
While there are no "right" answers to those questions, I can tell you how I resolved to answer them. I started by… starting somewhere, with something! I knew that if I started with only one thing, rather than an entire makeup bag, to replace, both my wallet and brain would thank me! And that one thing was my concealer.
A good way to select your first item to replace is to think about which makeup items you wear the most of, or at least on a daily basis. And for me, that was my concealer.
Once I chose my "item", I began researching clean beauty brands that were known for their foundations and concealers. One of the brands that kept popping up in my search was Clove + Hallow.
ABOUT CLOVE + HALLOW
What first drew me to Clove + Hallow was the fact that they are affordably priced, non-toxic, cruelty free, and even vegan. The have a Clean15™ formulation strategy, which replaces thousands of questionable chemicals with a well-researched roster of natural ingredients and safe synthetics. In addition, the follow the European Union's stringent formulation standards. Lastly, all of their products are PETA-certified cruelty-free/vegan.

But, you might be asking yourself, what good is all of that if a product line doesn't perform? Isn't that what it really boils down to? And the answer to that question is a resounding 'yes' with Clove + Hallow.
The line was founded by Sarah, a free-lance makeup artist out of Atlanta, who wanted clean beauty products but didn't want to compromise her health. As you can imagine, her personal standards for makeup performance are pretty high, and it is with those standards in mind that she created each product.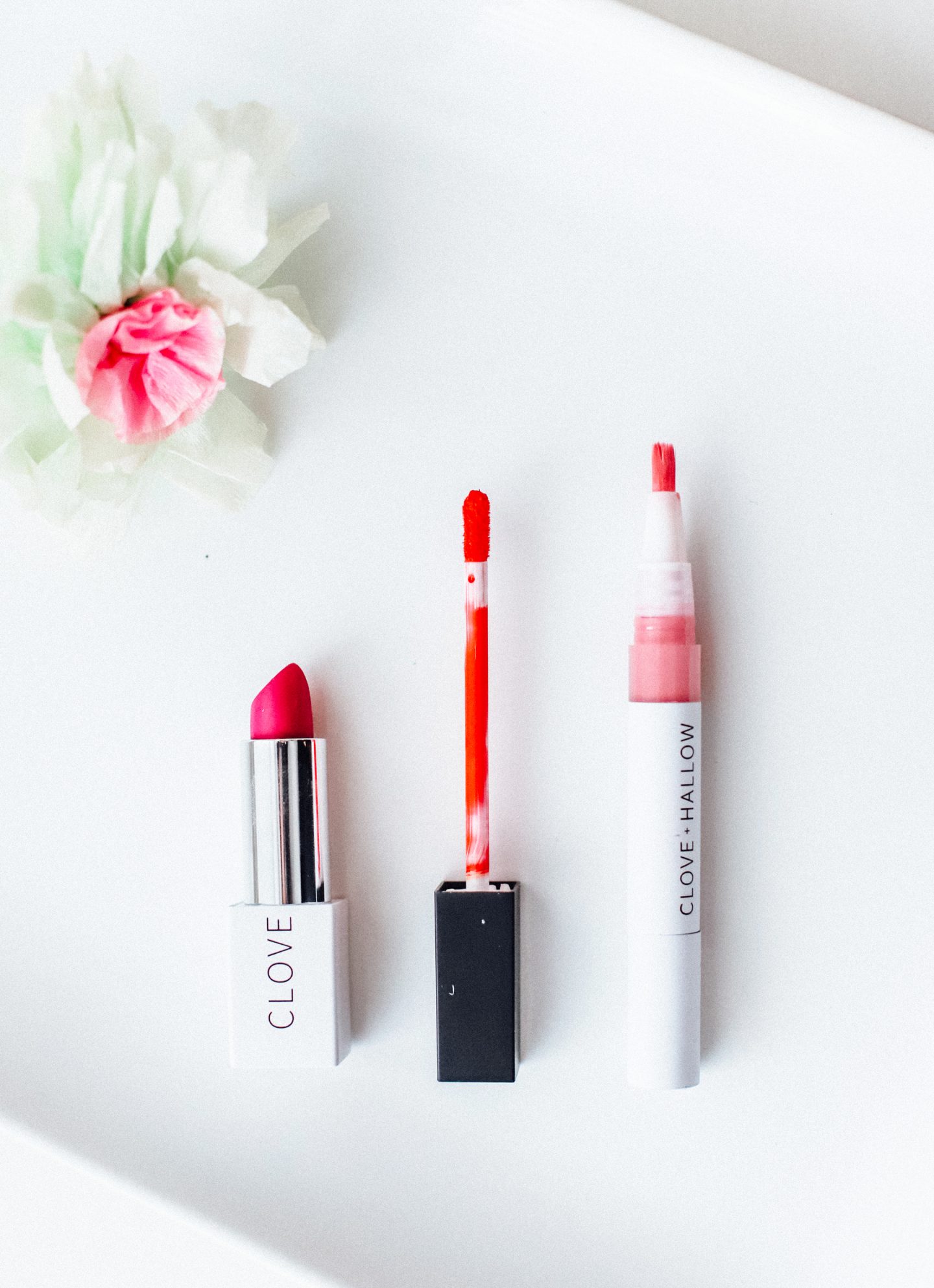 MY REVIEW
Like I mentioned earlier, I was on a mission to replace my beloved, but totally toxic, Lancome concealer that had faithfully covered up the dark circles under my eyes for the past 13 years. I was convinced that I would never 1) find an exact match for my skin color from any other brand, and that 2) I would never find a concealer that had the perfect coverage like my Lancome concealer. But I happened to luck out and found Clove + Hallow was my second (and last) brand to try.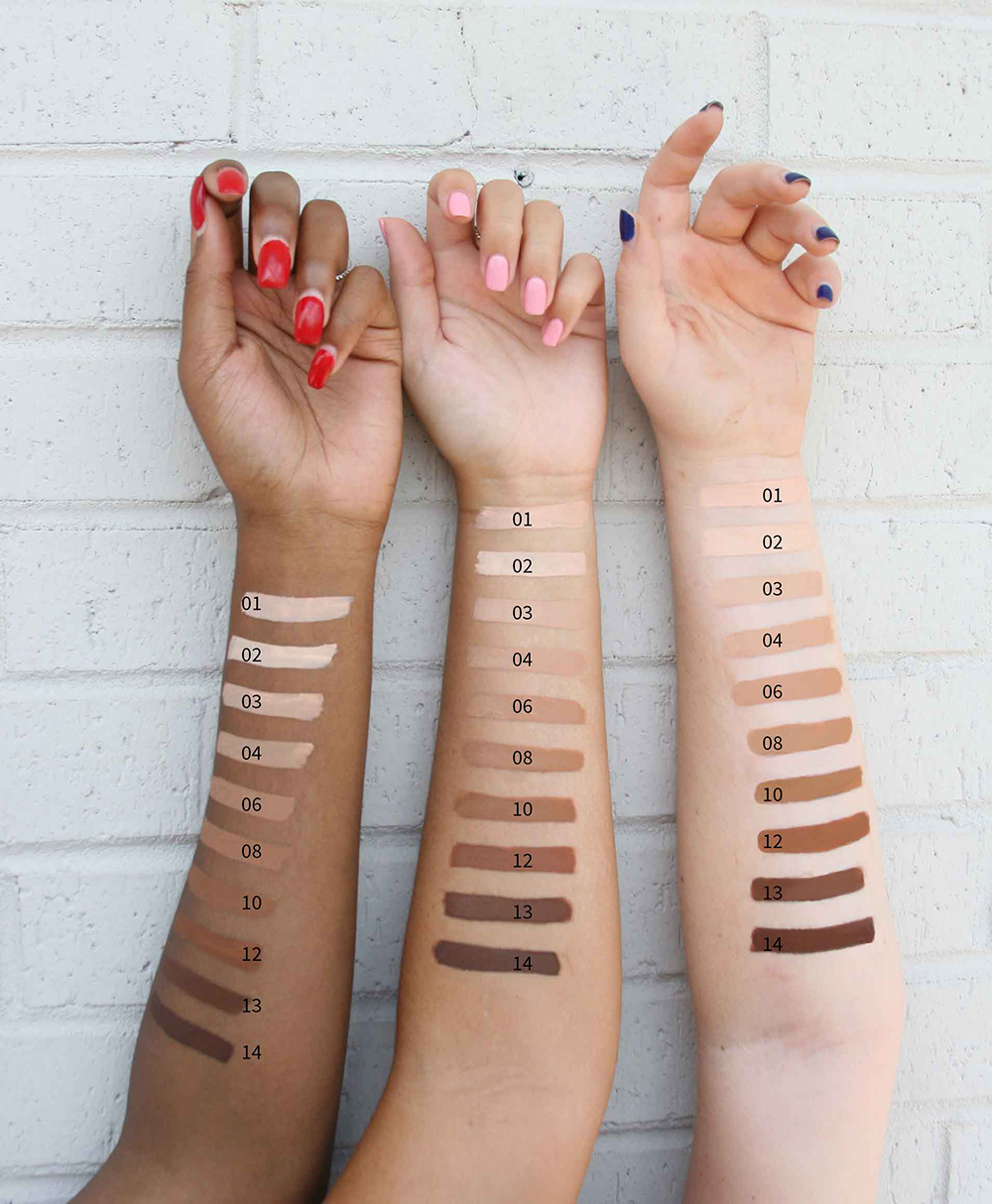 The Concealer
Let's talk about the concealer. The Conceal + Correct actually does what a concealer should do- it covers up things! Dark spots, circles, redness, bumps, pimples, etc… and the best part is that it doesn't clump or dry out my skin.
When it came to color matching, since I purchased it online, I was unable to test the shades on my skin. BUT! Clove + Hallow has a skin-tone guide that shows you what each shade looks like on three different skin types, depending upon your skin's undertone. In addition, each shade comes with a description that tells you which color of undertone it is best for. Still not sure of what shade to get? You can email cs at cloveandhallow.com, and someone will assist you with finding your perfect shade!
Based on their guide and undertone description, I guessed my shade was a 03… and it was spot on!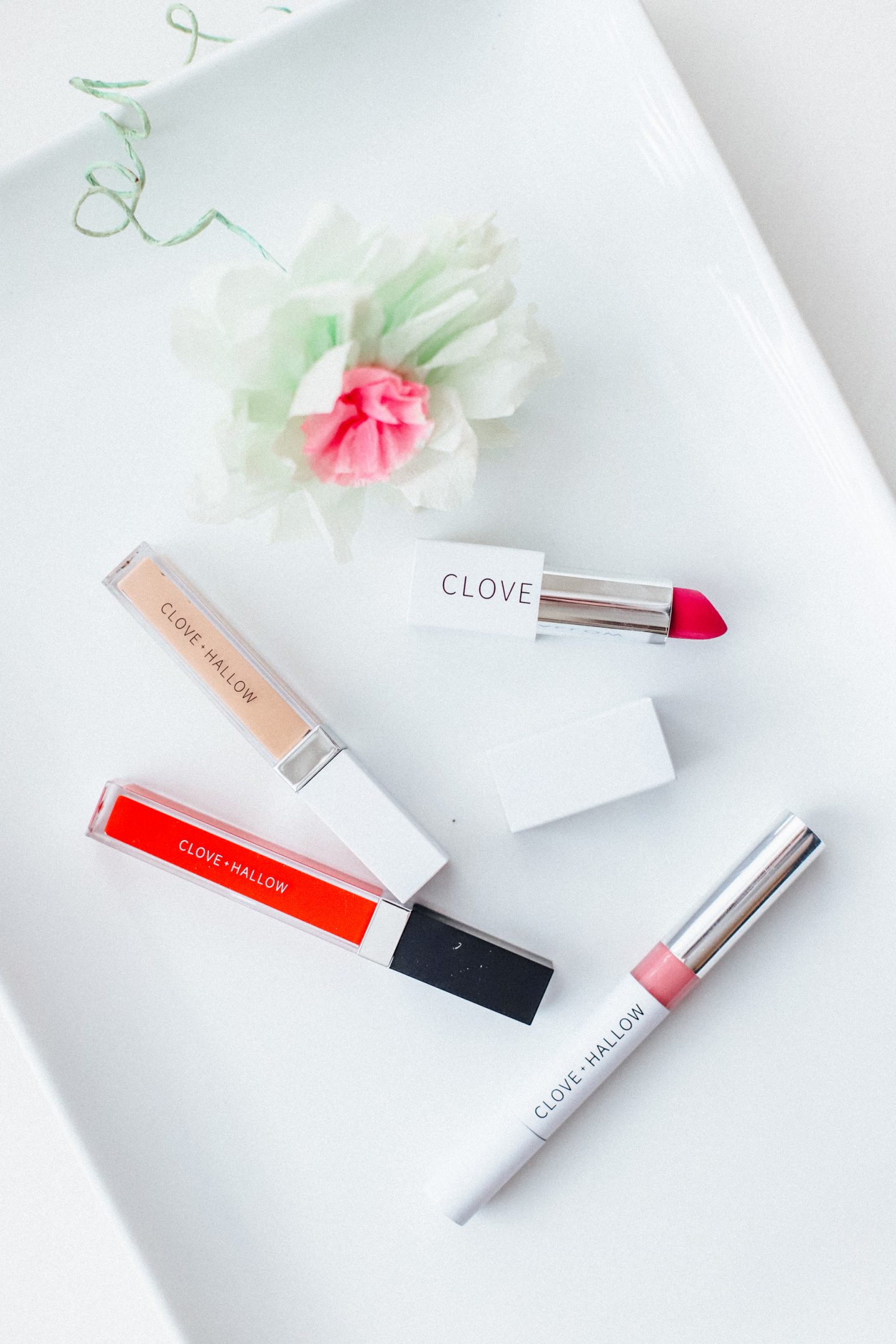 The Lip Velvet
Ahh, the Lip Velvet matte lipstick is as velvety and delicious as it sounds. It goes on wet, but dries with a matte finish. It's also infused with coconut oil, shea butter, and vitamin E oil, so it's super hydrating, too. And friends, it stays on REALLY well. So much so that I have to use makeup wipes to take it off at the end of the day. I find myself only touching up once throughout the day when I wear it.
When it comes to shades, Clove + Hallow comes in clutch again with their shade guide. I've never really known which shades look best on me, but having to previously identify my skin's undertone with the concealer actually helped me in selecting the perfect lip shade. When you click on each color thumbnail, the description includes which undertone it will look best with. I love that! I opted for the bold "Fiesta" shade. It's the perfect orangey-red!
The Lip Glaze
So, truth be told, I have always avoided lip glosses. Historically, they've been sticky with my hair always getting caught in them, and so shiny that they made my lips look like they were slathered in vaseline. Not exactly the look I'm going for.
But, like all good makeup junkies, I had faith that this one would be different. And I was pleasantly surprised when… it was! Truly, like the name says, the Lip Glaze is more of a glaze than it is a gloss. It has the perfect amount of shine but none of the stickiness of traditional lip glosses.
When it came to picking a color, I opted for the neutral, but feminine "Candied Hearts" that has pink undertones. It's the perfect shade for everyday-use, as its neutral enough to go with everything but has enough color to make an impression. One of my favorite things about the Lip Glaze is the fact that I don't need a mirror to apply it!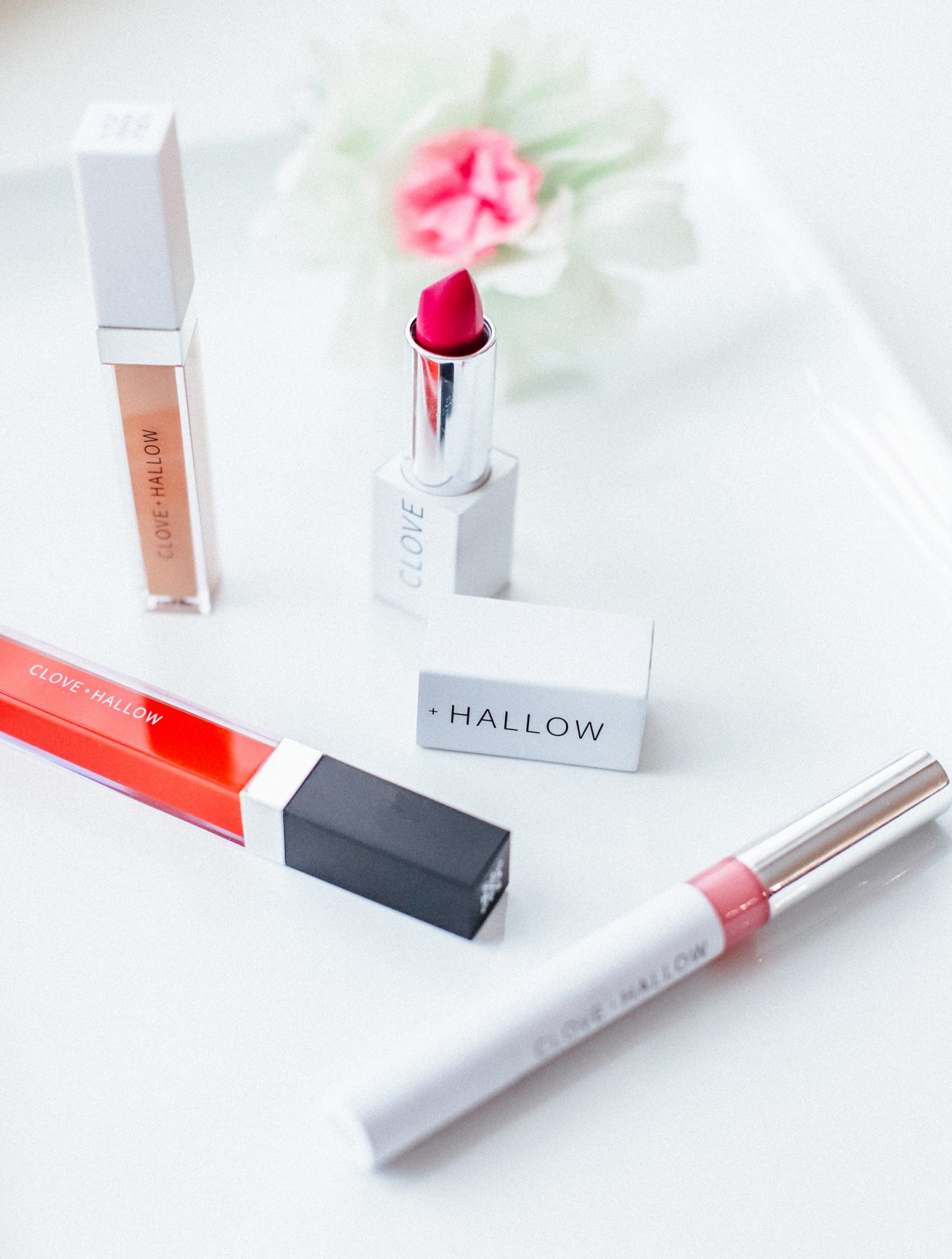 The Lip Creme
Creamer and shinier than the Lip Velvet, but less so than the Lip Glaze, the Lip Creme is the perfect cross between the two. It is also the closest to your classic lipstick. I find myself re-applying it more throughout the day than I do with the Lip Velvet, but it has a good amount of pigment to it.
I decided to try "Blooming"- I love a good pink lipstick! It's for Spring/Summer, and even looks pretty with the Lip Glaze layered on top.
Promo Code
Excited to try some Clove + Hallow for yourself? Use the code 'Affiliate15' and get 15% off your purchase, sitewide!