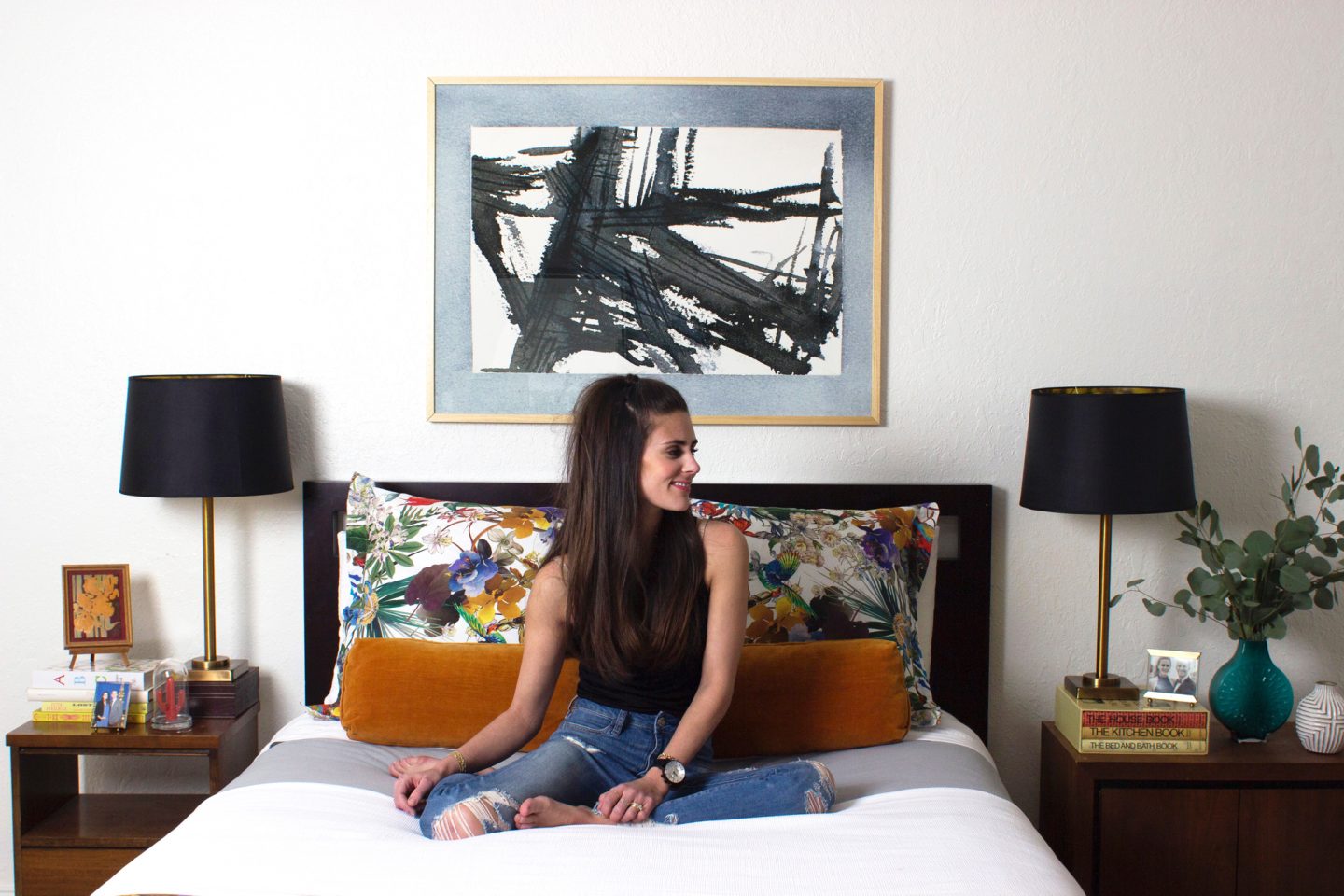 Hi friends! Today, I'm letting you in on a little Christmas surprise I've been working on for a special man in my life. But before I get into the "what" of that special surprise, let me talk a little bit about the "why" behind it to give you some context.
If you're thinking that the special man in my life is my husband, Adam, then you are correct! Among his many amazing qualities, one of my favorites of his is his ability to "get sh*t done." For example, if it were up to him, we would've been completely moved in to our new home within a week of being here- furniture in it's proper place, art hung on the walls, dishes and cups in the cabinets. Whereas I, on the other hand, might wait an entire year before having a night stand, because I will have waited to find the "perfect" one before buying it (I most definitely slept on a mattress on the floor for the first 5 months after moving into my first apartment).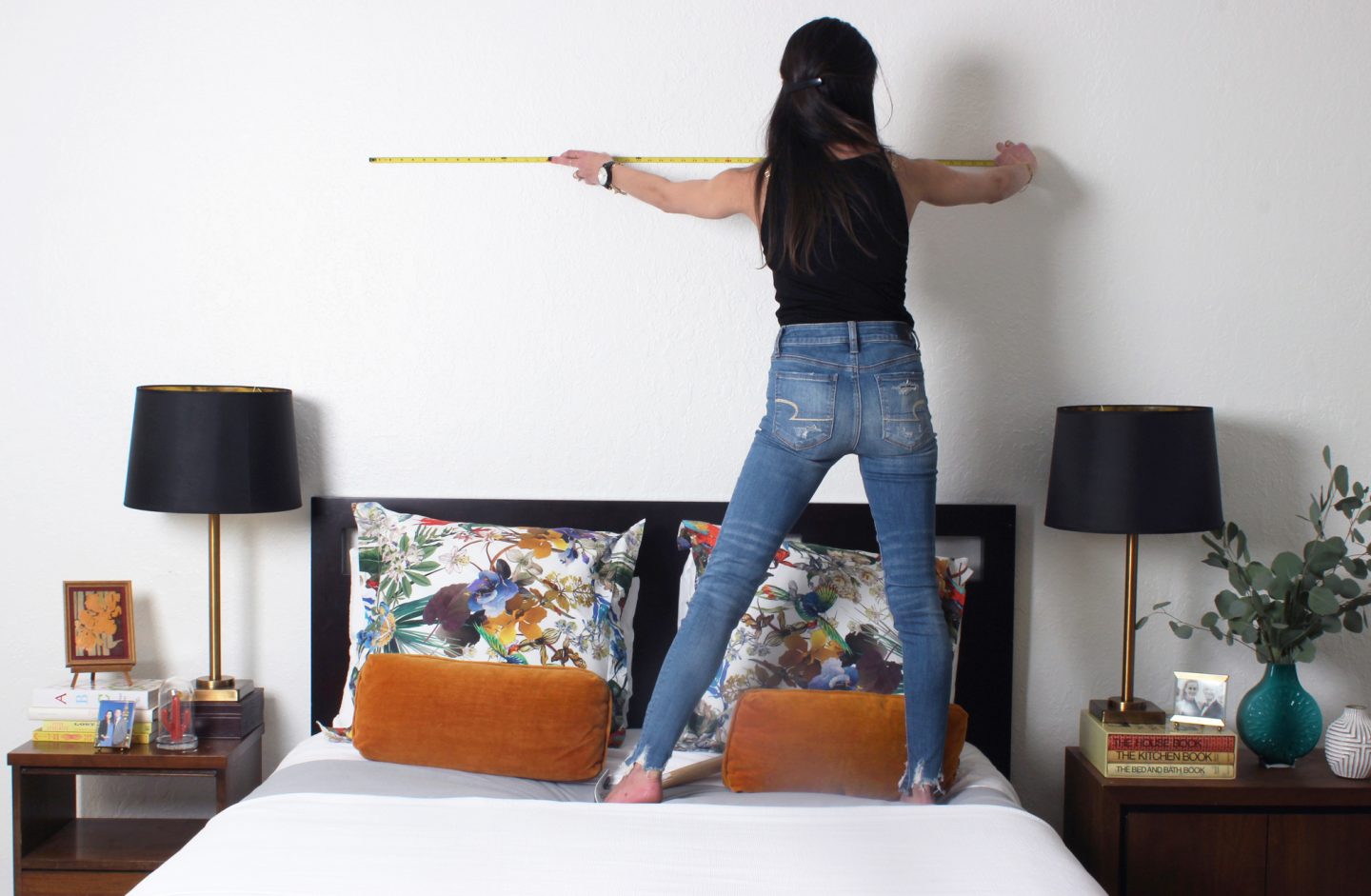 One night, as we were lying in bed getting ready to go to sleep, Adam turns to me and says, "Aubrey, can I ask you a favor? A really big one?" Me: "Of course, what is it?" "It would really mean a lot to me if you could do this. More than you know." Ok, so now I'm thinking, What the heck is he going to ask me to do? He never leads a question like this. Me: "Ok… what is it?" Adam: "Can you please hang some stuff on the wall?"
Not even kidding. That is what he wanted. For me to hang some art on the damn walls. Granted, we had been in our house for a year at this point. Another thing you need to know about Adam, which may give you more insight into his unusual request: he travels 2-4 times a month for work, and often times, spends an entire day on planes and in multiple airports just to get to his destination. This also means that he spends about a lot of times in hotels. So, for him, to have a completed home to come back to- one that is comfortable, and doesn't feel like a sterile hotel room- is important.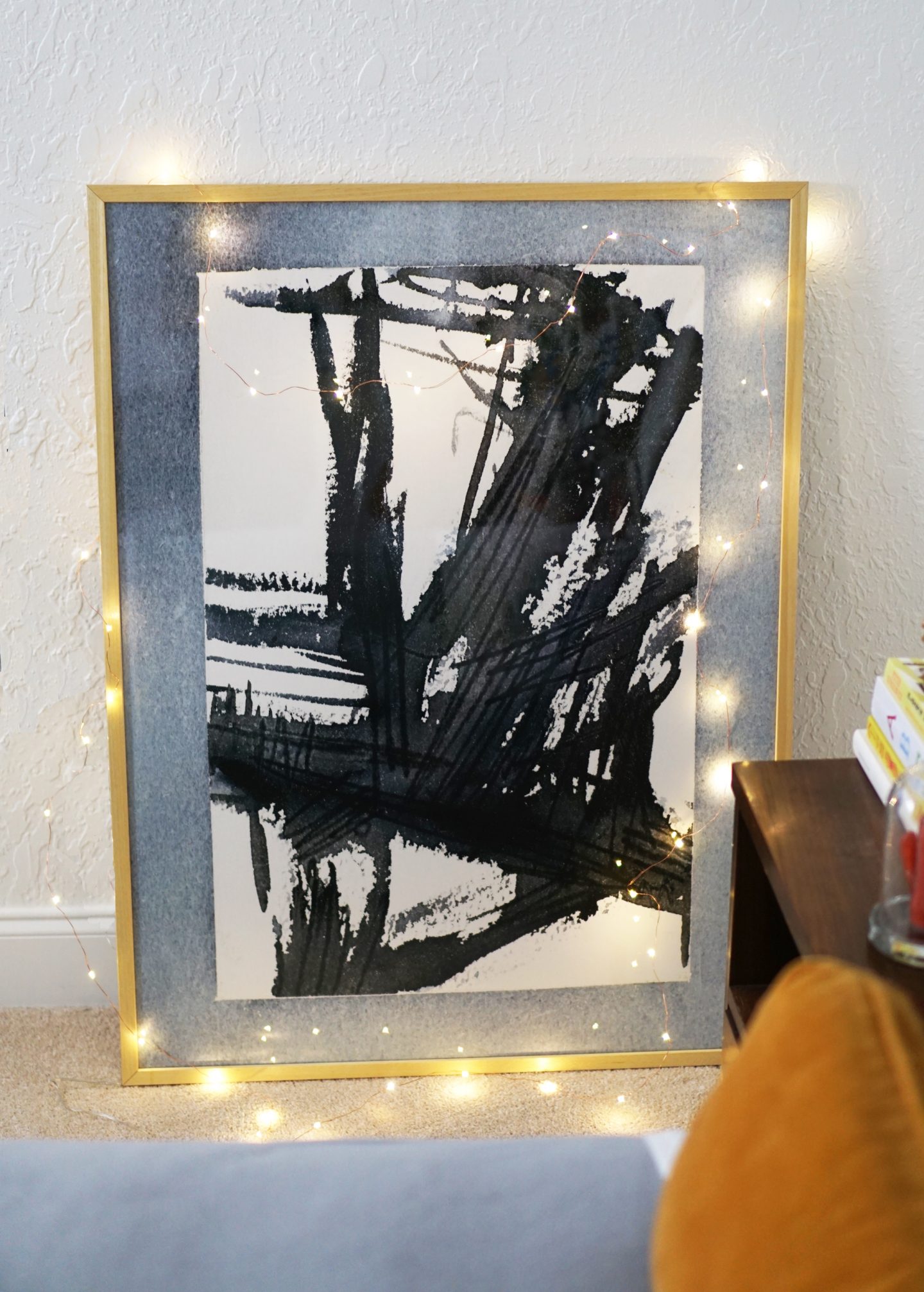 A few months later, when I started thinking about what to get him for Christmas, I knew the perfect gift. I wanted to find a beautiful piece of art for our bedroom, one that would both appeal to his more modern and masculine style, as well as help give a bit of a facelift to the space. But most importantly, one that would help our bedroom to feel more warm, inviting and unique.
I immediately turned to Minted to look for some ideas. They have the most beautiful (and affordable) artwork, and lots of framing options. I started by looking through their Limited Edition art prints– I love the idea of choosing a piece of art that I won't see all over the place. Something about that feels a bit more personal.
In browsing through their assortment, my eye was immediately drawn to the Franz art print by artist Peter Simpson Cook. Its muted tones, monochromatic color scheme, and graphic lines screamed "Adam" to me. I also knew that it would compliment our bedding by helping to balance out the bold, bright colors and busy (and feminine) tropical print.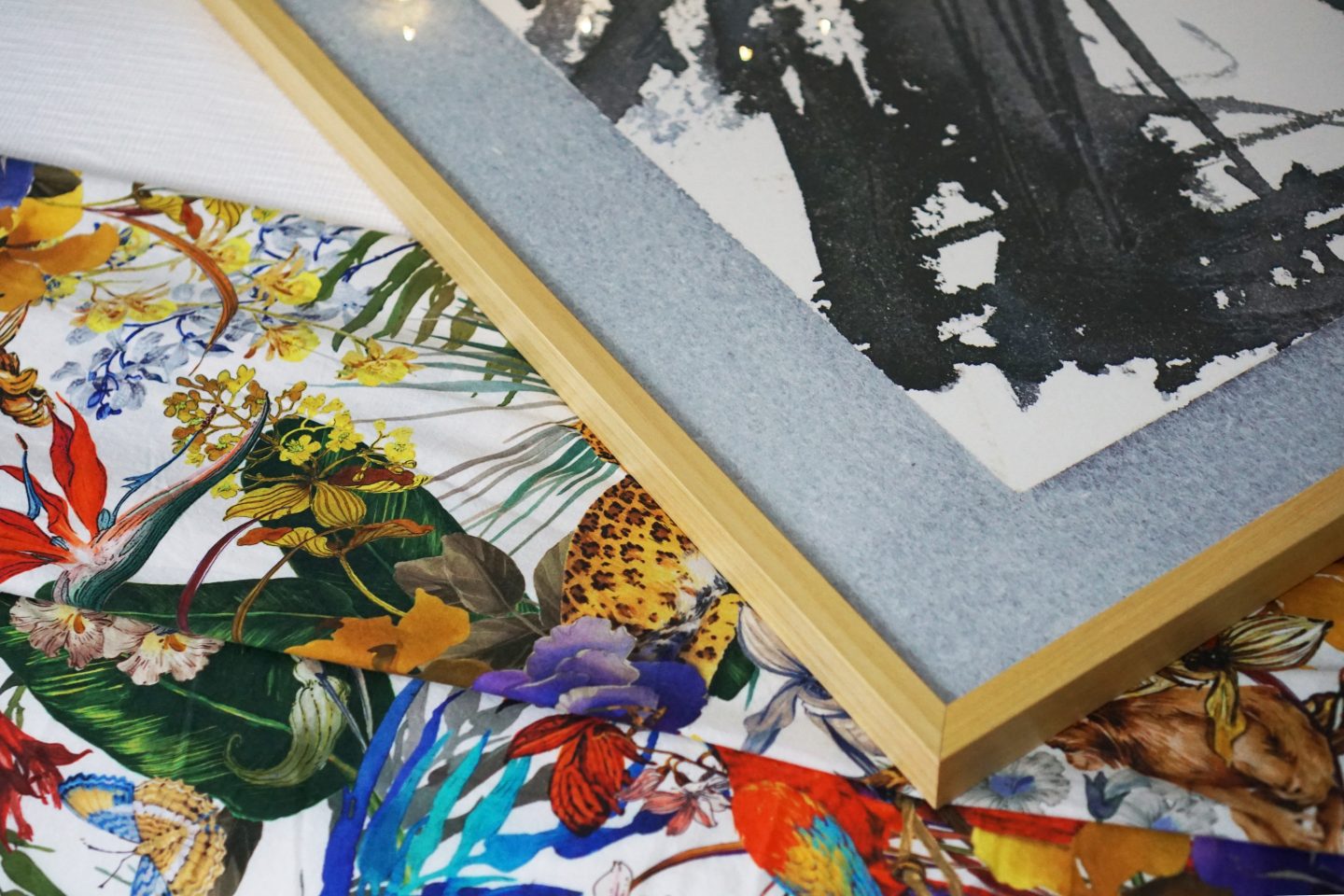 To surprise Adam, I hung the print while he was out of town on a work trip. He came home to an artfully-filled bedroom, and needless to say, was pretty happy about it!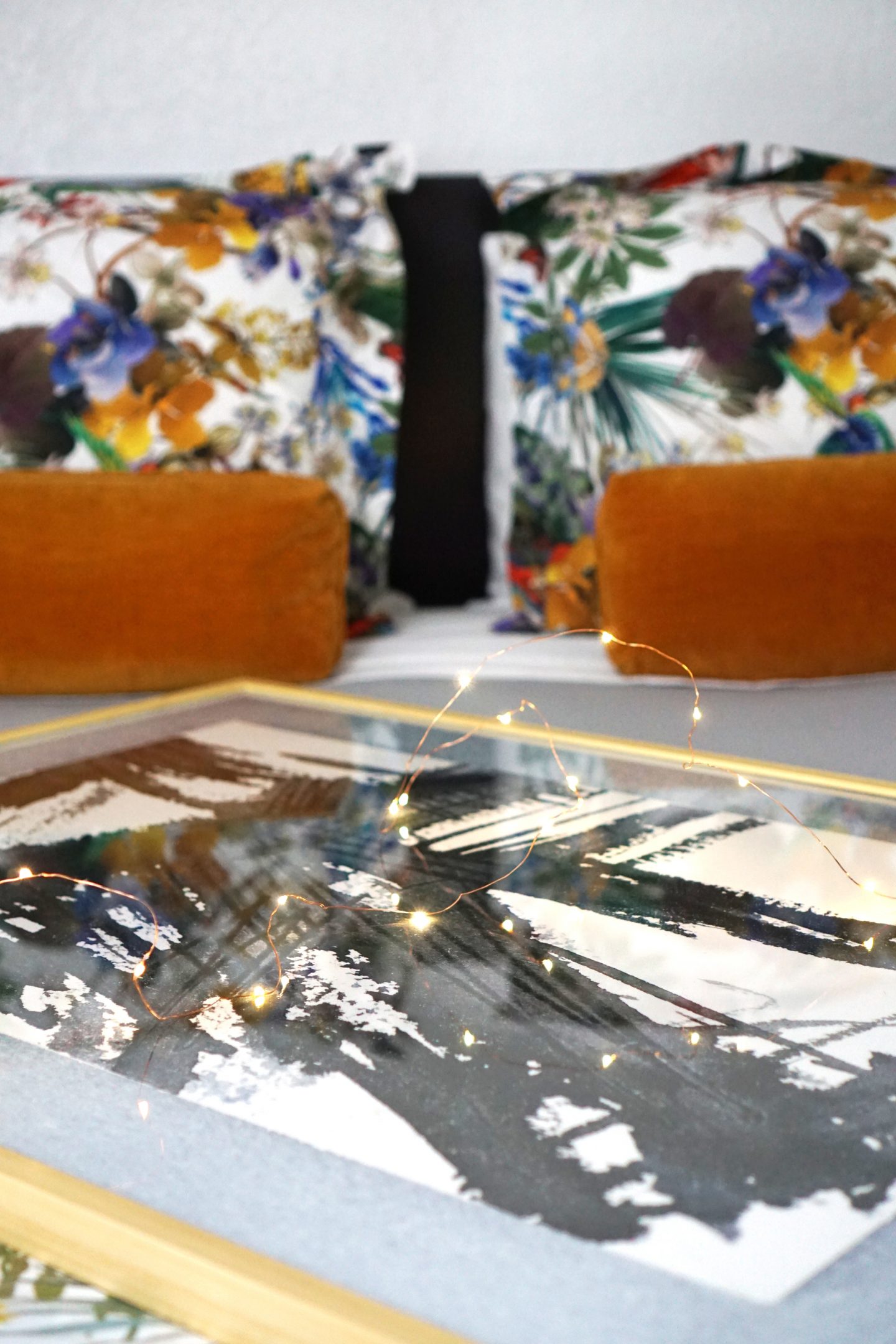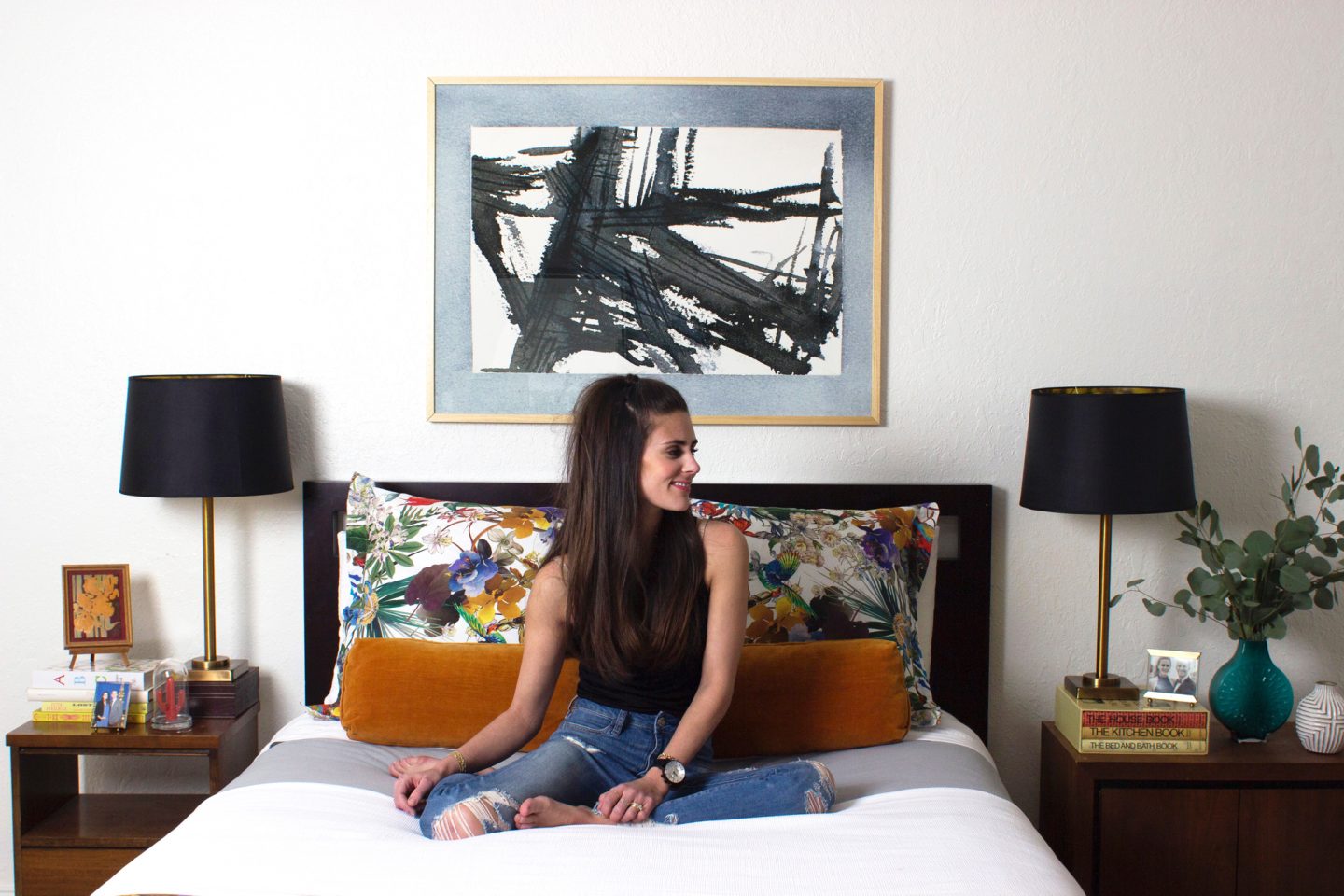 A special thanks to Minted for partnering with me on this post!
Most photography by Kelsey Smith Photography