Hi guys! I know I've said this before, but the primary purpose of this blog was and always will be to inspire myself and others, to teach, and to document good design. I have also told you to expect anything and everything (see bio to the right).
So, I bring you the first in a series of posts about weddings. Why? Because its wedding season. And who better to lead the series than an actual bride who is mere days away from her big day?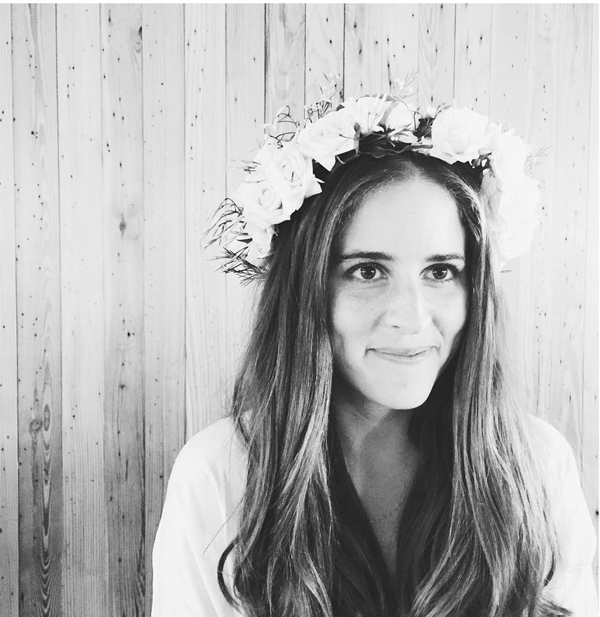 Let me introduce you to Sarah Beth Powers. With a background in fashion, photography and journalism, she's truly one of the most talented, authentic and creative people I know. She also just happens to be my cousin.
From the initial planning and concepting through the day-of and wedding itself, Sarah will give us insight into the world of a modern bride. Without further ado, here she is…!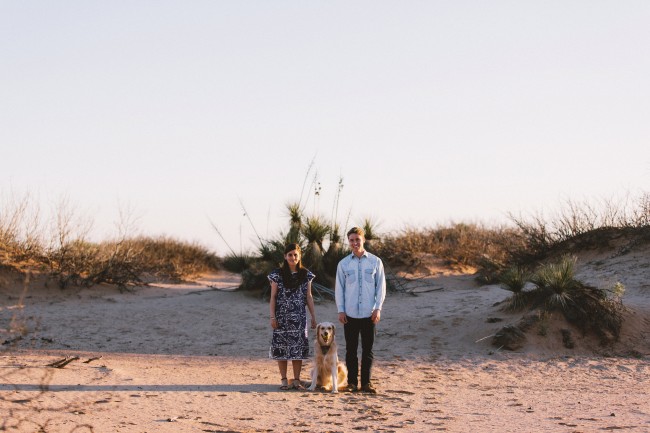 My name is Sarah Beth and I'm getting married.
Really soon, actually. 15 days, 19 hours, and 49 minutes from now. (Heart palpitations.)
To this guy: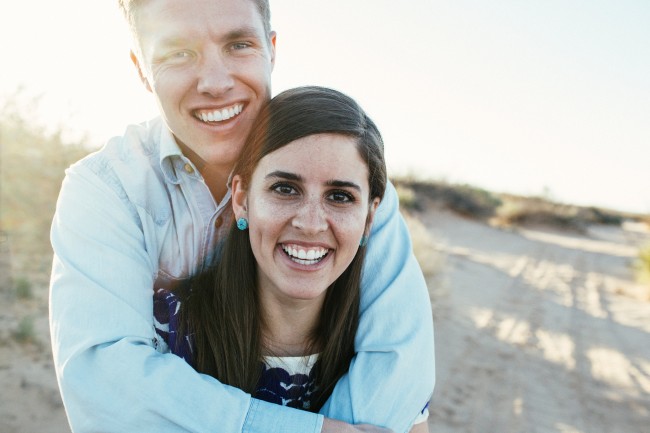 And if I'm honest, I'd have to say that yes, I am 'that' girl. I'm the girl that envisioned what her wedding day would be like for most of her life. I envisioned the flower selection, the color scheme, the venue, the time of year, THE dress, and so on. I'm 100% positive I had an 'I Do.' Pinterest board while I was still very, very much single. I am her.
And if this is you (admit. it.) – when that lucky guy puts a ring on it and the real deal of a day is within sight – hopefully these takeaways will help you navigate the sudden all-encompassing pressure that comes from planning a wedding.
I think it's important to start out by saying that you must put it all into perspective. Having put my whole heart into this day – I am left with a rather disheartened feeling when I envision it without my fiance, Ben. The years and years of daydreaming won't add up to much if he isn't there to share it with. After all, it's not the flowers or the dress that I was really longing for – it was a love that meant so much, it led me to pursue marriage.
With your future hubby on your mind (hubba hubba) – you can really start to get down with planning. Here are a few things you'll want to decide first :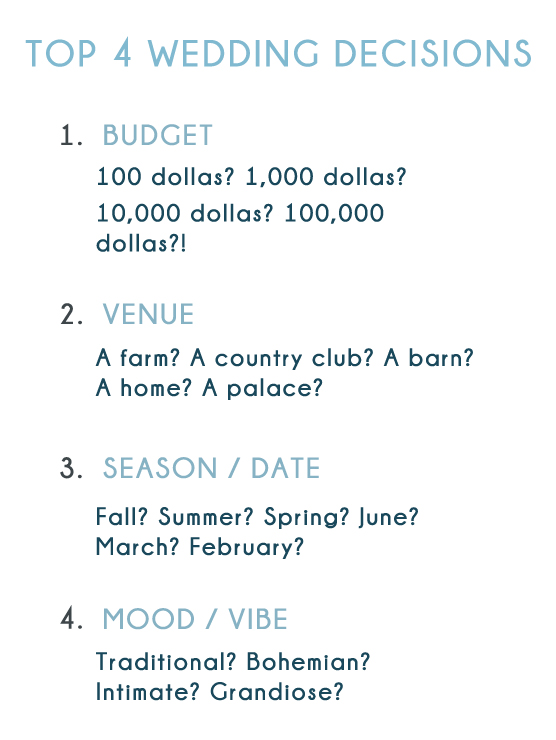 Once these top four decisions are thought through – everything else will be easier to visualize. Here are a few helpful links to help you start gaining momentum:
A stellar resource comes straight from the wedding gurus at Style Me Pretty – their Wedding Template Collection gives you the opportunity to download all sorts of spreadsheet templates to help you organize everything from Guest Lists, Wedding Budget, Music Selection, etc. Many are already equipped with formulas so all you have to do is plug in the numbers – and voila – the math is done for you. Nobody has time for math when planning a wedding!!
Once you know your budget – you'll be in a position to decide whether a planner is right for you or not. As a gal who chose to plan 100% of her wedding, I will say that I finally (6 weeks before the wedding) succumbed to hiring a coordinator and guess what? I can breathe now! I am resting easy knowing someone has my back the weekend of my wedding. Many factors will help you determine if a planner is necessary for your wedding or not but luckily Martha Stewart Weddings has done much of the homework for us (per usual) and posted a helpful article that will aid in this decision.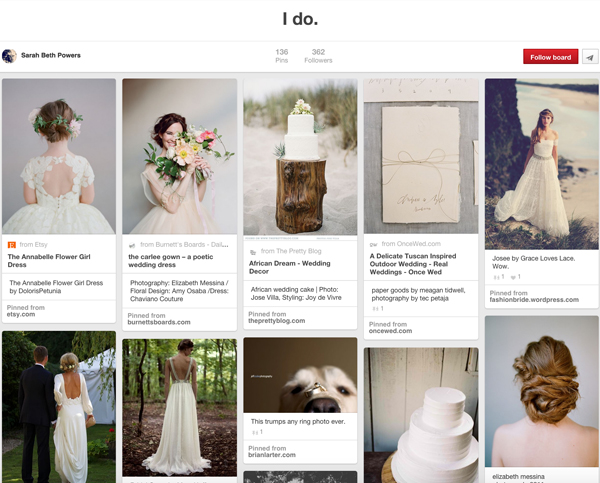 Lastly – dare I say to visit Pinterest? The greatest thing about this site is that it will pull visuals from HUNDREDS of resources and neatly organize them into one endlessly scrolling page of drool-worthy goodness. Pinterest can help you decide on the venue, time of year, and concept of your wedding! But here's the catch about this addictive, beast-of-a-website that we all already know: it will suck you into a time warp and spit you out feeling one of two ways: 1) Anything is possible and yes, you really CAN be that clever OR 2) Just straight 'ugh'. That you want all the things you can't realistically have. 😐 So when using this resource for your wedding, go easy on yourself.
Have I overwhelmed you yet? I'm sorry! I'll make up for it next week when we delve further into the fun stuff. INSPO! I will touch on all the latest and greatest places to fulfill this part of the process.