By popular request, today I will be stalking Craig ('s List) in the Dallas/Forth Worth area. Having lived in Dallas for 7 years myself, I'm familiar with the design hub that this city has become over the last 25+ years, and I wasn't a bit surprised at the amazing finds that my search turned up! Let's take a look: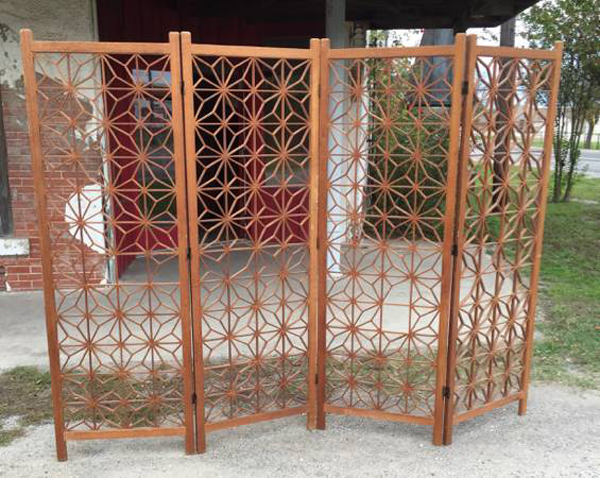 1. Mid-Century Modern Teak Room Divider – $250
This might be the most beautiful partition I have ever seen- it would be perfect as a headboard or as wall art, too!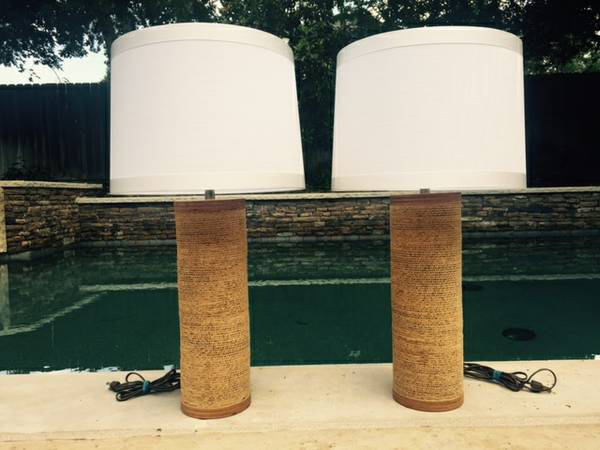 2. Pair of Mid-Century Modern Gregory Van Pelt Lamps – $280
I'm not sure what material the bases are made of, but they definitely read like a cork (or rattan). Whatever the material, I'm loving the juxtaposition of the bases against the sleek, white linen and silk shades (which are obviously new).
3. Pair of Arthur Court Hollywood Regency-Style Tables – $300/each
4. Orange Lacquered Vintage Asian-Style Dresser/Credenza – $800
I'm a such a sucker for lacquer – how about you guys? If this guy were mine, I could never bear to hide him away in a bedroom. Nope, if he were mine, he would sit front-and-center in my dining room and serve as a buffet, or as a credenza in my living room where everyone could see him in all of his orange glory. And can we talk about the architectural brass hardware??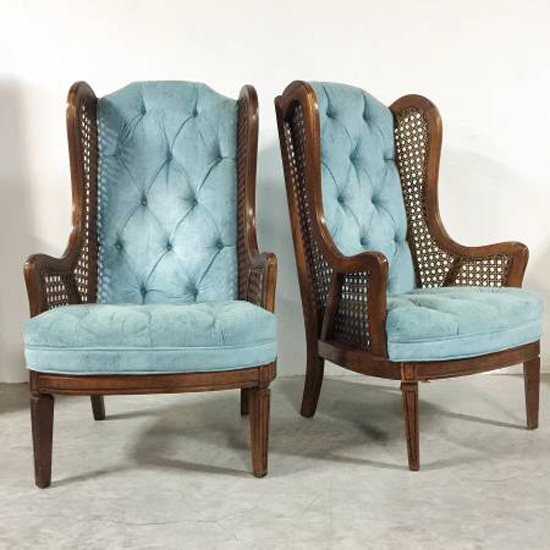 5. Pair of Mid-Century Caned Wing-Back Chairs – $475
Ok, hear me out on these: I would keep the upholstery (their color, after all, is Pantone's Color of the Year, Serenity), and paint the dark caned wood white, or even gold, and these would be a gorgeous pair! To make these worth the work you'd have to put into them, I would want the seller to come down to $350 for the pair.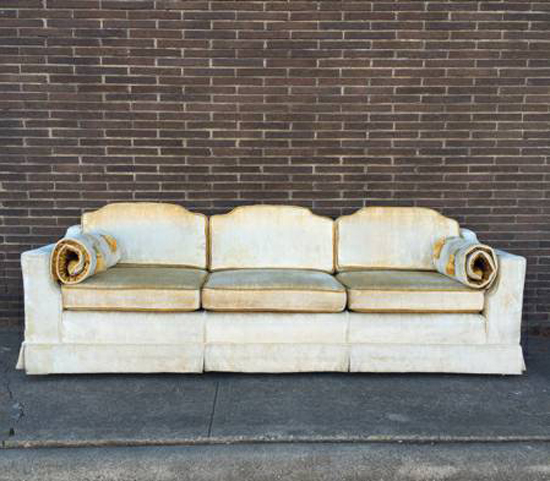 6. Vintage 1960s Velvet Couch w/ Gold Piping – $775
Likewise, the price is a little steep for the work that would need to go into this piece (I'm assuming it calls for all-new upholstery), but the bones of this couch are beautiful. My favorite part? The stepped seat back cushions.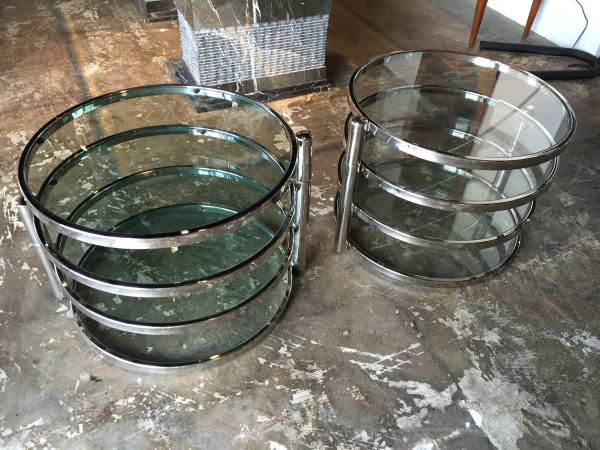 7. Pair of 1970s Swivel 4-Teir Chrome + Glass End Tables – $395/pair
Ok, HOW RAD are these?! (?!?!?!) Never have I seen anything like them (be sure to click on the title to see pictures of the swiveling-in-action); they are totally in the style of Eileen Gray, one of my favorite Bauhaus designers.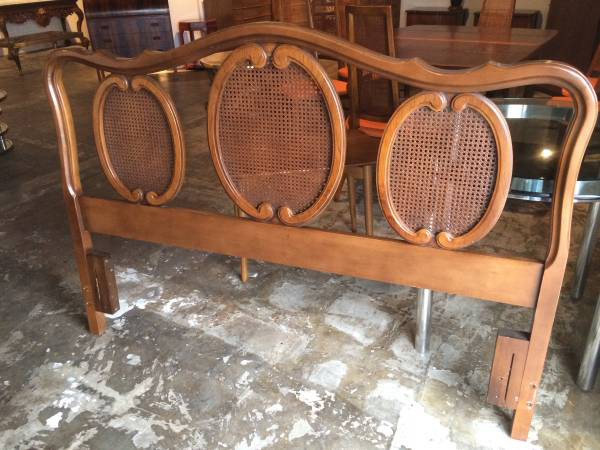 8. New American-Style, Midcentury Caned Queen Headboard – $95
Imagine this piece with a fresh coat of white or red lacquer!
9. Pair of Lucite Bar Stools with Velvet Upholstery – $599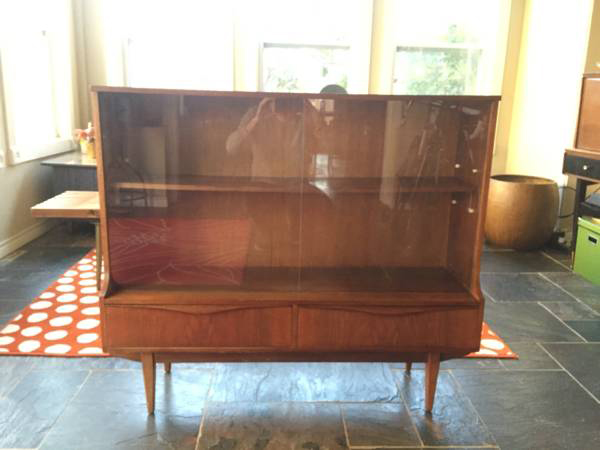 10. Mid-Century Modern China Hutch – $300
This is a great price for such a beautiful (and collectible) piece. If I were in the DFW area, I would snatch this up and make it mine!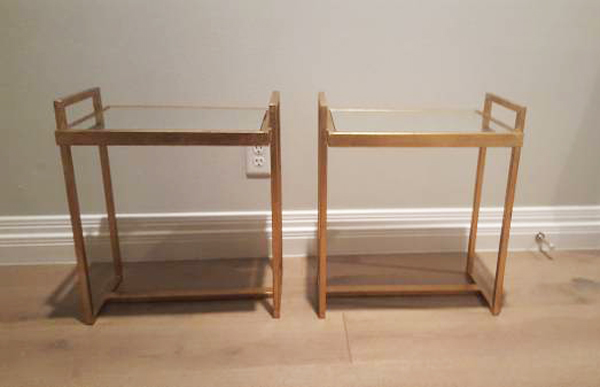 11. Pair of Gilt Side Tables w/ Mirrored Tops – $150
What a steal- two end tables, which appear to be in great shape, for $150? Done and done.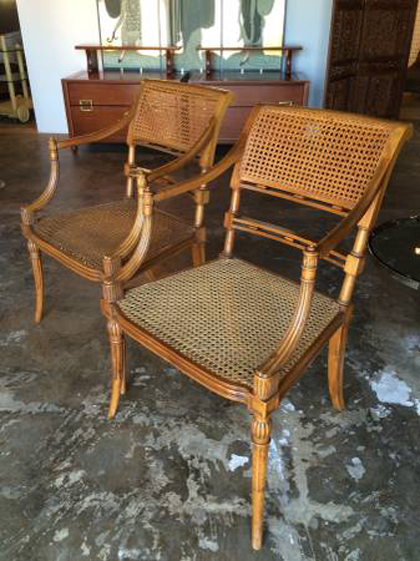 12. Pair of Louis XVI Spanish-Revival Arm Chairs – $295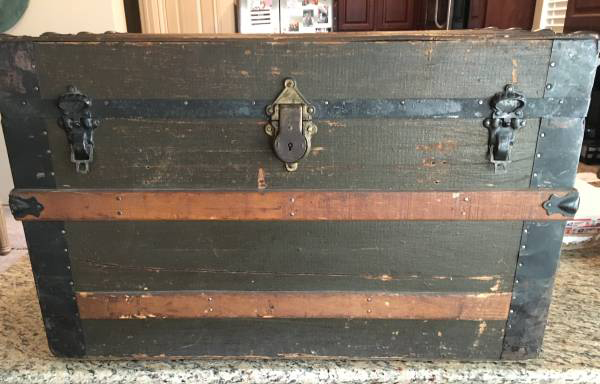 13. Antique Steamer Trunk – $75
If you follow my Stalking Craig ('s List) posts, you ought to know by now that I'm a big fan of trunks. They are one of the most versatile pieces of makeshift furniture, and are most at home at the foot of a bed, where they can house extra blankets, sheets and other bed linens, or doubling as a coffee table where they can hide all kinds of cr*p.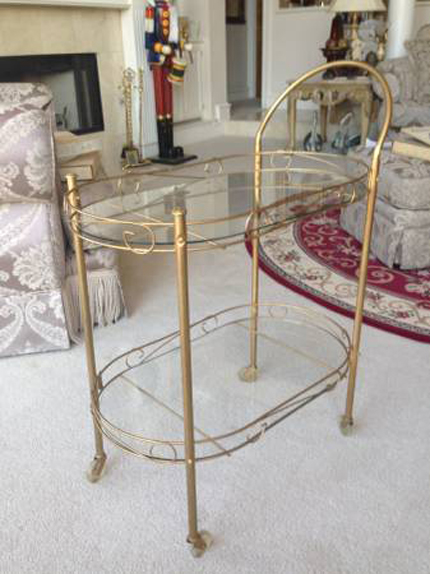 14. Vintage Rolling Glass-Top Cocktail Bar Cart – $145