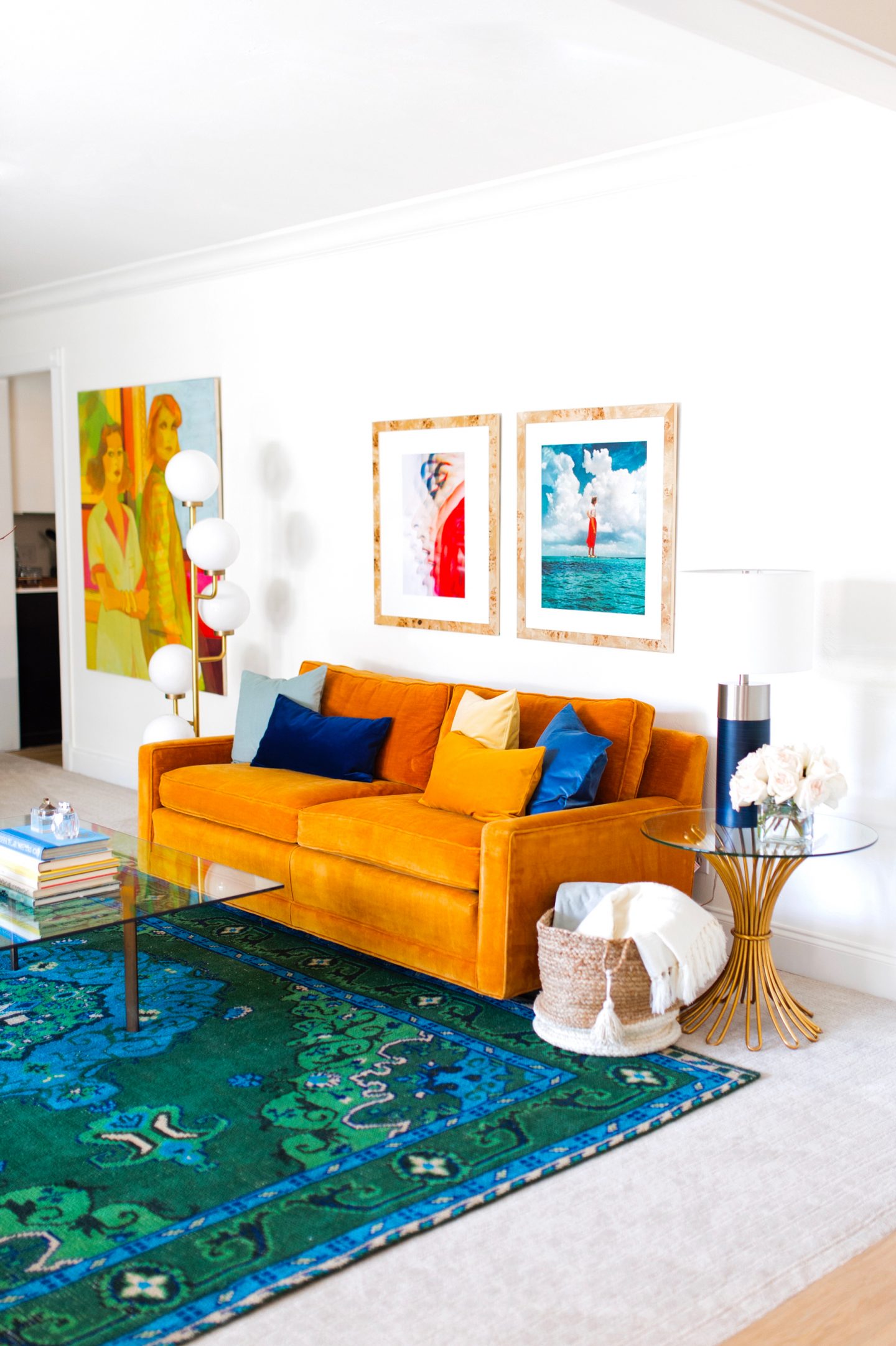 Well, friends. This post has been a long time coming. I mean, just look at the photo above and the photo below. Can you believe the difference? We moved into the house almost exactly three years ago, and this space, which was designated as the formal living room, sat empty and pink (that's a story for another day) for almost two years before I had the guts to do anything with it.
But after a lot of soul-searching (say, what really is a formal living room these days, anyway?), multiple Pinterest boards, hours spent on Craigslist, late night text messaging with my bff and interior designer Mary Jo Major, and lots of hand holding from the amazing Gwen of The Makerista, I would say what I am calling my colorfully modern living room space turned out quite nicely and is, through and through, the truest reflection of my style.
Not only does it serve its formal living room purpose (a space to greet, seat, and entertain guests), but during its off-duty time, it serves as a place for me to unwind at night with a glass of wine and a good book or devotional, away from the distraction of the tv.
So without further ado, I present to you, my formal living room!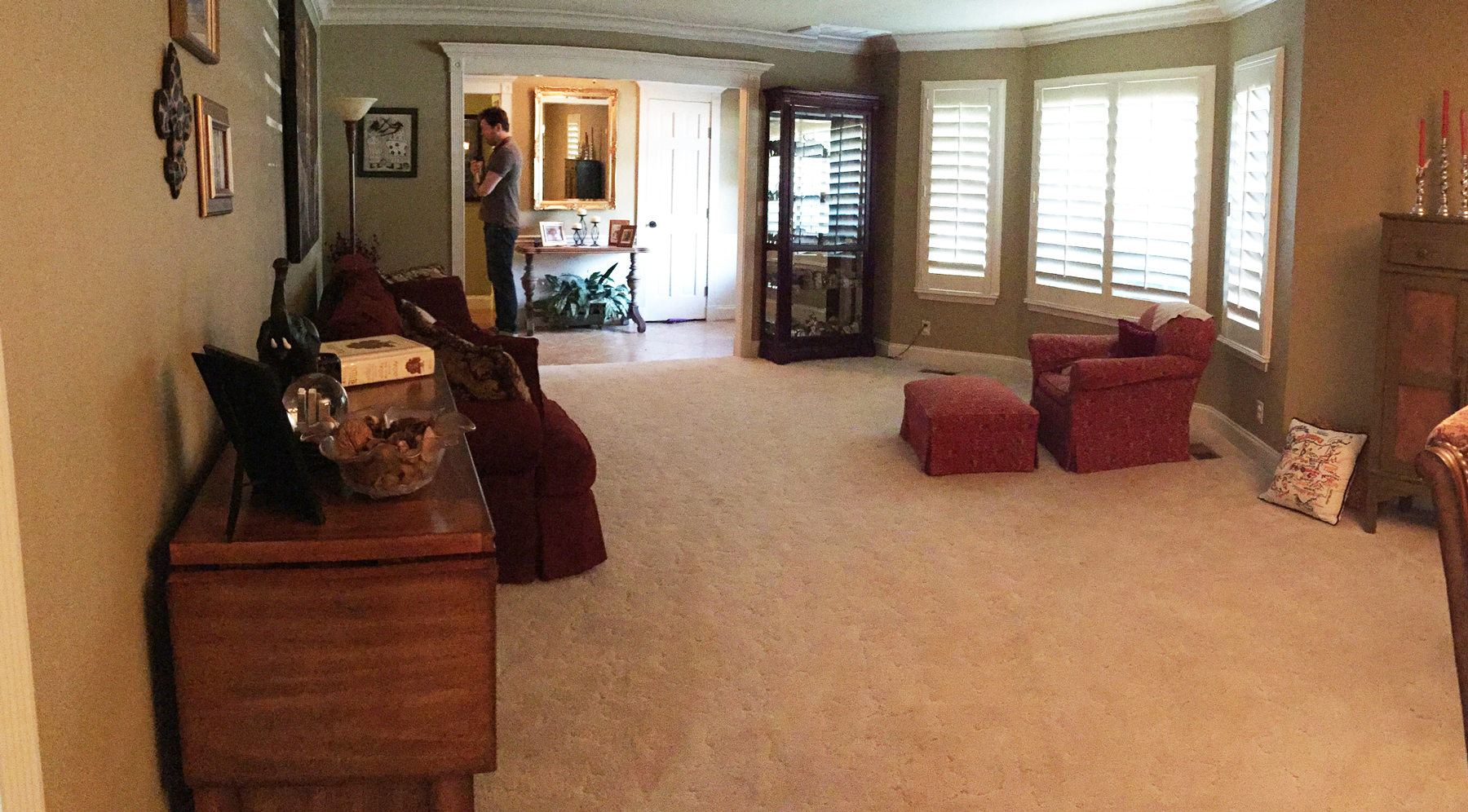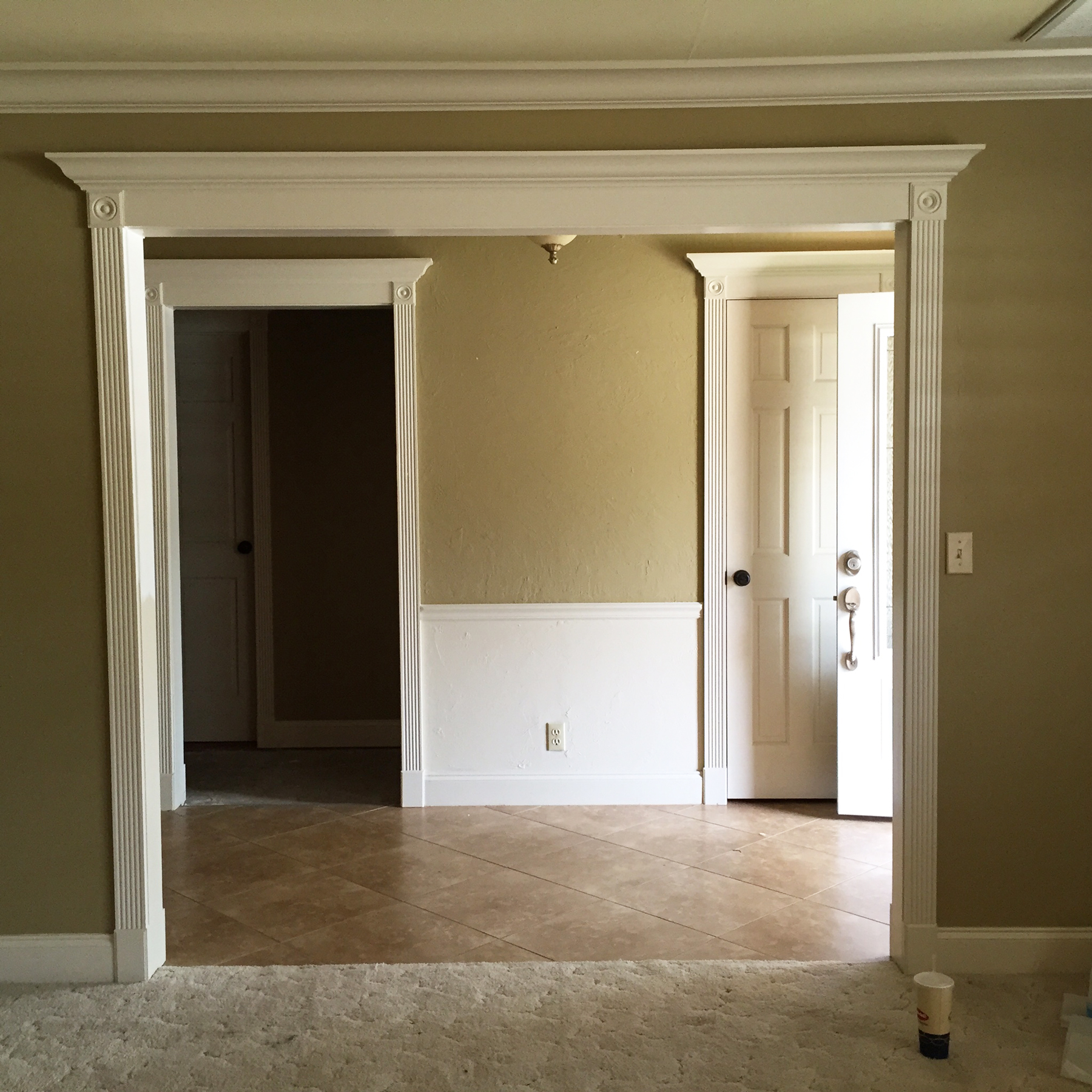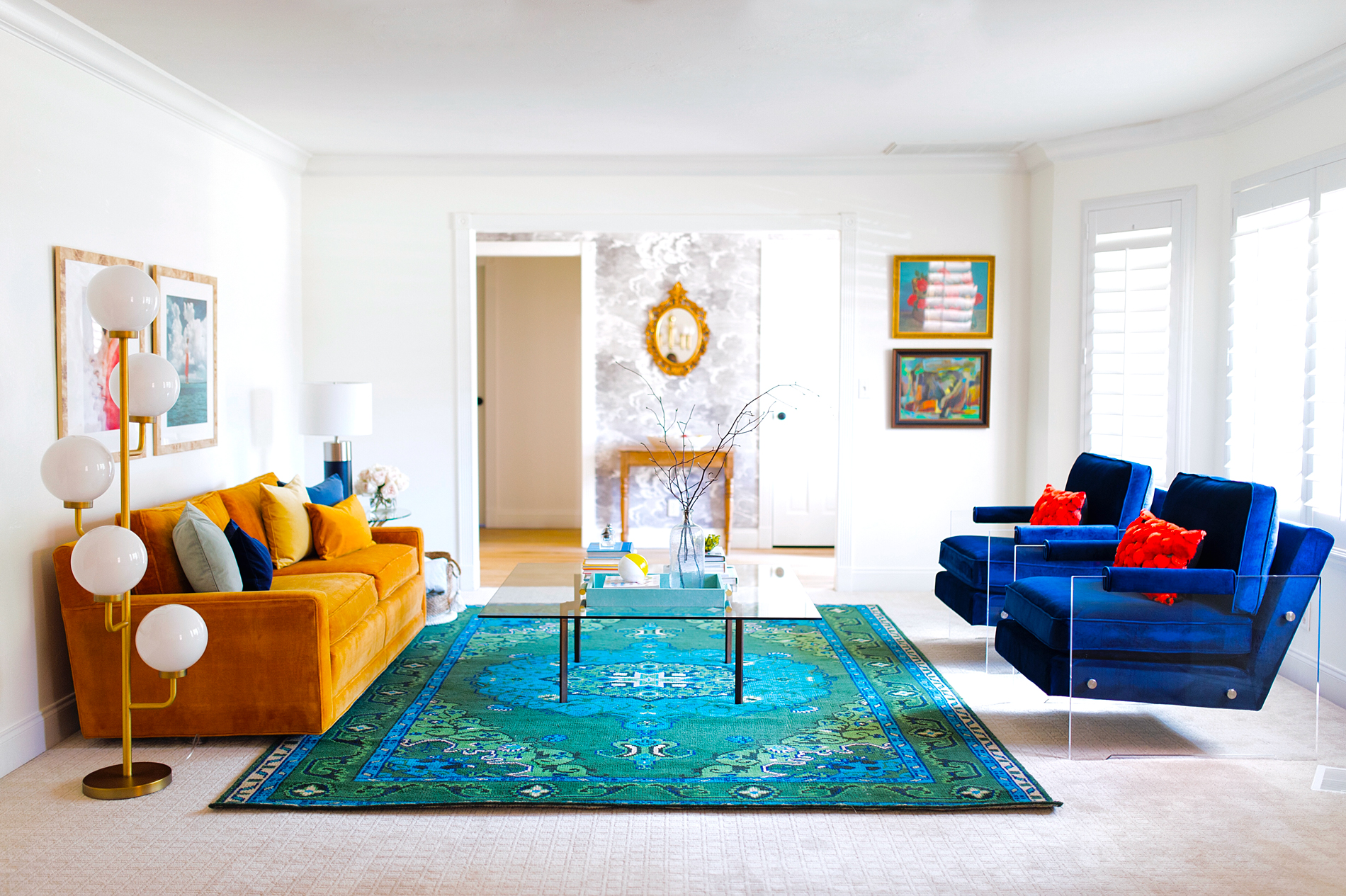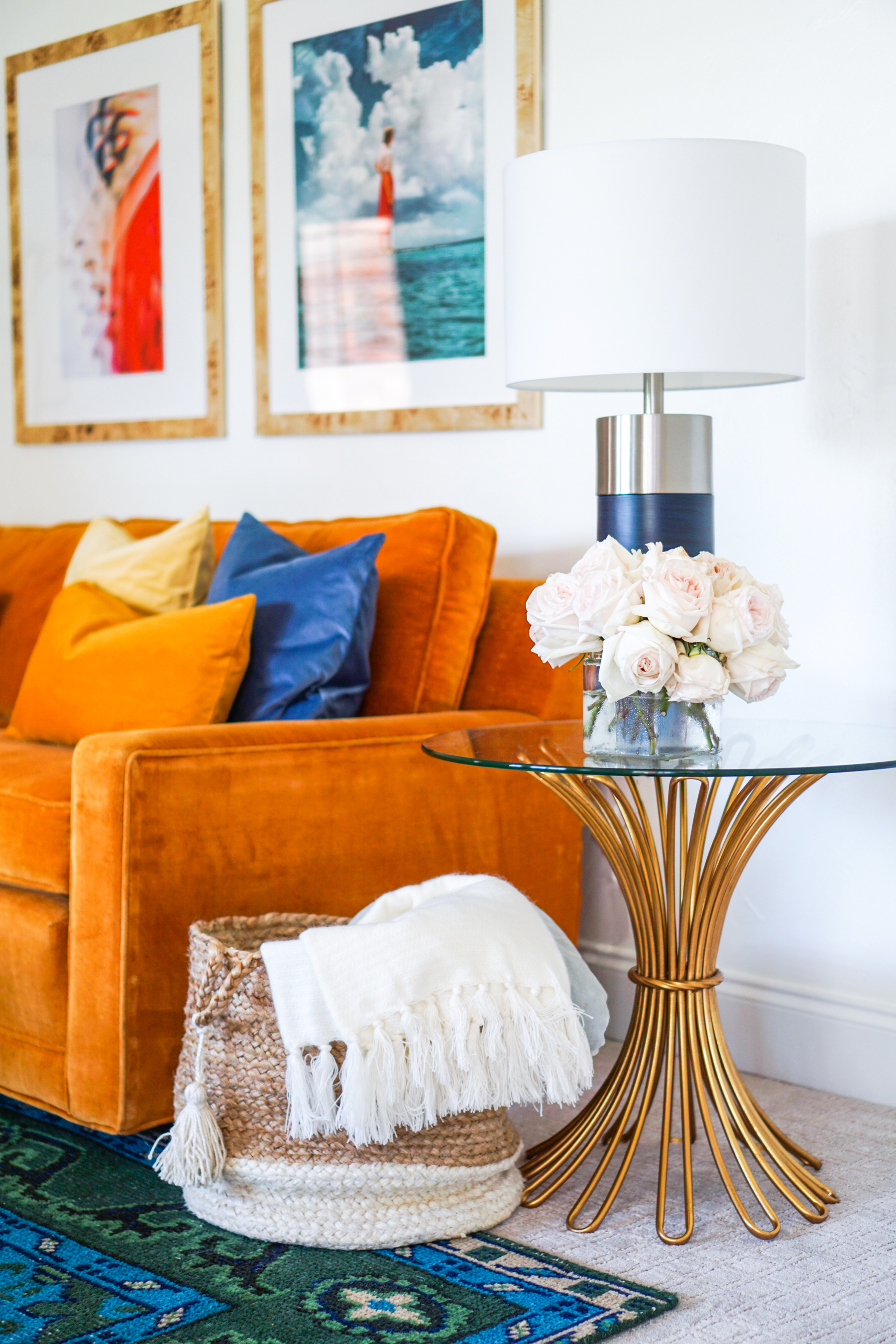 One of first problems I had to tackle with the space was the lack of overhead lighting: the space had no canned, recessed or pedant lighting to speak of. This placed even great importance on my choice of table and floor lighting. I wanted to illuminate the seating area, so I chose this Ren-Wil 3-way lamp from Bellacor Lighting. I was really drawn to the simplicity of its shape the pop of blue color of its base. I thought it served as a nice balance to the feminine curves of the beautiful glass pedestal side table I bought from The Mine. If you all have been following me for a while, you know that I am sucker for all things gold. When I saw this side table, I knew it had to be mine- and I have been so pleased with the quality of the piece!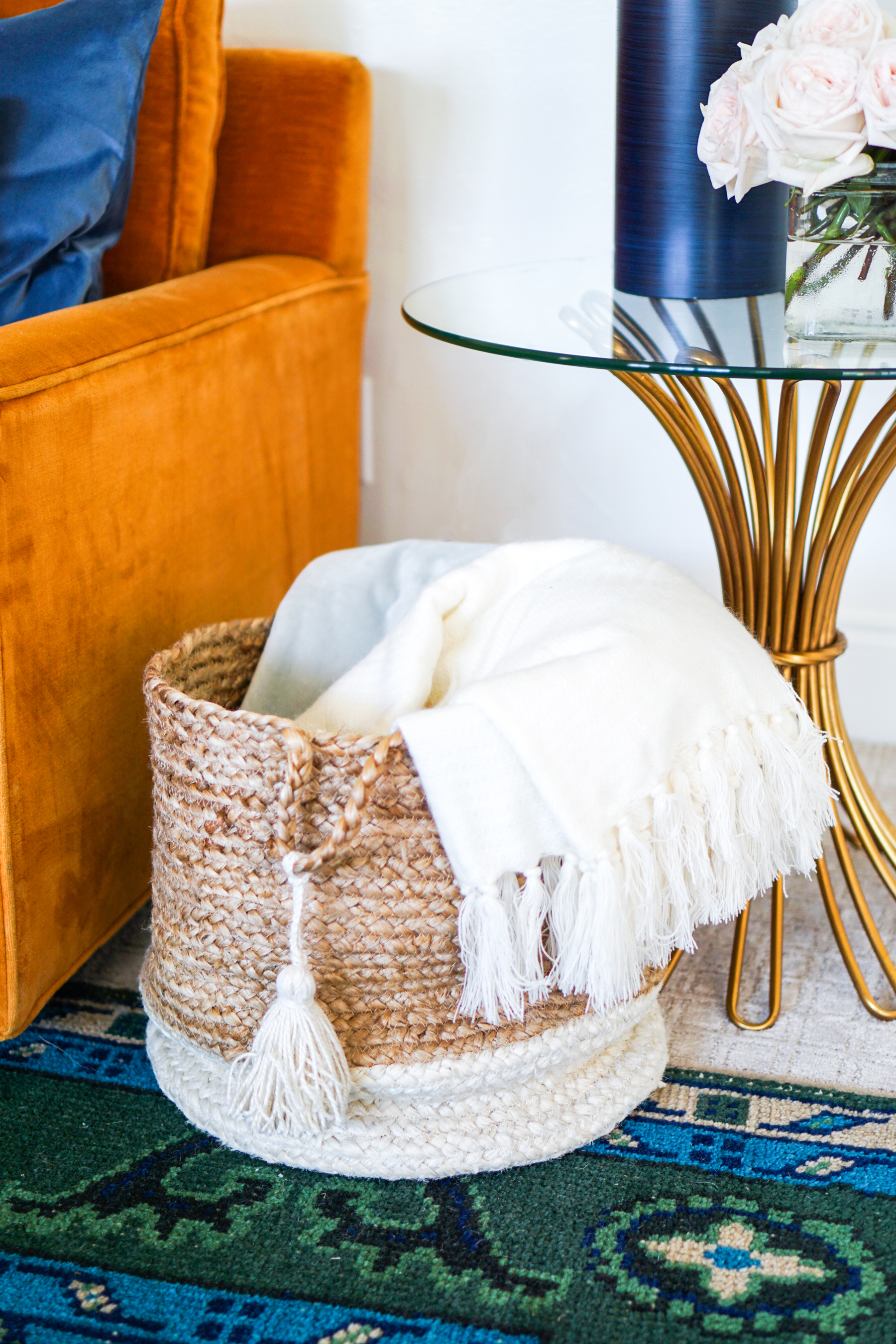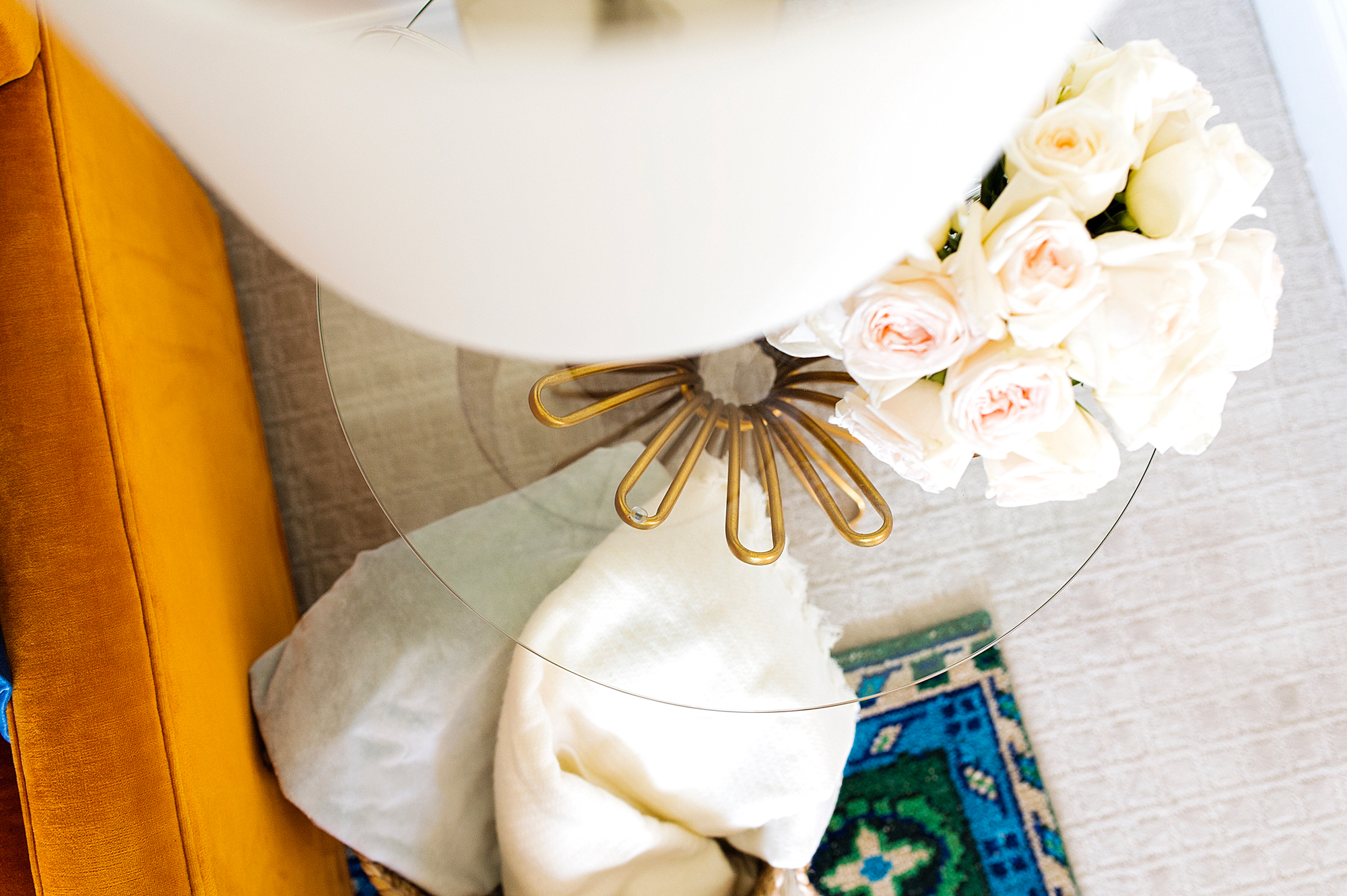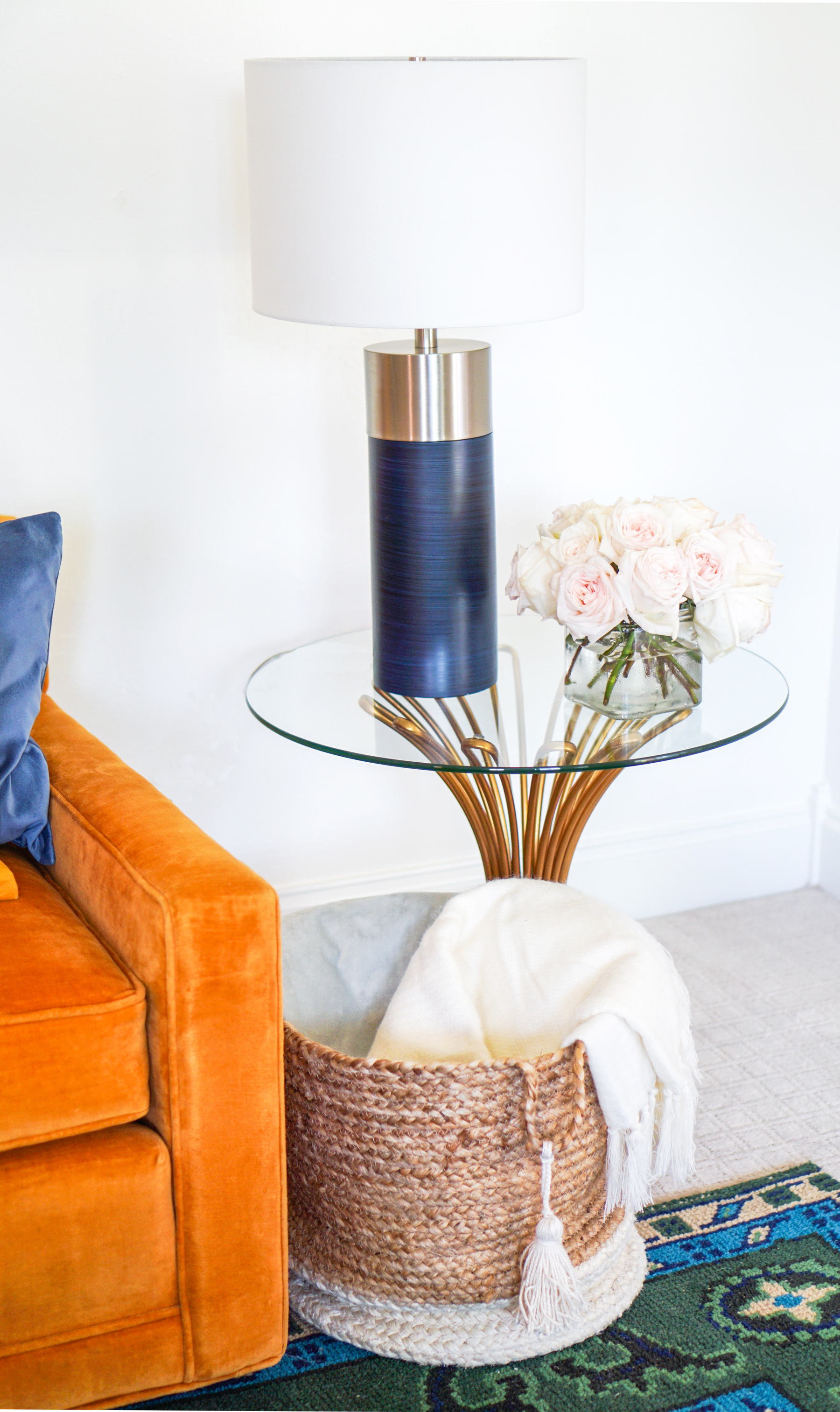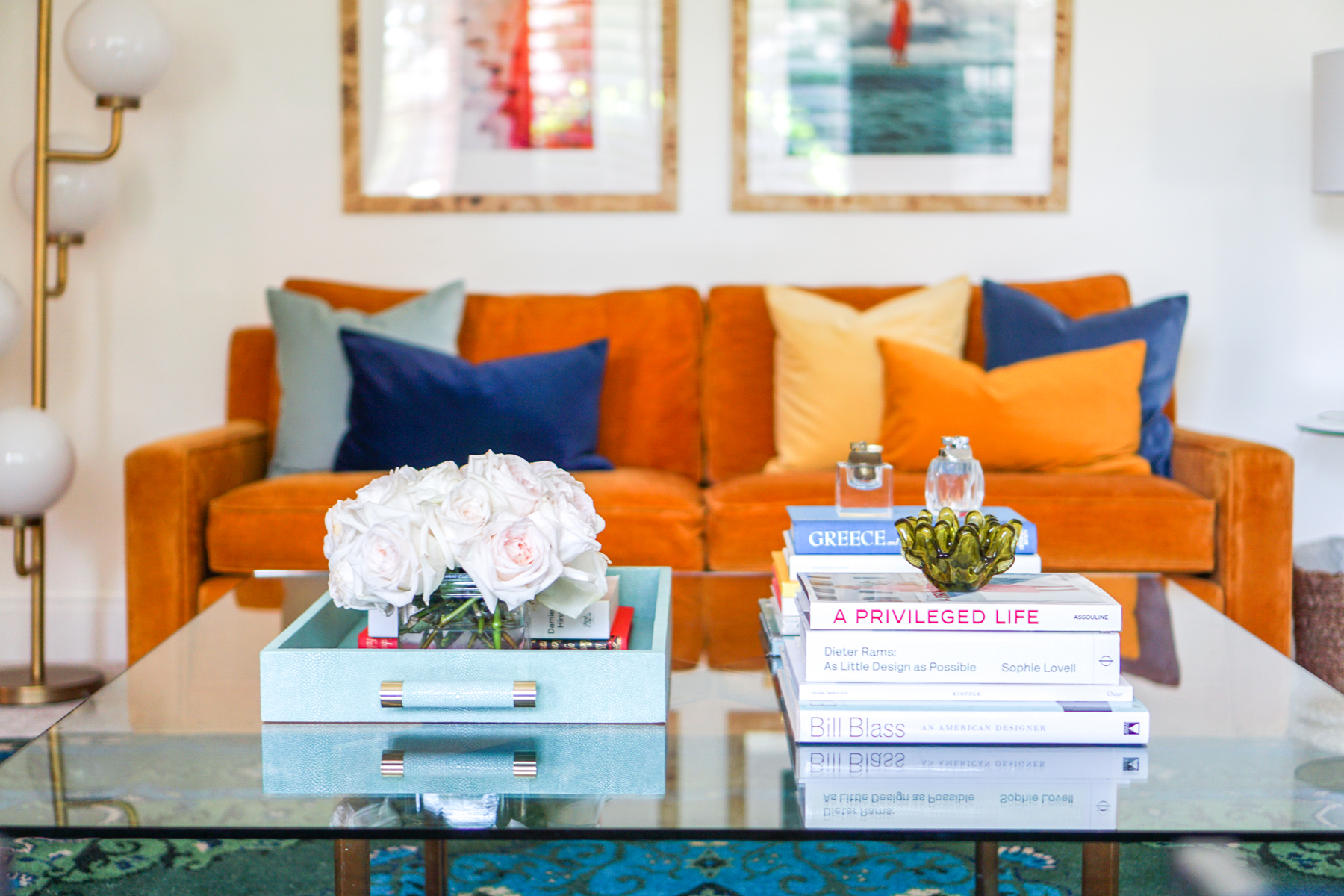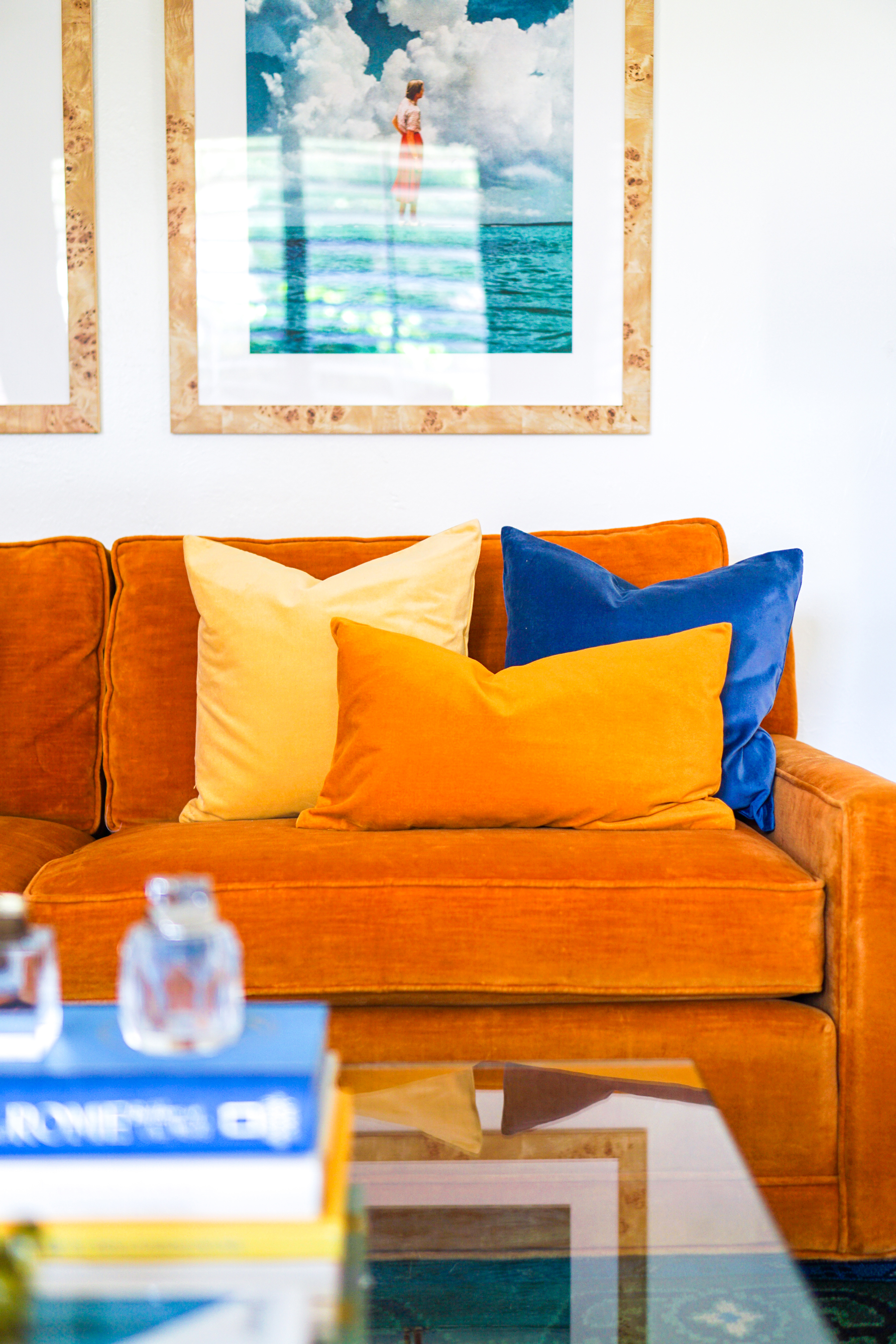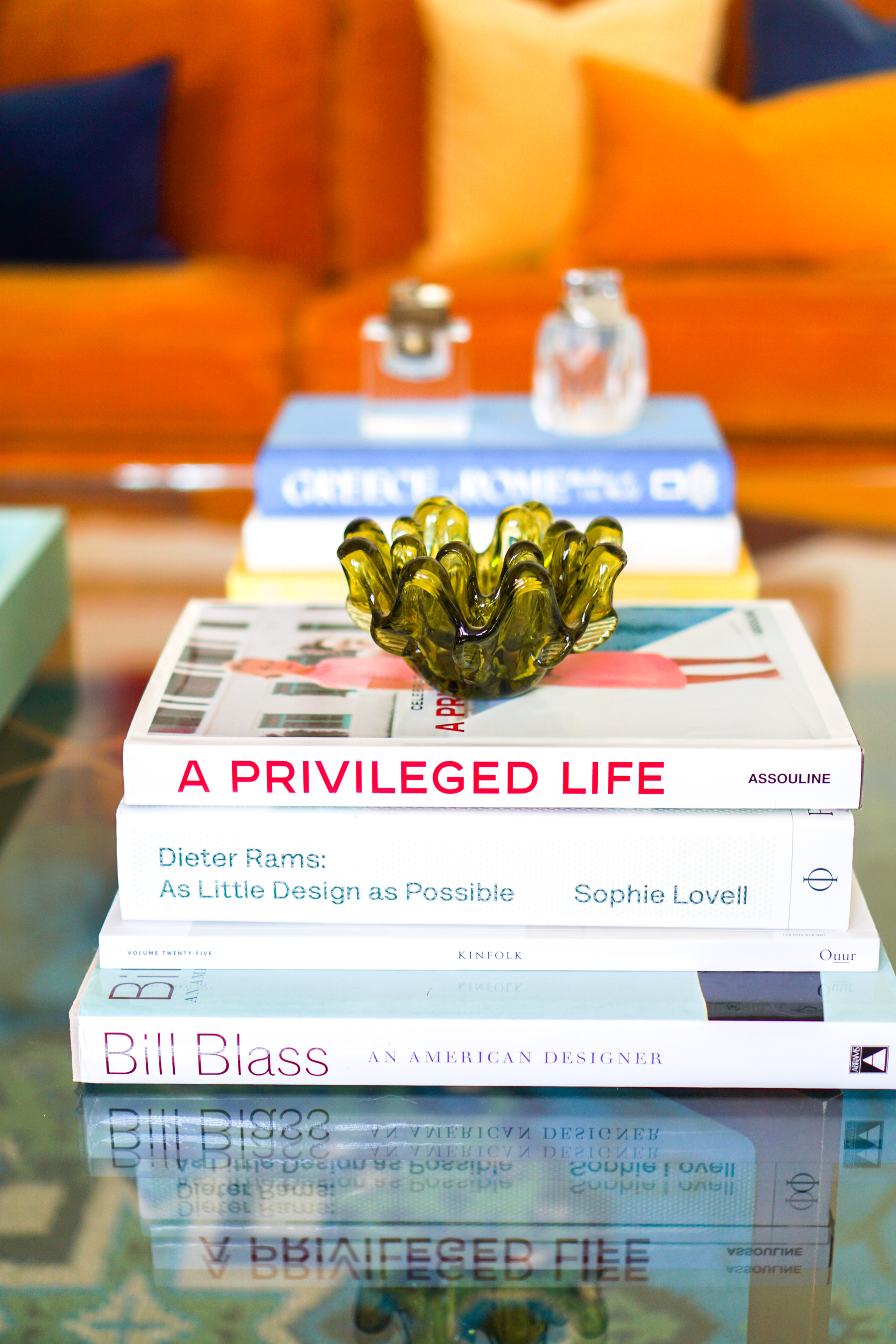 You can never have too many coffee books. Amiright? I didn't buy a single one of these for the space. Along with all of the nicknacks you see, each of these books were collected over the course of 17 years. But aren't most of the best things in life collected?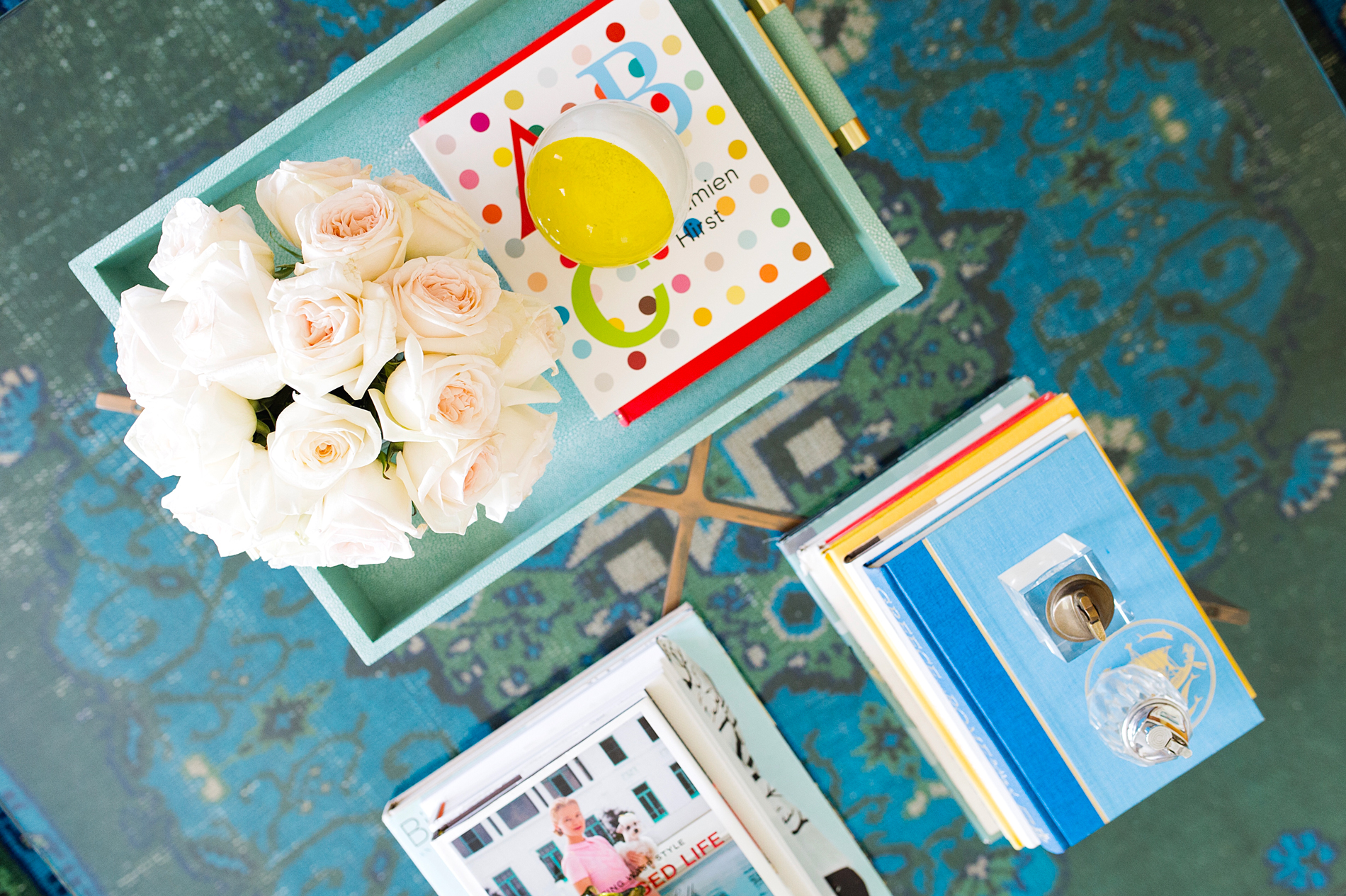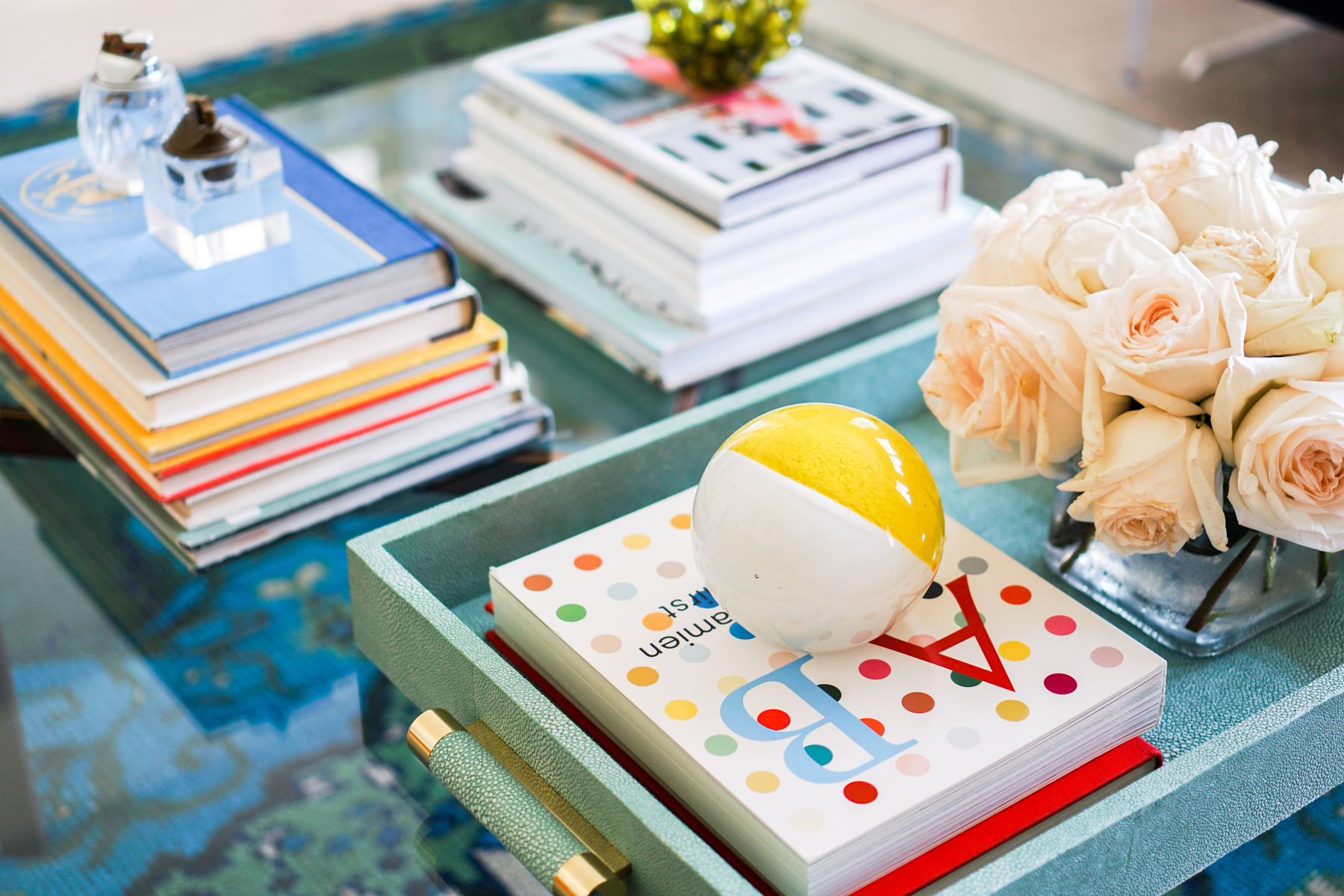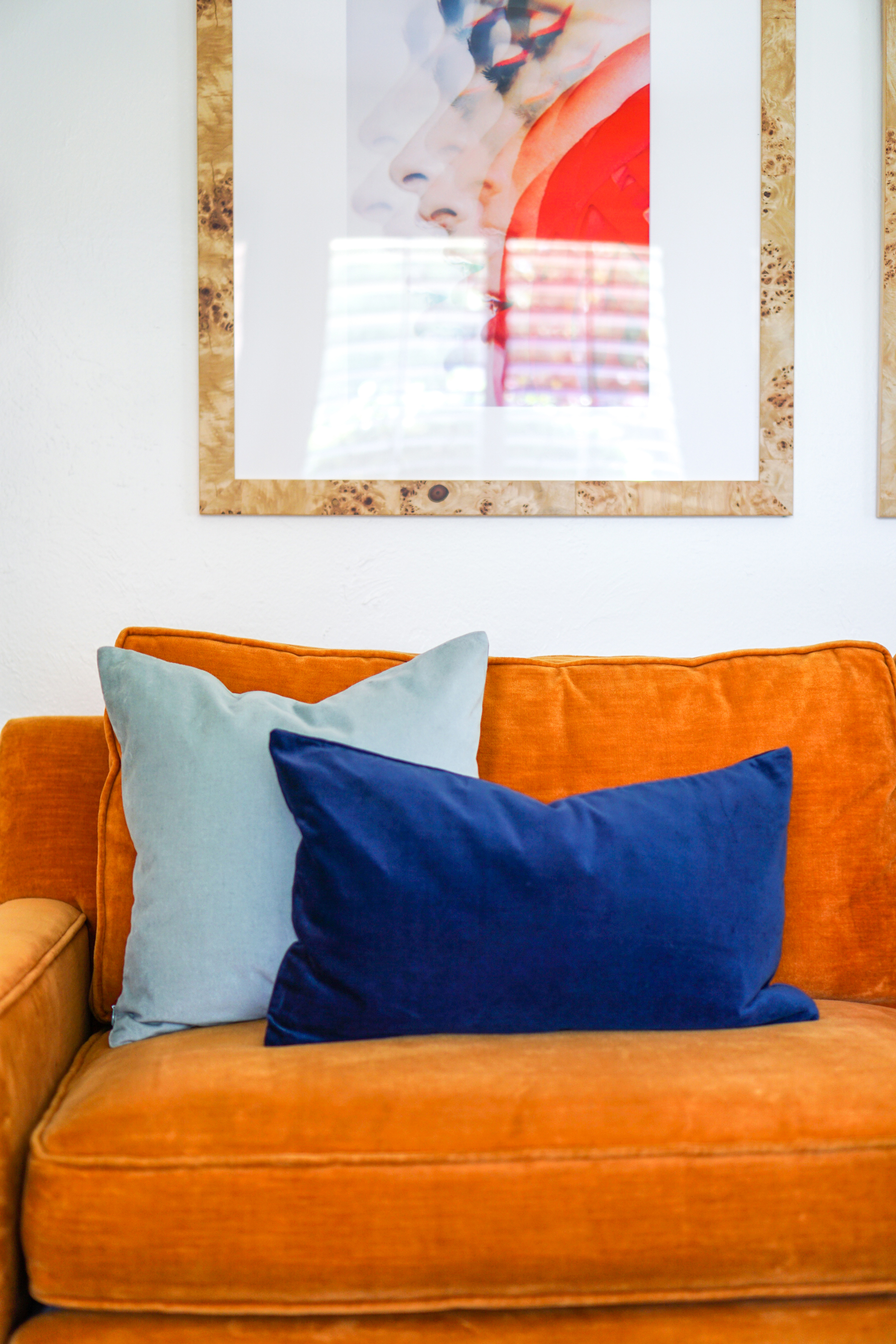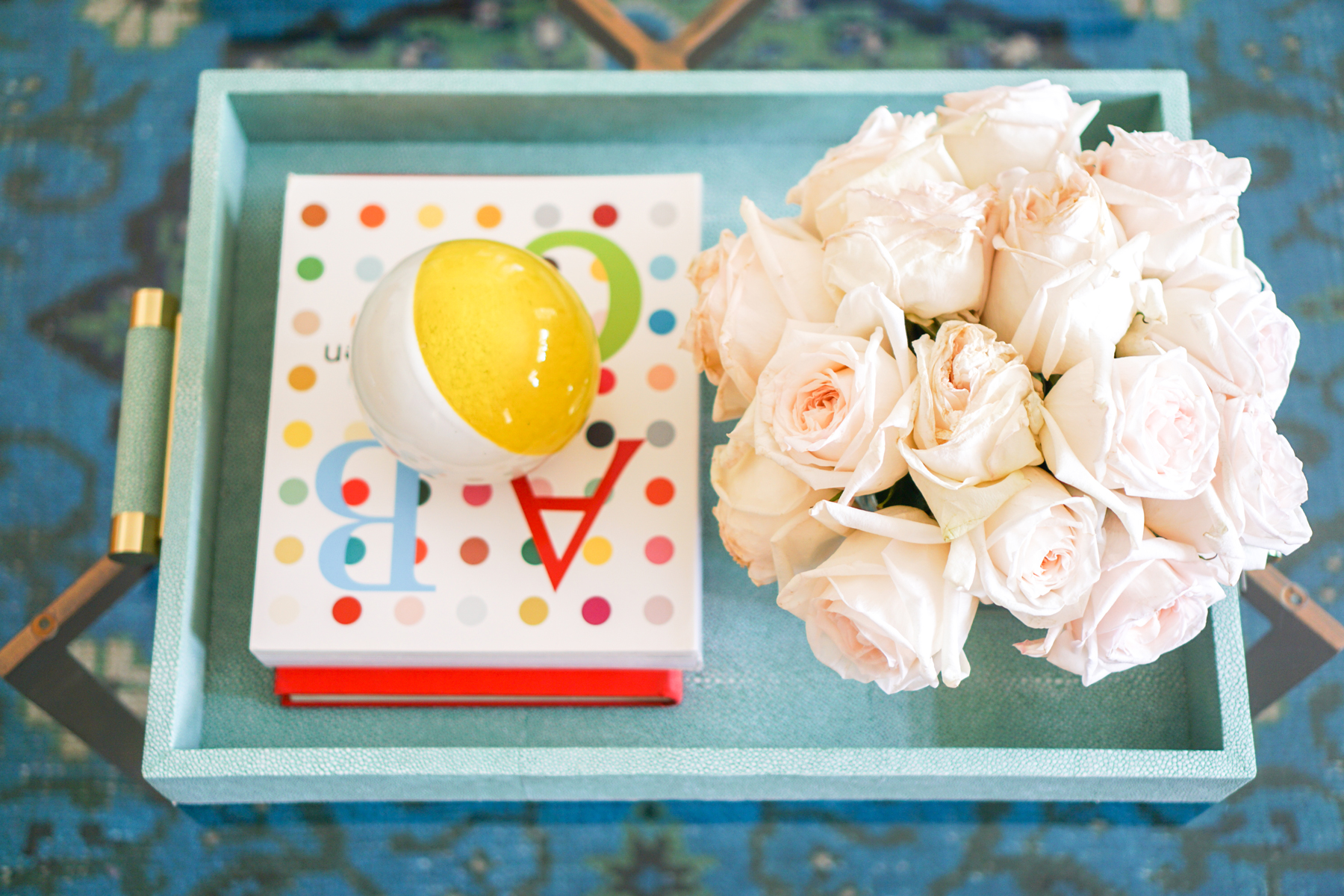 Ahh, this beautiful tray. I had the hardest time deciding what would go on the coffee table. I wanted something with color, but nothing that would stand out too much, since there was already a lot of color happening in the space. That's when I found this exquisite shagreen tray from Amara. It was the perfect shade of mint and provided some much needed texture to the second glass surface in the space! And when faced with brass hardware… I can't say no.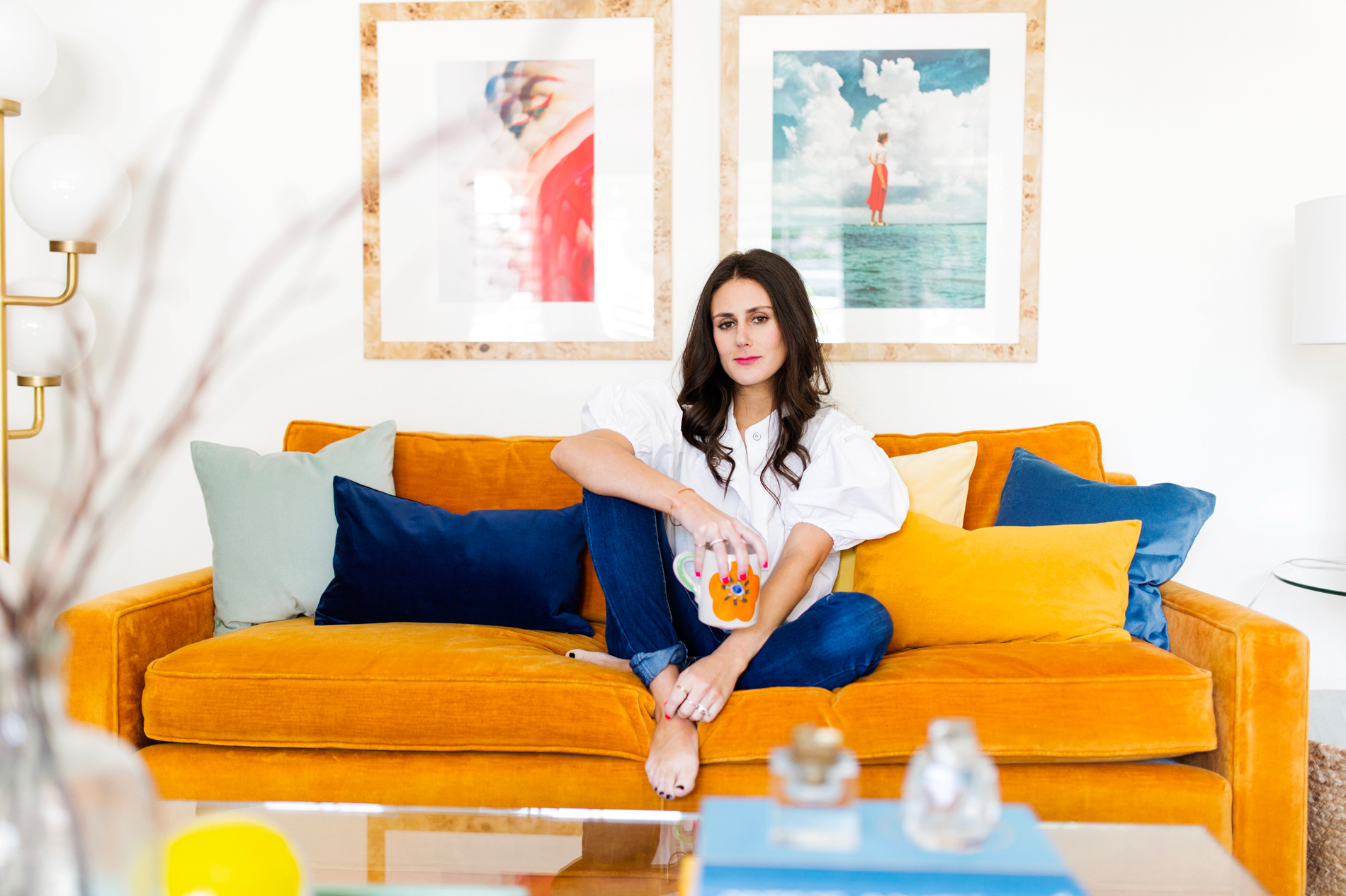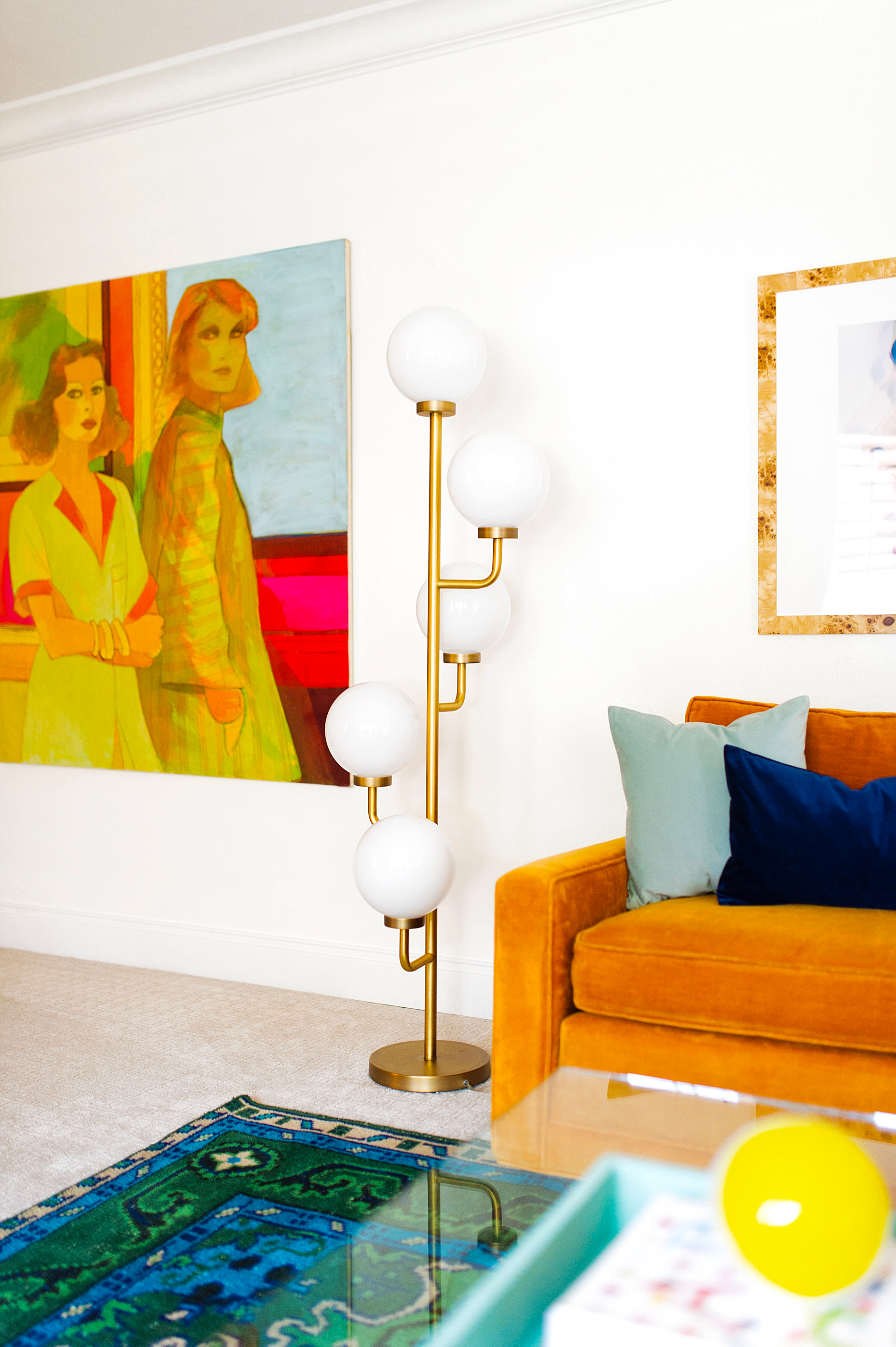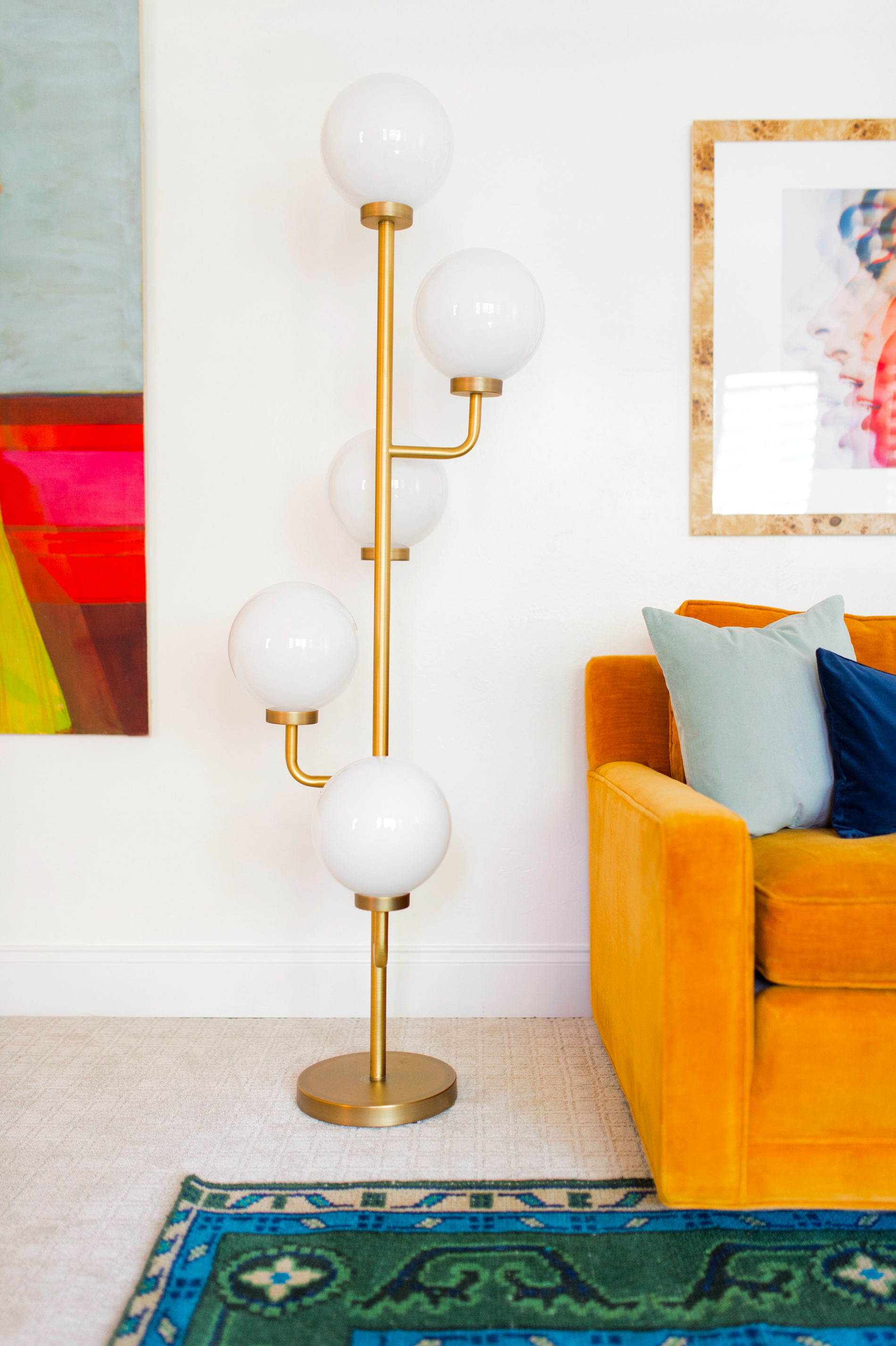 Truly, one of the crowning jewels of the space. This Huntington Drive 5-globe floor lamp from Bellacor was one of the first pieces I chose for the living room when I started designing it. Not only did it have the vibe I was going for (the glass globes and overall shape spoke to a mid-century retro design, while the brass brought in a more modern element), but it provided ample light for the space.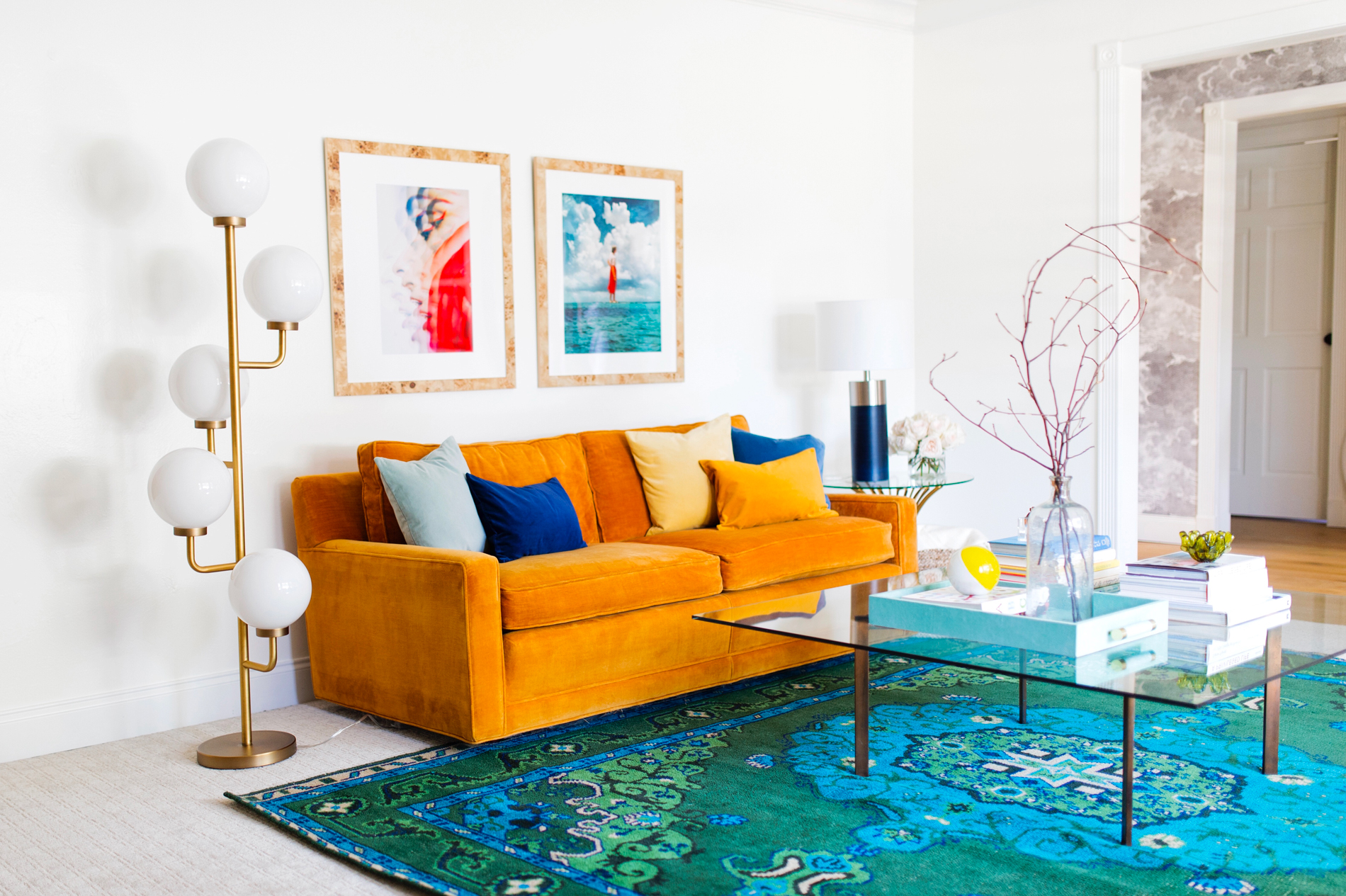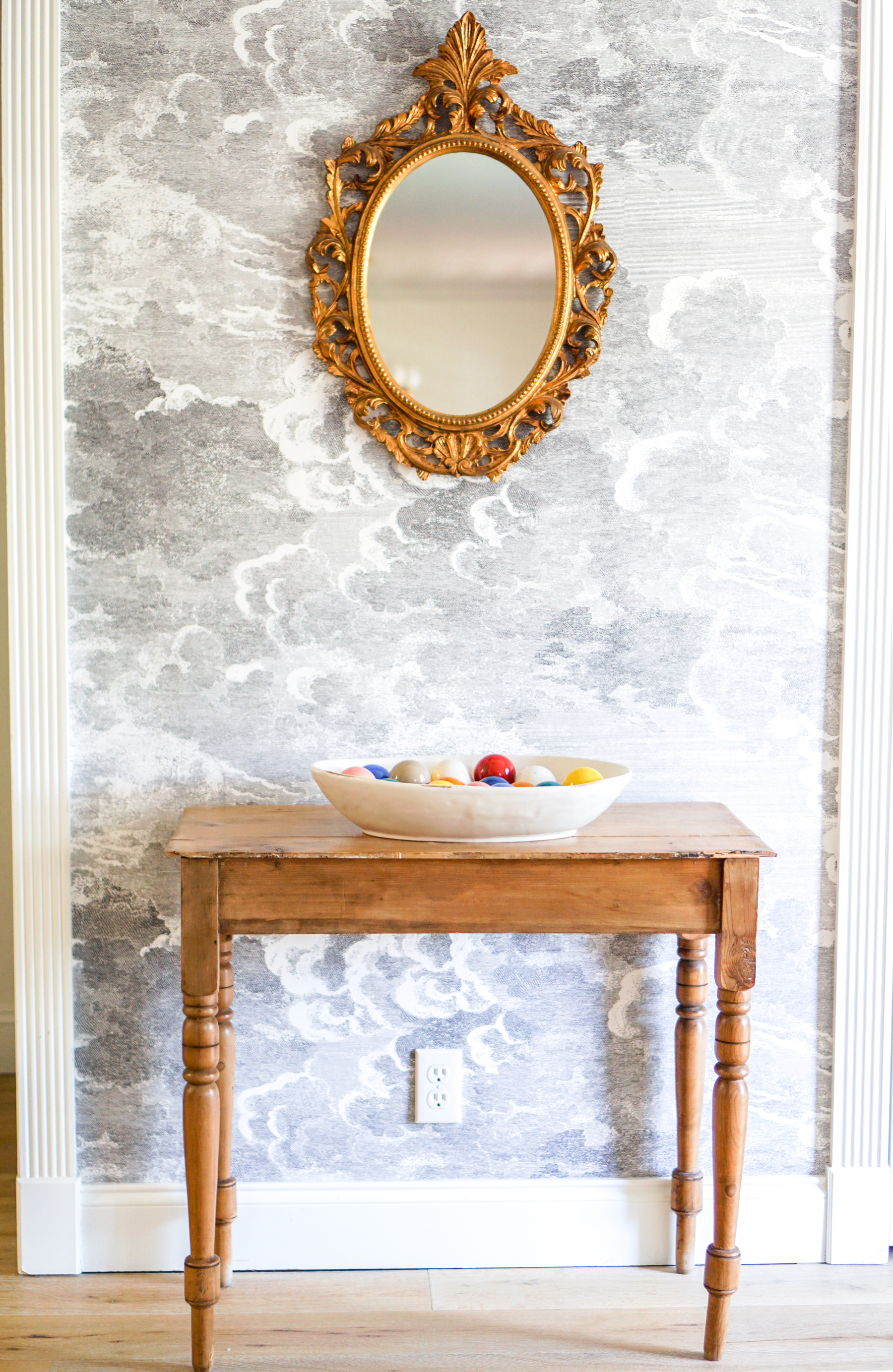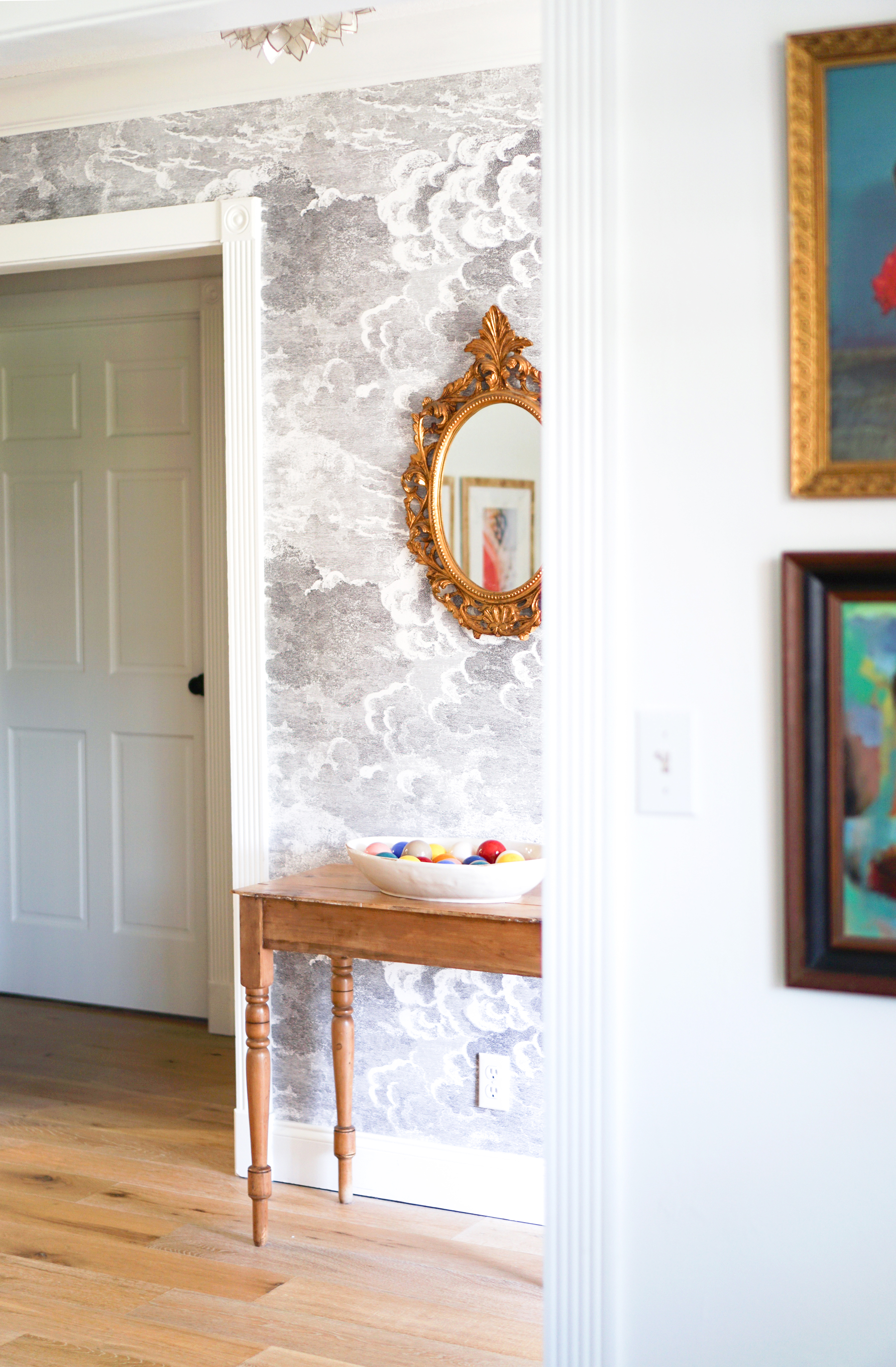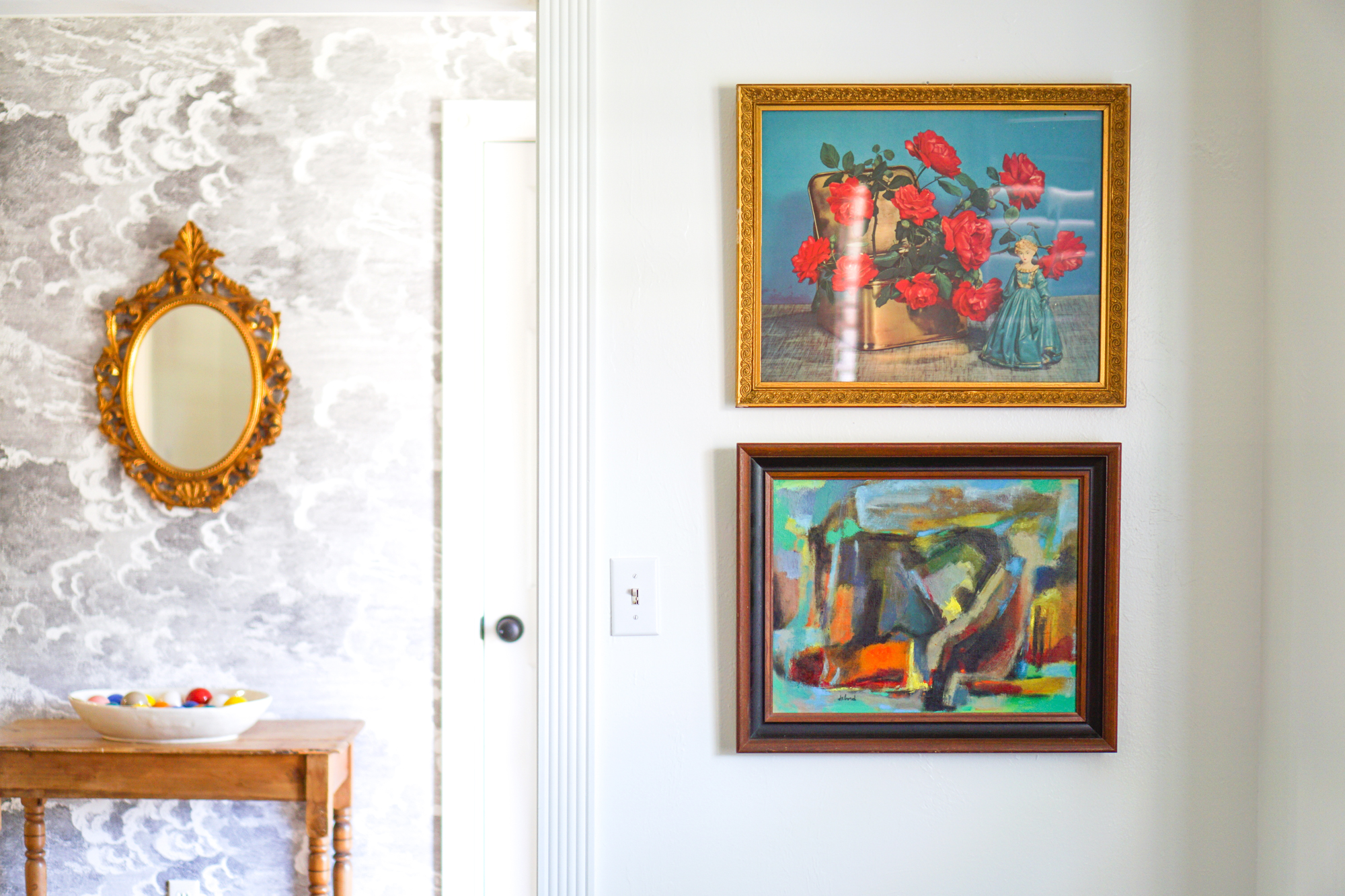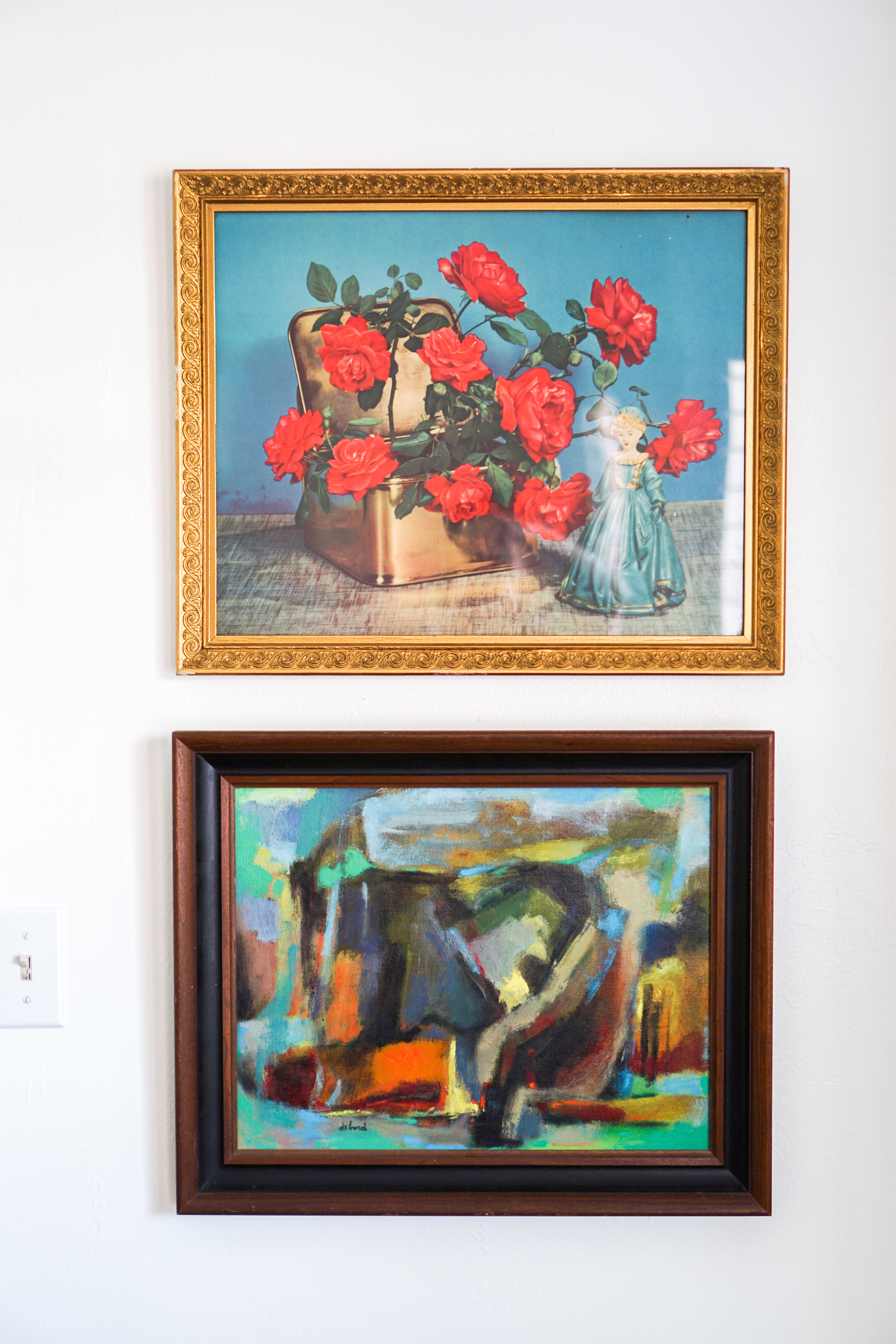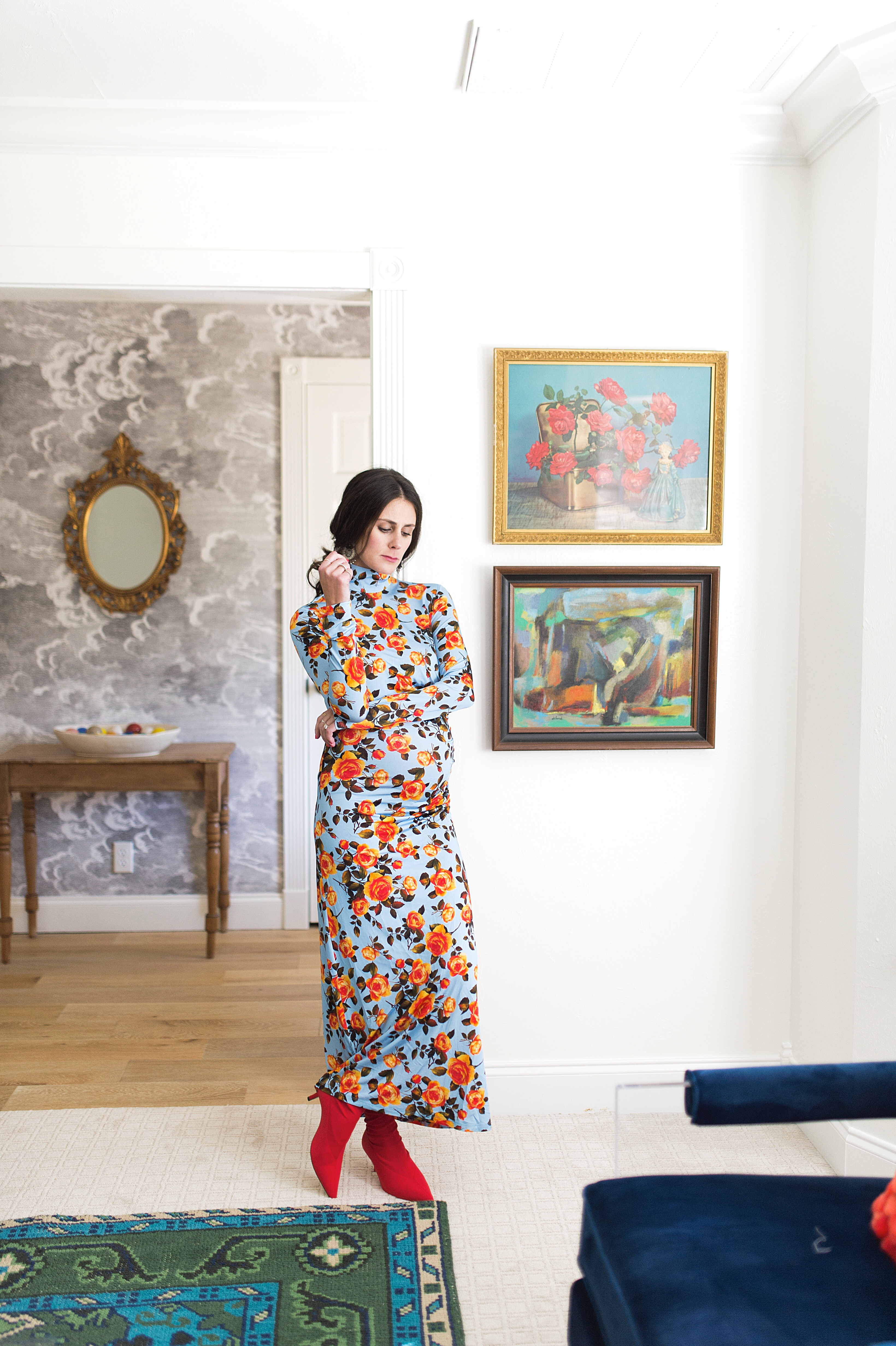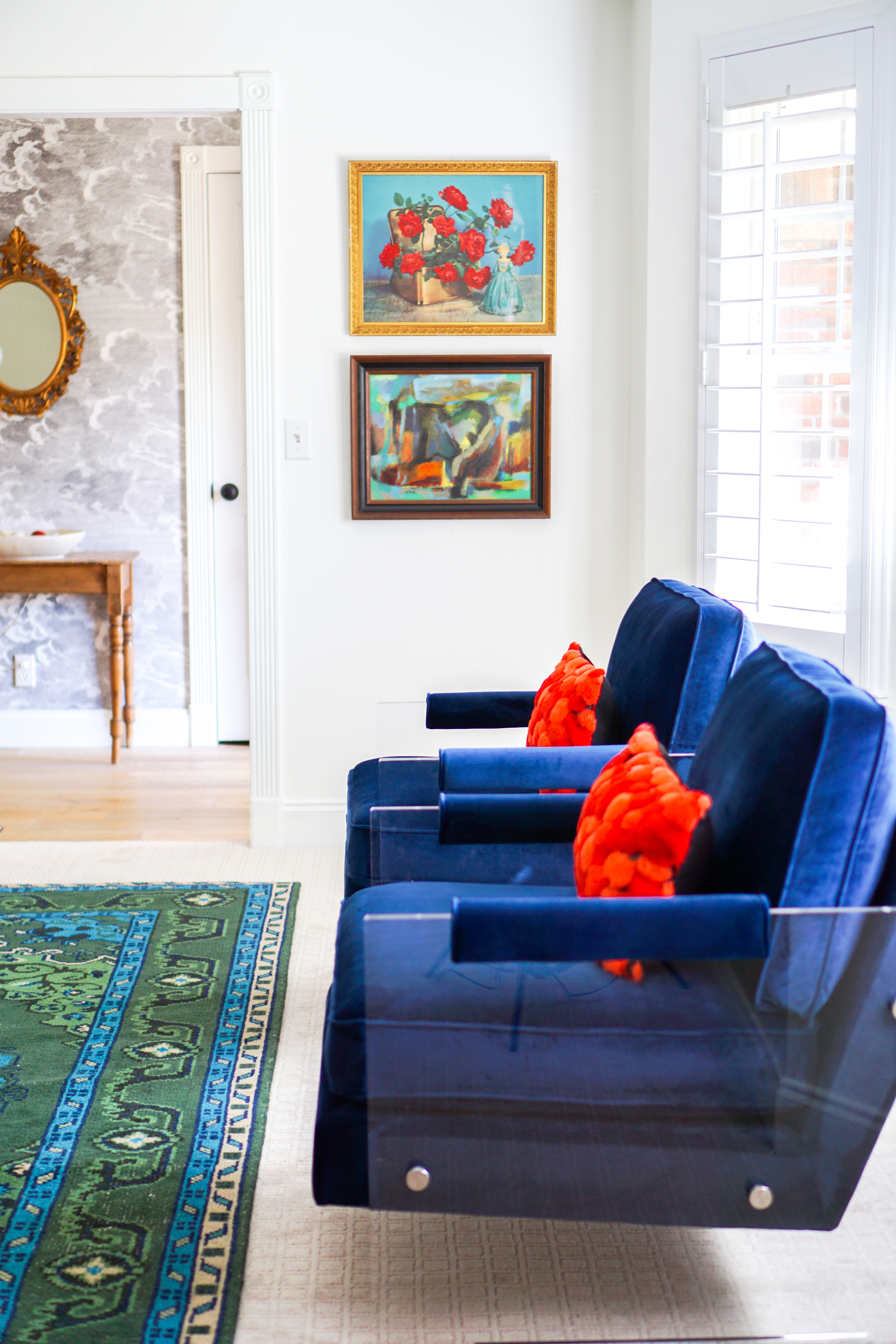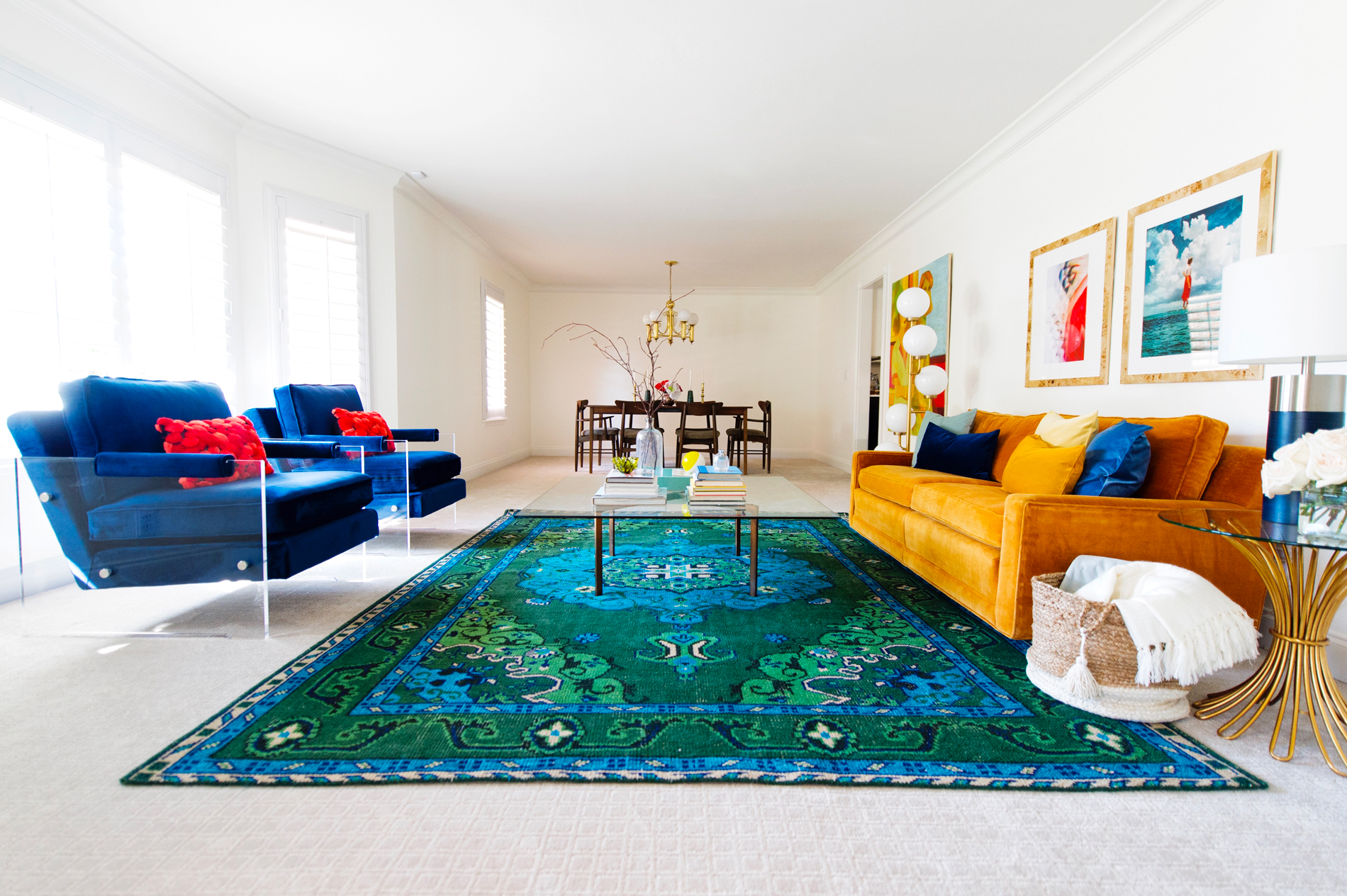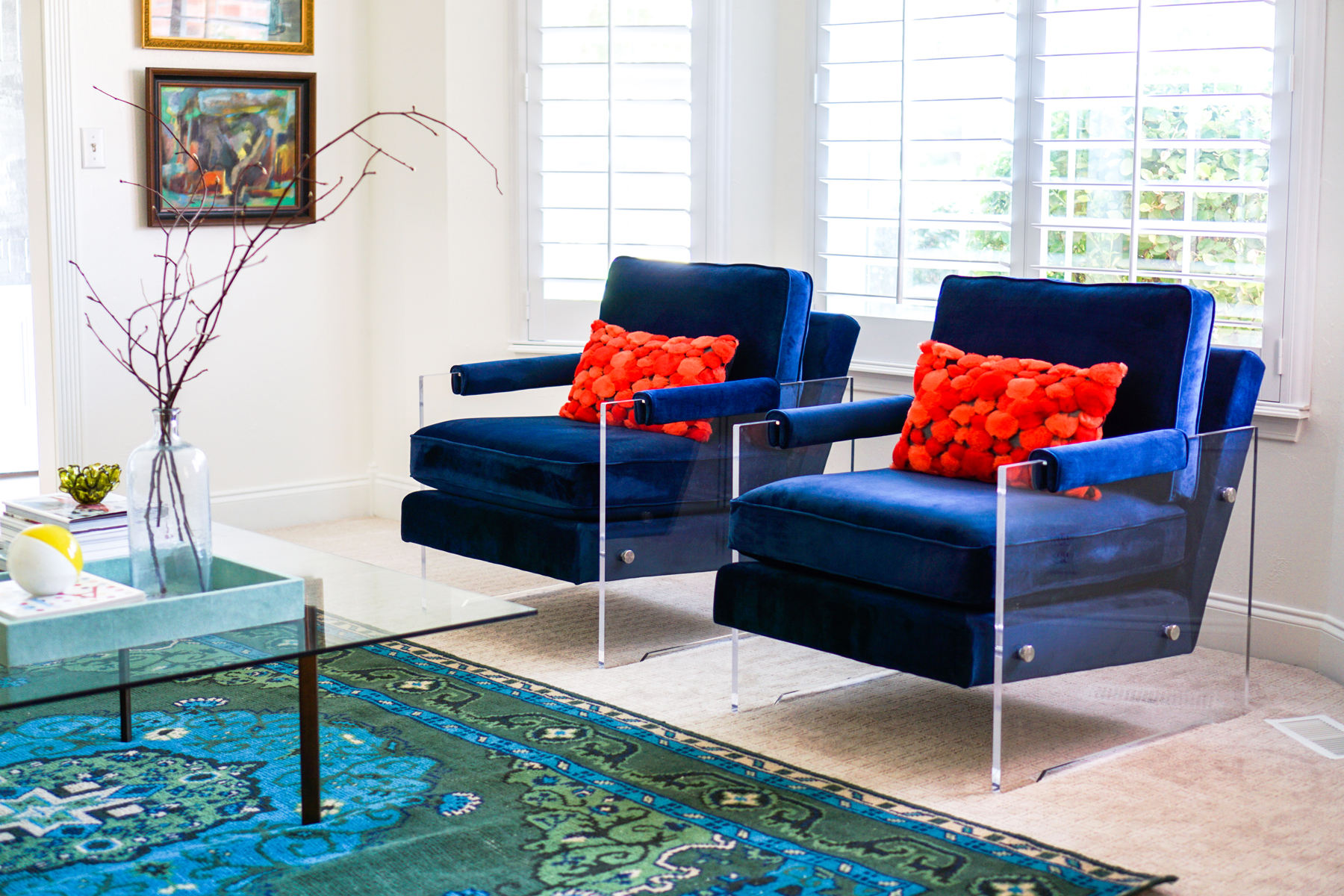 And last, but certainly not least- maybe my favorite pieces in the entire space- this gorgeous pair of lucite and velvet blue chairs from Lamps Plus. Yes, I said Lamps Plus – I bet you didn't think they carried anything other than lighting, did you? Not only do they have an amazing lighting selection but also a beautifully curated assortment rugs and indoor/outdoor furniture to boot! These chairs are the perfect example of that. And whenever I have guests over, you can guess where the first place they go to sit down is…
Photography by the talented Ely Fair Photography
Entryway
Wallpaper – Anthropologie | Pine Console – Vintage | Wood Floors – Provenza | White Bowl – Potter Barn (old)
Bones
Wallpaint – 'Simply White', Benjamin Moore | Trim – Spectrum Paint matched to Simply White | Rug – Lulu & Georgia
Couch
Orange Couch – Craiglist | Velvet Pillows – H&M [Dark Blue, Blue, Light Blue, Orange, Yellow] | Side Table – The Mine | Blue Accent Lamp – Bellacor Lighting | Woven Basket – Wayfair | White Blanket – West Elm | Burlwood Frames – Framebridge |Beth Hoeckel Print – Society 6 | 5-Globe Floor Lamp – Bellacor Lighting
Coffee Table
Lucite Chairs – Lamps Plus | Barcelona Coffee Table | Aerin Shagreen Tray – Amara Home | Yellow Glass Sphere – West Elm | Damien Hurst ABC Book | A Privileged Life | Bill Blass: An American Designer | The Kinfolk Home