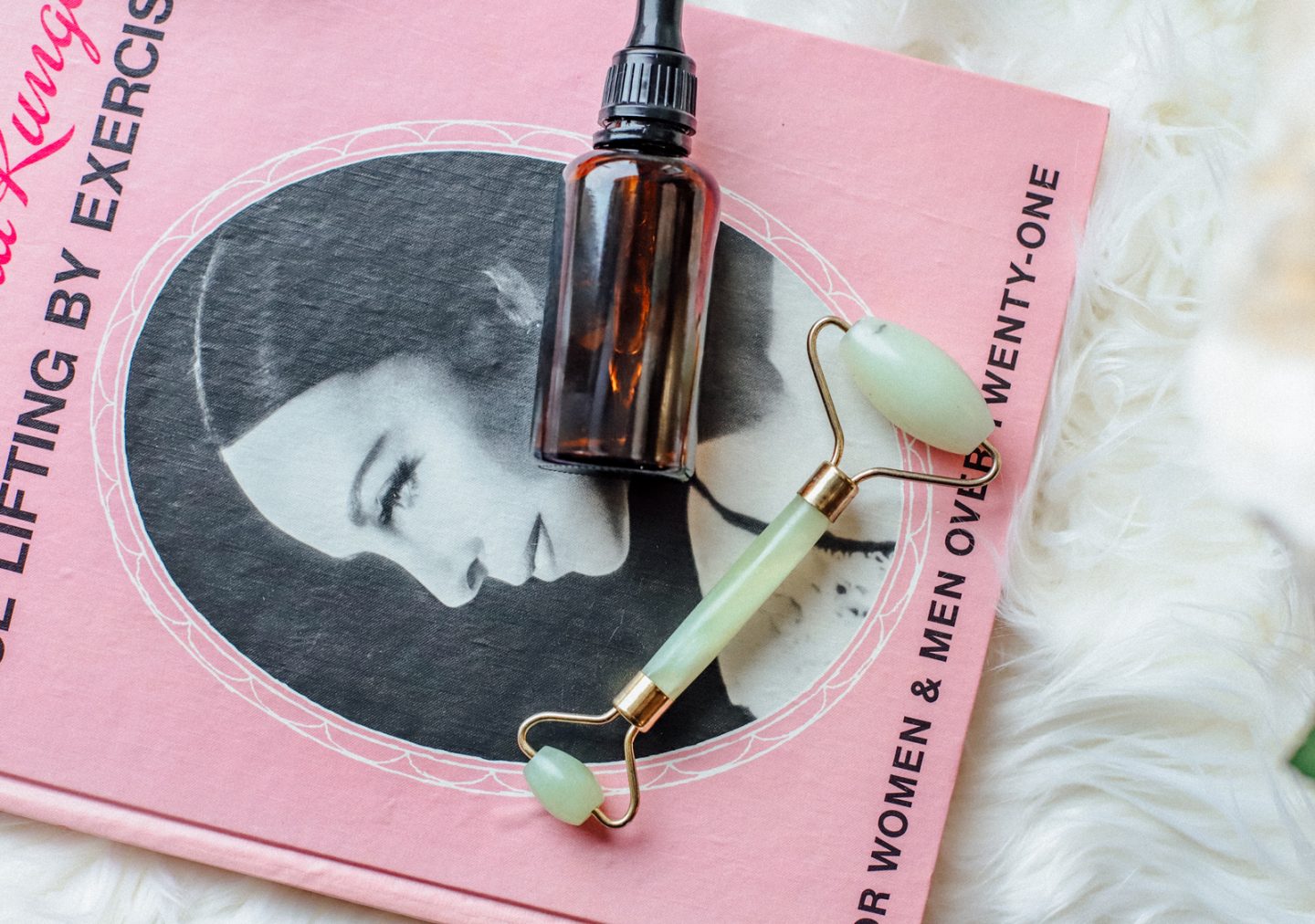 I'm going to spill the beans on something here. This post is all about how to use a jade roller, but before I get to all of that, there's something you need to know:
THE MAIN BENEFIT
The primary benefit is that jade rolling mimics lymphatic drainage. What the heck is that, you ask? It is a type of massage that encourages the flow and natural drainage of lymph throughout the body. Lymph is the fluid in your body that carries bacteria and waste through your lymph system, where it then gets destroyed or excreted through your body. The lymph system is part of your body's immune system and to helps fight infection.
Encouraging lymphatic drainage does several things. It decongests lymphatic fluid that has pooled up in your face. This, in turn, depuffs your face. The sweeping motions also increase circulation and blood flow. This helps decrease dark spots and encourages healing throughout the face. No more puffiness?! And bye to dark spots?! Yes, please!
You may be wondering, how does she know all of this? Well, I suffer from lymphedema, which is a condition in which some of your lymph nodes stop working. This means lymph fluid accumulates in different places throughout the body. So, over the past several years, I've worked with lymph drainage specialists to learn about lymphatic drainage massage, and how to practice it on myself.
So if the primary (and really only scientifically-proven) benefit of jade rolling is that it mimics lymphatic drainage, then the fact that the roller is made of jade is really quite negligible.
Because of this, my blog post will focus solely on the technique involved in jade rolling. And if you don't already have one, you can purchase the jade roller that I own here for under $16!
Alright, let's get to the good stuff!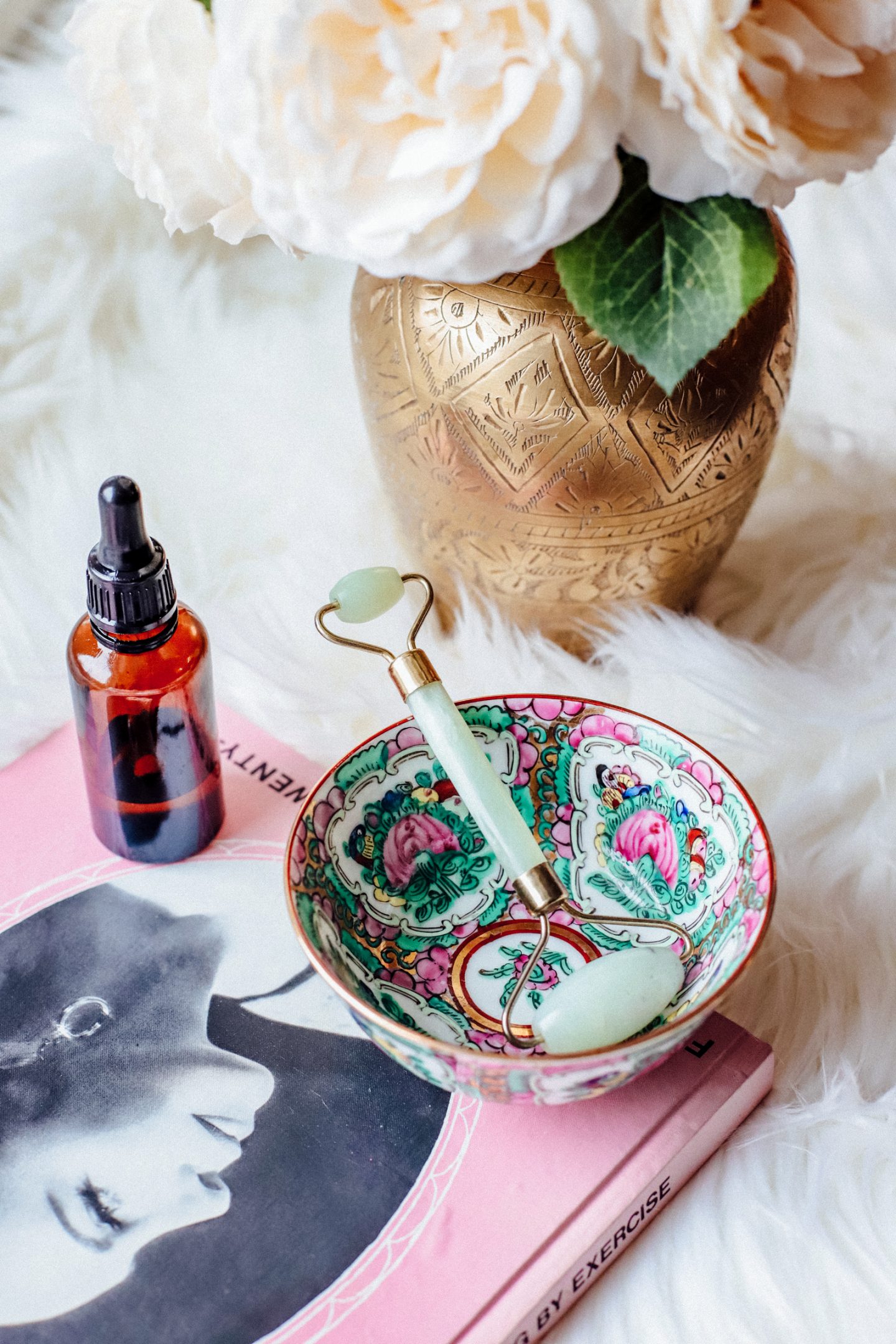 A FEW TIPS
1. Start with a clean face
This ensures that you aren't spreading bacteria all over your skin.
2. Grab a serum
Not only are serums great for your skin (I highly recommend my DIY Glow Serum), but they help reduce friction so your jade roller can really work its magic.
3. Use a light, sweeping motion
The lymphatic system lies just under the skin's surface, so you don't need to go very deep to have an affect. By using a light motion, you are simply encouraging the lymph fluid to move along.
4. Empty the bucket
Ever heard the saying "you must empty the bucket before you can fill it again?" Well, that saying is true in lymphatic drainage. Shrug your shoulders up. Do you see the two hollow places that form just above the center of clavicle? Those are your "buckets" so to speak. You must drain them first before beginning any jade rolling on the neck or on the face.
5. Go in one direction.
Never roll back and forth. Since we are trying to guide lymph in a certain direction, it's important that each stroke goes in the same direction, so as to move the fluid along.
6. Roll out from the center of your face
The lymph fluid in your face drains through lymph nodes near the ear. Because of this, you always want to move your jade roller away from the center of your face, and end in the direction of your ear.
7. And down your neck
Once the lymph fluid has filtered through the nodes near your ears, it goes down your neck and empties into the two buckets. For this reason, you will always roll down the neck, towards the clavicle.
8. Drink lots of water
After you're done rollin', be sure to drink lots of water to help flush out those toxins!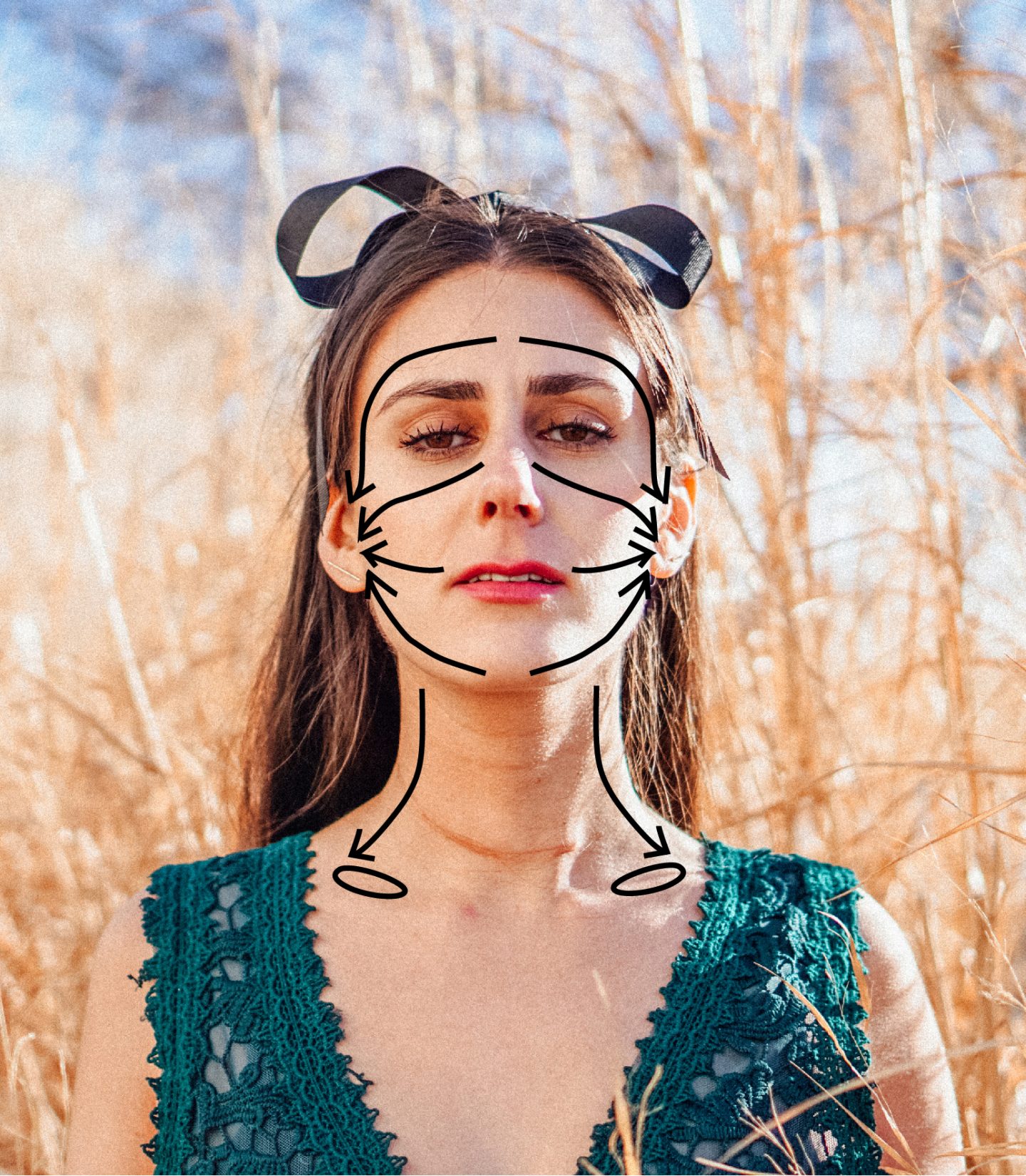 HOW TO USE A JADE ROLLER
Make sure to do each motion 10-15 times.
You'll first begin by locating your "buckets": shrug your shoulders up and find the two hollow crevices located towards the center of your clavicle.
Once you've located them, take two- three fingers from each hand, and at the same time, gently rub the skin at the bottom of your buckets in a circular motion.
Then, take the larger side of your jade roller. Starting at the base of your ear, and down the sides of your neck towards the buckets.
Move onto the face. Using the jade roller, start at the center of your chin on the right side of your face, and roll towards your right ear. Then, move onto your mouth. Start at the outer right corner of your mouth and roll towards your right ear.
Continue with this for the entire right side of your face. When you get to your forehead, you will have to roll out and down to your ear.
Repeat these same instructions with the left side of your face.
Next, take your hands and hold them flat. Now spread your fingers apart by splitting them down the middle, Star Treck-style.
Place the gap between your fingers around the base of each ear, and lightly stroke downward towards your neck.
Take your jade roller, and starting at the base of your ear, and roll down the sides of your neck towards the buckets.
Empty the buckets by making circular motions at the bottom of the two hollow crevices with two to three fingers.
And? You're done! When all of this is said and done, it should take around 5-10 minutes, depending upon how slow you go. I usually do this when I'm at a stoplight in the car (I'm pretty sure I have had plenty of onlookers trying to guess WTF I'm doing), or while I'm checking my email.

WANT TO LEARN MORE ABOUT ESSENTIAL OILS?

Sign up for my FREE essential oils email course! You'll also get a copy of my free guide, The Dirty Dozen: 12 Ingredients To Avoid In Your Skincare and Makeup Products!