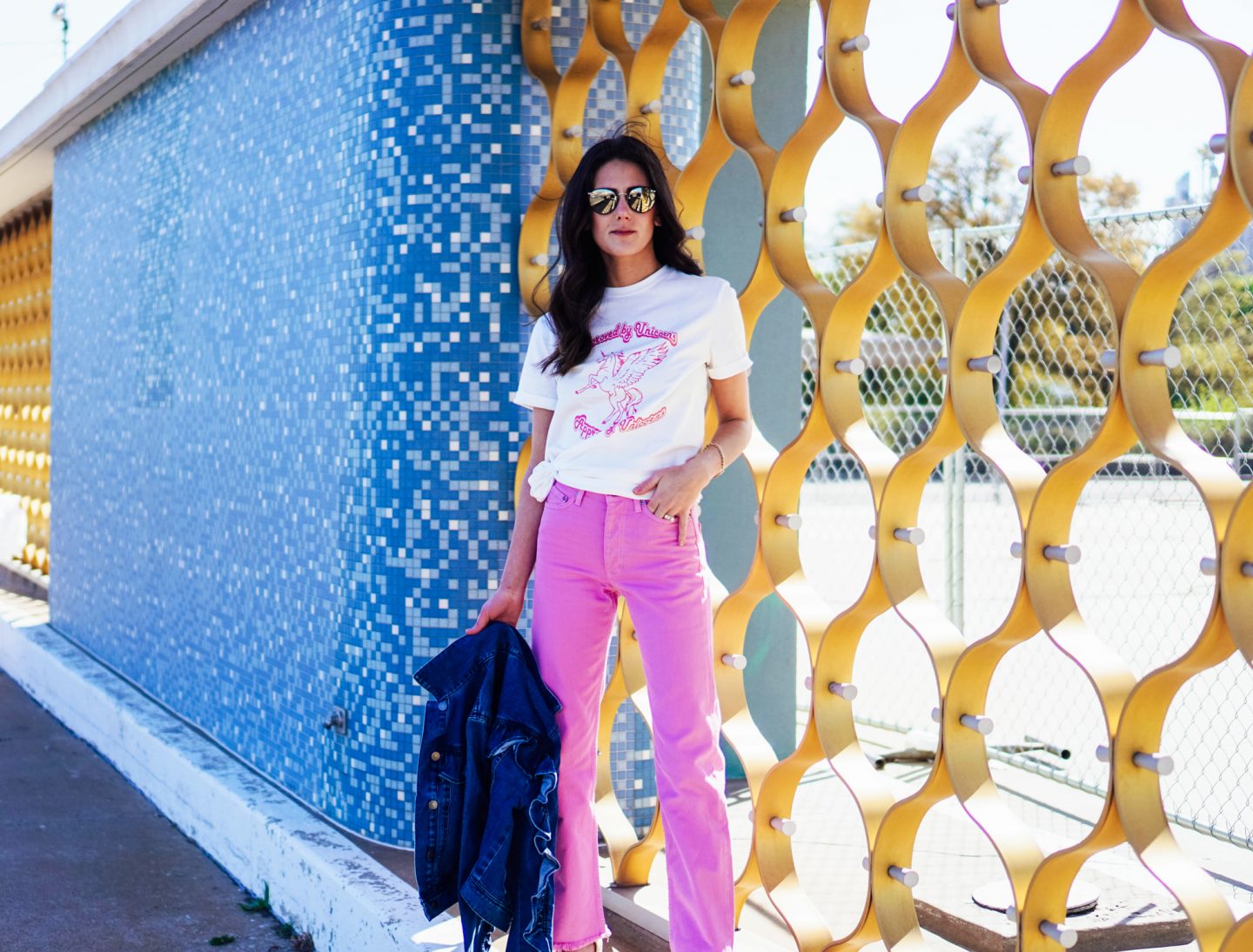 Let's just say, it all started with these pink jeans. THEY FIT LIKE A FRIGGEN GLOVE. But first, before we get to that part- here are the facts: I have been looking for a pair of high-waisted jeans that have a true straight (not flare) leg, and are fitted at the waist, but not too fitted. I've been looking for said pair for, oh, 5 years. So, when I found these, I. Was. Pumped.
I'm not going to lie (though they come in a blue denim version), when I saw the pink pair, I was kind of disappointed. I'm not exactly a pink person, persay (it's not that I don't appreciate pink, I just don't I wear a lot of it). But, after trying them on, I didn't even care what color they came in! Let me explain something to you: I am pretty slender on the bottom, but I hold my weight on my waist (it's even worse, post-partum). So finding high-waisted denim that's flattering has always been a struggle. But guys… these are oh so flattering and even flatten my tummy! Then I noticed the fringed hem, which I decided gave them a little bit of a 70's feel.
Alright, so back to the outfit: I decided to embrace the pink and go for it, pairing my Barbie pink jeans with this super cute unicorn graphic tee (if you look closely at the graphic, its even a bit sparkly). On the same shopping trip, I bought this amazing ruffled denim jacket (the ruffles run up the sleeves and across the back- scroll down for pics). Lastly, I finished off the look with some vintage Helmut Land heels that I bought 12 years ago at a sample sale, but here is a link to my all time favorite Steve Madden heels that I own in three colors.