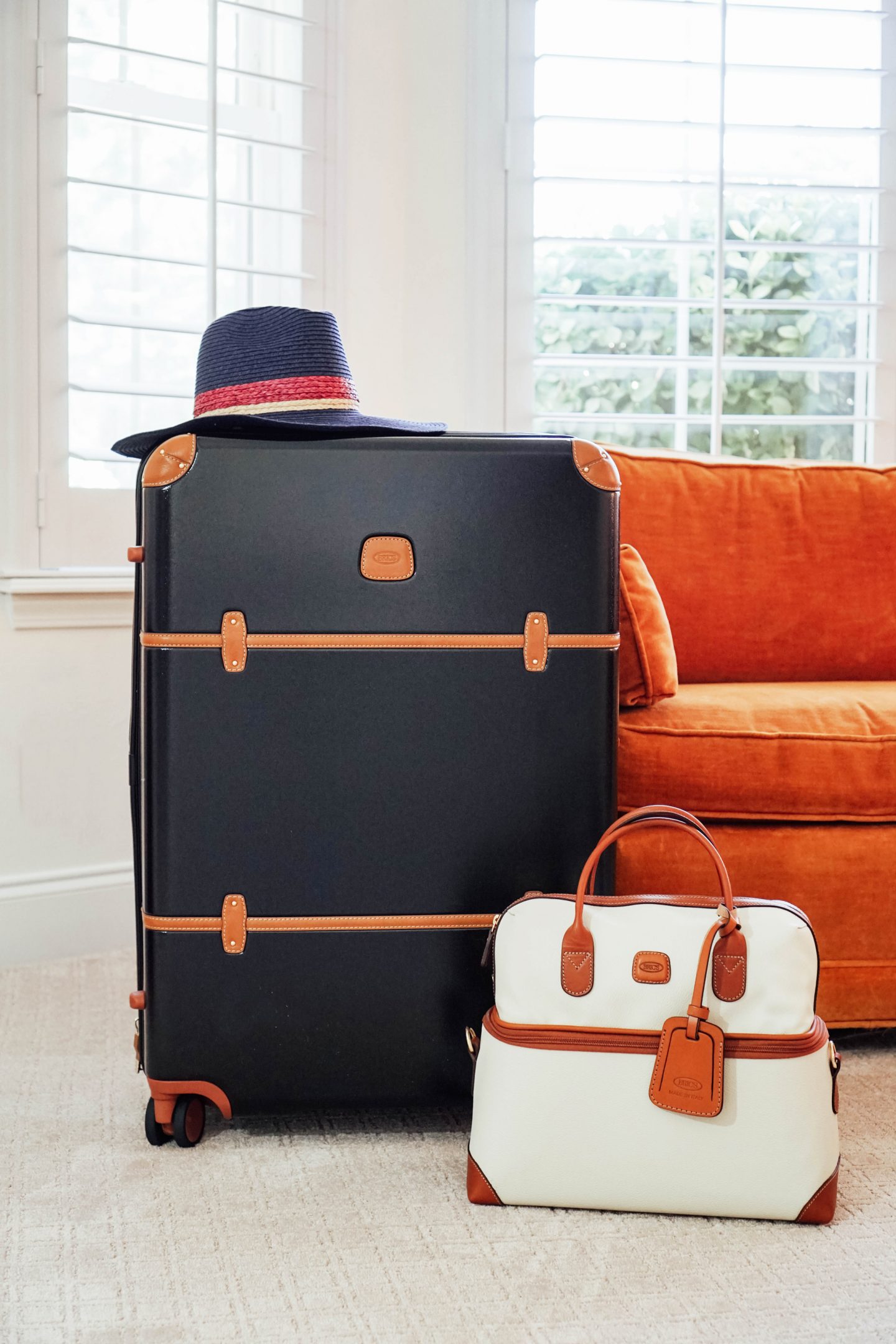 Hi friends! Get ready for a two-part travel series. The first post? I invested in my first set of "big girl" luggage (and it only took me 13 years!). The second post, which will be going live tomorrow? A HUGE Beach Trip Essentials round up- because this girl is going to Florida for a week, and I'm sharing my must-have packing list with you!
Embarrassing: the word I'm going to use to describe the excuse-for-a-piece-of-luggage that I have been toting around for the past 13 years. It accompanied me on countless road trips in high school, then abroad (twice) in college, and several cross-country moves thereafter. I'm pretty sure I purchased said piece of luggage from a overstock retailer when I was 19 and found out I was going on a last-minute trip to New York.
After an irreparable tear that happened on my last flight, I knew it was time to bite the bullet and invest in some nice luggage. Before I set out to do my research (because, real talk… I love to research, especially when it comes to big purchases), I knew there were a few must-haves upon which I wasn't willing to compromise. My must-haves: 1) Lightweight- a suitcase that I could fill to the brim with clothing and shoes, and not have to worry about exceeding the 50 lb weight limit; 2) Wheels with four-way spin- this seems to be the standard with new luggage (a luxury I didn't have with my last suitcase); 3) Quality materials- after the many tears my last suitcase endured (I swear it had a new one each time I picked it up from baggage claim), I decided I was done with cheap materials that wouldn't stand up to wear and tear; and, lastly, 4) Beautiful design- my last suitcase was anything but a looker (the standard black bag with a fabric exterior), and being as design-centric as I am, I decided that my suitcase should reflect that!
With all of these must-haves in mind, I set out to find the perfect suitcase… and guys, I cannot wait to show you which one I landed on.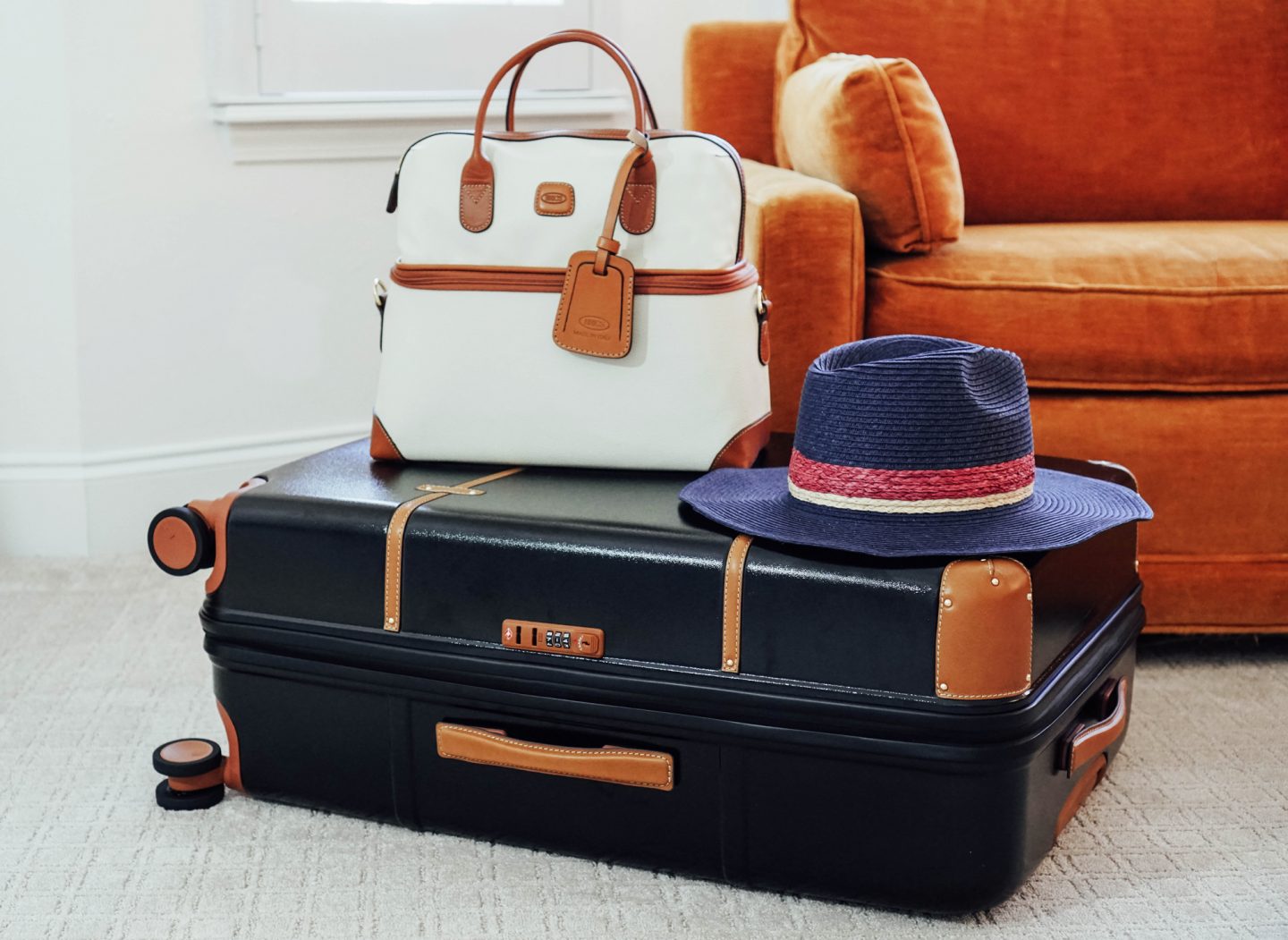 I landed on… this stunning Bric's Milano Bellagio 30″ spinner. Isn't she a beauty? I must say, I've taken her for several "spins" around my house (I know, pretty pitiful, but I'm just so excited!) and she glides so smoothly over our floors… and literally makes no sound. I opted for the black version (it comes in 7 classic colors, and a few limited edition colors) because, I reasoned, it would show less dirt and scuff marks.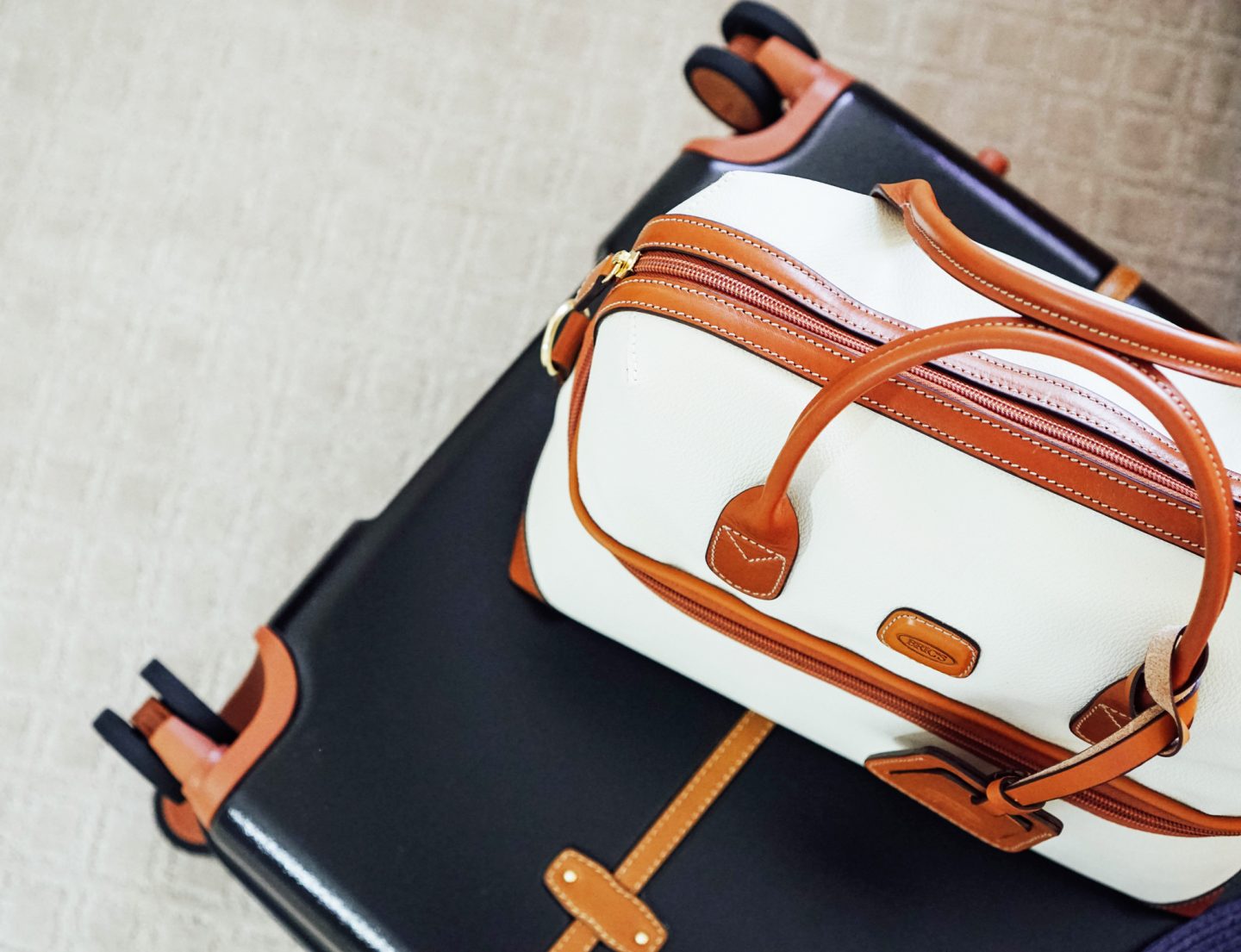 One of my favorite things about her, other than the fact that she's simply gorgeous and I can't get over those classic leather accents on her exterior, or her super durable Makrolon shell, would be her interior. Unlike my last suitcase, this one holds the same amount of clothing on both sides of the suitcase, which means the weight of my clothing is evenly distributed throughout the suitcase (which prevents a lot of smashed clothing). One side has a zip-around cover, while the other has two adjustable clips that hold the cover in place. I prefer to put my delicate clothing in the zipper side, and my shoes and other items on the side with the open cover.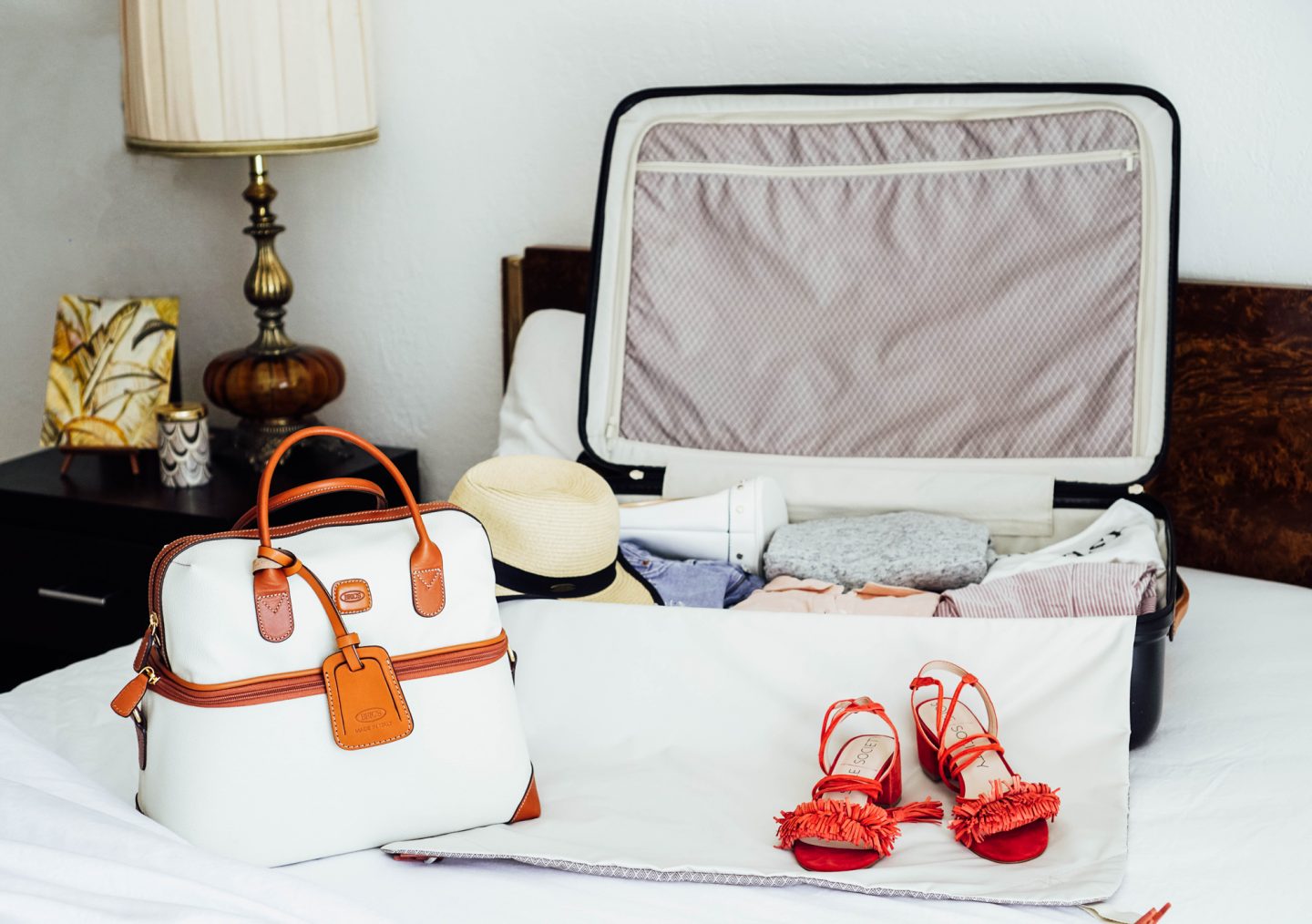 So, you're probably wondering who the cream-colored beauty to her left is? Well, I decided to invest in a nice piece of carry-on luggage (my suitcase needed a matching friend!) while I was at it (buh bye L.L. Bean Canvas tote bag from Highschool). I chose one of Bric's Milano's most classic pieces, the Firenze Tuscan Train Case. It was designed after the classic train cases, which were used back when trains were the primary mode of travel, to hold all of a woman's toiletries and cosmetics. Just like the original cases, the bottom portion of this one has elastic compartments to hold liquid bottles, or fragile things, in place. This design is perfect for someone like me who likes to bring all 15 pairs of sunglasses on vacation with her (and, as you can see, that is exactly what I have used those compartments for!). The top part of the case is perfect for holding non-cosmetic items, like your wallet, phone, keys, etc. (or at least, that's what I'm using it for). The train case even comes with detachable shoulder strap, which will come in so handy when I'm carrying Johanna through the airport. And the best part about this piece, and the primary reason that I chose it, is that it fits under your seat on the plane (insert raised-hands emoji).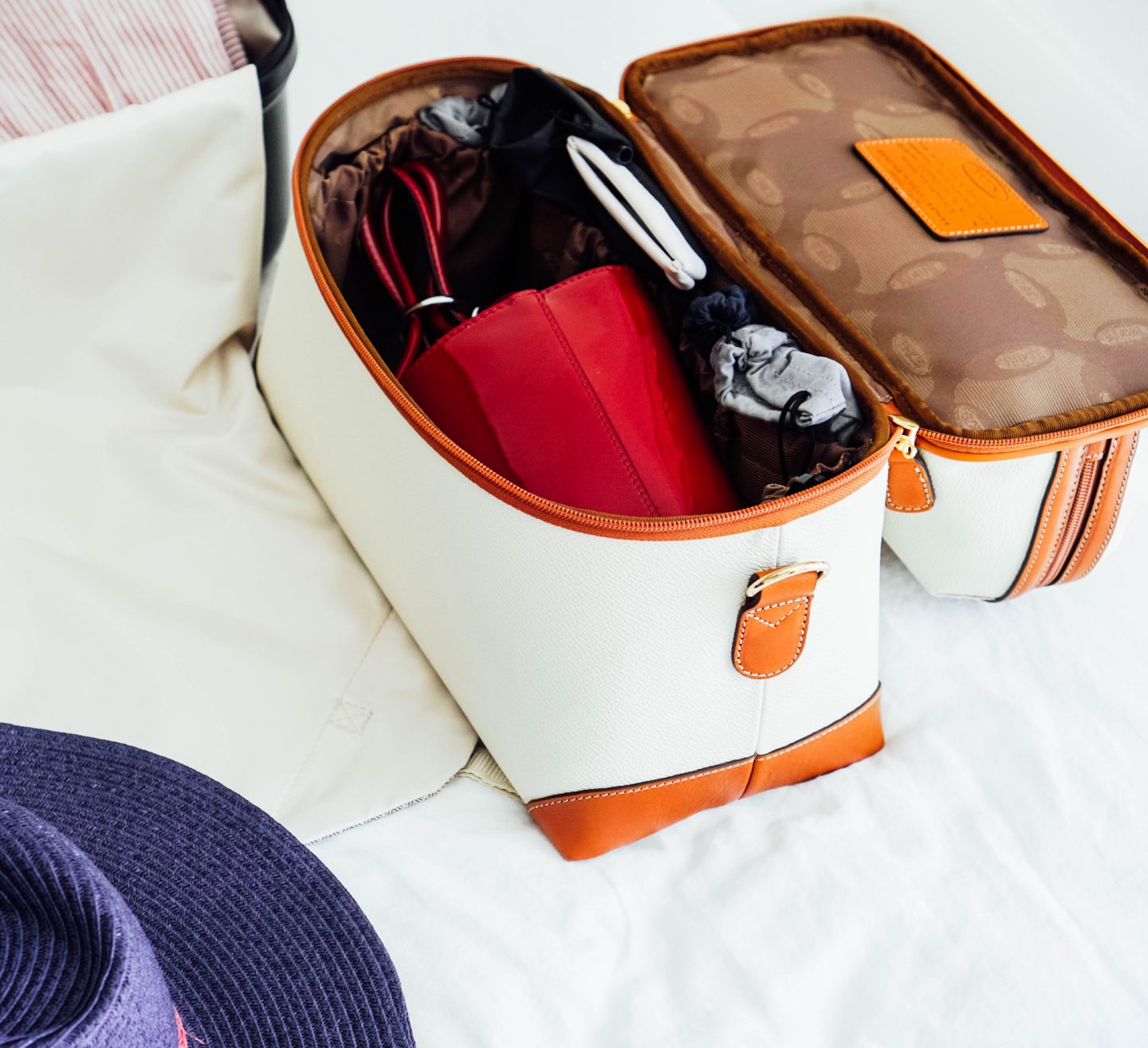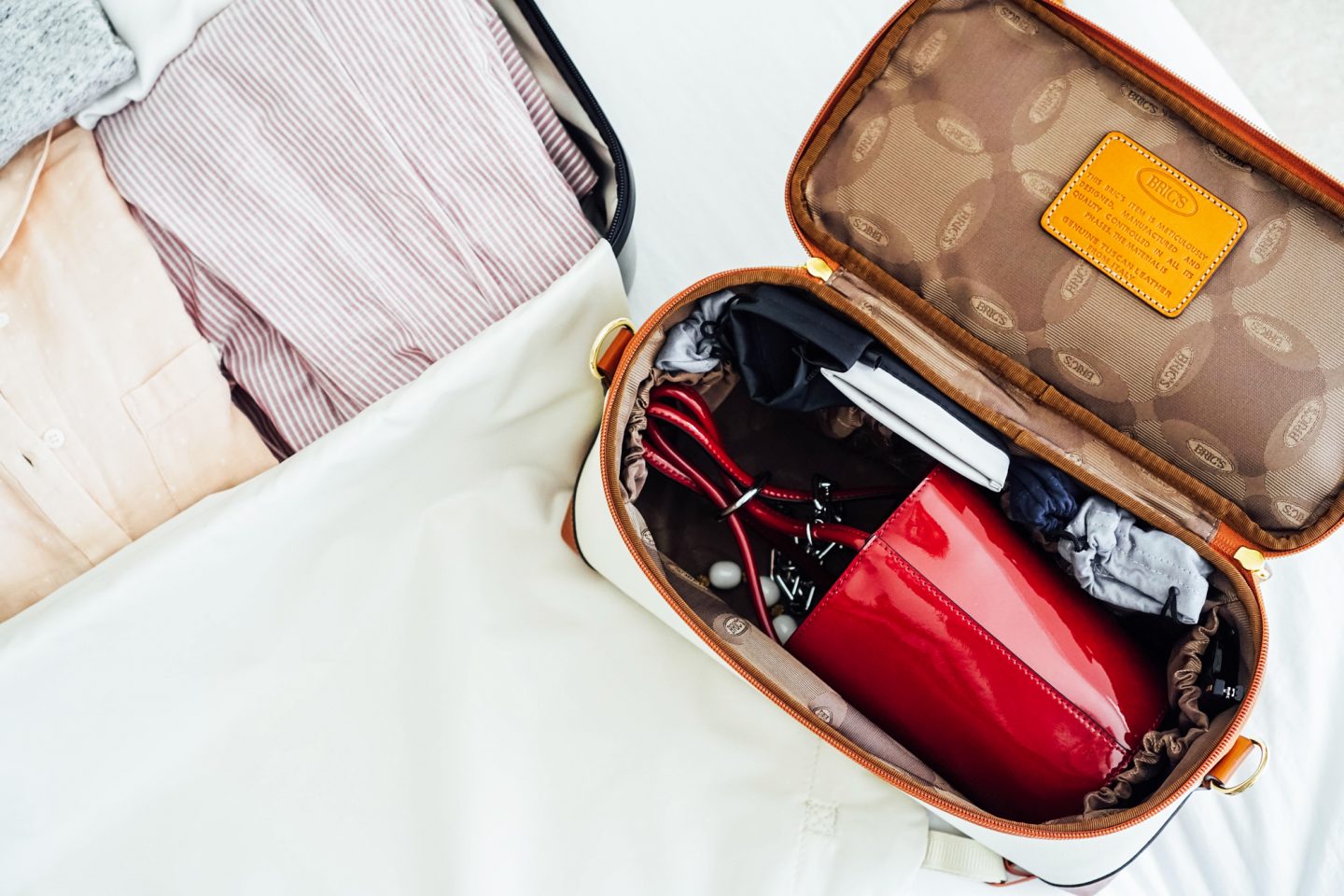 Do you have a favorite set of tried-and-true luggage? I'd love to hear! Share yours in the comments.