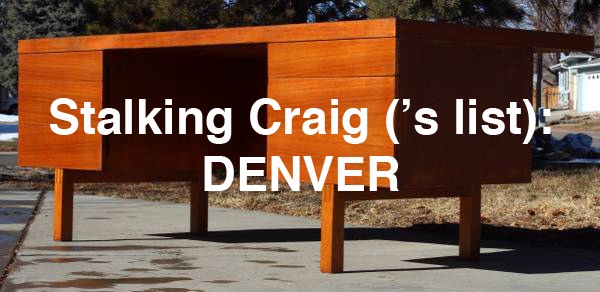 I know this goes without saying, but the types of items you find on Craigslist definitely varies by city. For example, only in Denver (and a few select other cities) would I search for the word "bamboo," and have not actual bamboo items but dozens of ski sets come up in the results.
Other than the abundance of ski gear, I must say, Denver Craigslist did not disappoint. The unique offerings were plenty, the prices beyond reasonable. Let's take a look: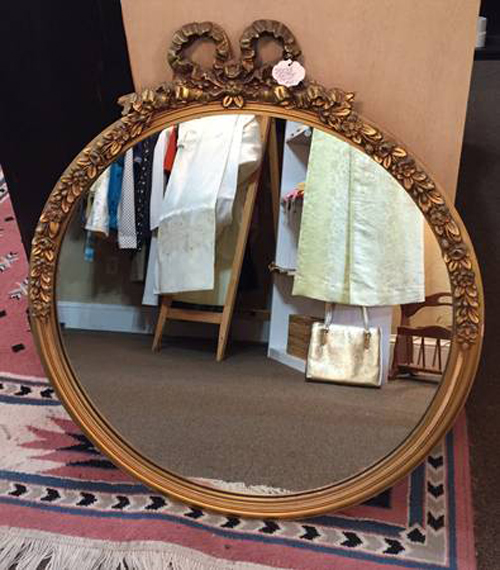 1. 1950s Vintage Gilt Mirror – $45
Perfect in an entry way, above a vanity or changing table, this provincial-style mirror is a classic find. Measuring a substantial 30″ x 26″, this mirror is a steal for $45!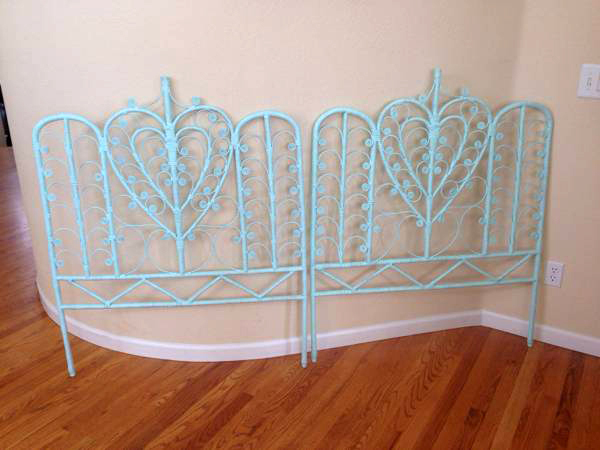 2. Pair of Robin's Egg Blue Wicker Twin Headboards – $40
Oooh my gosh. These might be my favorite finds of the day. This whimsical pair of headboards would be so perfect in a little girl's room. The set could serve as the headboard and footboard for one twin, or the headboard for two. Either way, these are a sweet statement piece, for sure. And, here again, you can't go wrong with the price. A similar headboard is retailing for $275 on Etsy, or for $399 at Land of Nod.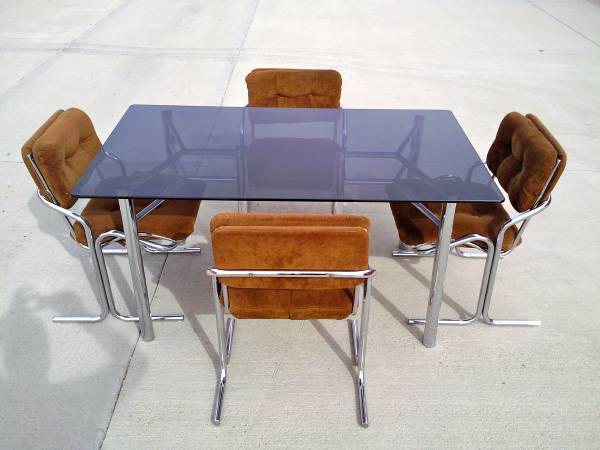 3. 1970s California Jerry Johnson Chrome + Velvet Dining Chairs – $200
Are you kidding me? Four chairs for $200? YES. If you guys can't already tell from this post, I am totally on a cantilever chair-kick right now. And that cognac-color velvet is to die for. I decorate with a lot of that color in my home because it tends to read as a neutral rather than a color.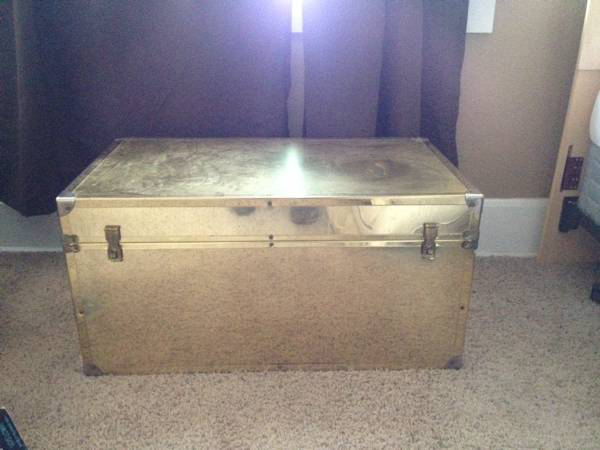 4. Brass Steamer Trunk – $50
Trunks are so versatile. I can picture this one living at the foot of a bed, housing blankets or sweaters. I can also see it being a fabulous coffee table, hiding magazines, DVD's, extra remotes, and all kinds of junk.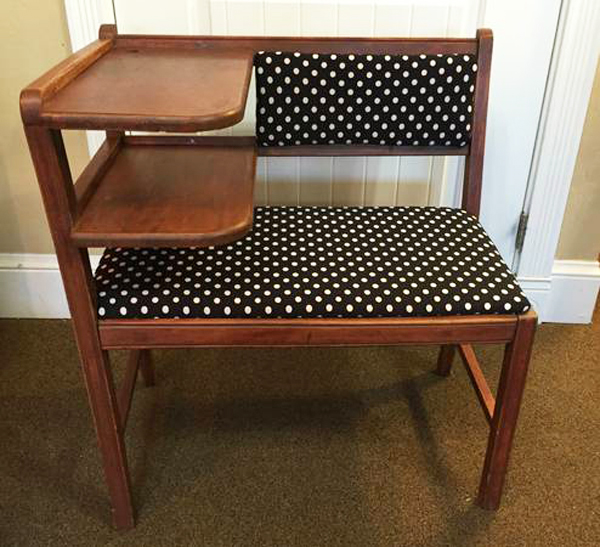 5. 1940s Polka Dot 'Gossip' Telephone Chair – $48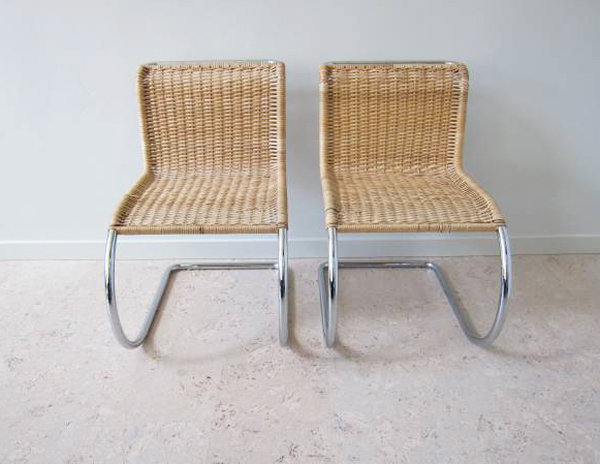 6. Pair of Vintage Caned Chrome Cantilever Chairs – $200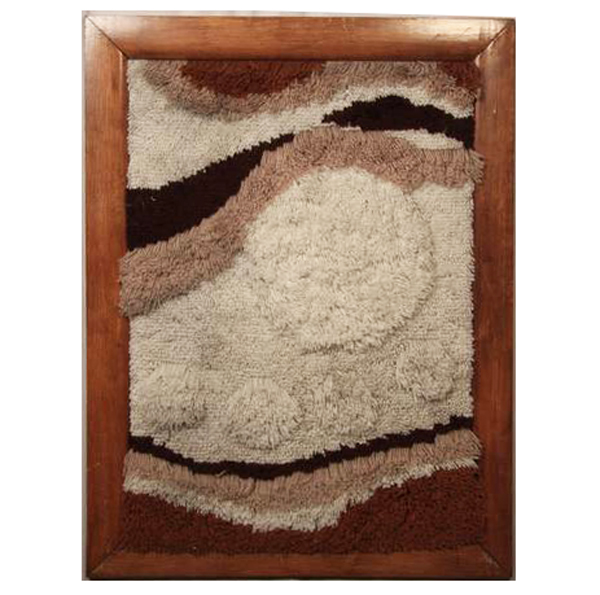 7. Vintage Framed Hand-Woven Yarn Wall Hanging – $40
Hooked fiber art is the new woven wall tapestry of 2016. Invest now- this trend isn't going anywhere for at least another year. This piece already comes framed and is a steal at $40.
8. Pair of MCM Milo Baughman-Style Cantilever Bar Stools – $450
A new set of upholstered cushions, and this pair of bar stools would retain their value for years to come (though I don't think you'd want to part with them for a long time).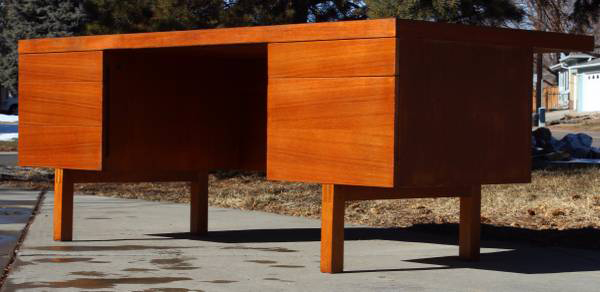 9. Danish Mid-Century Modern Teak Desk – $300
Be still my heart. It is no secret that I am a self-professed midcentury Scandophile, and this teak wood (tied with walnut for my favorite type of wood) Danish desk makes my heart go pitter patter. If there wasn't a 9 hour drive separating me from Denver, this would be MINE!!
10. Mid-Century Modern Lamps – $60/each
While they might need new shades, all three of these lamps have potential (that center yellow one, in particular). If you could get these down to $45 per lamp, I would tell you to snatch these up!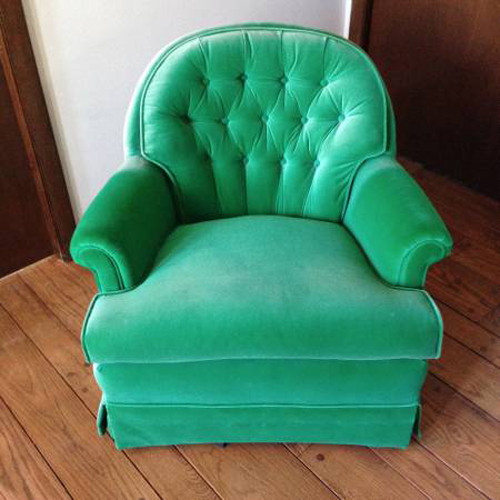 11. Kelly Green Tufted Velvet Rocking Chair – $25
Wow. This piece looks like it is in fabulous condition. I wouldn't even touch the upholstery. The kelly green color is so vibrant, and wouldn't show stains easily, making it an all-around win, in my opinion!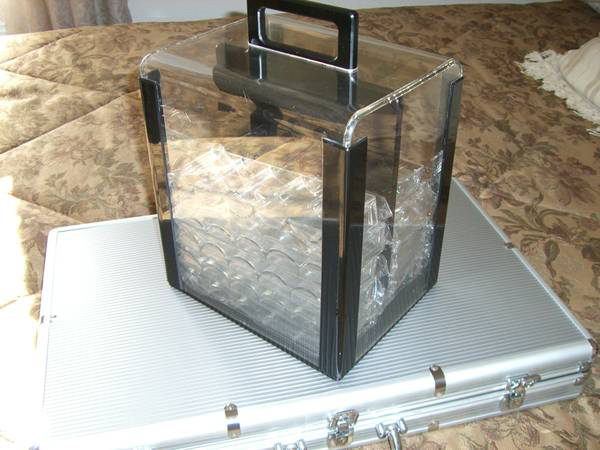 12. Poker Chips + Lucite Carrying Case – $100
Forget about the poker chips. Let's talk about that gorgeous Lucite carrying case that comes with it.