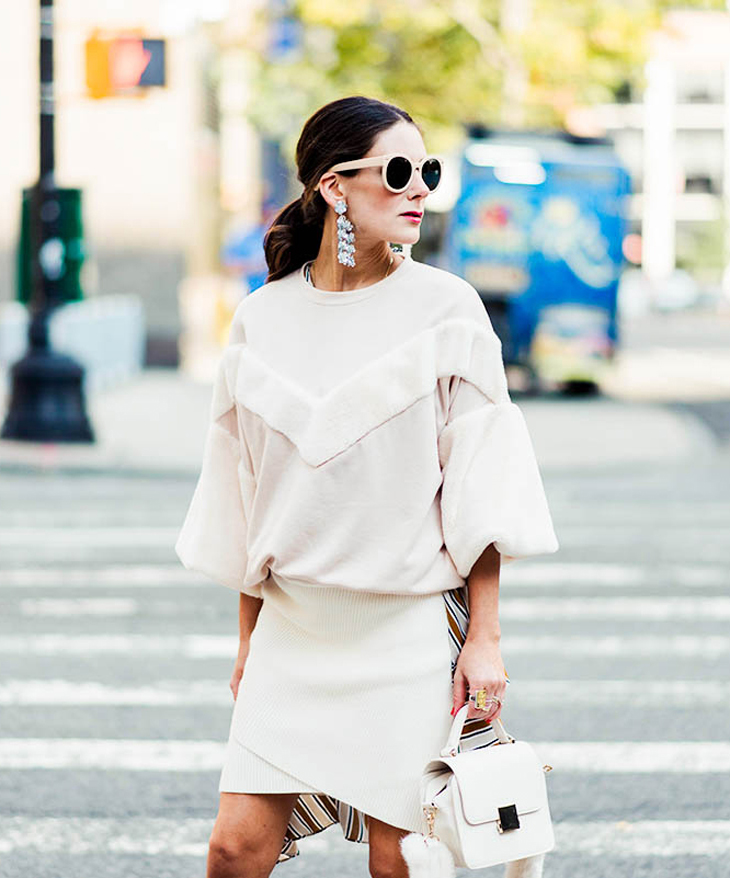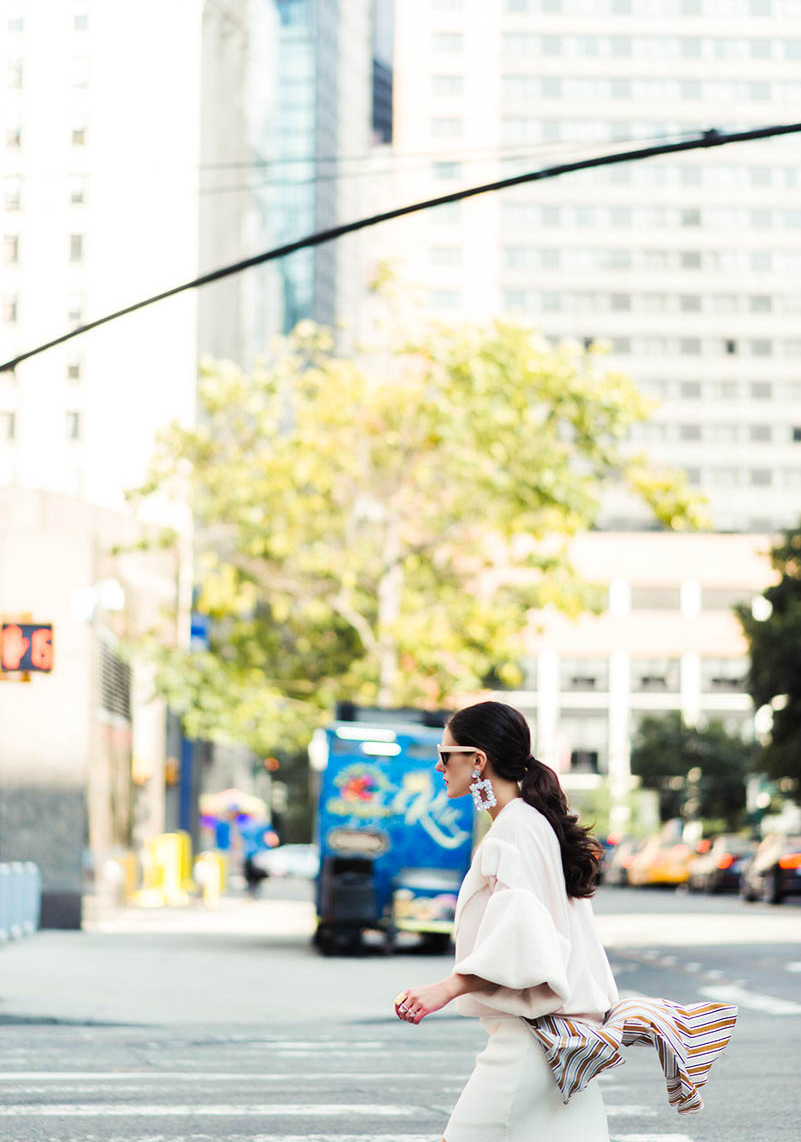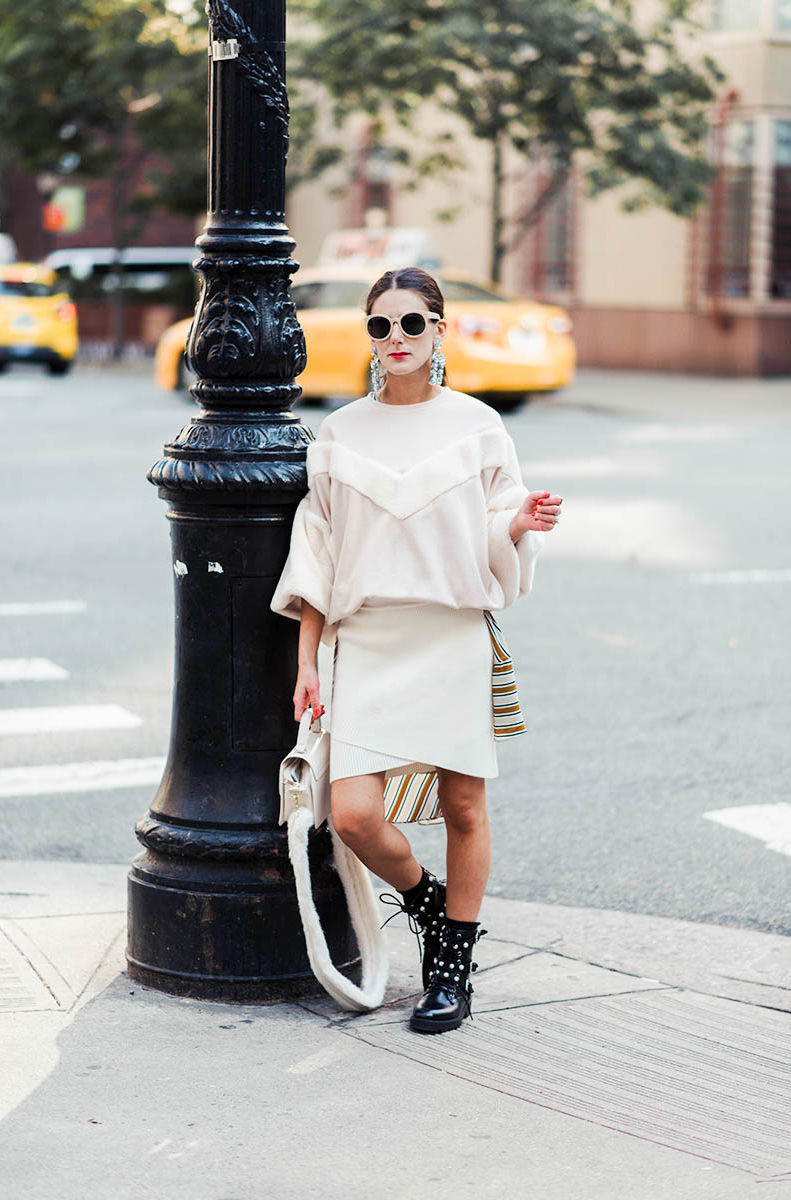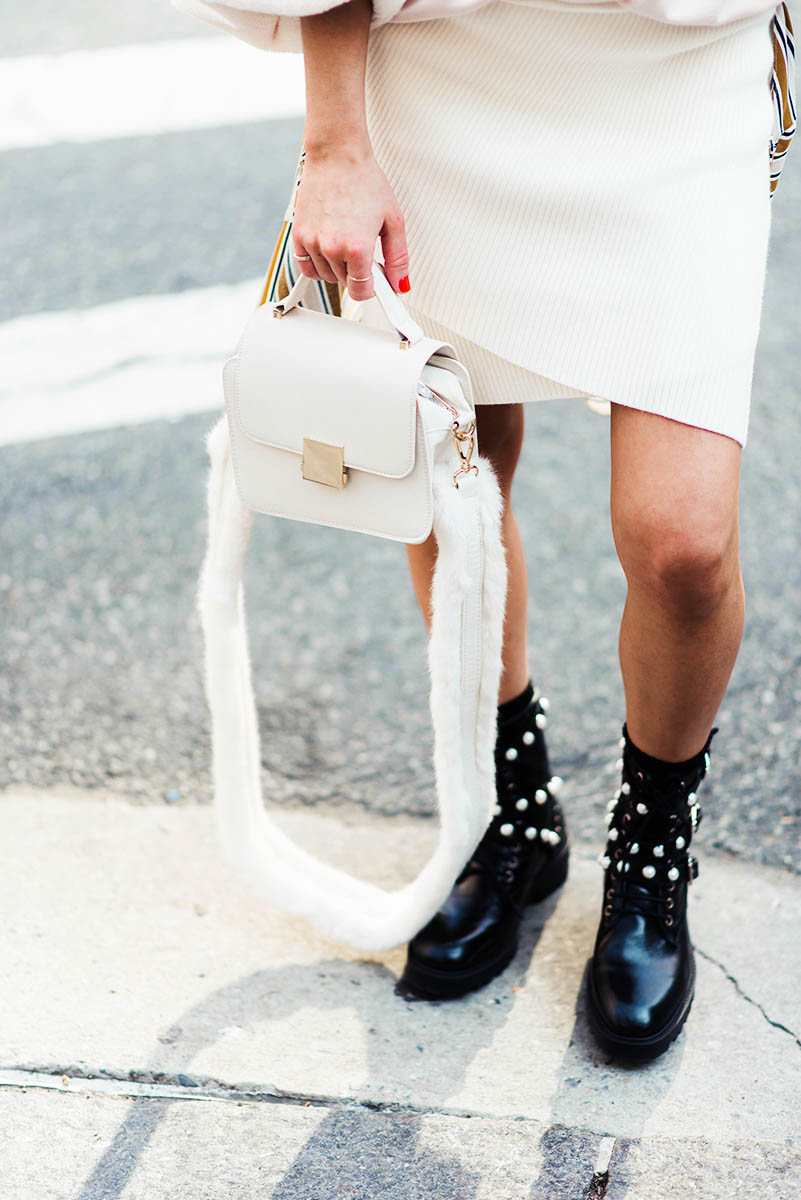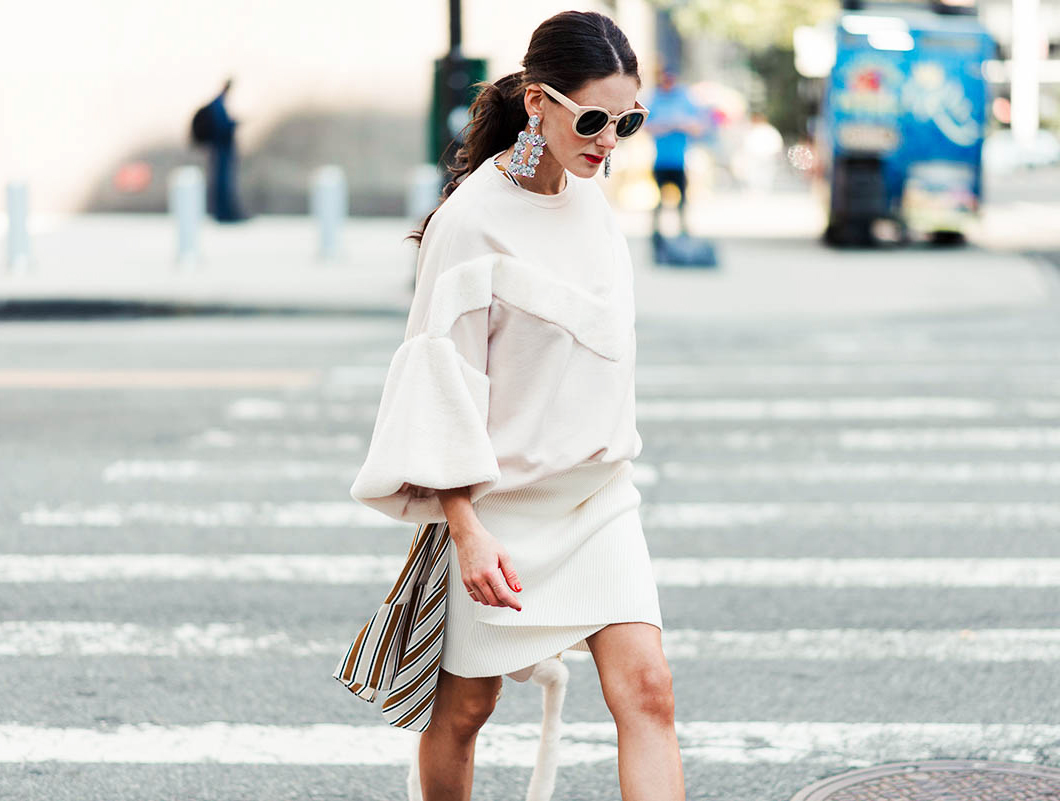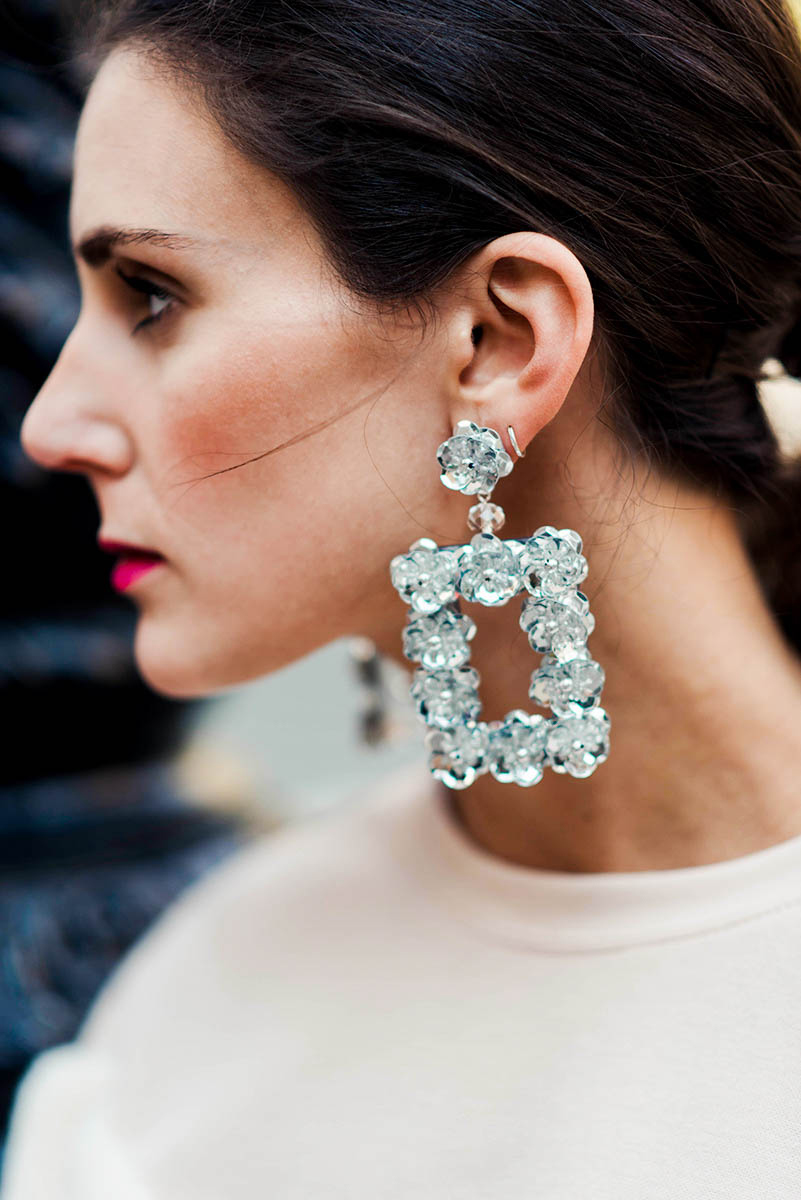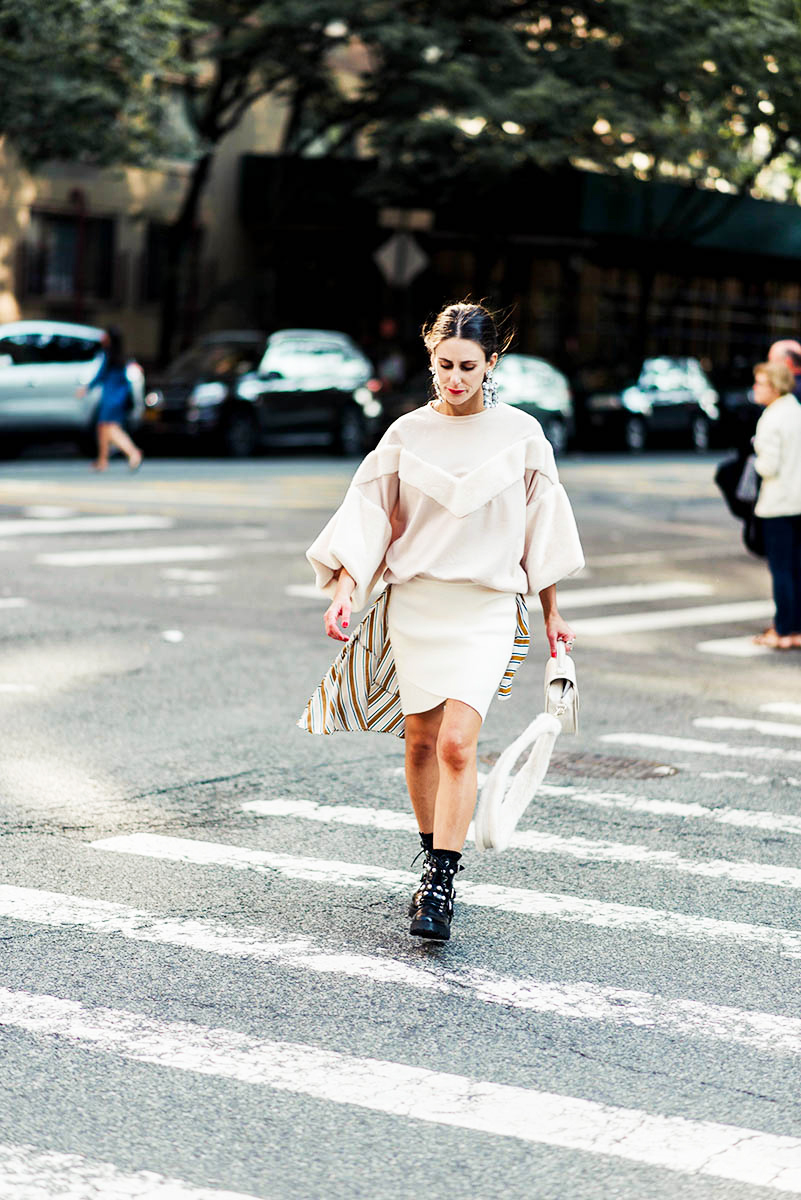 Outfit photos by the talented Ashley Loyer Photography
– OUTFIT DETAILS –
Fur Sweater // Knit Skirt // Asymmetrical Striped Tank Top // Pearl Studded Boots // Fur Handbag // Shades // Earrings (sold out, similar here) // BEST Matte Red Lipstick (color: Get Up Stand Up)
---
One thing I really haven't talked about in my NYFW recap posts** is how truly difficult it was to find clothing that both fit my 29 week baby bump and was a reflection of my personal style. While I definitely dress more casually in my daily outfit posts, New York Fashion Week, if no other time during the year, is the time to showcase personal style and to break the rules – especially for those in the industry. I cannot even begin to tell you how many boxes of clothing arrived at my doorstep, only to be returned the next day, because they either didn't fit or weren't designed to fit a pregnant belly. So, I had to get creative and think outside the box. I'm proud to say that only one outfit I wore during NYFW was a true "maternity" piece (and even that piece is meant to be worn before and after pregnancy, so I don't consider it true "maternity").
* *Be sure to check out my other NYFW posts: Day 1 Recap // Day 2 Recap
– NYFW, Day 3 –
The Outfit
I first found this sweater from Zara and fell in love with its billowy, gathered sleeves and fur blocked fabric, and decided to build the rest of my outfit around it! I always enjoy playing around with scale and proportion, and I knew that this oversized sweater warranted something more fitted on bottom, so I opted for this asymmetrical, body-hugging knit skirt. (Side note: If I'm online shopping, the way I put outfits together is to order a bunch of pieces I like, lay them out, and start outfit building from there. With Zara, specifically, many times I find that the way I've styled an outfit is exactly how it's styled on the site, and that is what happened with this skirt and sweater. Great minds think alike, I guess? Or at least, that's what I tell myself so that I don't get too annoyed.) Next, I knew the outfit needed a third element to break up all of the cream, and this striped asymmetrical top was the perfect layering.
When it came to accessories, I opted for the trusty cream fur city bag that I wore the day before (trusty because it fit all of this: my iPhone 7 plus, a large portable battery charger and cord, two lipsticks, a stack of business cards, 1 Lara bar, my room key, a powder compact, and my sunglasses), and the same pearl-studded boots from the day before.
The Schedule
NYFW Day 3 was Sunday. I woke up around 7am, put my face on and got dressed in this look that you see here, which is probably one of my favorite outfits I wore during NYFW. Something about the tonality of it all made it really fun to play around with different silhouettes and fabric textures. You're probably looking at this outfit and thinking, "Wasn't she hot?" While it's still pretty hot in the lower half of the US, the daytime temperatures in the city reached a high of 74, with a low of 50 a night, so we had pleasantly cool weather as our backdrop for most of our week… which means, give me allllll the SWEATERS!
I headed over to the Hotel Hayden in Chelsea to meet up with some other blogger friends for a quick brunch. We decided to eat outside in front of the hotel, and the weather could not have been more gorgeous! I ordered one of the omelets (I can't find the menu to tell you which one, but it was amazing), and mooched on Jocelyn's pancakes, which were SOOO good.
Afterwards, we walked up the street, which was lined with flower shops that were receiving their daily deliveries. The air was cool and filled with the smell of fresh orchids. We headed over to one floral shop in particular and quickly realized that the shop owner was less than happy to see a group of 8 bloggers with their iPhones trying to snap photos of his flowers. He immediately stood in front of his flowers, so as to block them from the view of our phones. Needless to say, we all got a good laugh out of it (and even still managed to get a good shots- of both him and the flowers- see photos below).
I Uber'ed back to the hotel in the financial district to shoot some outfits with the Uber-talented (pun and capitalization intended) Ashely Loyer Photography. This was my first time working with Ashley, and aside from her beautiful photography, I and can't say enough good things about her. If you ever find yourself in central Washington State, I highly recommend reaching out to her for a photo session! While her speciality is weddings and family photography, she was kind enough to agree to shoot a fashion blogger for a few days. 😉
Next, I headed over to the Vivienne Hu SS '18 show at the Skylight Clarkson, which has been the official fashion week venue for the past two years. Minimalist dresses, blazers, pants and tops in various shades of ivory strolled down the runway, some with flowy details like a ruffled hem or bow-tie waist, and others with more tailored elements, like structured shoulder pads or pleated waistbands. Hair was styled to look air-dryed, and makeup was kept fresh and light. It was a beautiful show, and I must say, I felt right at home in my ivory-clad ensemble!
To cap off the night, I met up with Stef from The Style Safari and a few new blogger friends for drinks and street pizza in Times Square. It was 10:30pm before I forced myself to head back to the hotel- I could have stayed chatting away the night, but I knew that tomorrow would be an early morning! As with many of my blogger friends, Stef and I met on Instagram a little over a year ago, and she has become one of my closest friends made through this crazy world of blogging. I had been following her a few months before we actually connected, and remember thinking then, as I do now, that she is one of the most talented women I have ever met. If you want to get a better idea of what I'm talking about, just head over to her blog. Aside from her insane personal style, she is a talented interior stylist, designer, writer and seamstress- and she can literally make anything.