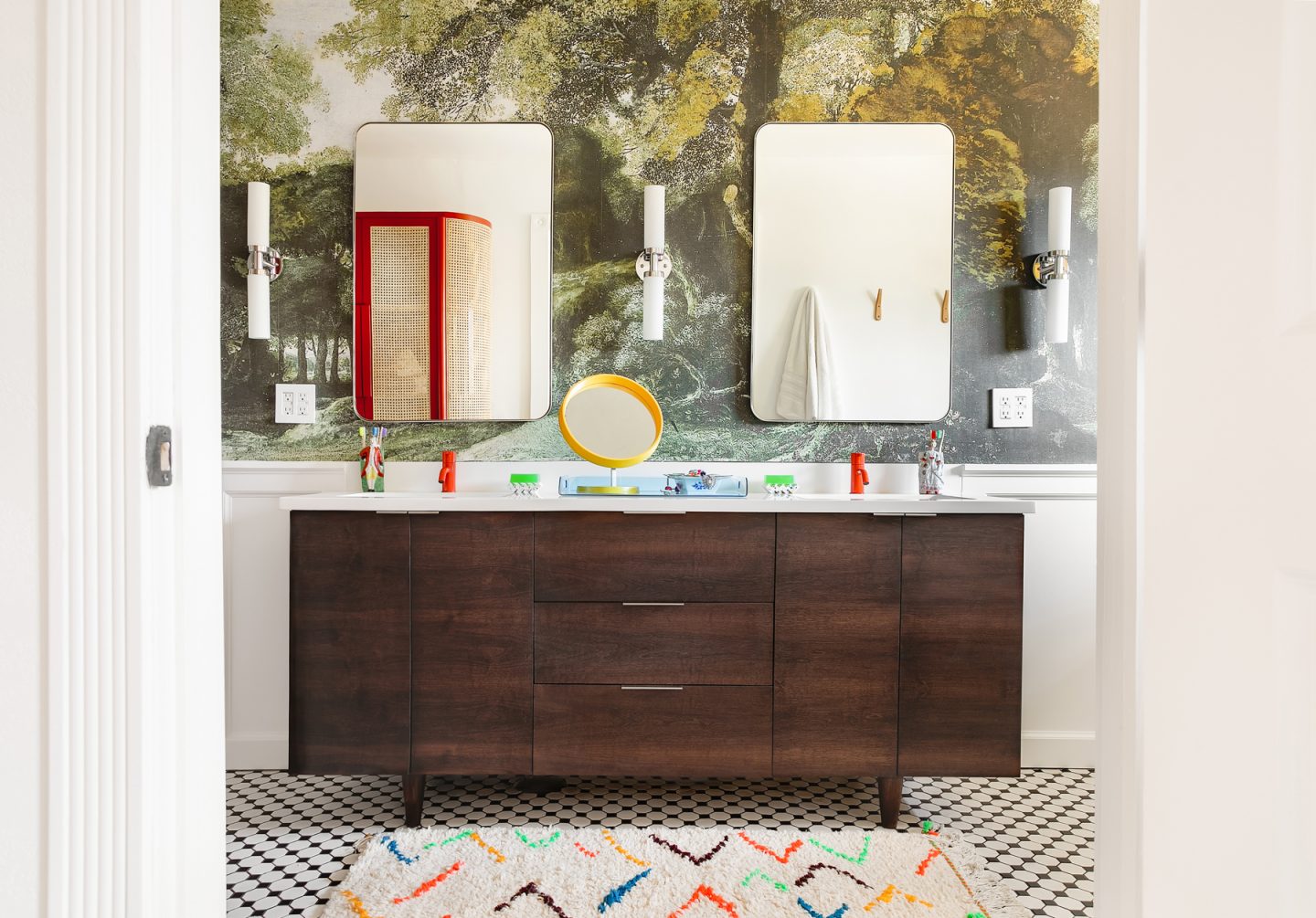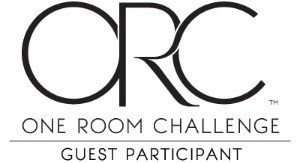 Welcome back, friends! If you've made it this far with me- I owe you my thanks and gratitude. It's been a journey these past 7 weeks, but today I hope you decide that it was well worth the wait- I know it has been for me!
Today is the final reveal for my One Room Challenge master bathroom remodel. And I'm certain it would be a great disservice to the space not to remind you of the before, before I show you the finished product. It was what I liked to call my "beige invasion" of a bathroom, with floor-to-ceiling beige tile, poor lighting, a lack of storage, and a missing bath tub.
Week 1 | Week 2 | Week 3 | Week 4 | Week 5 | Week 6 | Week 7 (you are here)
THE BEFORE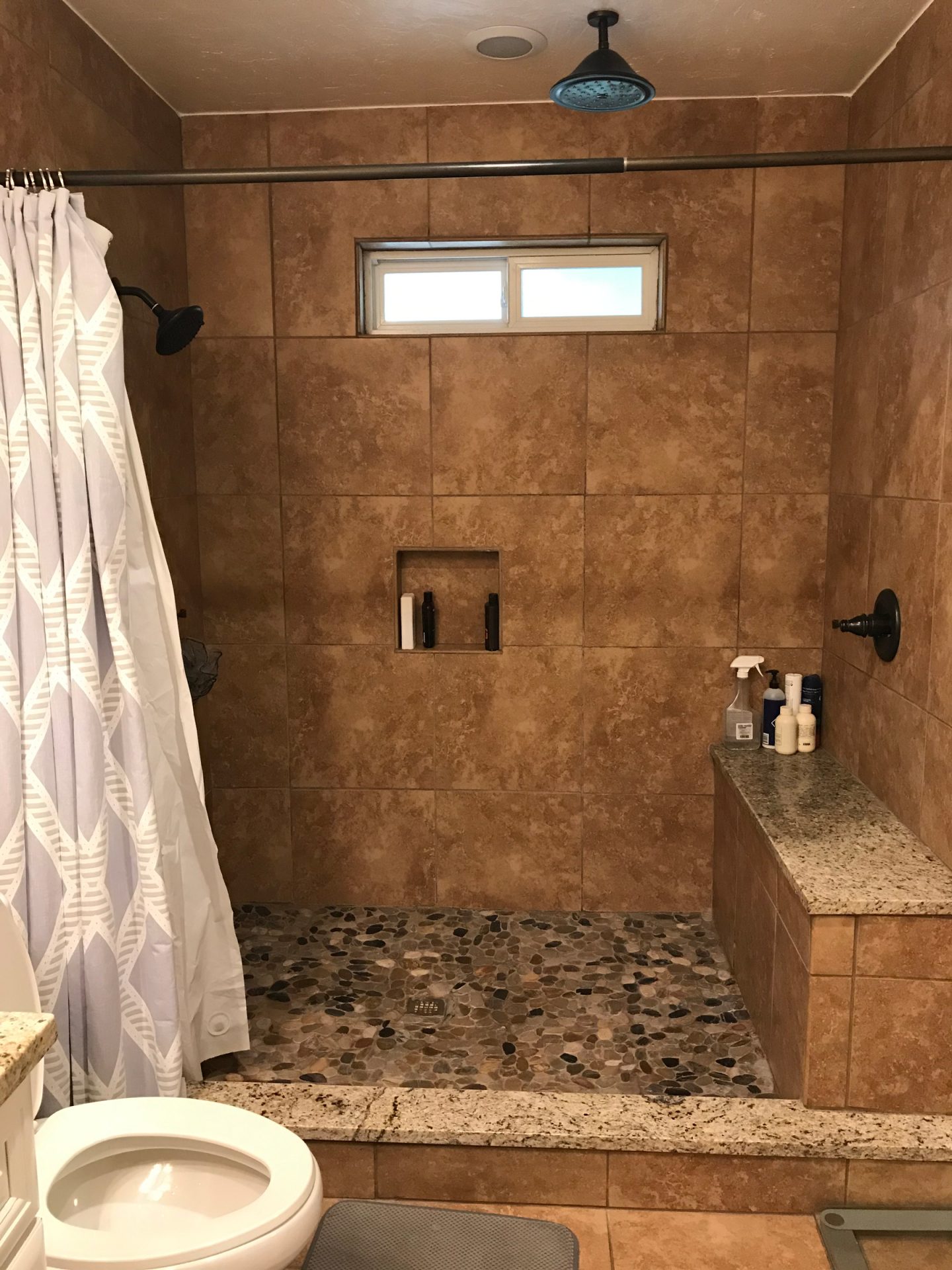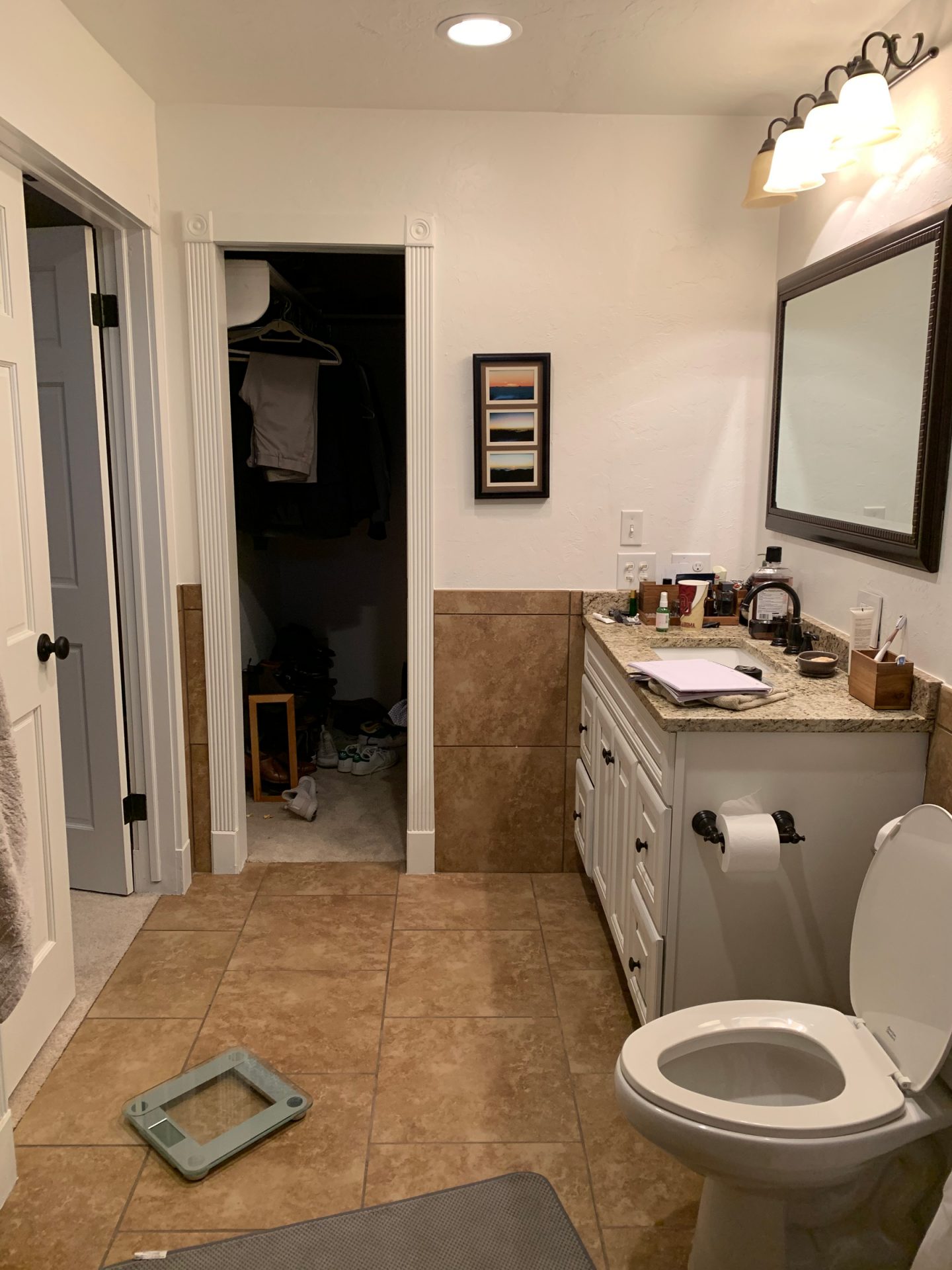 I think we can all agree that there was lots of room for improvement in the new space. What resulted from hours upon hours of planning, weeks of labor, countless trips to Lowe's, and lots of late night text messaging with Jen of Jennifer Hunter Design, is a master bathroom that has not only, but exceeded all of my expectations.
So without further ado, I present to you my master bathroom remodel!
THE REVEAL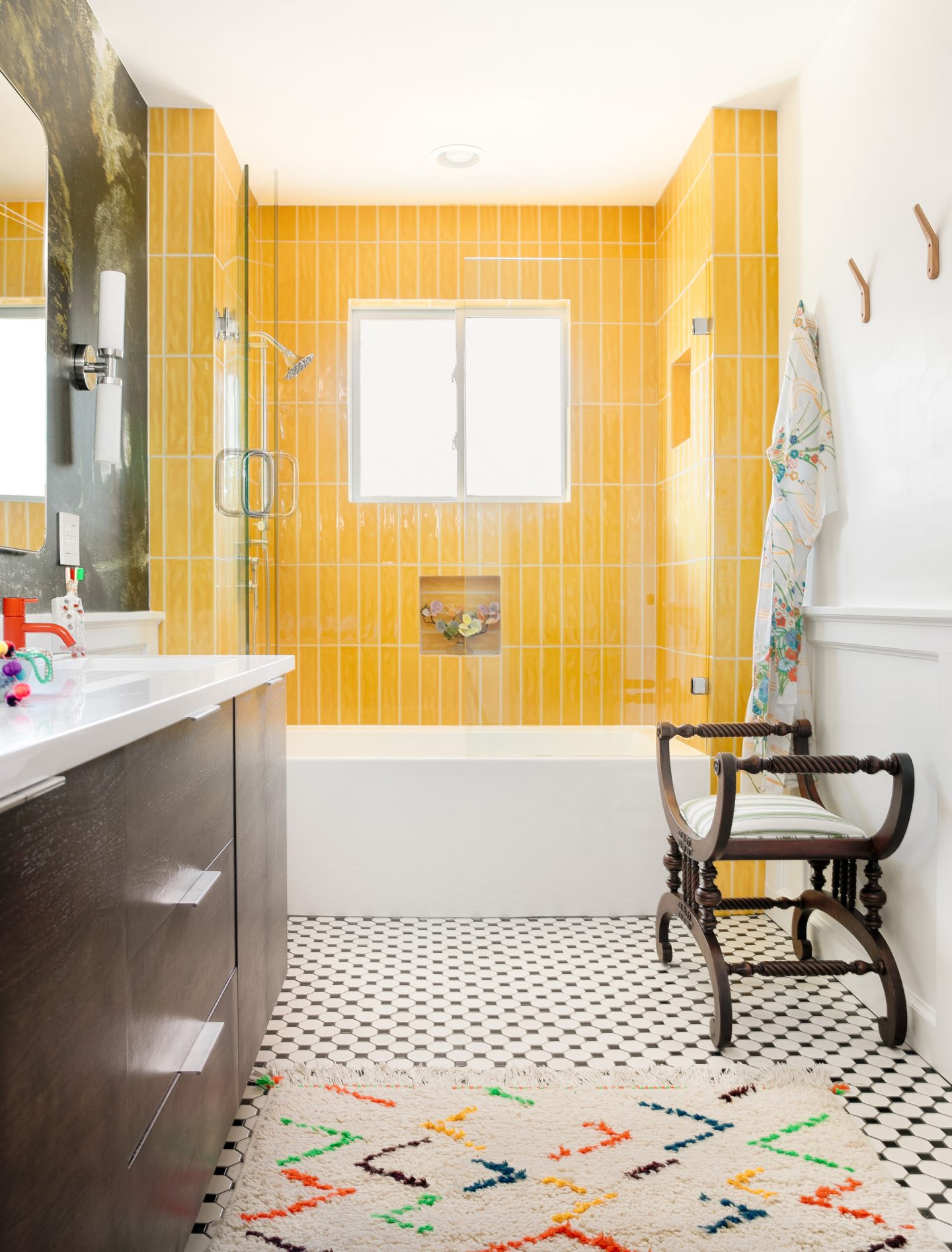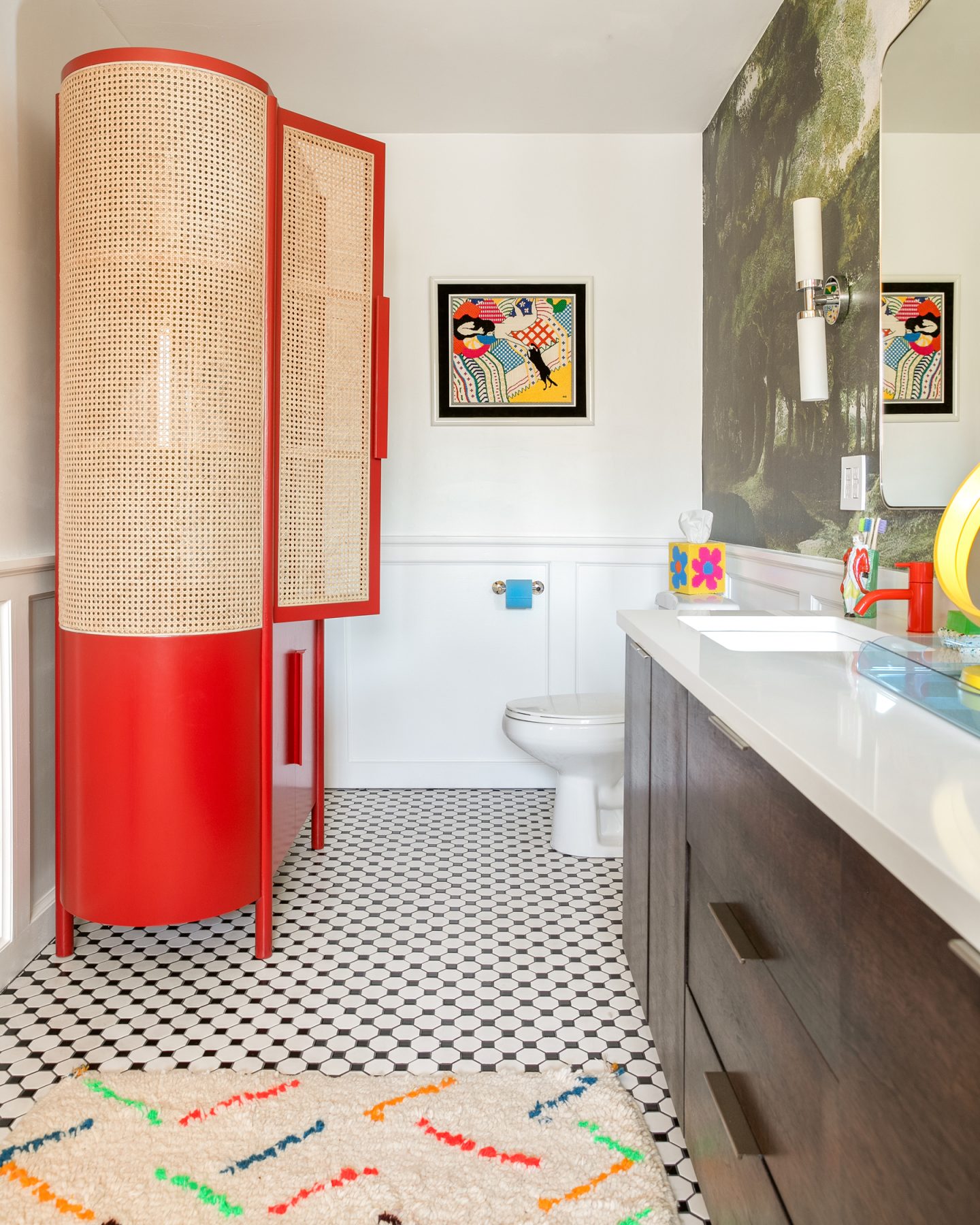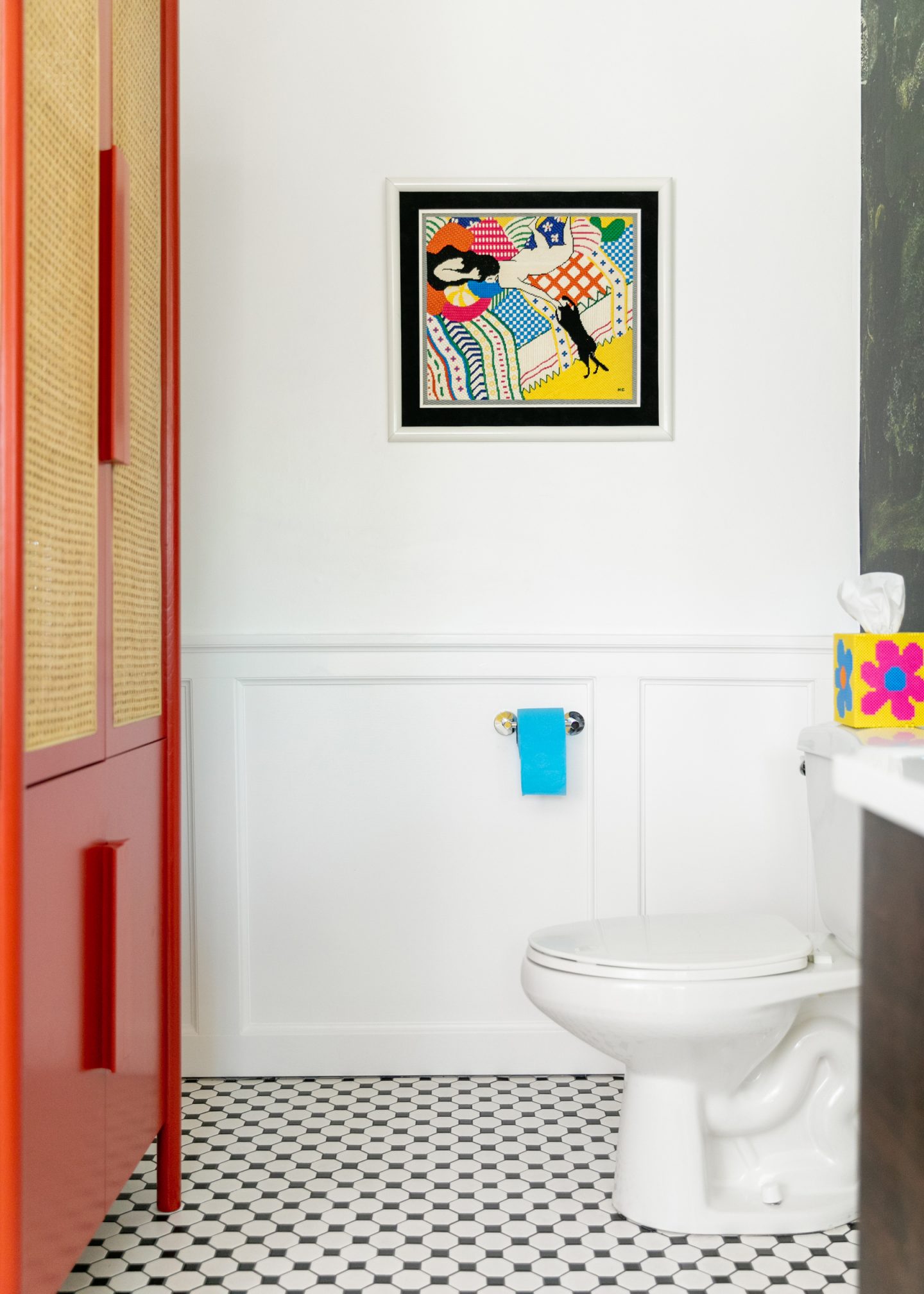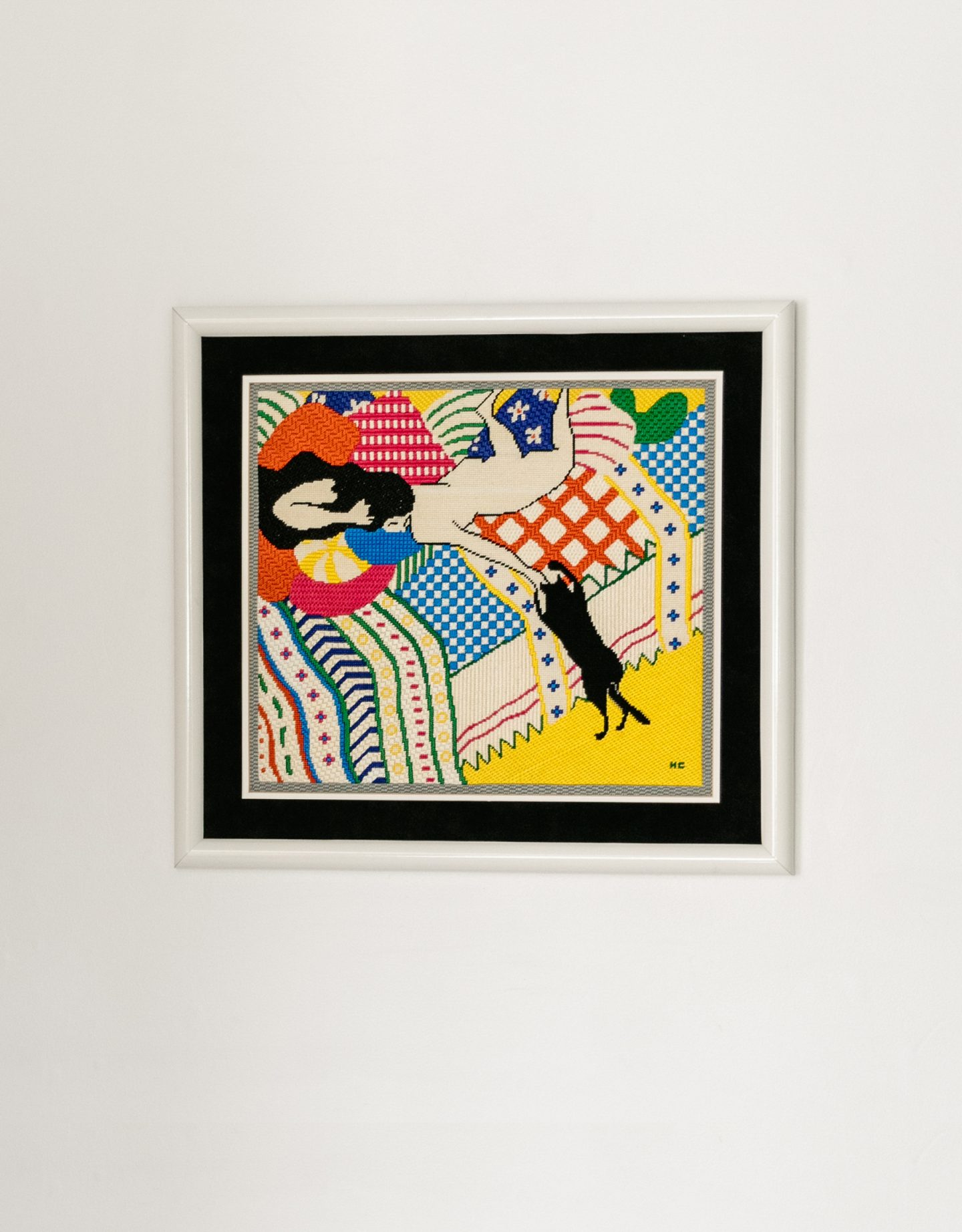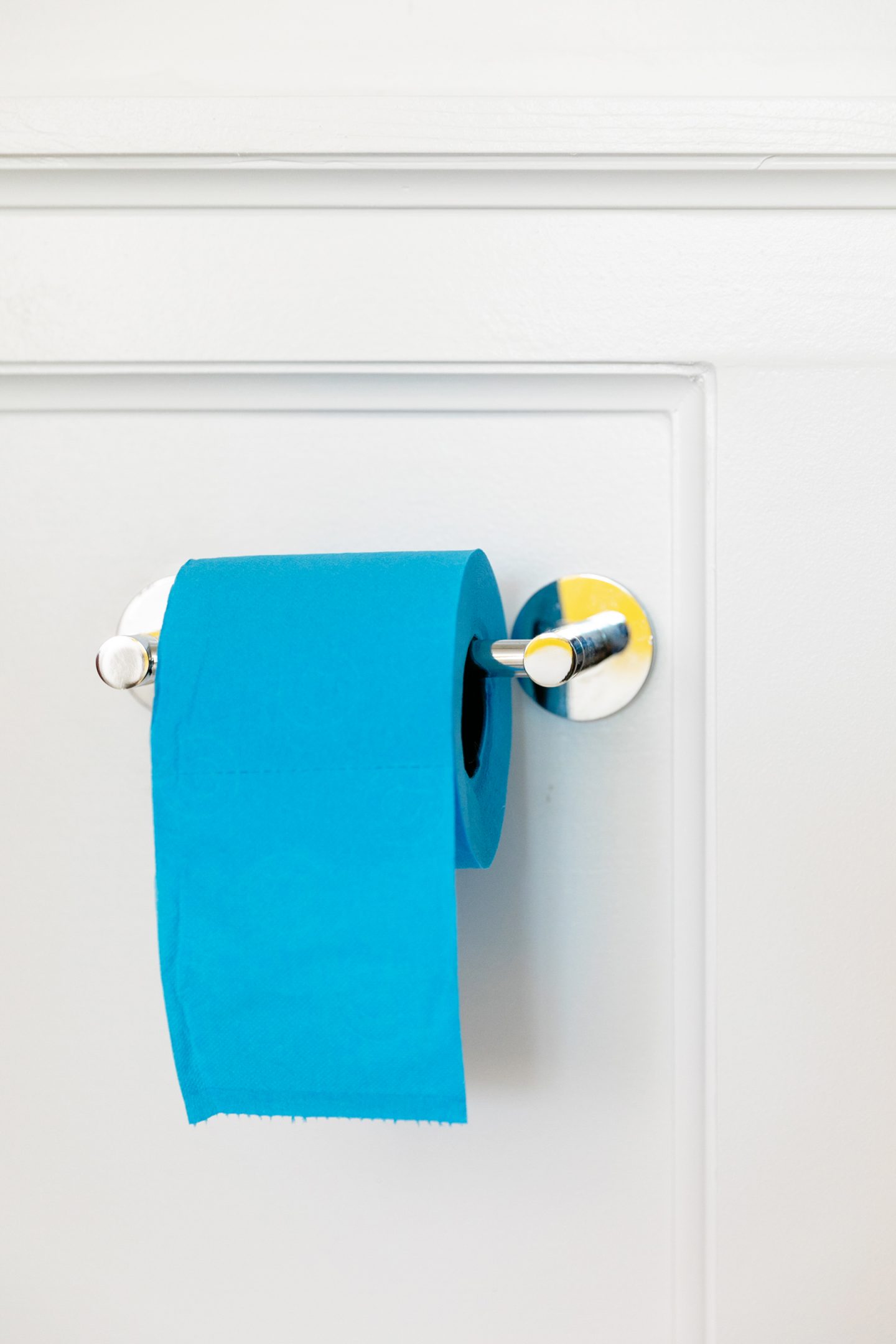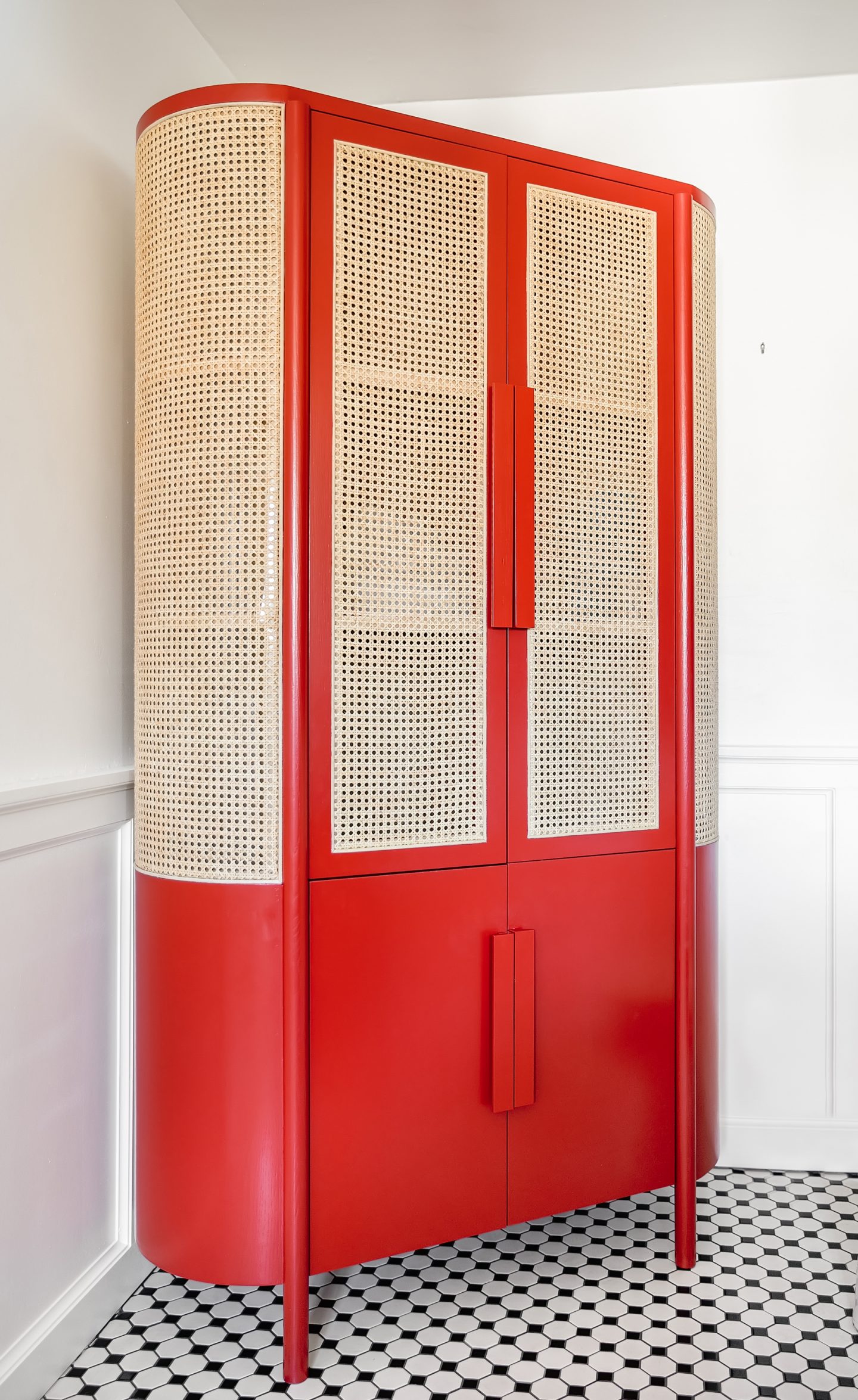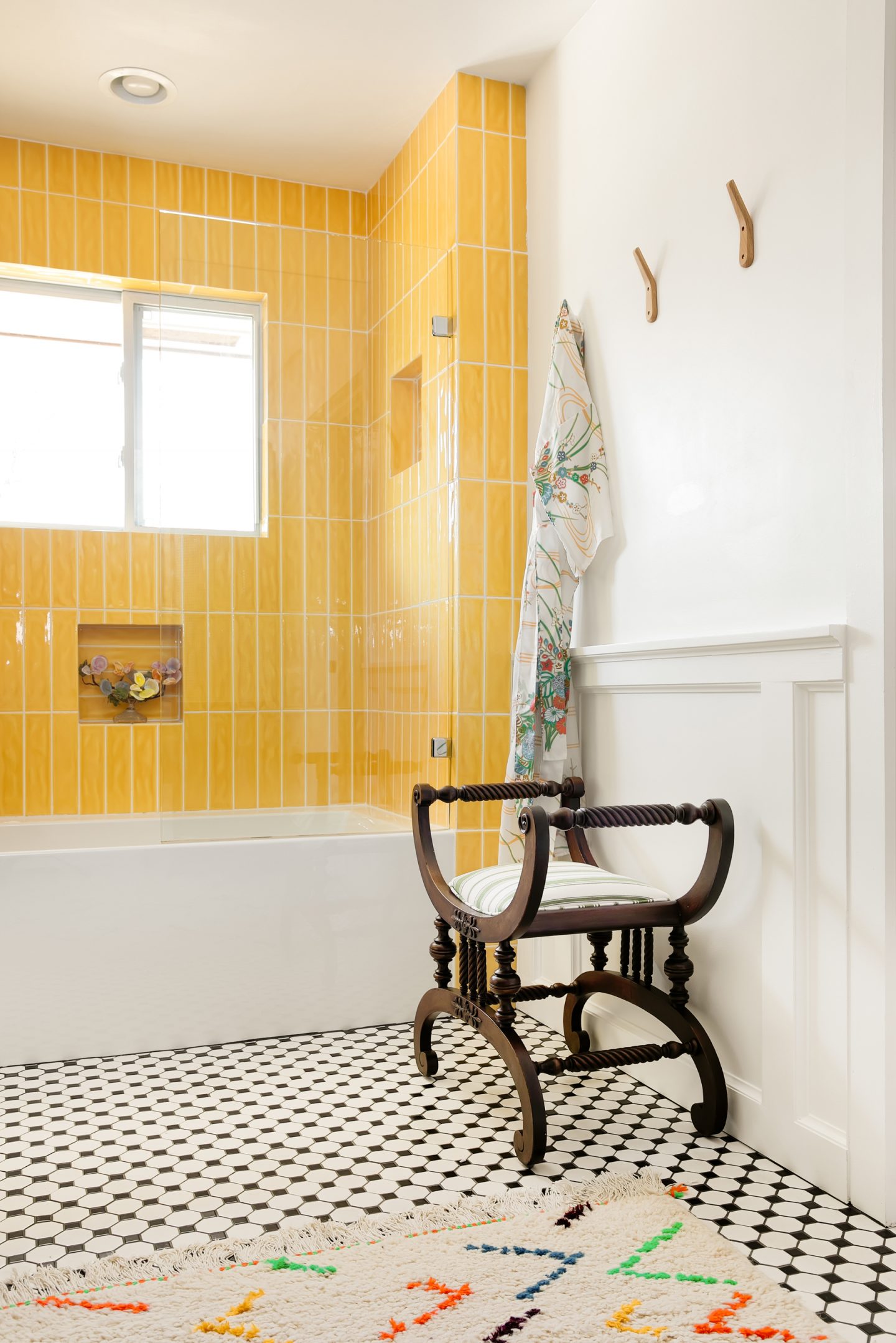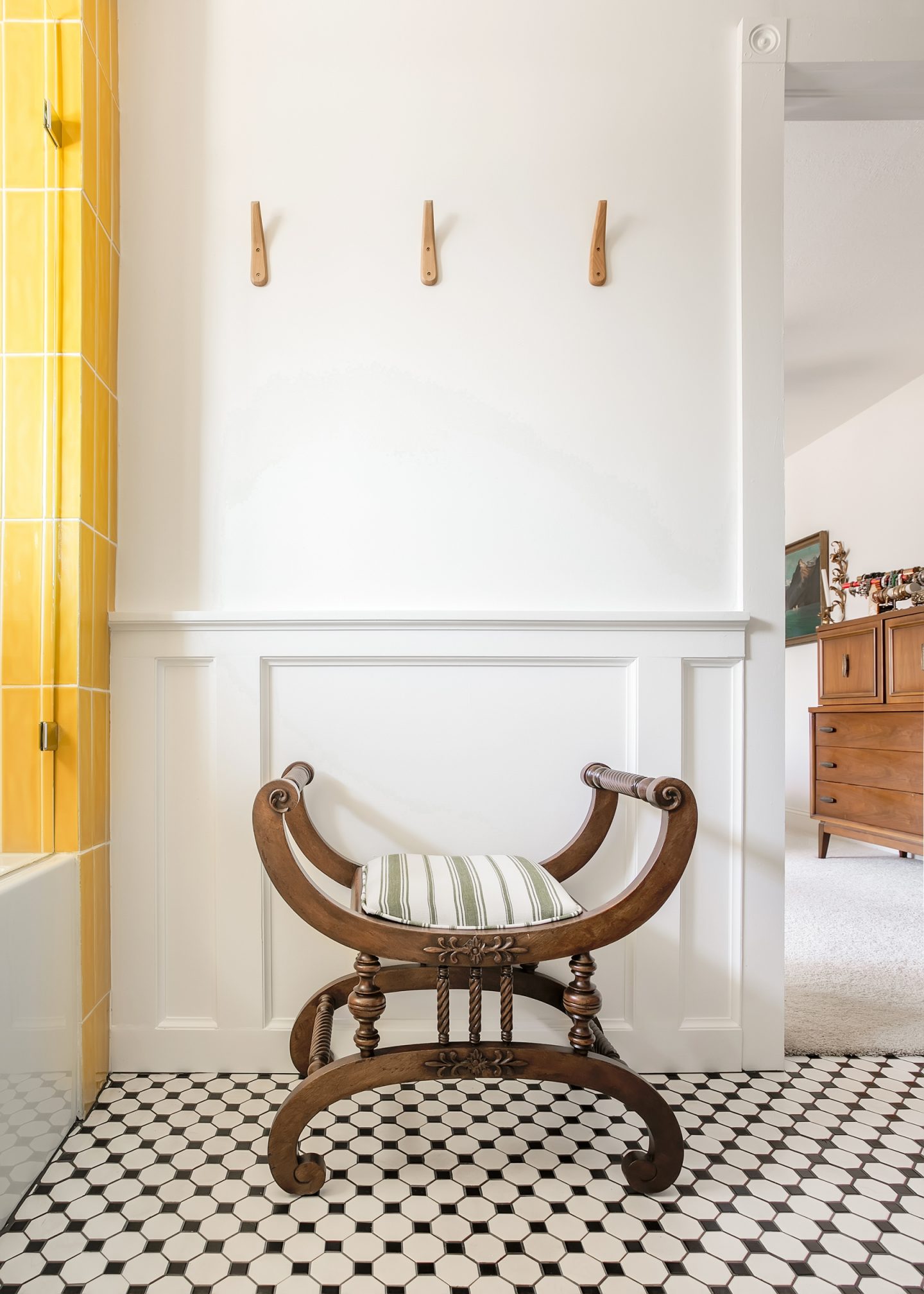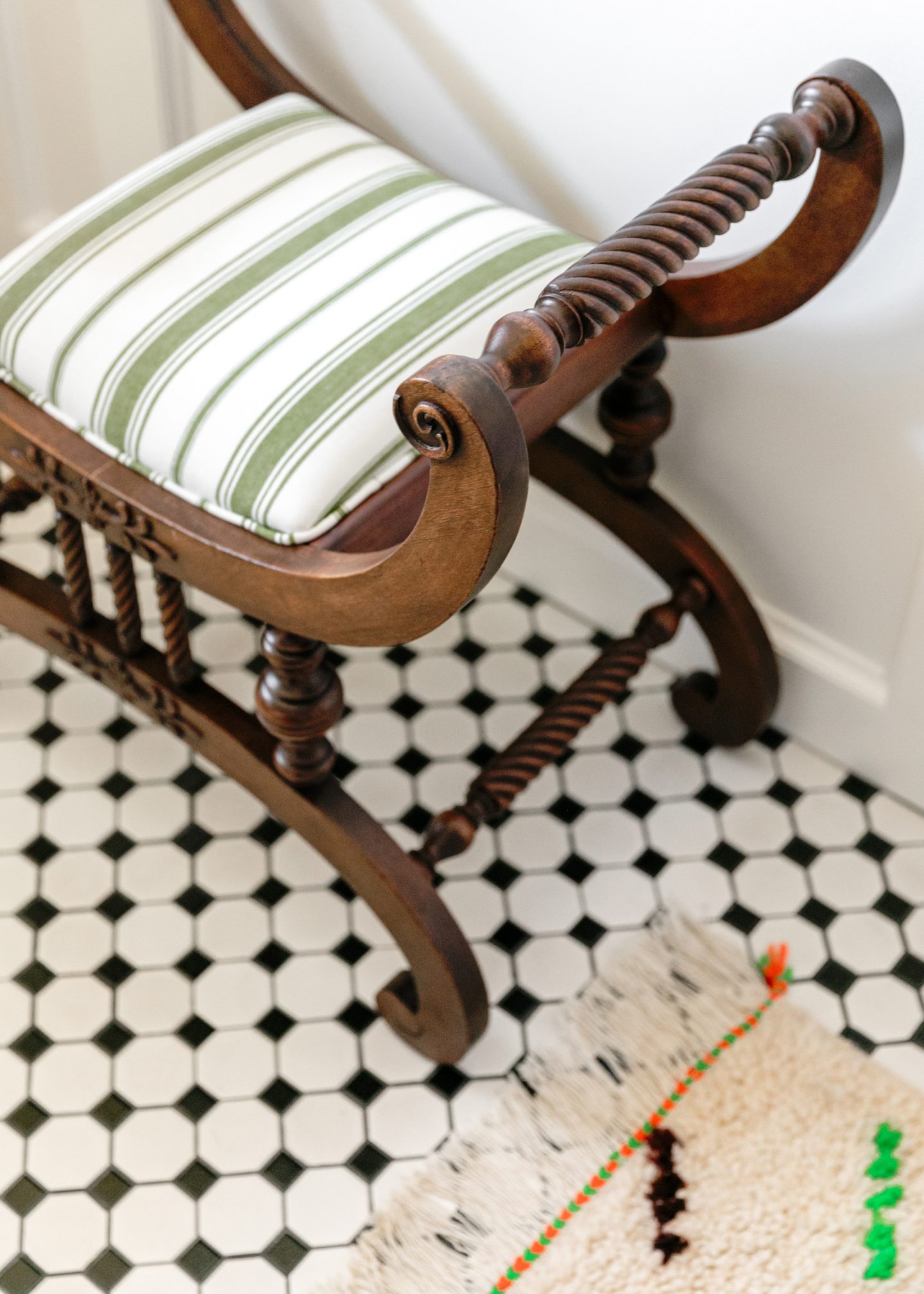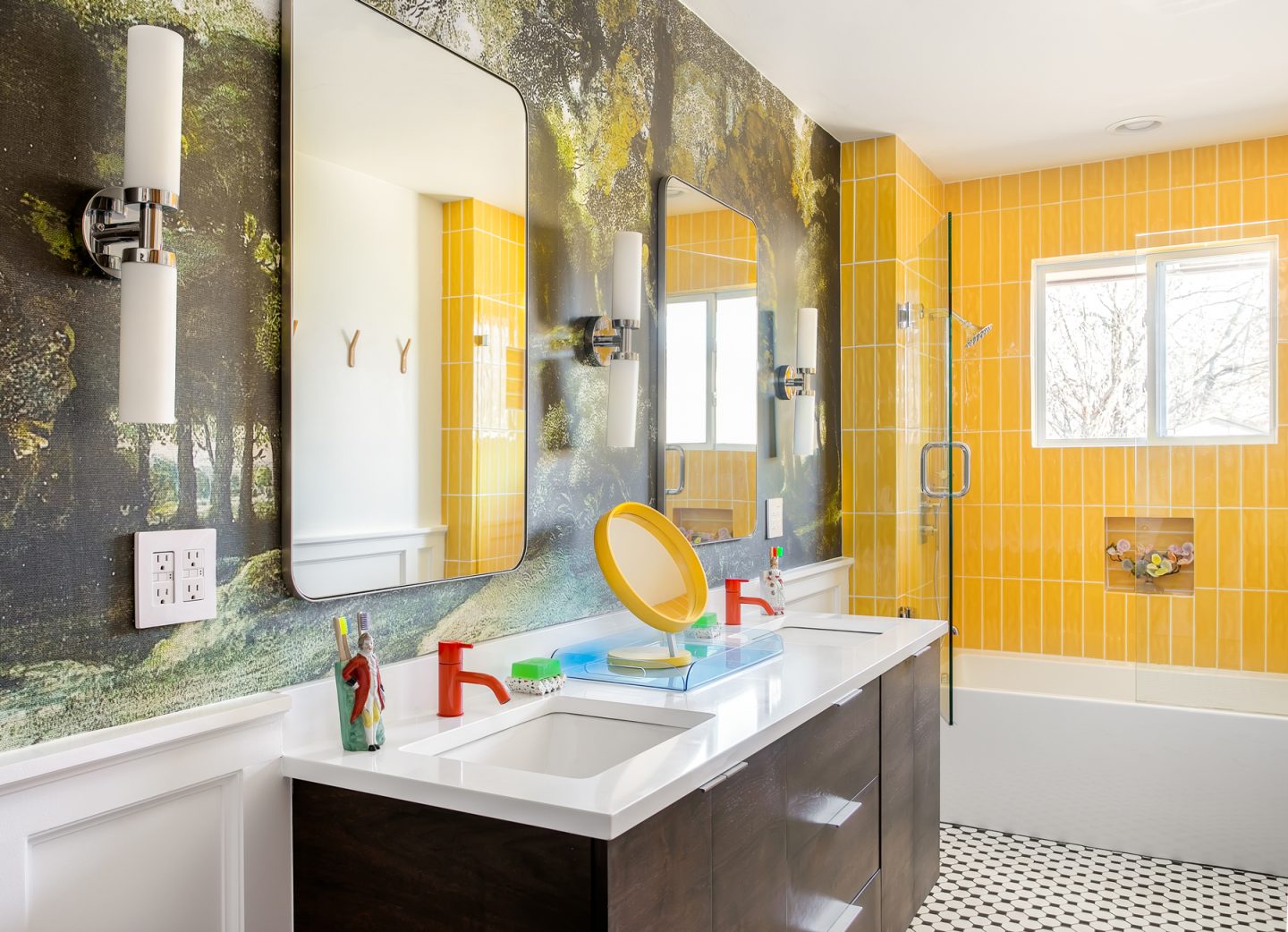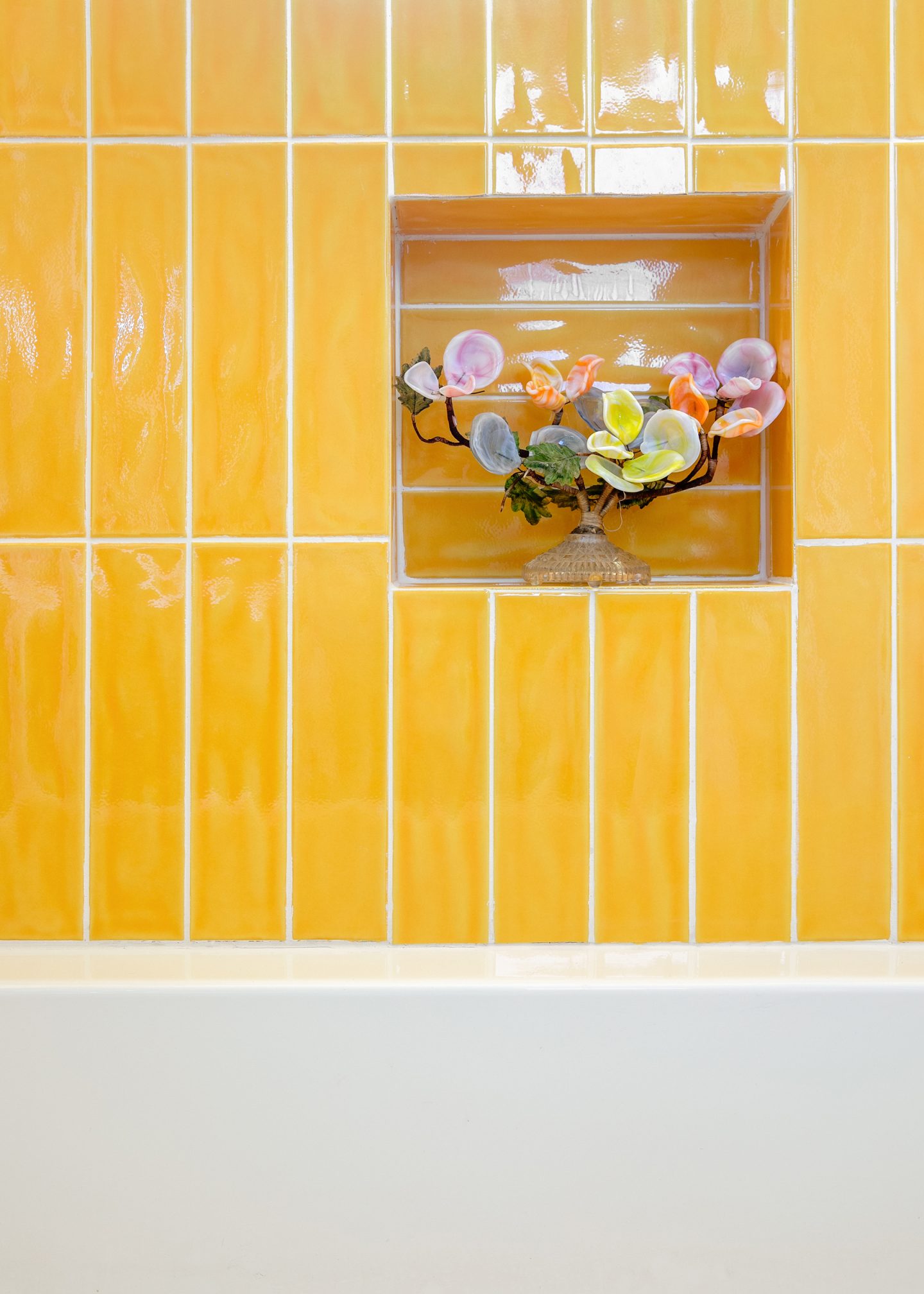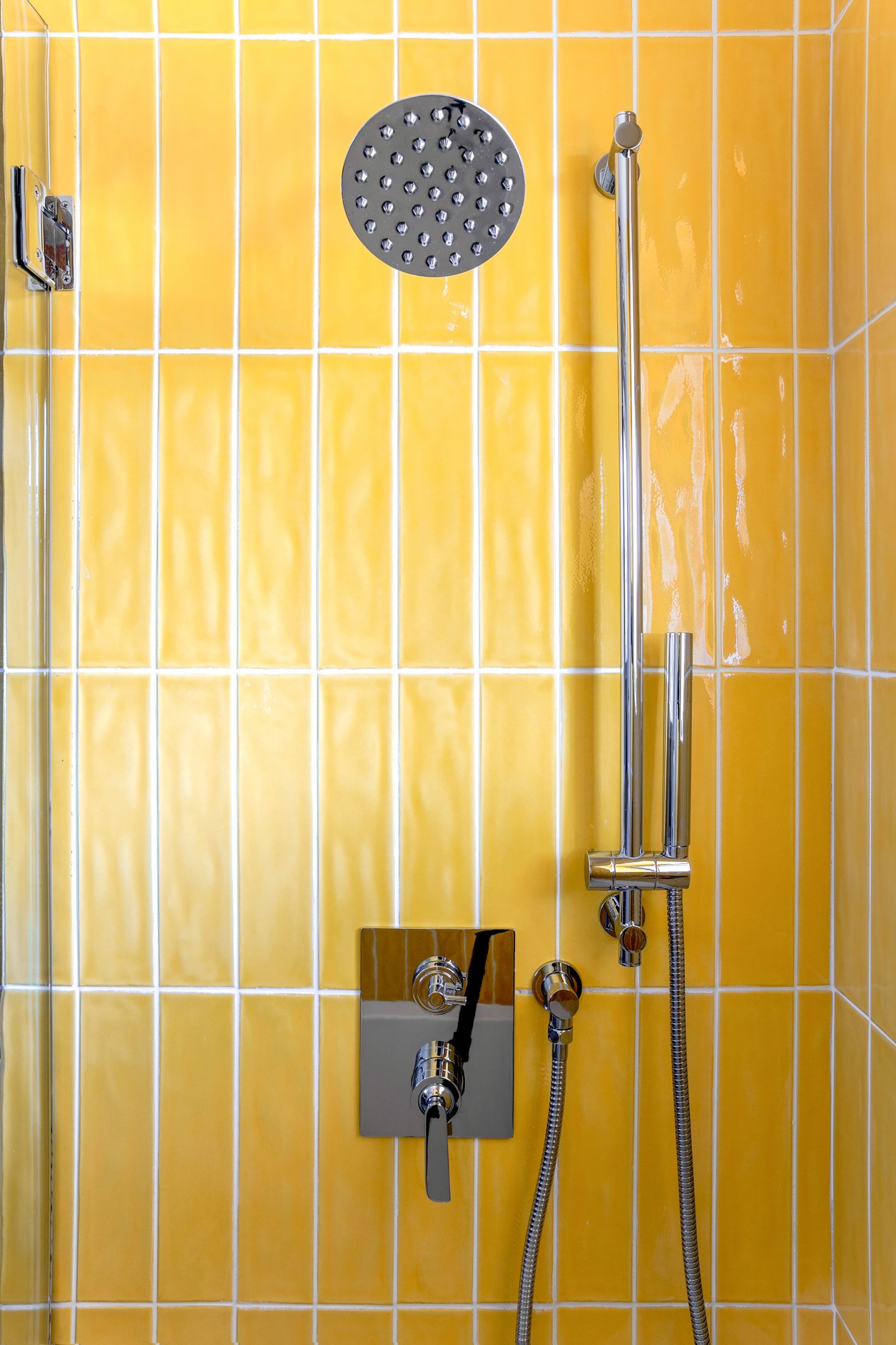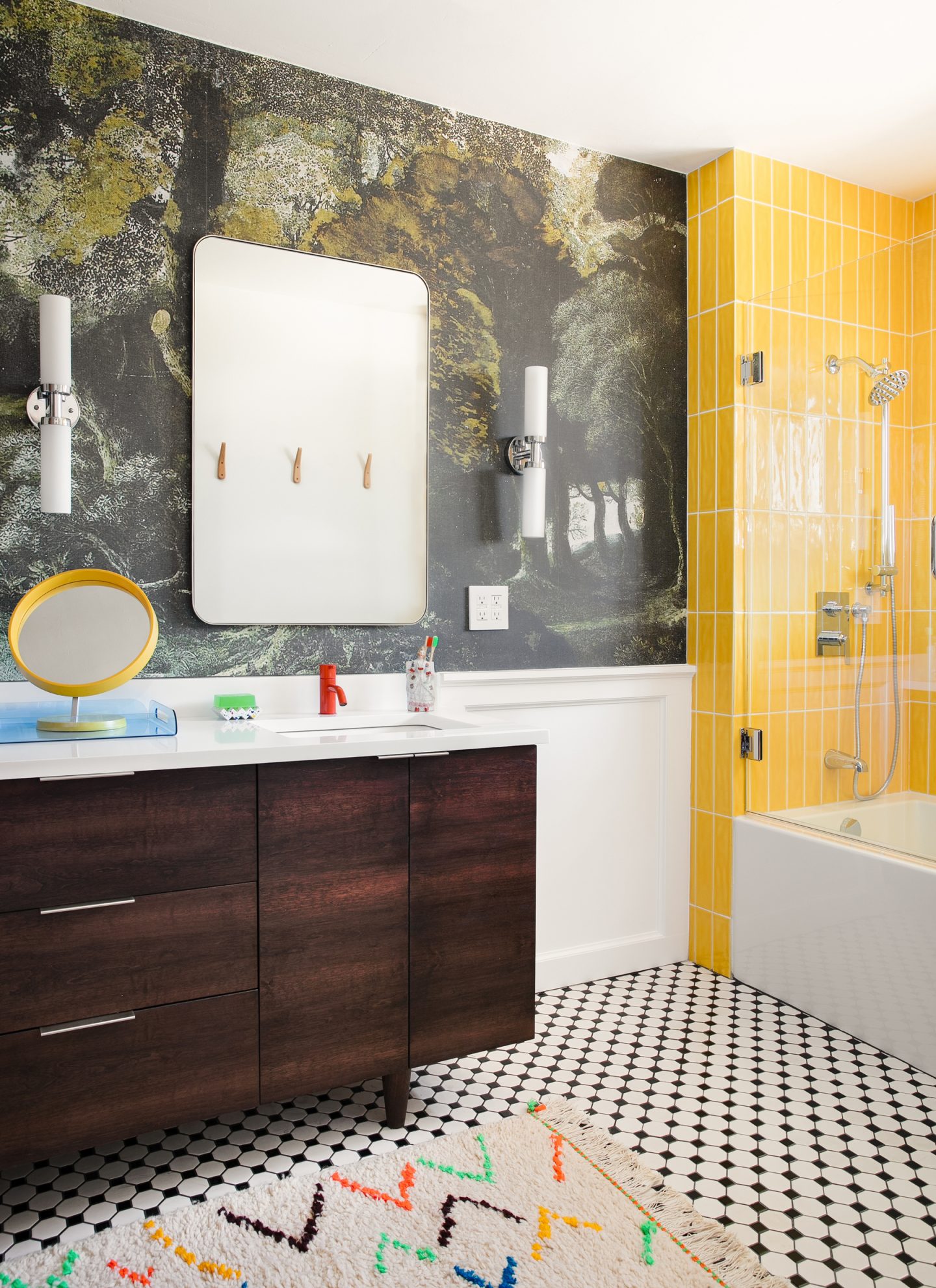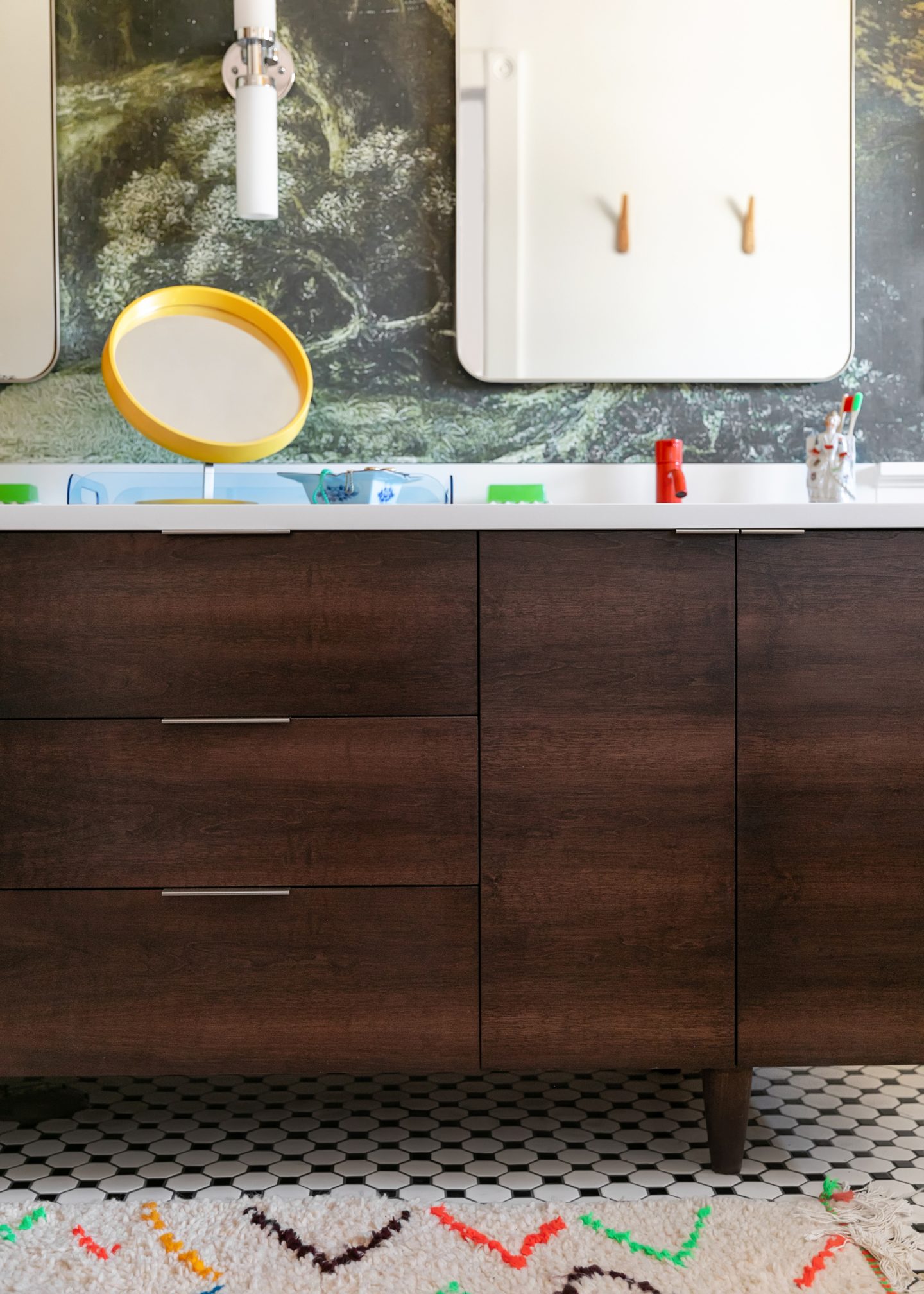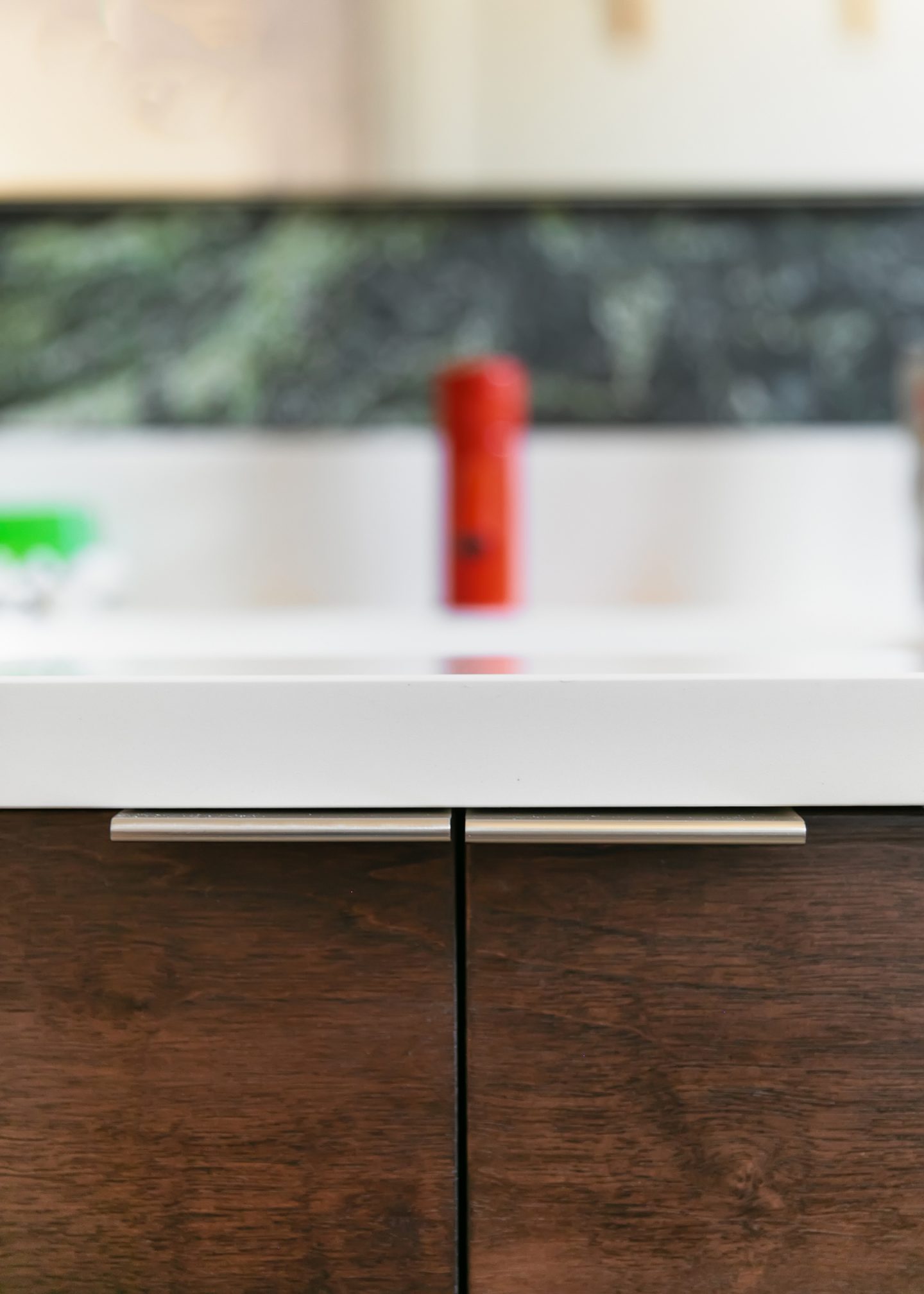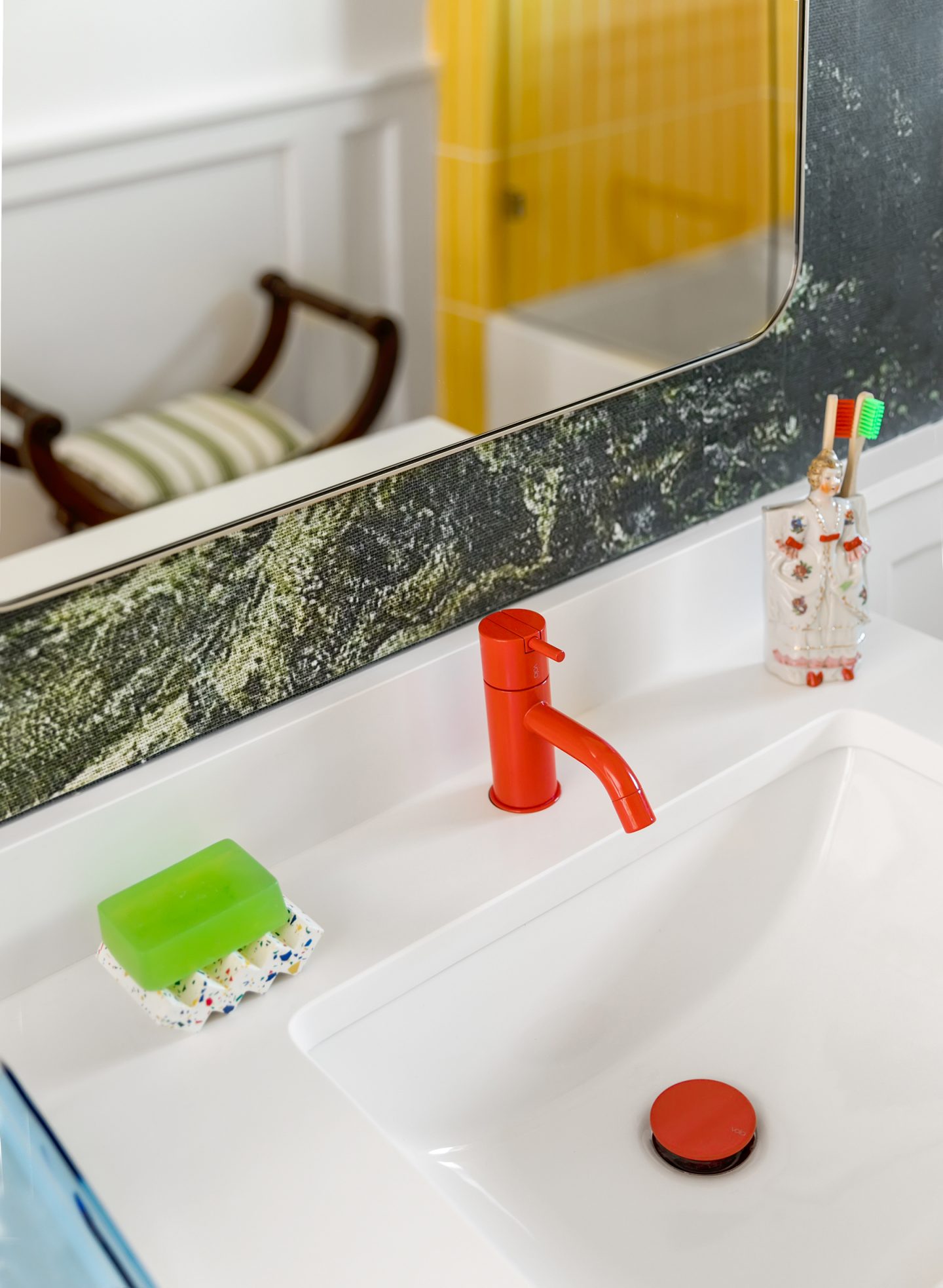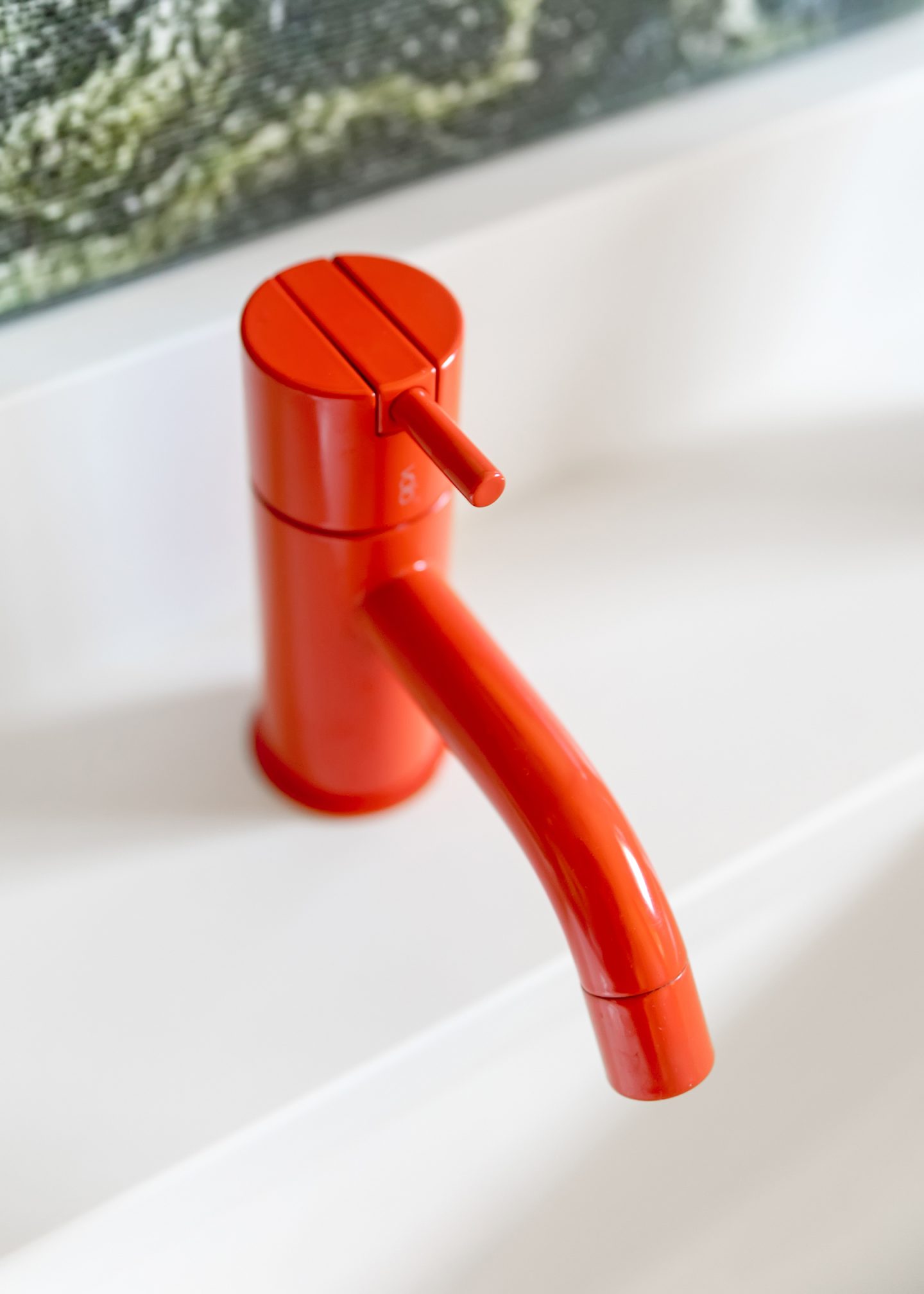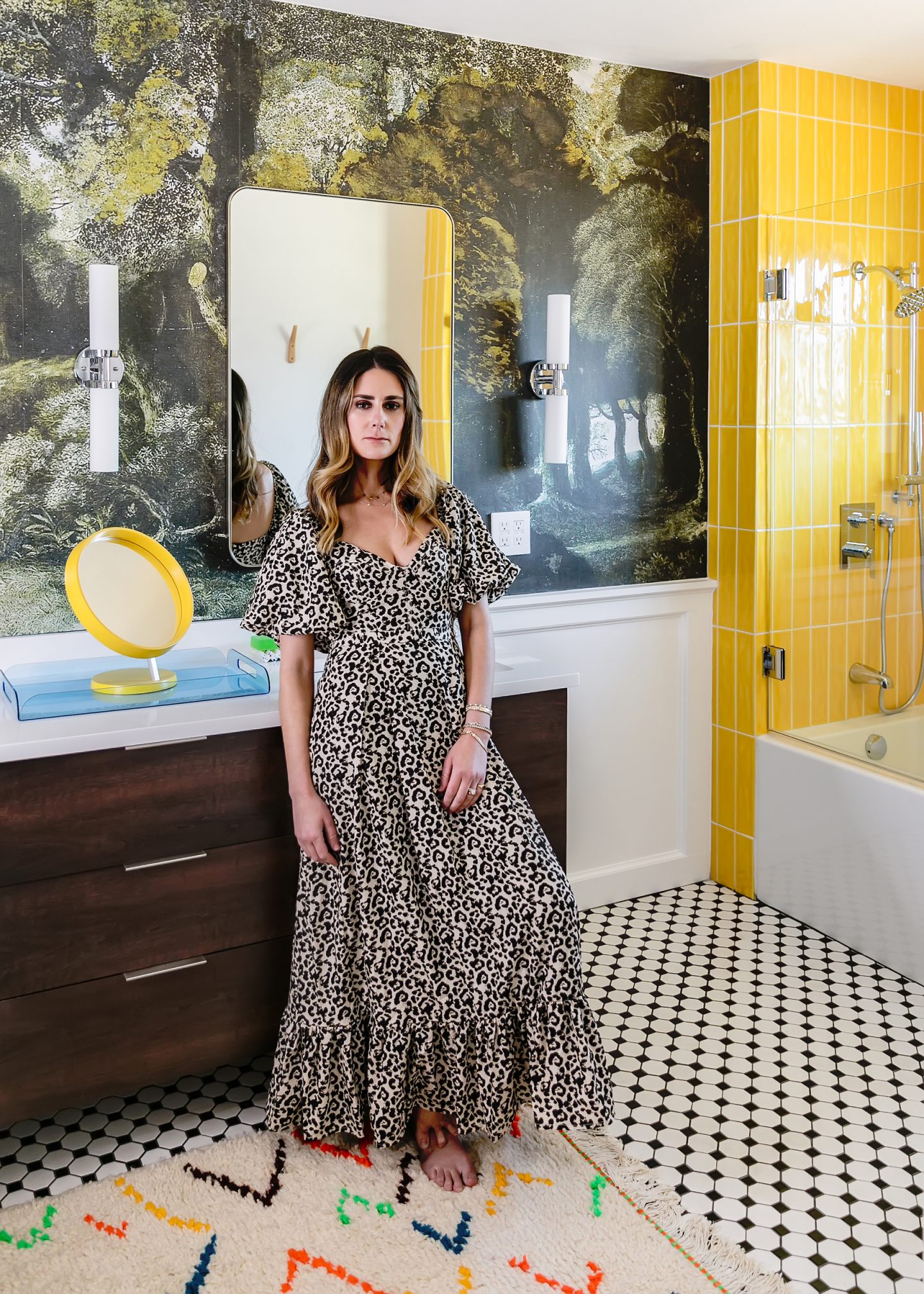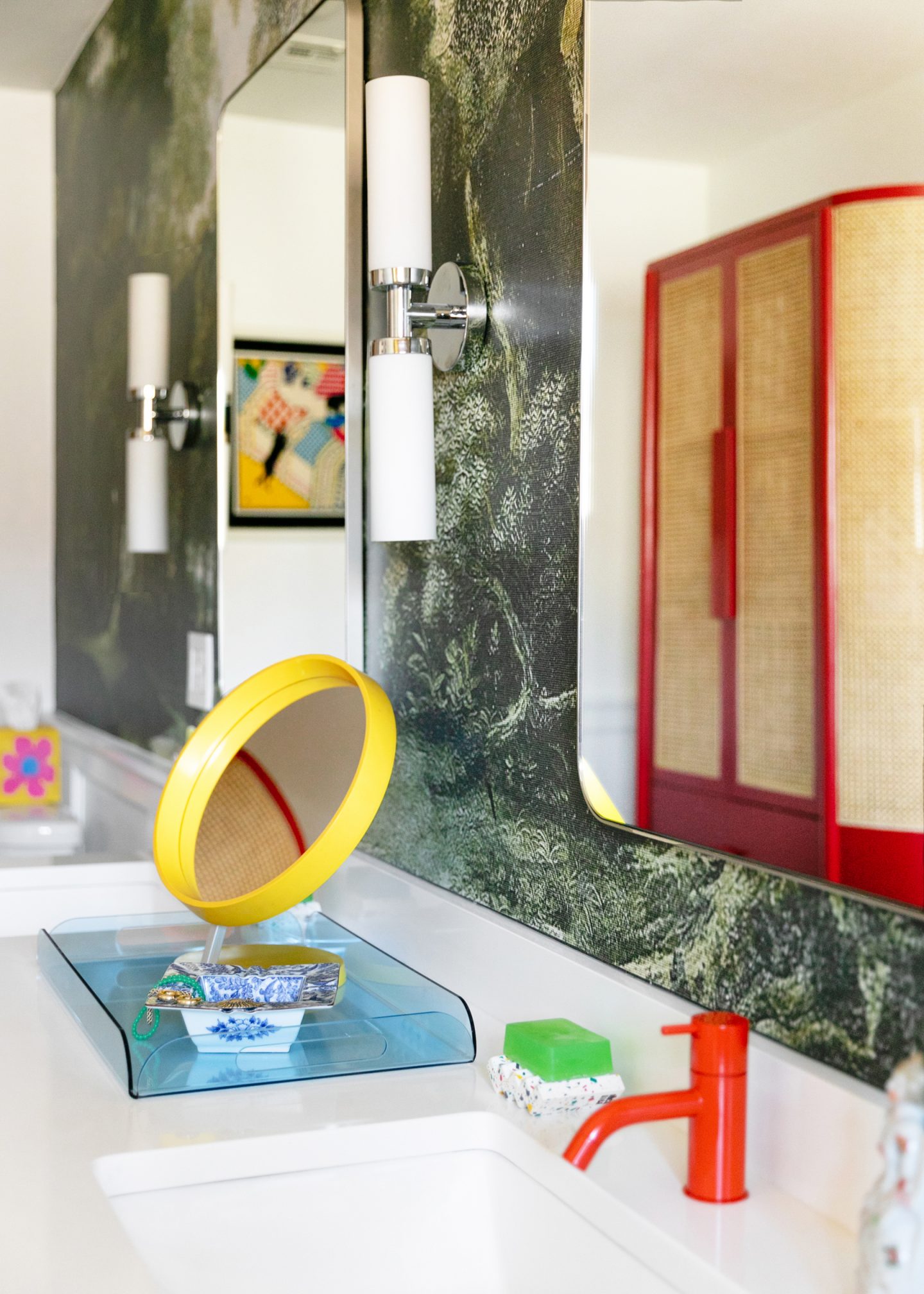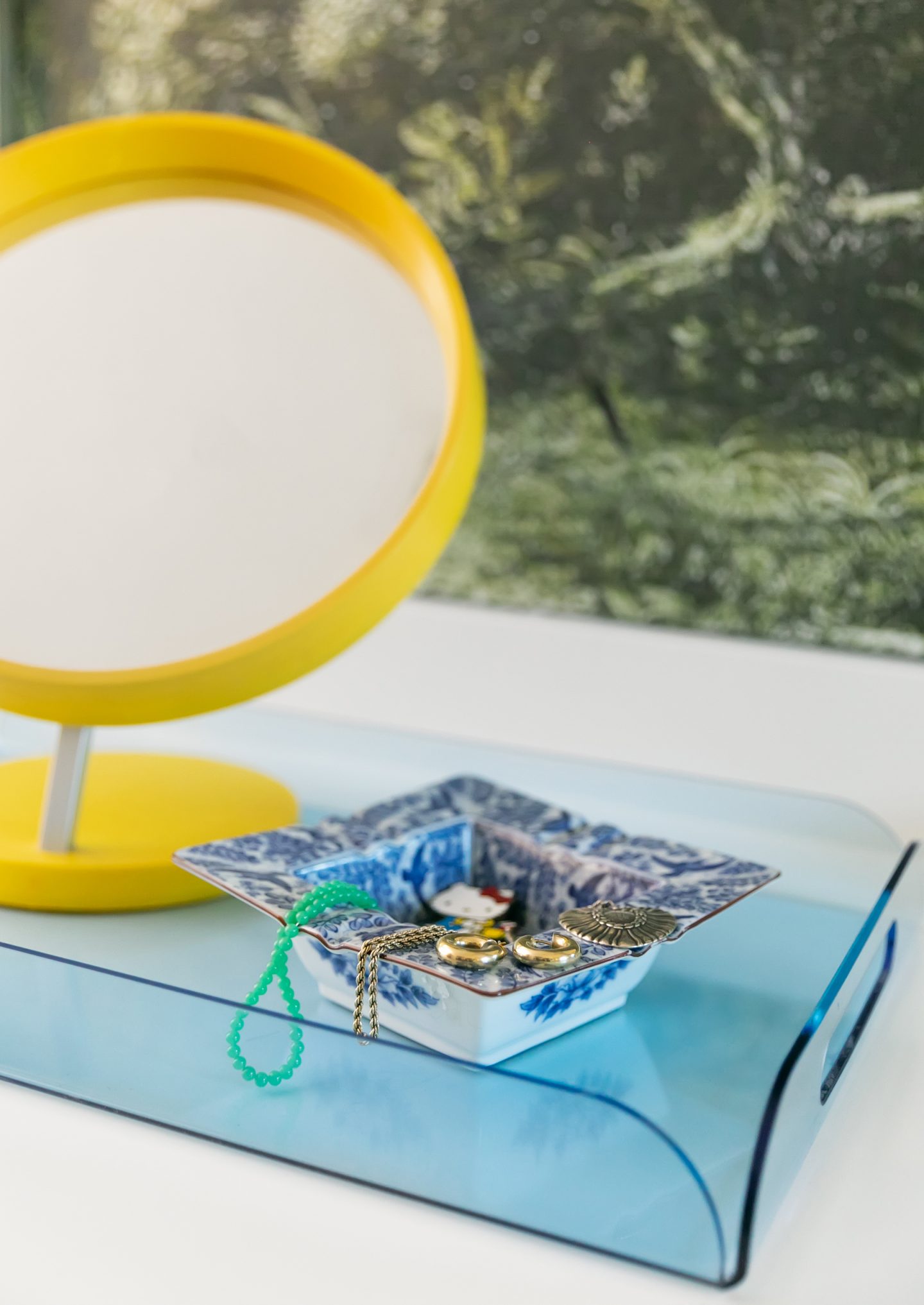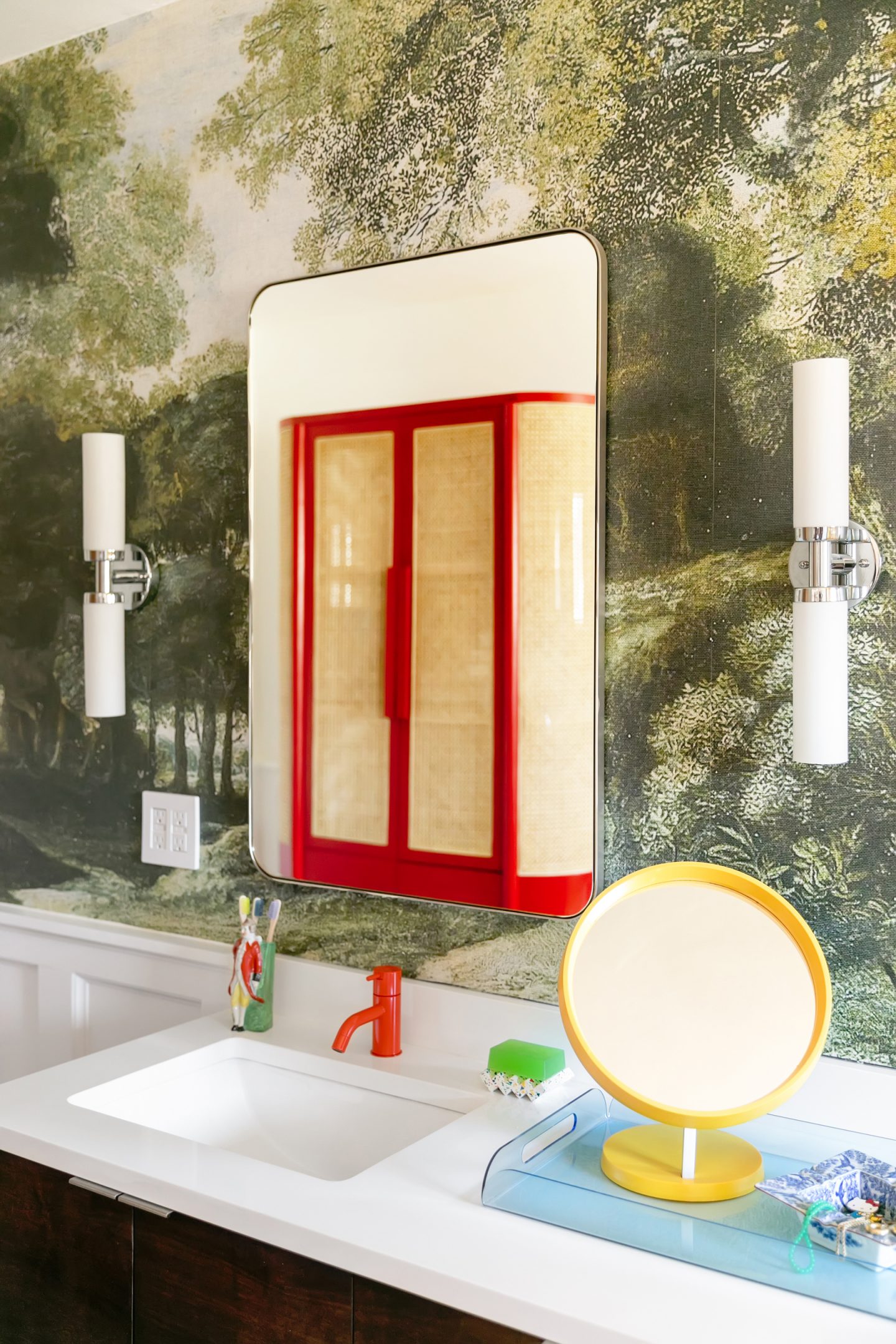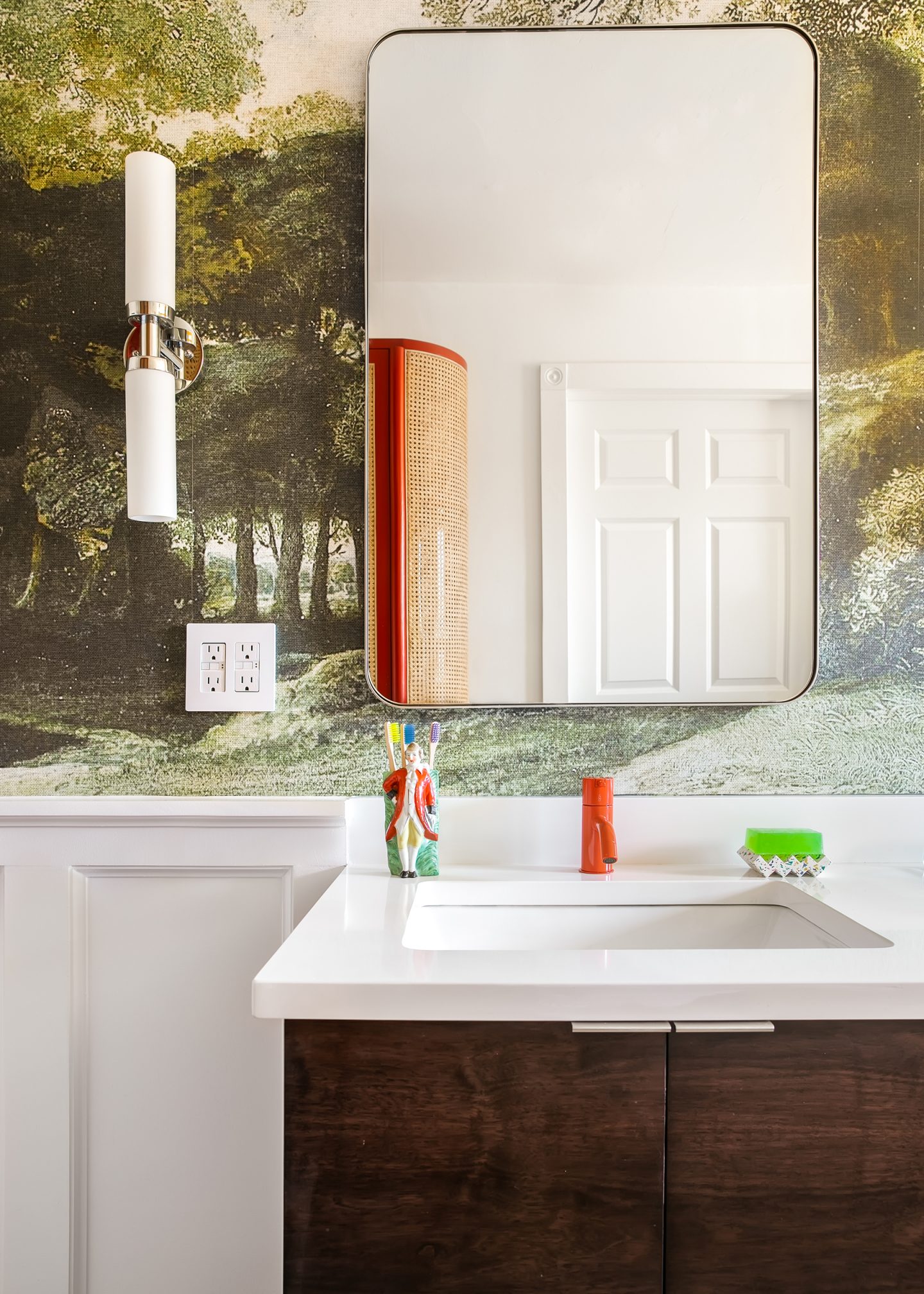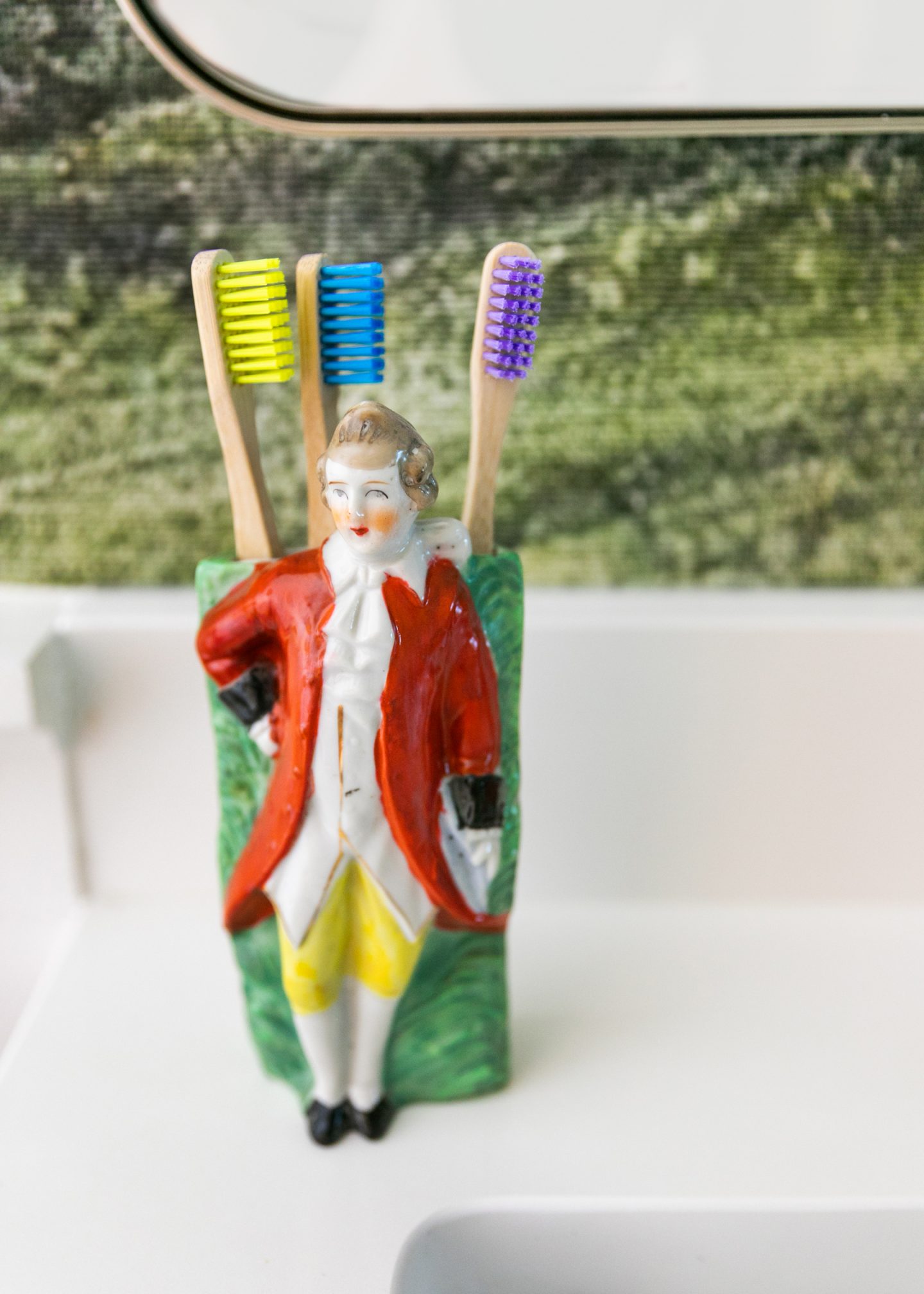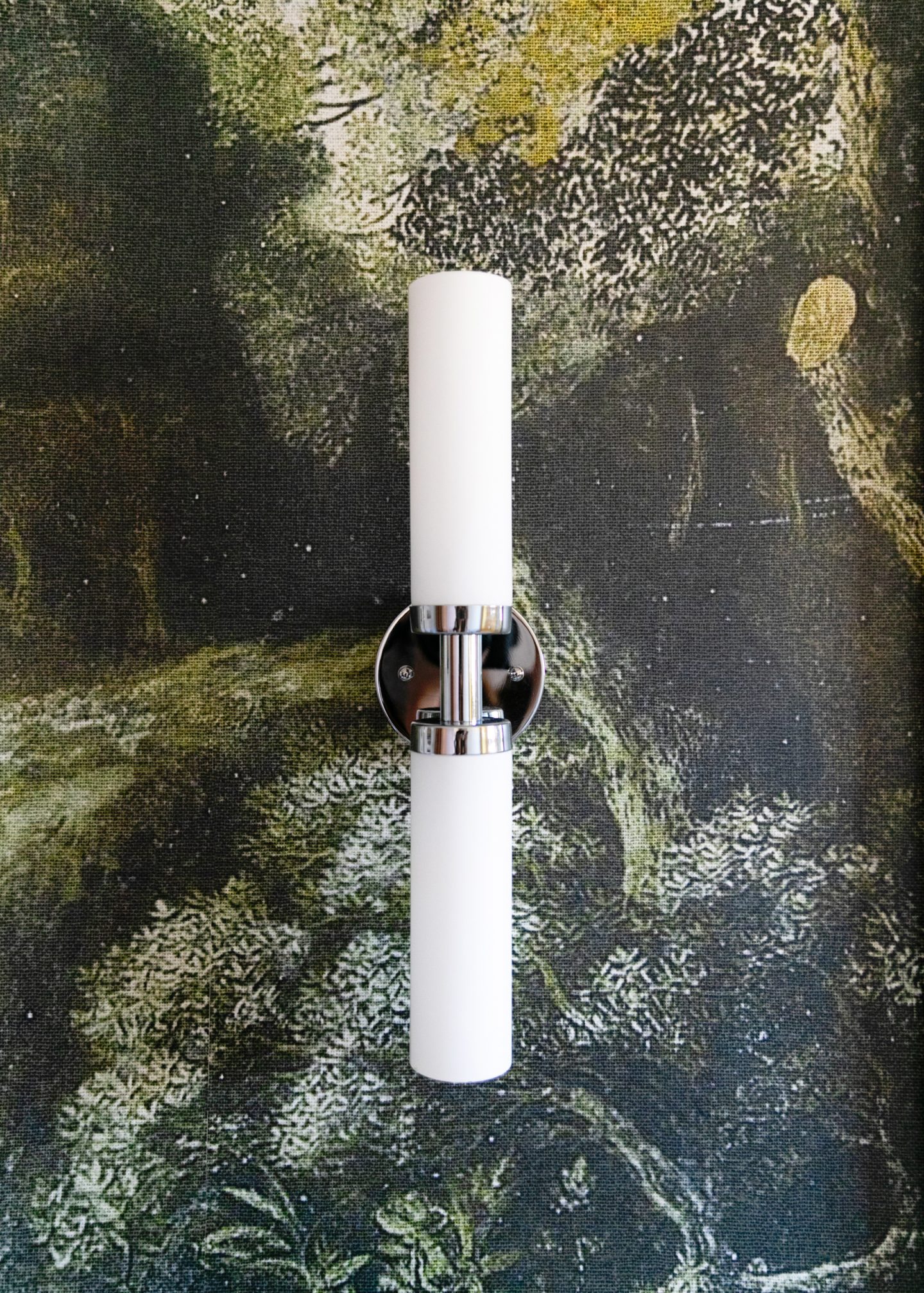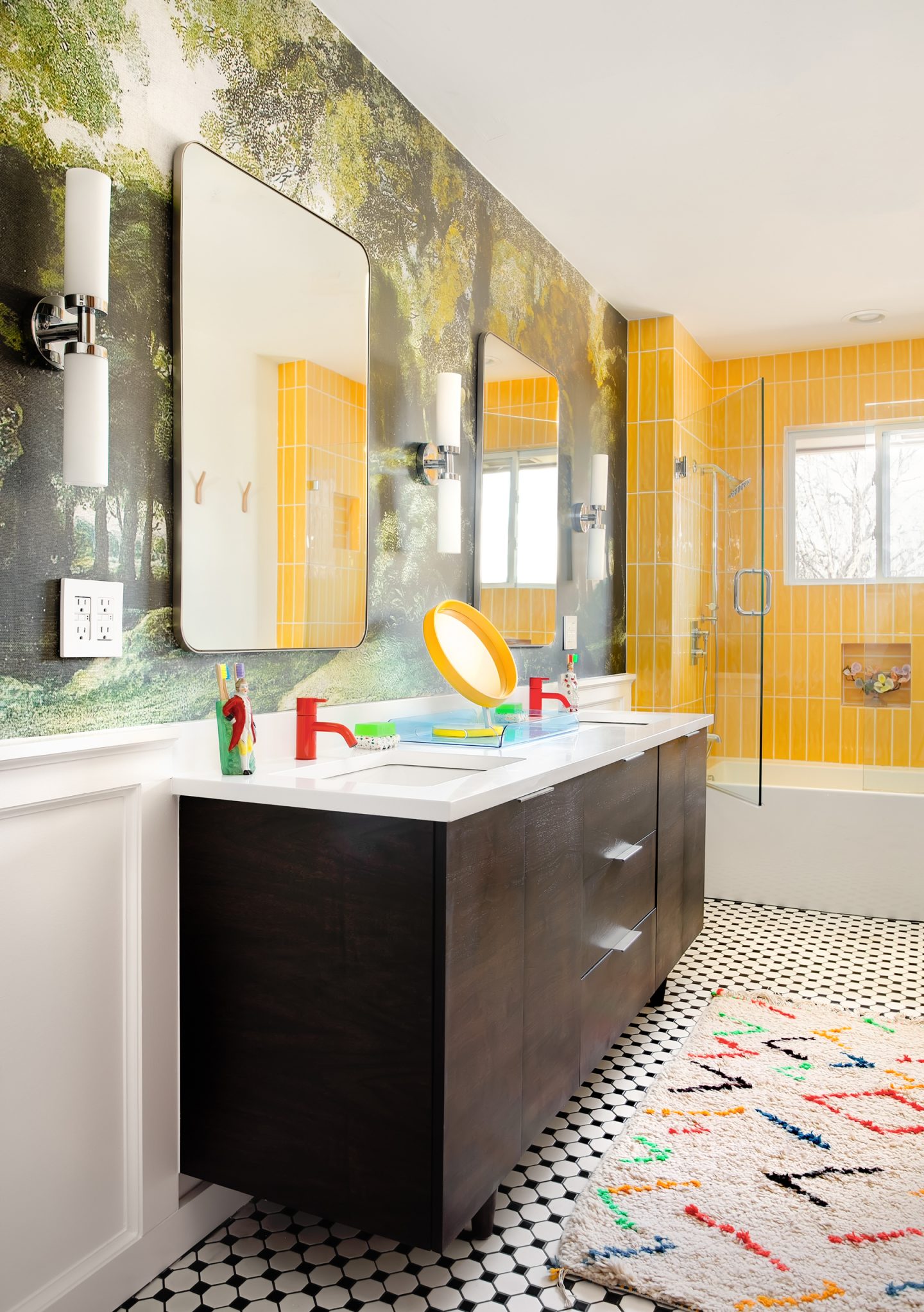 SOURCE LIST
FINISHES
Floor Tile – Tile Bar (similar here) | Shower Tile – Wayfair | Trim Paint, Wall + Ceiling Paint – Fresh Kicks, Clare Paint | Mural – Walls Republic
FIXTURES
Linen Cabinet – Crate & Barrel | Linen Cabinet Paint – Sherwin Williams | Vanity Sconces – Wayfair | Vanity Mirrors – Overstock | Custom Vanity – Graeber Design | Sinks – American Standard | Faucets + Stoppers – Vola | Shower Doors – Binswanger Glass | Tub – Signature Hardware | Tub Spout – Signature Hardware | Showerhead – Signature Hardware |Antique Bench – eBay (similar here)
ACCESSORIES
Wall Hooks – Amazon |Vanity Fabric – Colorloom Fabric | Vanity Pulls – Amazon | Vintage Planters – eBay | Bamboo Toothbrushes – Etsy | Soap Dishes – Etsy | Bar Soap – Etsy | Acrylic Tray- Etsy (similar here) | Vintage Yellow Mirror – eBay | Blue Jewelry Tray – Vintage | Tissue Box Cover – Mengo Fruit | Toilet Paper Holder – Wayfair | Blue Toilet Paper – Amazon | Berber Rug – Berber Moroccan Rugs
LABOR
Wallpaper Hanging – Crosswhite Wallpaper Hanging | Linen Cabinet Paint + Refinishing – Restoration Station | Vintage Seat Upholstery – Restoration Station | Contractor – All Hands Construction
Thank you, again, for following along on this renovation journey with me! For more interior inspiration, be sure to check out the final reveals of the other guest participants in the One Room Challenge!
Photography by the talented Emily Hart Photography
A special thank you to Walls Republic, Graeber Design, and Clare Paint for making this beautiful bathroom a possibility.
Thank you, also, to the One Room Challenge and Better Homes & Gardens for hosting this inspiring challenge!
And lastly, a huge thank you to Jennifer Hunter of Jennifer Hunter Design for guiding me through the design process, and without whom this bathroom would not be complete!