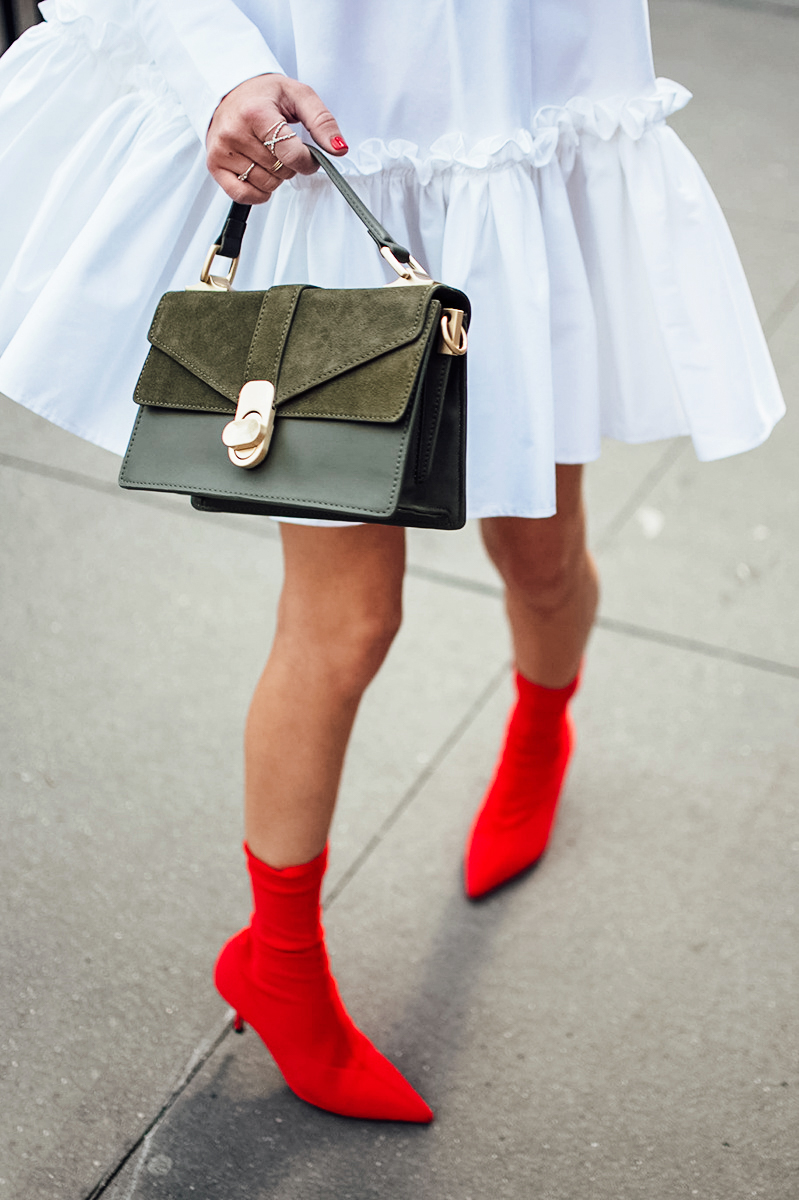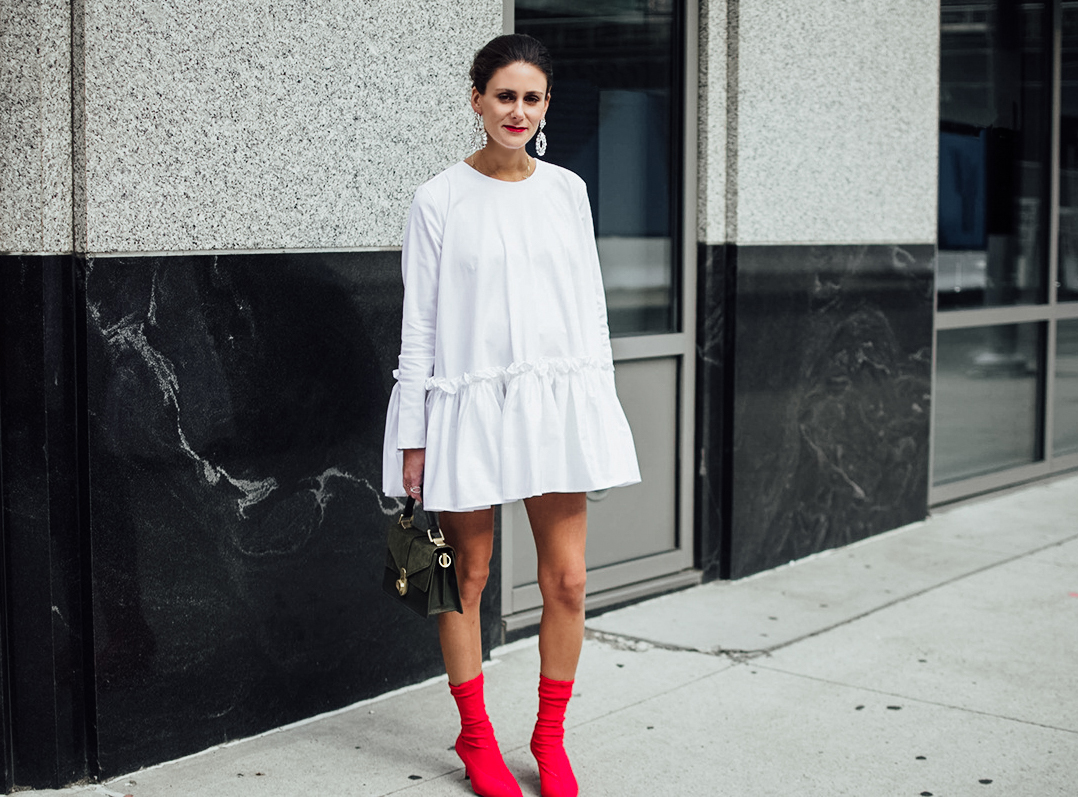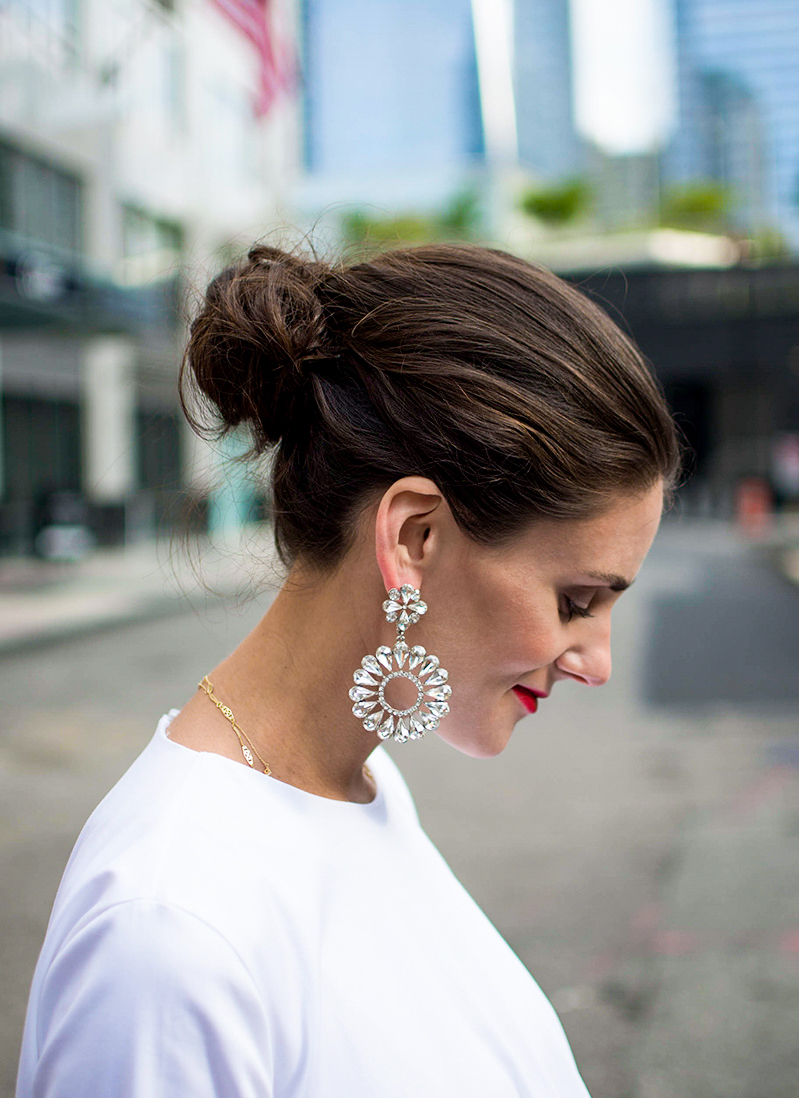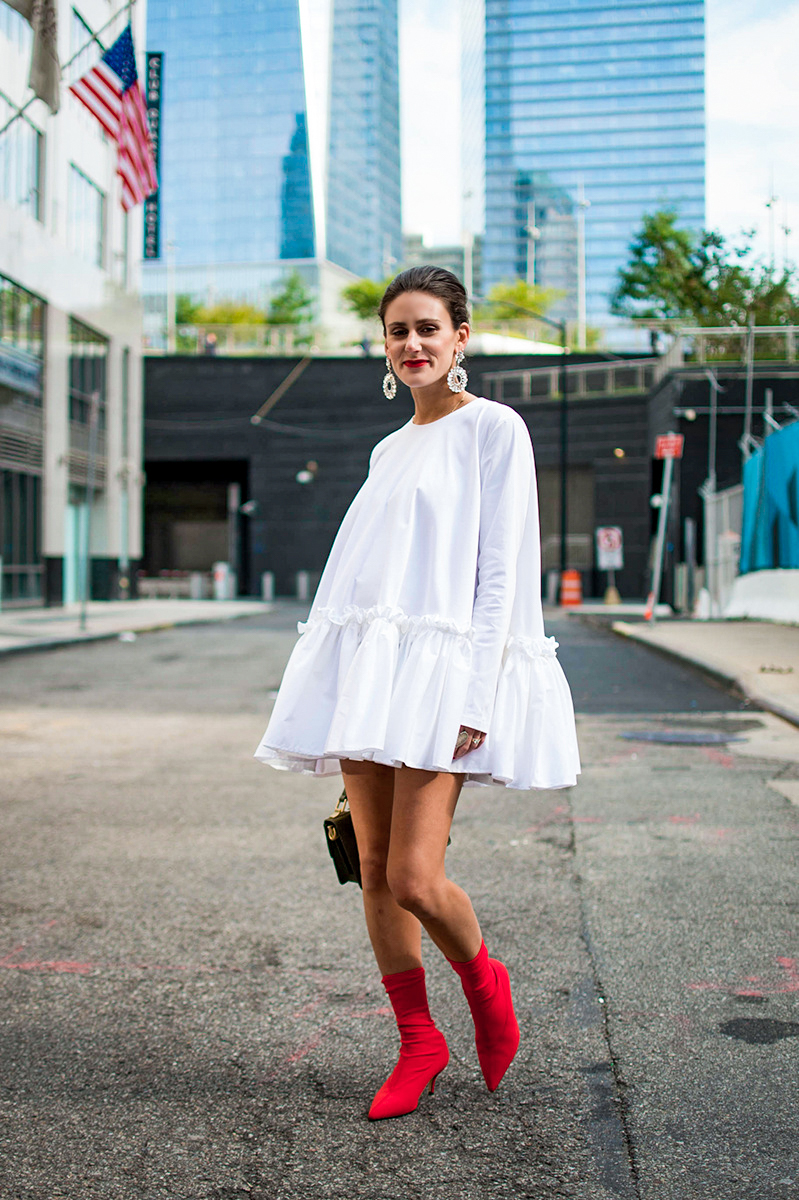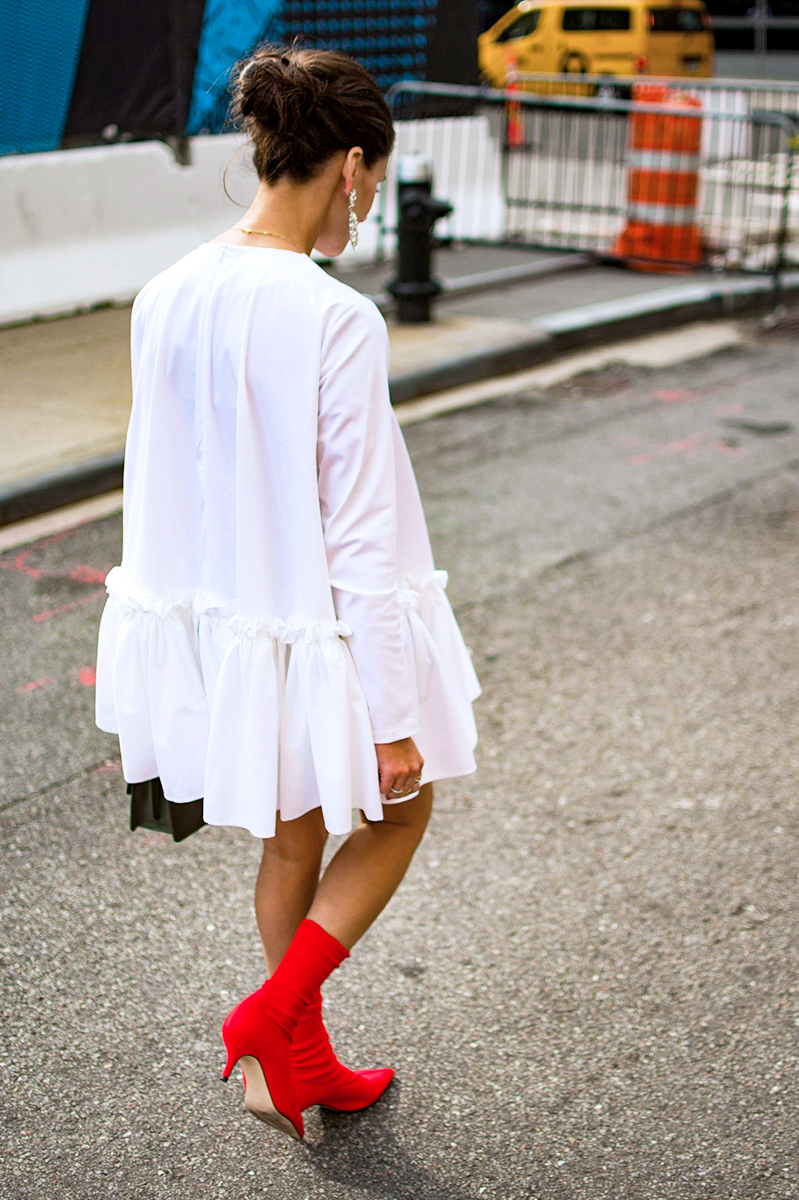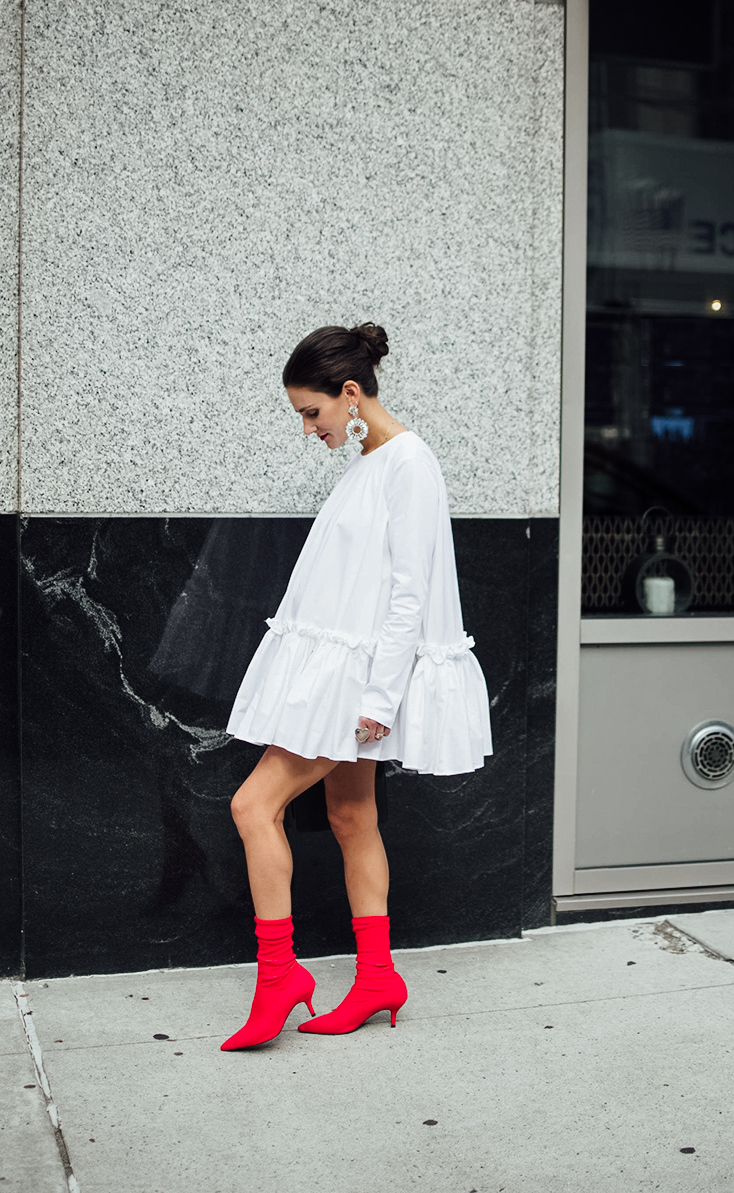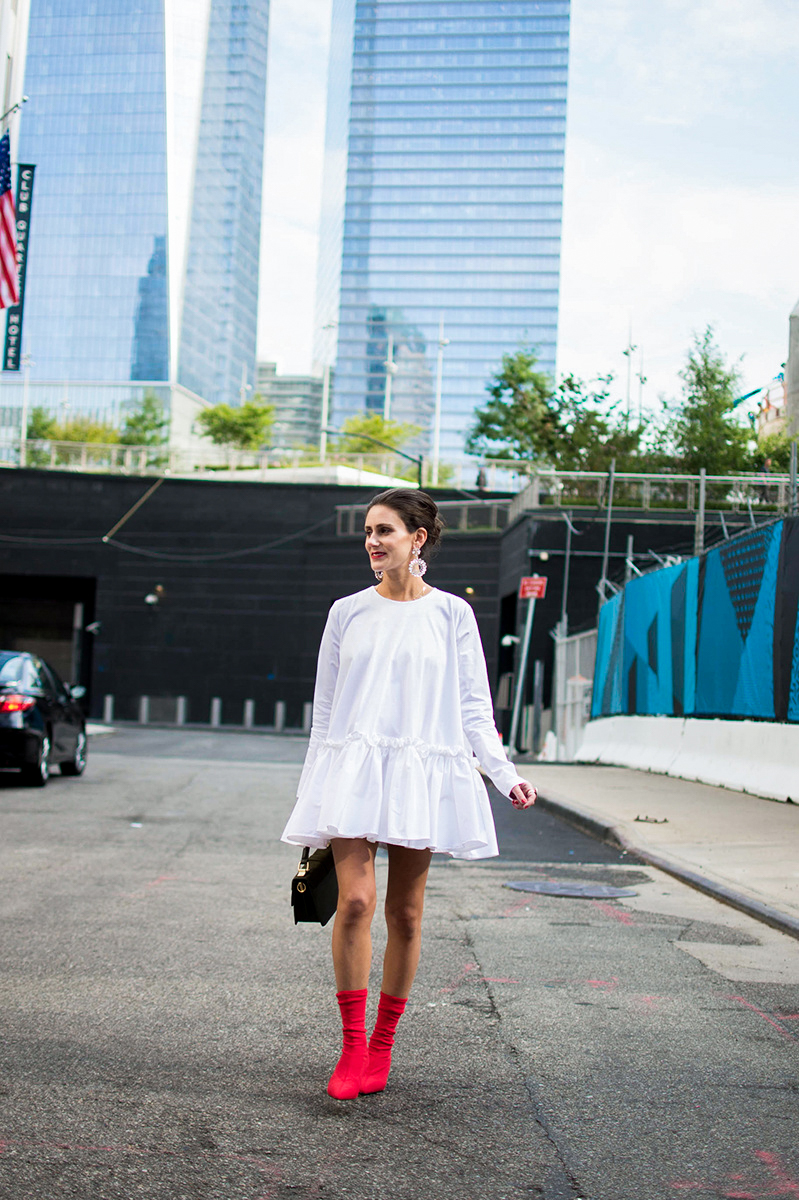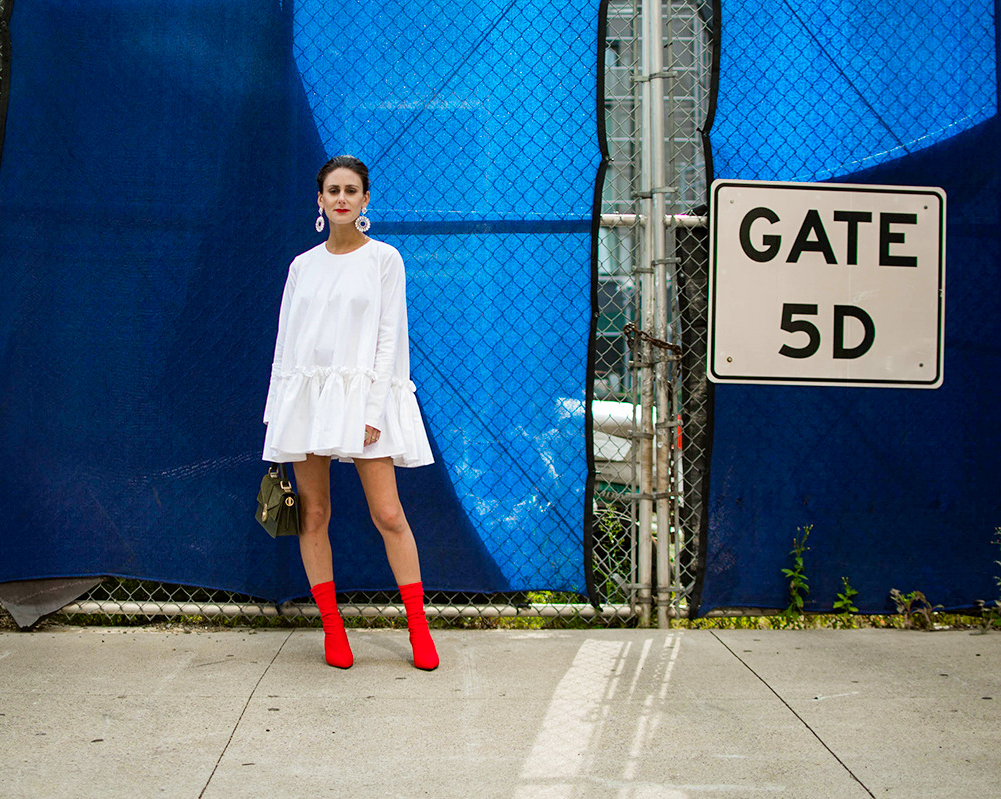 Outfit photos by Ashley Loyer Photography
– OUTFIT DETAILS –
ASOS White Trapeze Dress (Olive version here) // Red Sock Booties (sold out- replica here and here; Yellow version here)) // Suede Satchel // Earrings – vintage // BEST Matte Red Lipstick (color: Light My Fire)
---
– NYFW, Day 5 –
* You can check out my other NYFW posts here: Day 1 Recap // Day 2 Recap // Day 3 Recap
The Outfit
It all started with the shoes. I discovered these red sock booties at Zara a few months before I even started thinking about my outfits and knew I had to wear them to NYFW. I remember texting Lauren, asking her if she thought I was crazy for buying booties in June. She said no. 😉 Next, I found this incredible ASOS white trapeze tunic top – it was so voluminous, to the point of being sculptural- to me, it felt more like a work of art than a piece of clothing. I knew it had to be mine! I accessorized with this beautiful olive suede satchel that I thought paired nicely, in an unexpected way, with my neon red heels and red lipstick. I also liked how the suede brought a bit Fall to a look that might otherwise look very pre-Labor Day with all of the white and bright red. Lastly, I added some over-sized vintage rhinestone earrings for a bit of sparkle.
The Hair + Makeup
The morning started with an early visit from Glamsquad – a team of two stylists arrived to do my hair and makeup in my hotel room. I have to say, after 5 long days in the city, having someone else do both my hair and makeup while I sat in my pajamas was so nice. All I had to do was wakeup and have (somewhat) clean hair and a clean face!
For my hair, I decided to go with something streamlined and simple to balance out the volume in my dress. I opted for a slick bun positioned on the back of my head, with textured loose strands in the front to keep things from looking too uptight. For makeup, I wanted to keep it fresh but accent with a bold red lip, and that's exactly what we did (the makeup artist used my favorite matte lipstick so that I could reapply it throughout the day, as needed).
The Schedule
Day 5 was a Tuesday – my last day in NYC, and by far, the most jam-packed. After getting dressed at the hotel, I walked a few blocks over to shoot my outfit with Ashley. Then, off to Park Avenue for my first PR meeting of the day. While having meetings all over the city was a bit stressful (I'm not mentioning all of the Uber rides in which I was in the backseat stressing about whether or not I'd make it to my next meeting in time), it did mean that I was able to see a little bit of the city while I was there, albeit from a car.
Afterwards, I rushed over to the Skylight Clarkson for the Alice + Olivia by Stacey presentation, which was, handsdown, my favorite presentation of the trip. If I, The Dandy Liar, could have a clothing brand spirit animal, it would likely be A + O. Hopefully you were able to catch some of my 50+ Insta Stories (kidding… sort of) from the show, and if you did, you will see exactly why I adore the brand (if you missed my stories, you can catch some photos from the presentation here). The entire presentation took place over a series of 8 vignettes, each of which were meant to represent different rooms in NYC's Chelsea Hotel. For the collection itself, designer Stacey Bendet pulled from a palette of rich jewel tones and soft pastels, accented by pops of neon, with an array of tropical and oriental floral prints paired with bold graphics and subdued animal prints. But Bendet, in my opinion, is a true master when it comes to styling, which I believe is the second component of creating a successful collection. The first component- designing wearable, sellable pieces that keep buyers/department stores happy and customers coming back for more. The second half? Being able to pull it all together through styling- accessorizing, set design and music. And Bendet did exactly this!
After the presentation, I ran into the nearest bodega, grabbed a Larabar and yogurt, and headed to another PR meeting, this time over on NYU's campus. My next brand meeting was just a few blocks over at Variety Coffee Roasters. I couldn't bear the thought of taking another Uber, so I decided to walk and actually get to take in a bit of the city!
I then headed over to Tractenberg's Studio Event, where they had a bunch of brands booths set up, along with a "refresh" room where they had stylists doing hair and make up touchups. It was so relaxing- and really, it the first time I had actually stopped "going" in 5 days- that I ended up staying much longer than planned. My last event of the evening was the PINK x Coca Cola party, but I was so freaking exhausted, I decided to head back to the hotel to pack and get ready for my early flight the next morning.
And that wraps up my NYFW '17 trip recaps! Thanks to all of you who followed along on Insta Stories, Instagram and the blog- it was so fun reading everyone's comments. If you have any questions, feel free to include them in the comments or to DM me on Instagram- I'm happy to share anything I learned from the trip!
XO,
A